–
The Series
[Rating:3/5]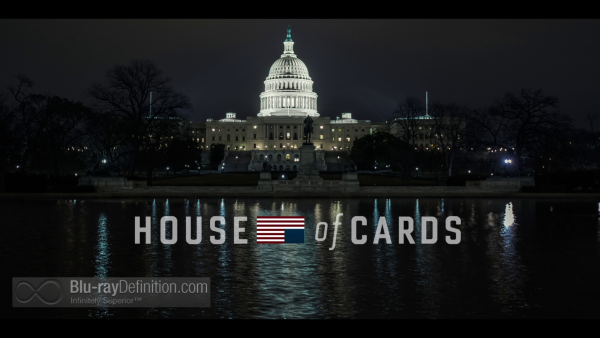 The third season of House of Cards might have been the most disappointing yet for this popular Netflix Original series about political intrigue in Washington, D.C. While the previous seasons both stretched the imagination of the possibilities of dirty politics, season three just might have jumped the shark, and done it in such a slow manner, it didn't exactly make for great binge material, which is one of the major selling points for original series streaming services.
Frank Underwood (Kevin Spacey) is now the President after a scandal and schemes place him, unelected, into the Oval Office. Once there, his ability as president is immediately questioned and his popularity begins to take a nosedive, particularly when he begins to push an ultra-conservative jobs program called "America Works" that will pull funds from the safety net, and he raids funds from FEMA to fund it as well. Foreign policy issues also plague him, and a covert operation in which Navy SEALS are killed becomes a scandal. Heightening is foreign policy blunders are the fact that he appoints his wife Claire (Robin Wright) as UN Ambassador over the objections of the congress during a recess, and he as an antagonistic relationship with the Russian President Petrov.
Where this season really goes wrong is that the central power couple of Frank and Claire has been thrown off balance. Claire has lost her mojo for this entire season, she's a lamb lost in the woods, apparently overshadowed by the power of the Presidency, and slinking into some sort of depression over her need for, well, needing Frank. Elsewhere in the season, Doug Stamper (Michael Kelly) is recovering from his wounds from the previous season and left on the outside, but still manages to pull some puppet strings. His storyline leads to the most ridiculous and unbelievable of the entire season, real black helicopter kind of stuff. And, can someone please tell me what happened to all the steamy relationships in this series? Sure, there are some folks jumping into the sack and some cheating going on, but, really, it's all so timid. By the end of the season, it is, once again, Frank Underwood who reveals himself to be the only one left in this series who has any balls, misguided or not.
I can see why the folks in the beltway love this series so much, because, like this season, they are also completely out of touch with reality.

Video Quality
[Rating:5/5]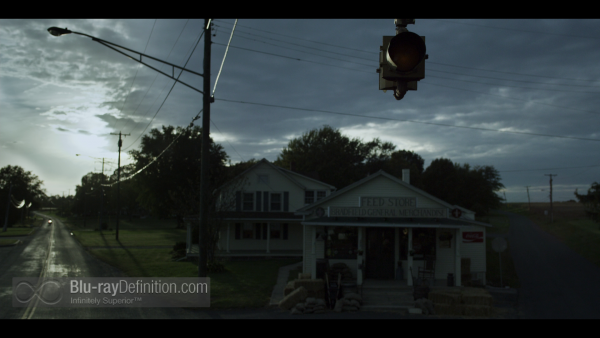 Season Three of House of Cards was shot digitally in 4K on the Red Epic Dragon camera with Zeiss Master Prime lenses. We get a beautiful, clean and crisp HD transfer in AVC 1080p. Color palette of this series has always been somewhat muted in keeping with the overall moody tone, so it doesn't come out and grab you, but it does look wonderfully nuanced and eye-catching nonetheless. No problems with color banding or any other digital source issues can be seen. This is a vast improvement over the original Netflix stream which, even at my 75Mps FIOS Quantum download speeds at 1080p gave me lots of compression issues, banding, posterization, and looked a little soft.

Audio Quality
[Rating:5/5]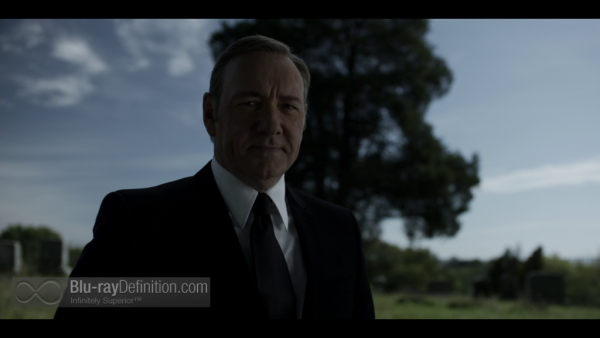 House of Cards comes with English DTS-HD Master Audio 5.1 (48kHz/16-bit) and French DTS-HD Master Audio 5.1 (48kHz/16-bit) soundtracks. Sticking with the English track, the sound is masterfully done. Hardly aggressive, it is nevertheless marvelously balanced and filled with lush atmospheric effects, a wide dynamic range, clean and full dialogue free from clipping, and is thoroughly engaging. This is a prime example of how a mix need not be in-your-face to be reference material.

Supplemental Materials
[Rating:2/5]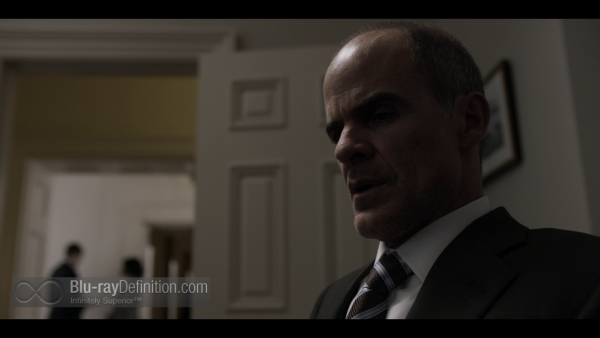 Digital HD UltraViolet
Episode Recaps
Backstage Politics: On the Set of House of Cards (1080p/24; 00:24:59)
A Death in New Mexico (1080p/24; 00:17:01)

The Definitive Word
Overall:
[Rating:3.5/5]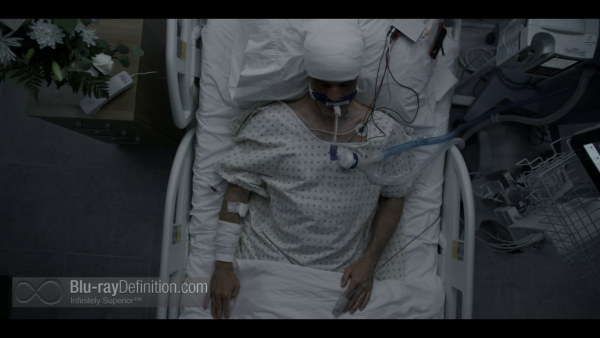 The dirty politics and intrigue of House of Cards degrades into some slow-paced fantasy world of improbable twists and mushy characters in its third season. Do the writers really have to go to such fantastical lengths just to write about a bad president?

Additional Screen Captures
[amazon-product]B00UHAJ0PY[/amazon-product]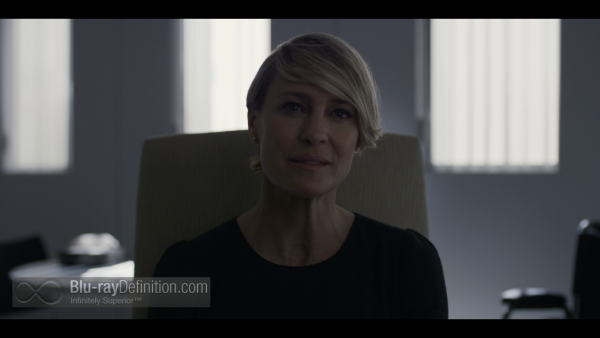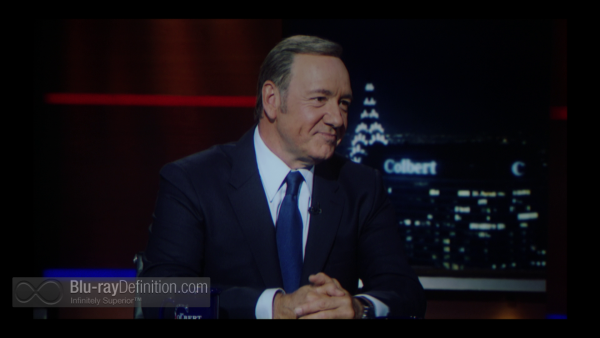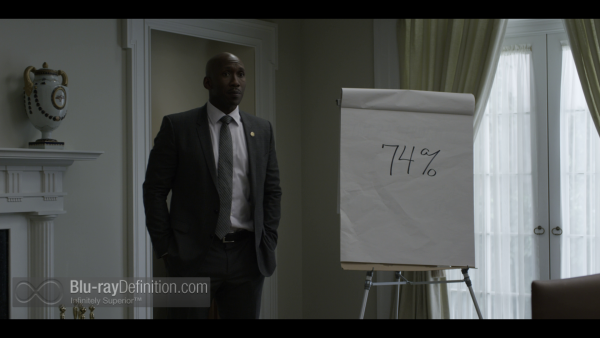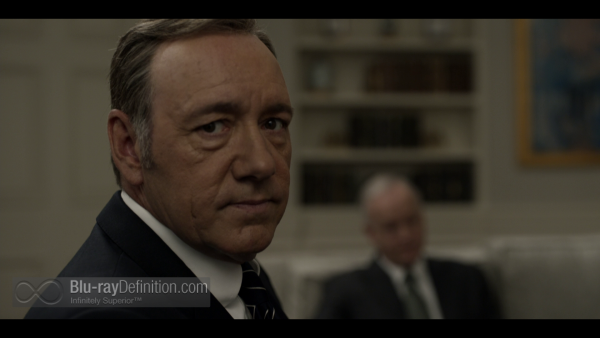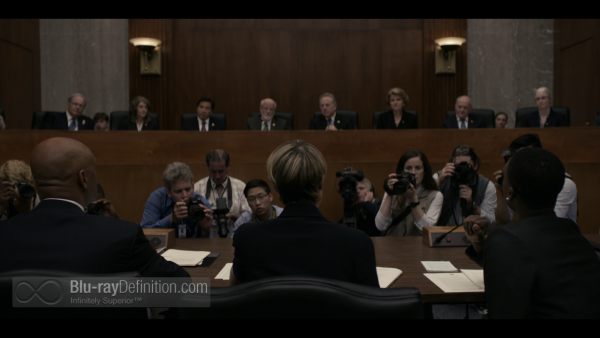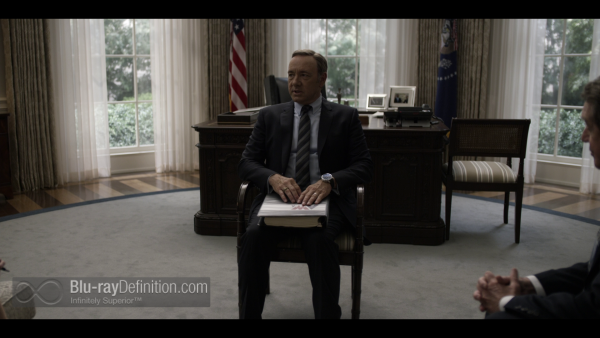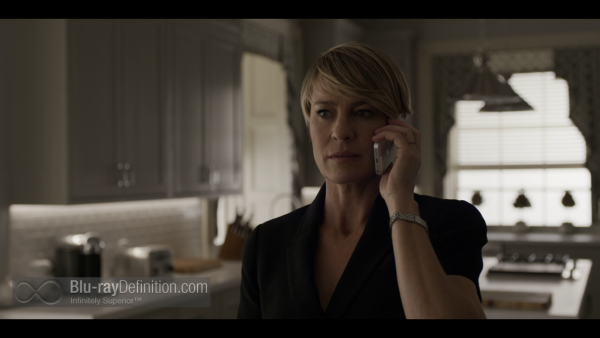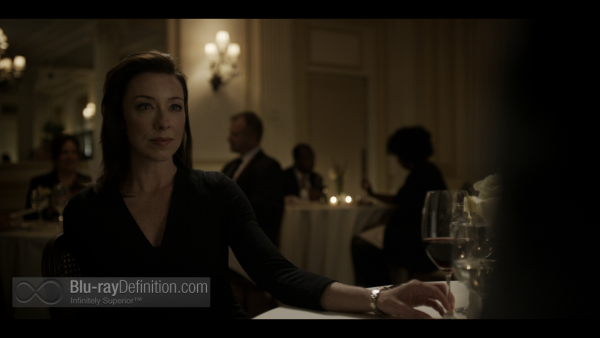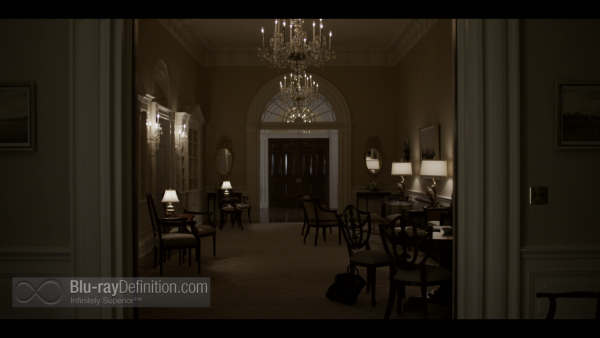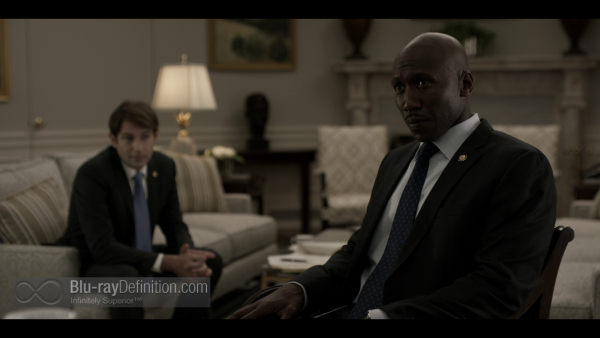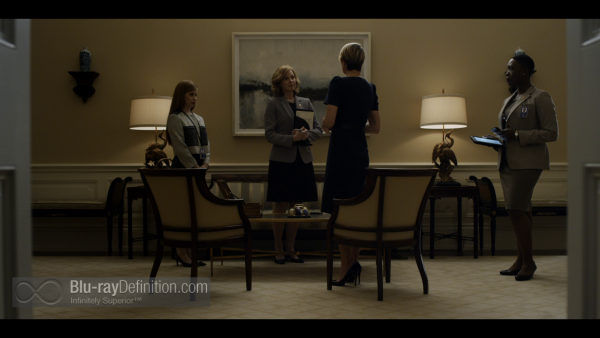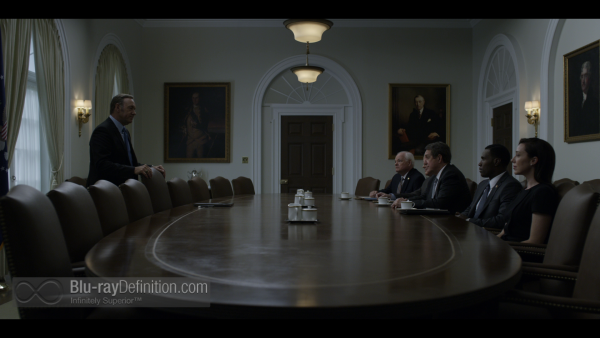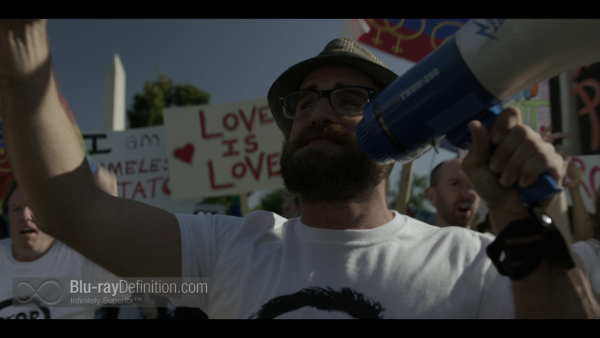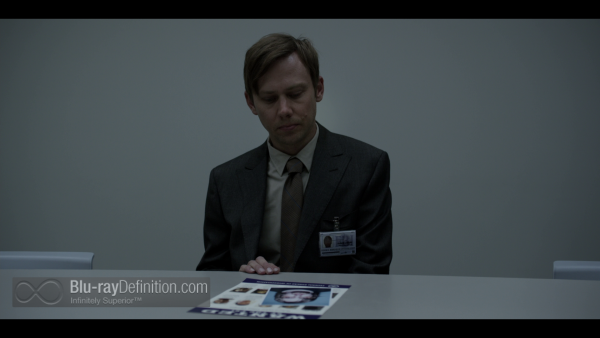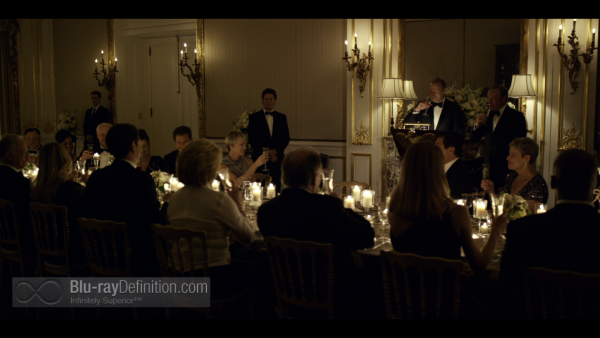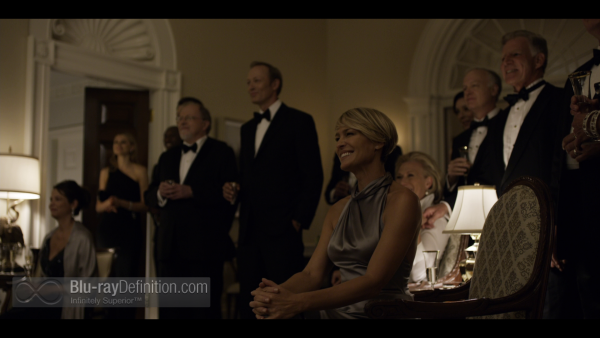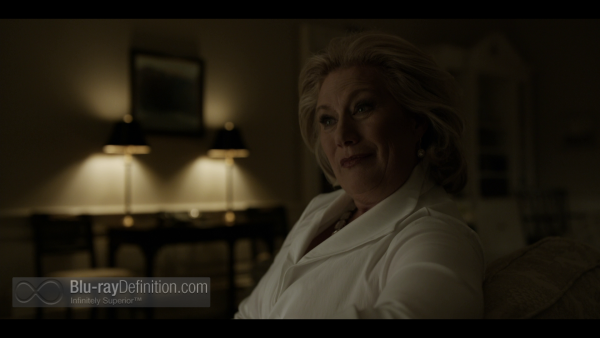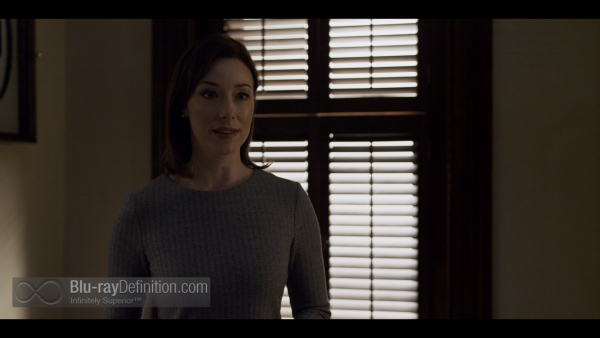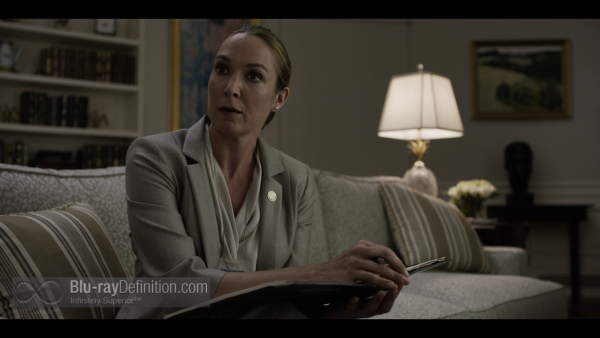 [amazon-product]B00UHAJ0PY[/amazon-product]