– –

The Series
[Rating:4.5/5]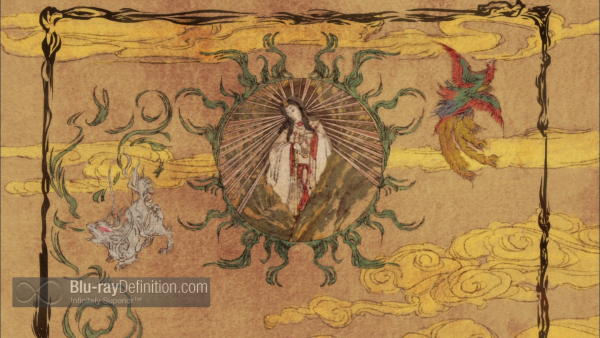 Standing side by side with folks who have and work in the tattoo industry  I get to see tons of ultra cool collections and artwork. When I saw the cover art for Hozuki's Coolheadedness (鬼灯の冷徹) it floored me, because it hit very close to home. I'm a big fan of the floating world concept and arts of Japan and the cover looked like it jumped off of somebody's tattoo sleeve or back piece. I knew the show would be something special if the cover art was any indication. Yes, I am easily amused, too.
Hozuki is the Deputy Chief of Hell and reports to Enma, the (actual) King of Hell. Hozuki is very stoic, cool (ha!), calm, analytical, and in essence, the middleman of Hell. Keep in mind that this universe is made up of 272 Hells and everyone goes to their particular Hell based on how they lived their lives while alive. You will have to go through Hozuki in order to meet your final destination in the afterlife. For Hozuki, it's just a job, and he can only do his best.
Hozuki's Coolheadedness was a very immersive and educational experience. From the scathing satirical opening (and catchy theme song no less) you know you're in for a treat. The series has been serialized into 13 episodes. Each 25-minute episode is split into TWO 12-minute or so mini-episodes, so, in essence, you get 26-episodes all together. I mentioned it's an educational experience, because you will see tons of English translations of signs and script in addition to how and why these legends were made up and what certain phrases used today originated many years ago in Japan.
As Hozuki carries on with his duties many characters come and go like giant blowfish flowers, mutant cats, and various other familiar deity's like Lord Satan himself. The show is not all that long and since the 272 Hells are never mentioned in detail the focus relies on just a few of them. You get the Hell of Animal Cruelty – which means that if you hurt or killed animals in life you will be granted an eternity of suffering by the animals you tortured. They will rip you apart in various ways just to see you reform and ripped to shreds over and over and over again. Social issues, status, politics, etc., are all woven into the short story lines of the show that if you're up on current events, history, etc., you will get the inside jokes.
I'm hoping that this "complete collection" is just volume 1, because I would welcome future series installments. I knocked the entire thing out in less than two days. I think the fact that each session is actually two episodes in one makes it a sort of crash course in understanding the dark side of the floating world that's derived from our world — culturally speaking. As I mentioned before about the dual English subtitles going on back and forth as you watch — you may have to watch it all the way through once and then get your remote and pause it during those scenes (there are many) where certain historical customs and origins are explained to you. I may have to do that since I probably missed a lot of the history lesson as I was watching the show. In any event: Hozuki's Coolheadedness is worth the time and effort.
Episodes
"Making or Breaking Hell" / "The Discovery of Hell's Mysteries"
"Demons and Underwear and Crabs" / "The State of Hell, and This and That"
"Hakutaku" / "How Their Discord Came to Be"
"Pretty boys need love too" / "Kajika Hell"
"The Instrumental Duo of the Mighty Rivals" / "Mental Sports Day"
"Hell Idol: Peach Make" / "The Right Arm Blues"
"Man and Woman and Mortal Hell" / "Hell-Style Acupuncture and Moxibustion Techniques"
"The Vulgar Battle" / "The 36 Views of Hell"
"The Ultimate Example of Ruin Through Wine and Women" / "Awash with Drunks"
"Dinner of the Ten Kings of the Afterlife" / "Diets are Hell"
"The Samurai Who was Inch High" / "Marsh Sisters on the Mountain"
"Lady Lilith and her Husband" / "Why Monsters are so Widely Spread Throughout the Mundane World of China"
"Hell's Bon Festival of Lights" / "Idle Chat with the Great King Enma"
Video Quality
[Rating:4/5]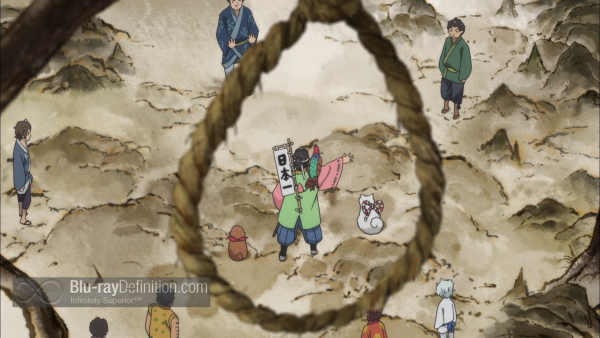 Hozuki's Coolheadedness is presented in 1.78:1, 1080p, and for an anime like this one they've done a great job bringing the colorful, darker, side of the floating world to Blu-ray. The color palette is bright, vivid, and bold. Banding, pixilation were not a problem, and I only caught a glimpse of dirt and debris here and there. The rest of the image looks great – contrast and sharpness hold steady and black levels remain deep and inky. I can't really comment on flesh tones, because this is 2D animation. Speaking of 2D animation — 90% of the show seems to be traditional hand drawn animation and we're big fans of that — the CGI portions don't look bad via this HD presentation, but you'll be able to tell what's what.

Audio Quality
[Rating:4/5]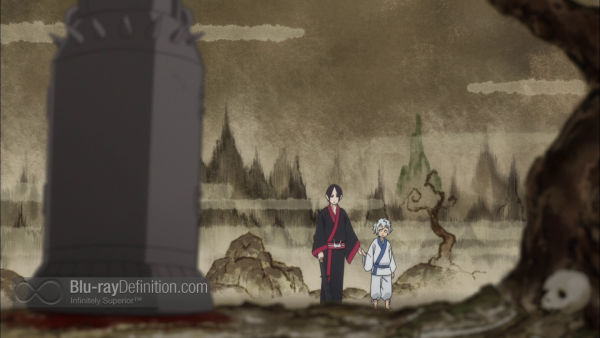 Hozuki's Coolheadedness is presented in a very dynamic Japanese 2.0 lossless track. Everything is boxed into the front speakers and for being in such a tight squeeze the sound quality is pretty good. Dialogue is clear and focused and easy to understand – English subtitles are provided — but you can hear that nothing gets jumbled in the 2.0 mix. Music levels are also string and come through nice and clear. In the back of my mind I kept thinking how this series would benefit even more if it had a full-blown 5.1 track but what we do get is more than OK. This Japanese 2.0 track is no pushover.

Supplemental Materials
[Rating:0.5/5]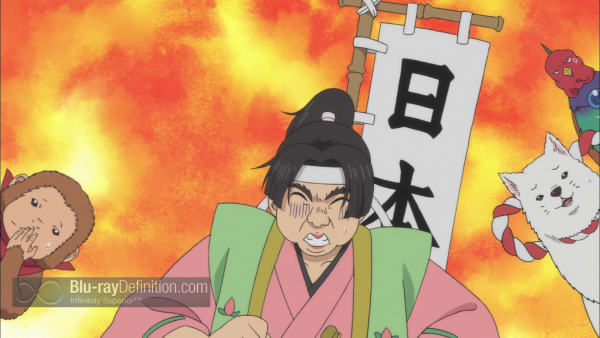 The supplemental materials on this Blu-ray release are extremely scarce and almost non-existent. We only get the opening/ending credits without subtitles of any kind and bonus trailers from other Sentai Filmworks releases.
Clean Opening Animation (HD)
Clean Closing Animation (HD)
Sentai Trailers (HD)

The Definitive Word
Overall:
[Rating:4/5]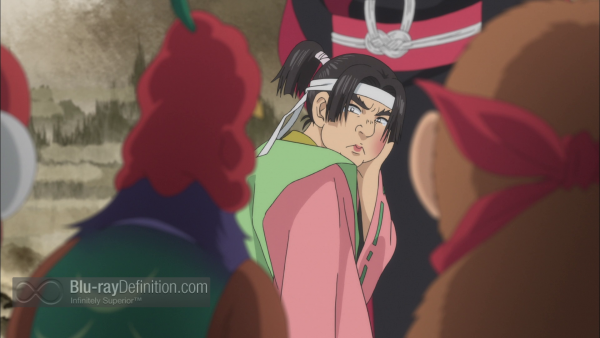 I really enjoyed Hozuki's Coolheadedness and wish that this wasn't a "complete collection" per se, because there are many more stories left to tell. The base material is rich with folklore and myths that one can go on for a very long time before going stale. In any event, the Blu-ray collection has very strong video and audio specification, with extremely weak extras. Overall, though, Hozuki's Coolheadedness is highly recommended!

Additional Screen Captures

[amazon-product]B00OWHZ9NA[/amazon-product]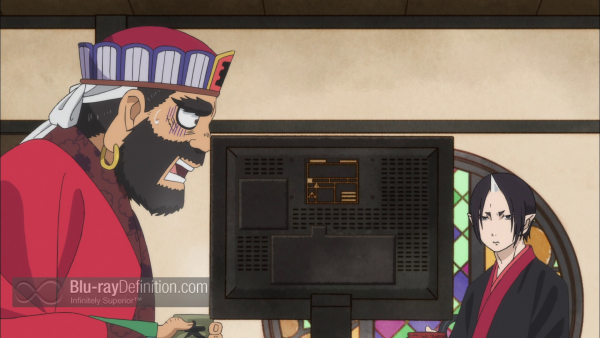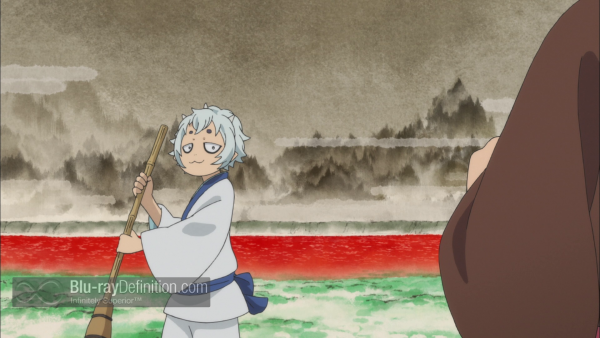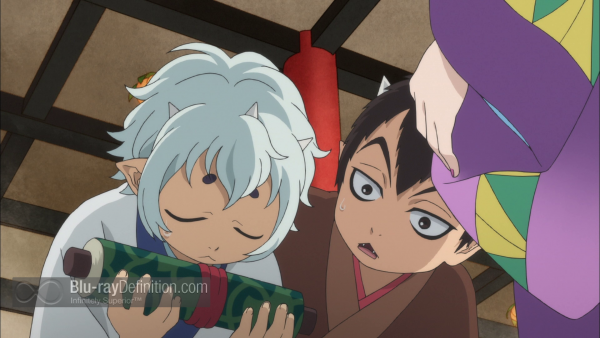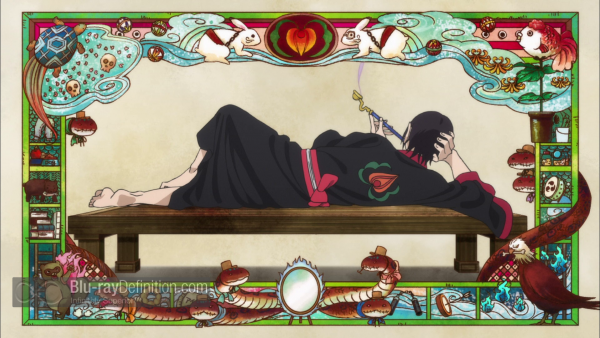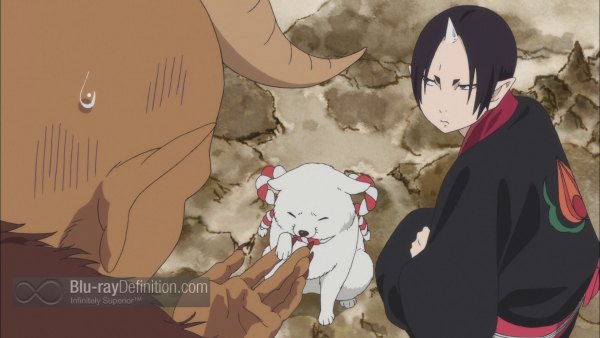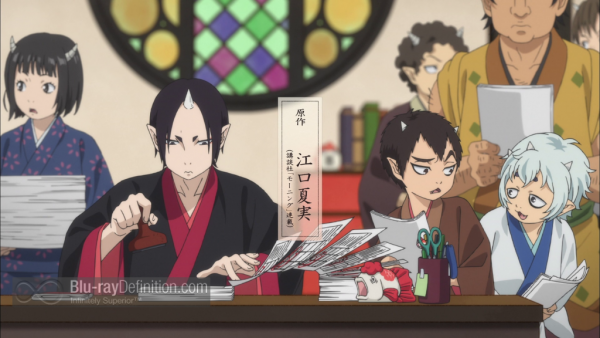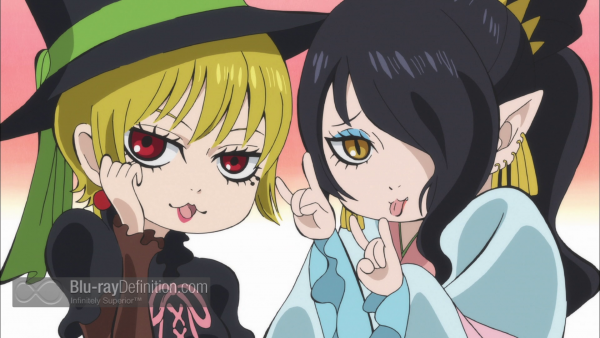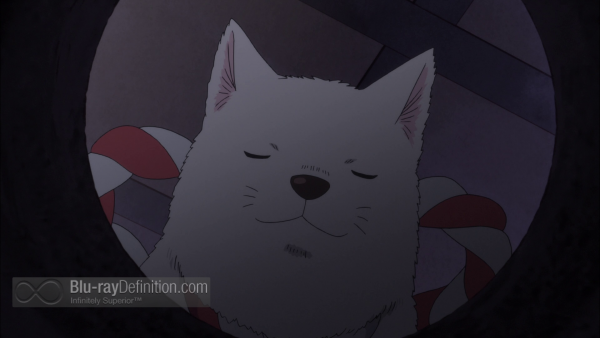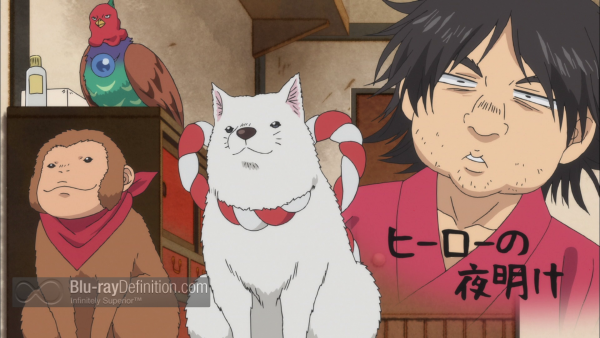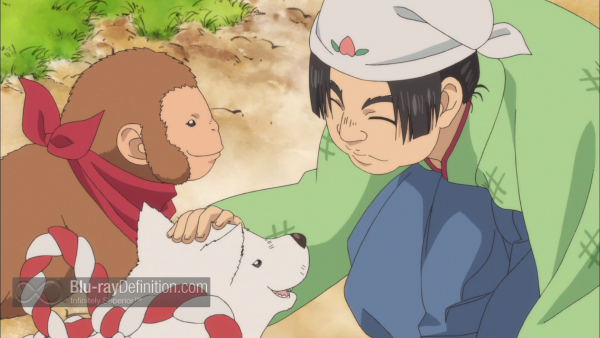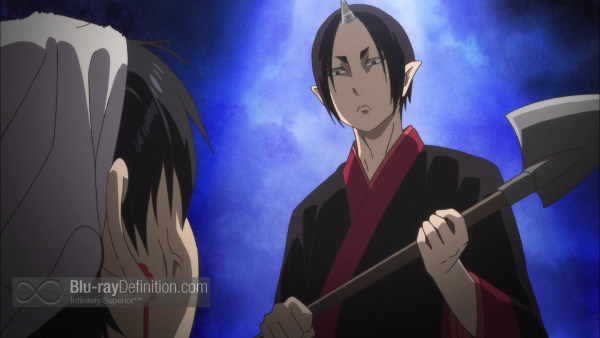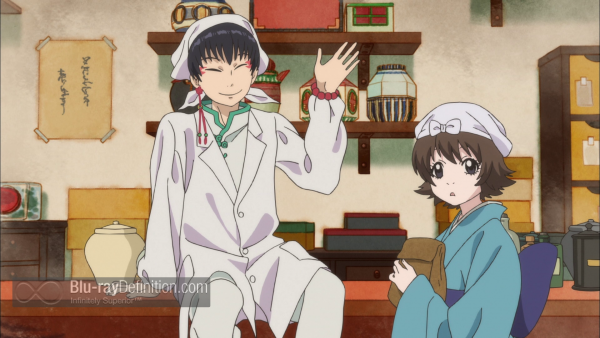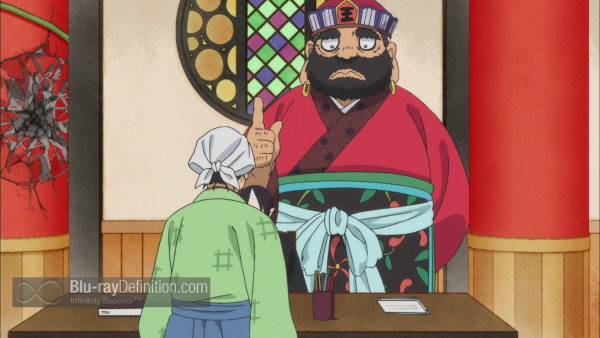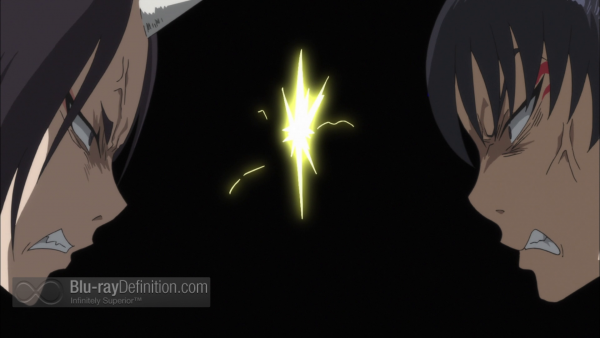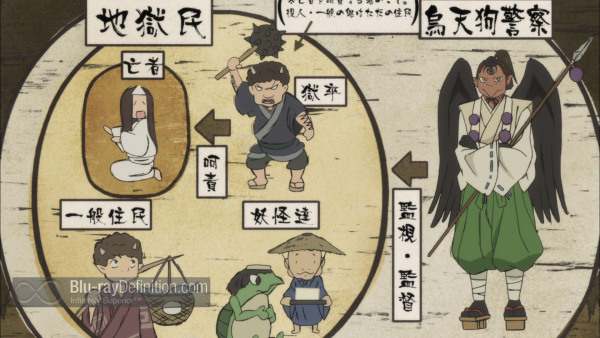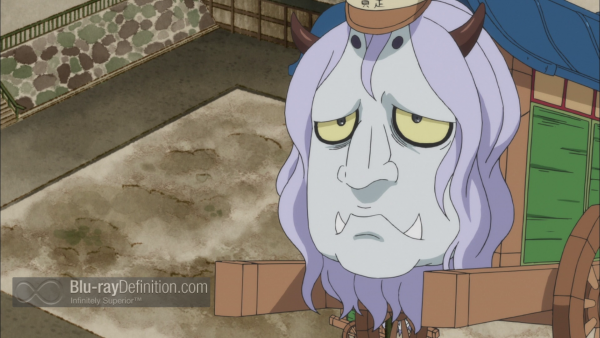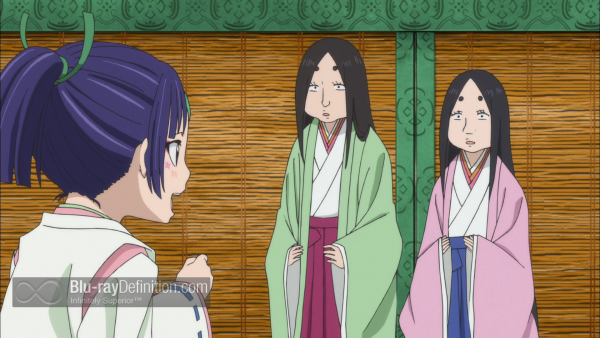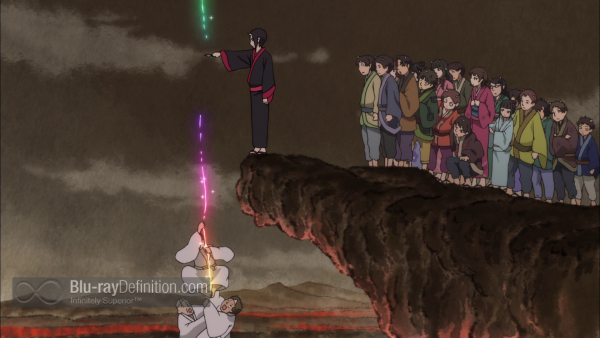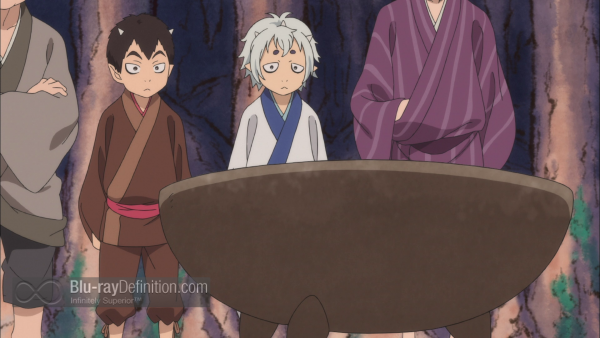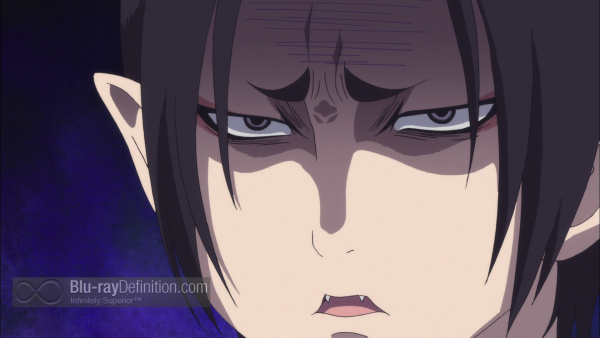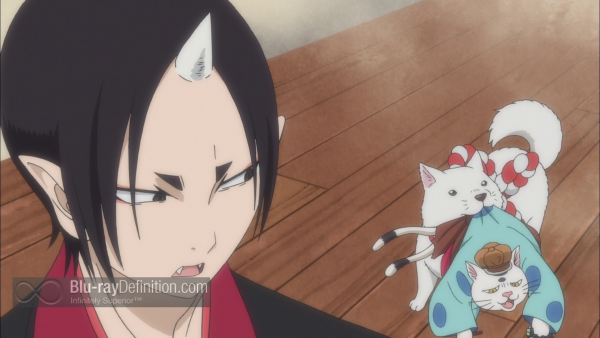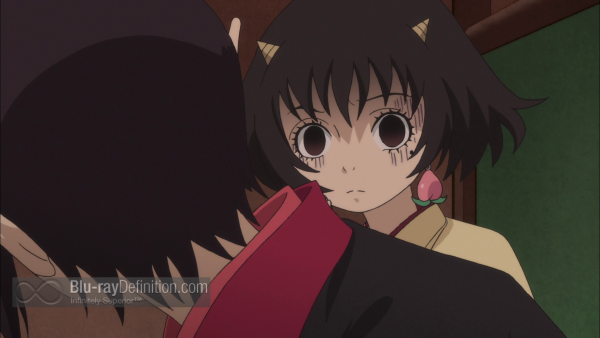 [amazon-product]B00OWHZ9NA[/amazon-product]