Aspect Ratio: 1.78:1 (Hunchback of Notre Dame); 1.66:1 (Hunchback of Notre Dame II)

Video Codec: AVC/MPEG-4

Resolution: 1080p/24 (23.976Hz)
Audio Codec: English DTS-HD Master Audio 5.1 (48kHz/24-bit);

Subtitles: English, English SDH, French, Portuguese, Spanish, Russian

Subtitles Color: White
Region: ABC (Region-Free)
Rating: G

Run Time: 91 Mins. (Hunchback); 66 Mins. (Huncback II)

Discs: 3 (1 x Blu-ray + 2 x DVD)
Studio: Walt Disney Studios Home Entertainment

Blu-ray Release Date: March 12, 2013
List Price: $39.99
–
Overall
[Rating:4/5]
The Films
The Hunchback of Notre Dame
[Rating:3.5/5]
The Hunchback of Notre Dame II
[Rating:1/5]
Video Quality
The Hunchback of Notre Dame
[Rating:4/5]
The Hunchback of Notre Dame II
[Rating:2.5/5]
Audio Quality
The Hunchback of Notre Dame
[Rating:5/5]
The Hunchback of Notre Dame II
[Rating:3.5/5]
Supplemental Materials
The Hunchback of Notre Dame
[Rating:3/5]
The Hunchback of Notre Dame II
[Rating:2/5]
Click thumbnails for high-resolution 1920X1080p screen captures
(The below TheaterByte screen captures are lightly compressed with lossy JPEG at 100% quality setting and are meant as a general representation of the content. They do not fully reveal the capabilities of the Blu-ray format)
–
The Film
[Rating:3.5/5]
The Hunchback of Notre Dame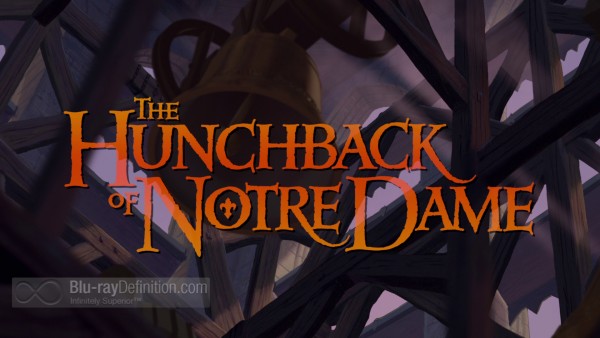 Victor Hugo's 1831 tragedy seems an odd choice for a Disney animated feature geared toward children. The novel is filled with sex, betrayal, religious iconography, and a hideous, misshapen hero. In 1996, the studio did tackle the tale however, with directors Gary Trousdale and Kirk Wise at the helm and a star-studded voice cast featuring Kevin Kline as the handsome knight Phoebus, Demi Moore as the attractive gypsy girl Esmerelda, Jason Alexander in the role of a talking stone gargoyle named Hugo, and Tom Hulce as the famous Quasimodo.
Naturally, the story being a rather strong one for children to handle, Disney had to jump through major hoops to turn their The Hunchback of Notre Dame into something G-rated. Still, from the very beginning, we get the sense that the film is a bit off-kilter and struggling to, paint within the lines, if you will.
A deformed infant child of a gypsy woman is saved from being thrown down a well by Minister of Justice Frollo, who is subsequently made to take the boy under his care by the church. Named Quasimodo (literally, "half-formed") by Frollo, he is forced to remain in the Cathedral of Notre Dame for his entire life, working there as the bell ringer. When the Festival of Fools comes around, Quasimodo is encouraged by his friends, a trio of talking gargoyles, to stray from his confines down to the festival, where he is discovered by the crowds, tied up and mistreated until being saved by the beautiful gypsy girl Esmerelda. Quasimodo is instantly smitten with Esmerelda, but she also draws the ire of Frollo, who determines to arrest her and burn her at the stake for witchcraft. Quasimodo and the handsome knight Phoebus must work together to save Esmerelda and the rest of her gypsy people from the ire of Frollo who is willing to burn down all of Paris to capture her, even as he secretly harbors desires for her.
Frollo may have been one of the more ruthless and despicable villains Disney created in years, even evoking the evil Queen from Snow White somewhat in the character design. The film on the whole, however, must have left the filmmakers in a serious quandary. The themes of sexual desire, genocide, religion, and a deformed protagonist don't exactly make for the best children's story. Disney's film is an uneasy juxtaposition of silly – Quasimodo singing songs with talking gargoyles in the bell tower, for instance – and the absolute frightening – the sequence where Frollo confesses his unholy desire for the "devil" woman Esmerelda in front of a raging fireplace that transforms into a wall of flames. The longing Quasimodo feels for Esmerelda will go forever unrequited here, there's no real happy ending to be had, so what exactly are we teaching children with The Hunchback of Notre Dame? You can only find love if you look perfect? Well, Disney's stories have been pushing that line for years anyway, just look at Beauty and the Beast. Sure, Belle may have fallen for the Beast, but in the end, he turns into a handsome prince, he doesn't stay a hideous creature. For Quasi, there is no love to be had, Esmerelda has already fallen for the blond, blue eyed knight, despite his life-risking to save her.
 The Hunchback of Notre Dame II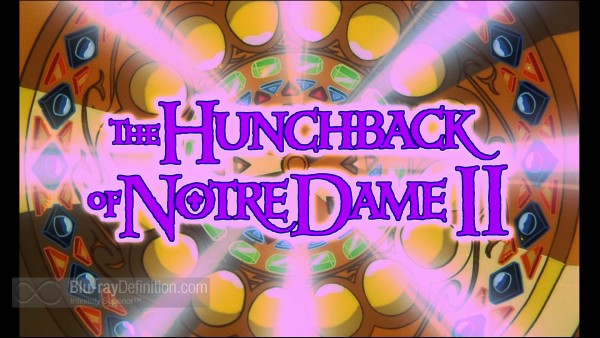 Not so fast. Maybe there is a happy ending for Quasimodo. In this ill advised direct-to-video sequel that has awful, cheap looking background animation and character designs in comparison to the original theatrical feature, Esmerelda and Phoebus are now married and have a kid (that seems to be the modus operandi for Disney DTV sequels — add a lot of little kids and slapstick comedy). A circus comes to town for the Festival d'Amour, and Quasimodo finds a love interest, Madellaine (Jennifer Love Hewitt). But Madellaine is being forced by the evil magician/circus owner Sarousch (Michael McKean) to help him steal the famous bell from the cathedral at Notre Dame. This film is on-the-nose, lacks any of the tension or original intent of Hugo's story, and is completely watered down. That the animation seems so haphazardly done and is even thrown onto this disc in such a poor transfer (see below) ought to give you an idea of how much value even Disney puts in it.
Video Quality
The Hunchback of Notre Dame
[Rating:4/5]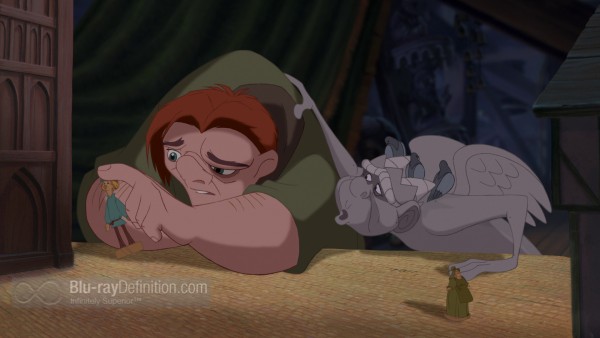 The Hunchback of Notre Dame II
[Rating:2.5/5]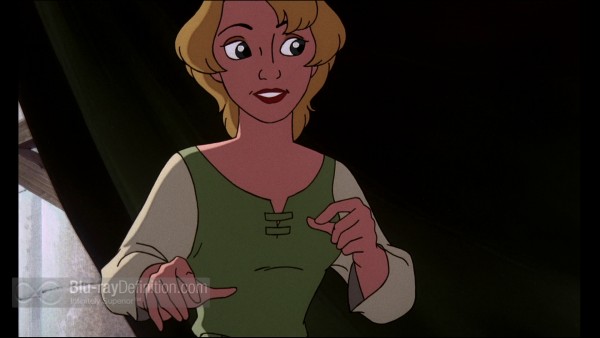 The Hunchback of Notre Dame comes with a 1.78:1 framed AVC/MPEG-4 1080p transfer from Disney. At first the image looks generally acceptable, with bright colors and crisp detail, a closer look yields some anomalies, however, that seemed to have crept into the transfer. There is some splotchiness in the color fills and the grain, though very suppressed, when it does appear looks unnatural.
The Hunchback of Notre Dame II is granted a 1.66:1 framed AVC/MPEG-4 1080p transfer that, unlike practically every other Disney animated feature, whether theatrical or direct-to-video, that has come to Blu-ray without being scrubbed crystal clear. At least, it is the first I have come across. While there is something to be said for preserving the film grain and keeping the image looking natural, this transfer has too much source damage left in, also suffers from wavering sharpness, often blurring or what looks like it is shifting out of focus. This is the worst Disney animated transfer I have ever come across, and that includes the hyper-processed Cinderella.
Audio Quality
The Hunchback of Notre Dame
[Rating:5/5]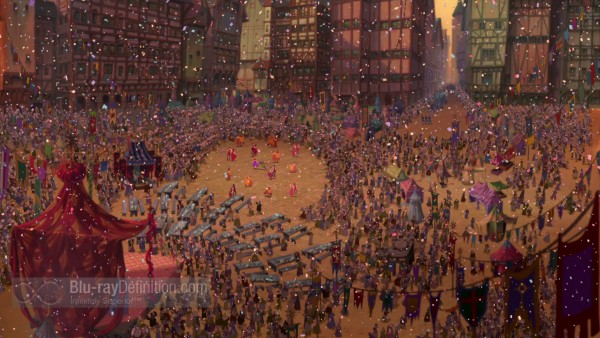 The Hunchback of Notre Dame II
[Rating:3.5/5]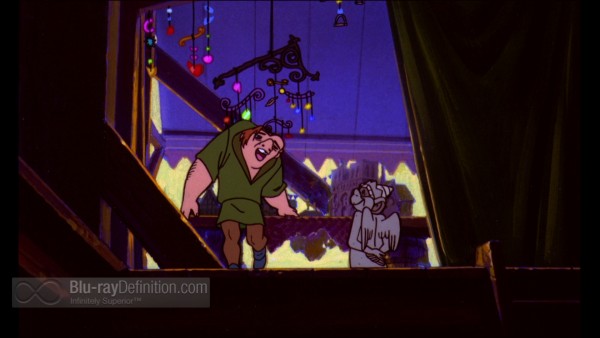 Audio is the great strength of Hunchback of Notre Dame. From the opening sequence, the DTS-HD Master Audio 5.1 (48kHz/24-bit) soundtrack surrounds us in chants. The musical performances are airy and dynamic, while dialogue is full and clear. Sound effects come at us of from varying angles and the lows are beefy if not outright thunderous. The fireplace scene with Frollo is one of the key, demo sequences, in particular.
Notre Dame II, on the other hand, is average. Also offered in DTS-HD Master Audio 5.1 (48kHz/24-bit), it isn't as active, although it does have a good sense of dynamic range and clean vocals and dialogue with no clipping.
Supplemental Materials
There are little extras included with either film in this collection and everything is simply a port-over from previous DVD releases.
The Hunchback of Notre Dame
[Rating:3/5]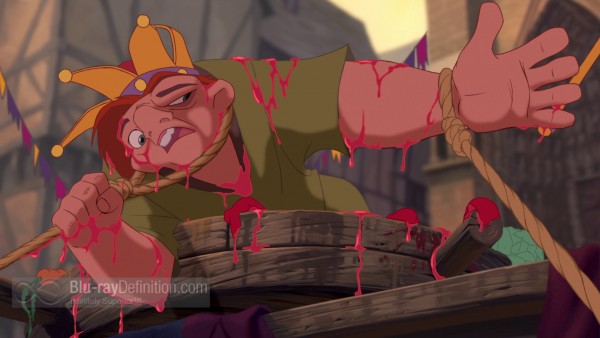 Classic DVD Bonus Features:

Audio commentary by producer Don Hahn and directors Kirk Wise and Gary Trousdale
"The Making of The Hunchback of Notre Dame" (1.33:1; SD; 00:28:02)
"A Guy Like You" Multi-Language Reel (1.33:1; SD; 00:03:23)
The Hunchback of Notre Dame II
[Rating:2/5]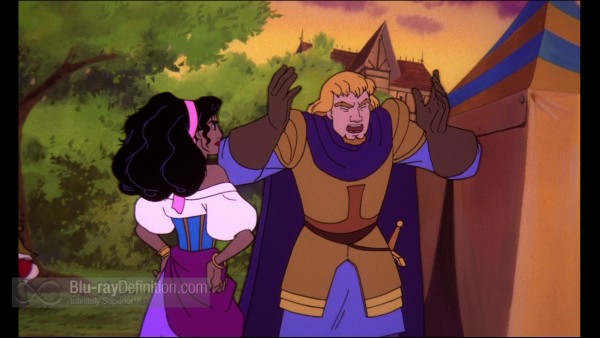 Classic DVD Bonus Features:

Behind the Scenes with Jennifer Love Hewitt (1.33:1; SD; 00:04:51)
A Gargoyle's Life: It's Not Easy Being a Gargoyle (1.33:1; SD; 00:02:42)
The Definitive Word
Overall:
[Rating:4/5]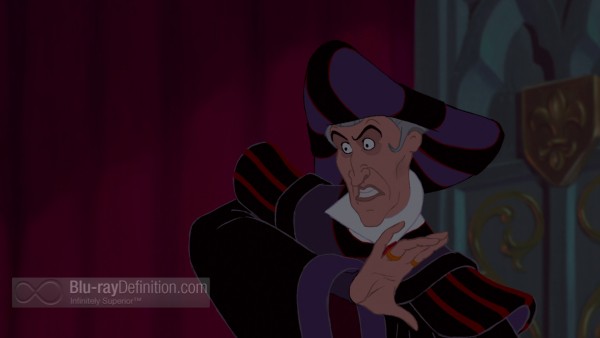 The Hunchback of Notre Dame is a valiant if flawed effort to bring a rather difficult story to a G-rated audience. It has some moments that could have made it a sublime film if, like some anime productions, it were allowed to shed the limitations of the children's genre, however, the nearly bipolar nature of the film hinders the quality. The sequel is isn't worth watching at all.
Additional Screen Captures
[amazon-product]B0095R7GE2[/amazon-product]
[amazon-product]B00AO686E2[/amazon-product]
Purchase The Hunchback of Notre Dame on Blu-ray Combo Pack at CD Universe
Shop for more Blu-ray titles at Amazon.com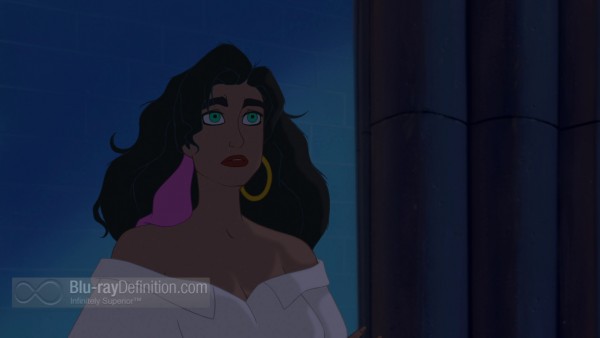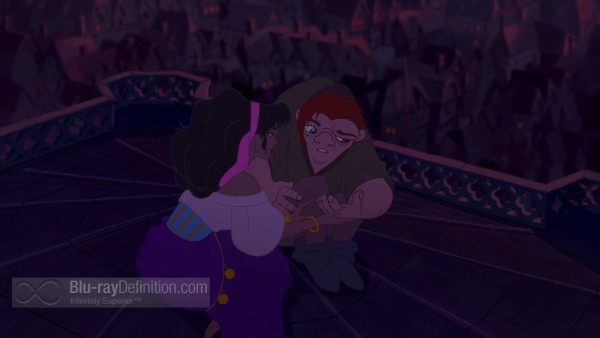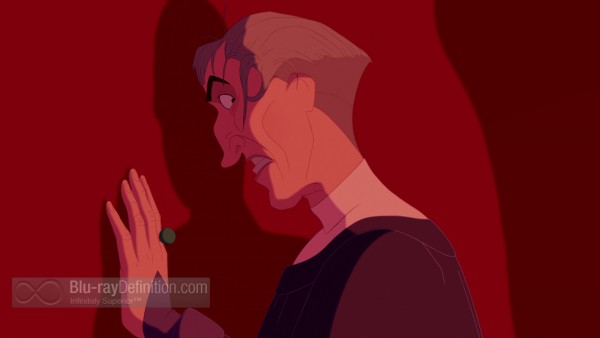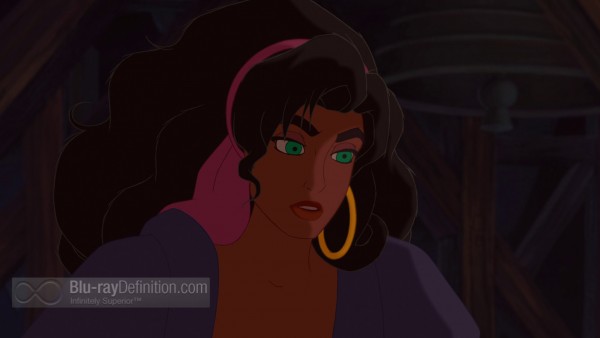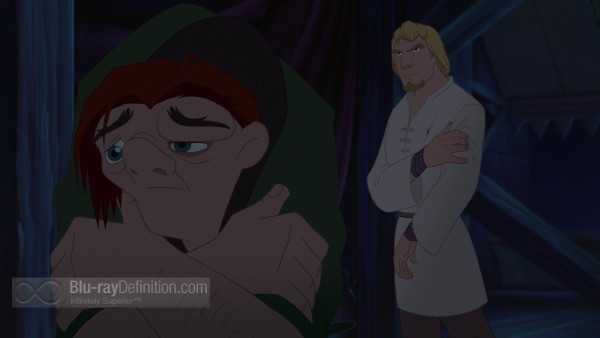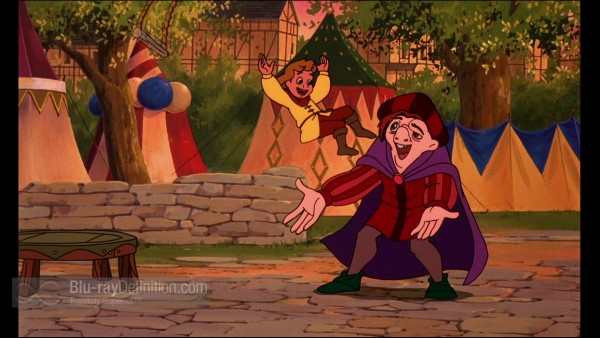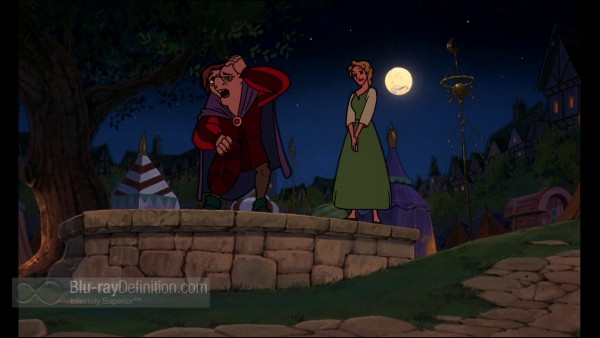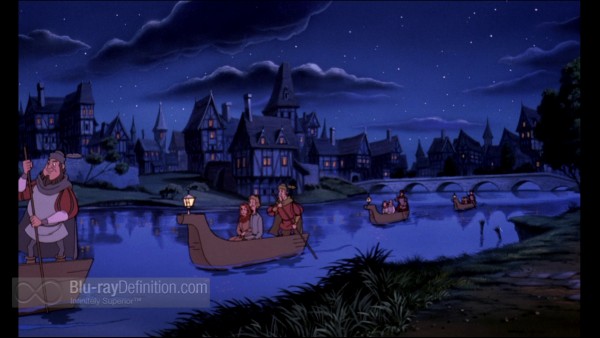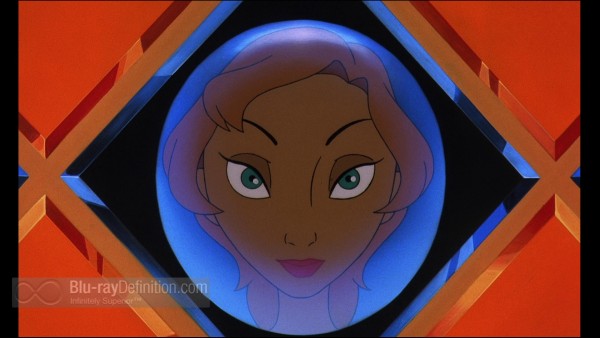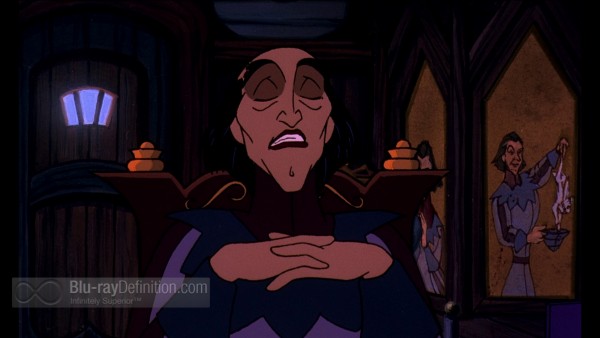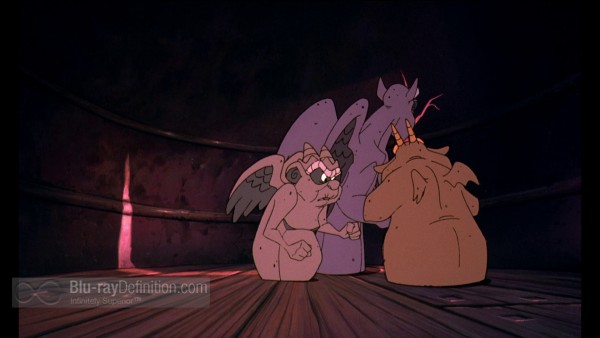 –
[amazon-product]B0095R7GE2[/amazon-product]
[amazon-product]B00AO686E2[/amazon-product]
Purchase The Hunchback of Notre Dame on Blu-ray Combo Pack at CD Universe
Shop for more Blu-ray titles at Amazon.com
 Overall
[Rating:4/5]
The Films
The Hunchback of Notre Dame
[Rating:3.5/5]
The Hunchback of Notre Dame II
[Rating:1/5]
Video Quality
The Hunchback of Notre Dame
[Rating:4/5]
The Hunchback of Notre Dame II
[Rating:2.5/5]
Audio Quality
The Hunchback of Notre Dame
[Rating:5/5]
The Hunchback of Notre Dame II
[Rating:3.5/5]
Supplemental Materials
The Hunchback of Notre Dame
[Rating:3/5]
The Hunchback of Notre Dame II
[Rating:2/5]
–