Aspect Ratio: 1.85:1

Video Codec: AVC/MPEG-4

Resolution: 1080p/24

Audio Codec: English DTS-HD Master Audio 7.1; French Dolby Digital 5.1; Portuguese Dolby Digital 5.1; Spanish Dolby Digital 5.1

Subtitles: English SDH, Cantonese, Mandarin, Portuguese, Spanish

Region: A
Rating: PG

Discs: 3

Studio: Twentieth Century Fox Home Entertainment

Release Date: October 6, 2009

List Price: $34.99

[amazon-product align="center"]B001GCUNW6[/amazon-product]
BestBuy.com:


Purchase Ice Age: Dawn of the Dinosaurs
on Blu-ray from CD Universe

Shop with us for more Blu-ray releases at Amazon.com


Overall

The Film

Video Quality

Audio Quality

Supplemental Materials



Click thumbnails for high-resolution 1920X1080p screen captures

More Screen Captures (24 Total)

(Screen captures are lightly compressed with lossy JPEG and thus are meant as a general representation of the content and do not fully reveal the capabilities of the Blu-ray format)

The Film





The originality and enjoyability of the Ice Age films has been steadily thawing ever since the first film's surprisingly enjoyable outing with its nearly completely white palette chronicling the migration of a herd of disparate, but lovable mammals during the Ice Age. Ice Age: Dawn of the Dinosaurs arrives as the third installment, and any cool factor has warmed, while the technical prowess of the animators has simultaneously increased. Unfortunately, these new action-packed and more colorful adventures do not add up to a whole lot of fun.

This time around Manny the mammoth (Ray Romano) and Ellie (Queen Latifah) are having a baby and the ever-popular Scrat, the acorn-loving saber-toothed squirrel whose sub-plots are always completely meaningless in the overall scheme of the Ice Age saga, has been given a love interest/nemesis, Scratte. The herd are joined by a newcomer, a crazy one-eyed Weasel adventurer named Buck (Simon Pegg) and together they must rescue the sloth Sid (John Leguizamo) from a T. Rex.

But no amount of scary dinosaurs, frenetic action sequences and "baby's on the way" jokes can rescue this film from the feeling of tedium that found me wanting to nod off more than once. At no point does Dawn of the Dinosaurs ever reach a feeling of cohesion that draws you into the story and makes you actually care about the events or even really understand the series and sequence of events. The constant breaks for interludes involving Scratt — which at this point in the Ice Age lifespan have only become passé — only make matters worse.

Video Quality

Ice Age: Dawn of the Dinosaurs has a slightly broader color palette than the previous films in the series and as such there are more opportunities for the picture really pop. Fox's 1.85:1 AVC/MPEG encoding of the digital source looks every bit as clean and detailed as one would expect. Individual strands of fur on animals can be discerned detail is strong in both background and foreground shots and no issues with compression or color banding can be seen. Still, the overall picture looks just a little dull and flat. I'm sure this is how the filmmakers intended it, but it still takes away from this transfer a bit.

Audio Quality

I was not overly impressed with the DTS-HD Master Audio 7.1 mix for Dawn of the Dinosaurs. The added benefit of those two additional channels was not really evident in the way the sound was mixed. Sure, there were some nice discrete sound effects occasionally mixed around the room and some atmospherics and ambience, but mostly the mix seemed rather stagnant for an animated film to my ears. However, there was good low frequency extension, a wide, but not extreme, dynamic range, and dialogue was clean.

Supplemental Materials

Ice Age: Dawn of the Dinosaurs has been loaded down with a hefty dose of supplements including a few animated shorts featuring the series' famous acorn loving saber-toothed squirrel Scrat and the new BD-Live driven interactive feature, Live Lookup, that allows viewers to search IMDb and find actor bios, character bios and more while watching the film.

The supplements provided on this release are:
Filmmaker Commentary
Ice Age Storybook Maker —  An interactive activity in three different skill levels: Bronze Age (ages 1 – 5) Stone Age (ages 6 – 11) and Ice Age (ages 12 + up), which allows players to put together their own storybook using scenes from the film.
Evolution Expedition (1.85:1; 1080p/24; 0:18.24) — Trevor Valle, assistant lab supervisor at the George C. Page Museum discusses the extinct animals featured in Ice Age: Dawn of the Dinosaurs and shows off some of the museum's fossil collection.
Buck: From Easel to Weasel (1.85:1; 1080p/24; 0:07.12) — The filmmakers and animators discuss creating the character Buck for the film.
Unearthing the Lost World (1.85:1; 1080p/24; 0:08.41) — The cast and crew discuss creating the new creatures and world for this third installment in the Ice Age franchise.
Unfinished Deleted Scenes (SD):
"Walk the Dinosaur" Music Video performed by Queen Latifah (1.85:1; 1080p/24)
Scrat Shorts — Everyone's favorite acorn loving saber-toothed squirrel has problems gathering his nuts in these two animated shorts:

Gone Nutty — Scrat's Missing Adventure (1.78:1; 1080p/24; Dolby Digital 5.1; 0:04.46)
Not Time for Nuts (1.78:1; 1080p/24; Dolby Digital 5.1; 0:07.07)

Scrat Featurettes:

The Saber-Toothed Squirrel: Nature's Nutty Buddy (1.78:1; 480i/60; 0:01.48) — A faux newsreel about everyone's favorite prehistoric squirrel.
Scrat: From Head to Toe (Learn How to Draw Scrat — Tutorial!) (1.78:1; 480i/60; 0:08.23) — Character designer Peter De Sève demonstrates how he draws the Scrat character.
Scrat: Breaking Story (1.33:1; 480i/60; 0:01.50) — Another spoof news report featuring Scrat.
Falling for Scratte (1.85:1; 1080p/24; 0:08.29) — The filmmakers discuss creating Scrat's love interest and foil, Scratte.

Fox Movie Channel Specials:

Fox Movie Channel Presents Making a Scene (Ice Age 2) (1.33:1; 480i/60; 0.09.21)
Fox Movie Channel Presents In Character with John Leguizamo (1.33:1; 480i/60; 0:02.52)
Fox Movie Channel Presents In Character with Ray Romano (1.33:1; 480i/60; 0:03.22)
Fox Movie Channel Presents In Character with Queen Latifah (1.33:1; 480i/60; 0:03.07)
Fox Movie Channel Presents Making a Scene (1.33:1; 480i/60; 0:09.10)

Trailers:

The Pink Panther 2 (1080p/24)

Live Lookup — Obtain instant access to up-to-date actor filmographies and information related to Ice Age 3: Dawn of the Dinosaurs via IMDb, The Internet Movie Database during the film.
DVD — A standard definition DVD of the movie is also included in the package.
Digital Copy — Access to download of a standard definition digital copy that can be played back on a Mac/PC or iTunes/Windows Media compatible portable device is included.
The Definitive Word
Overall: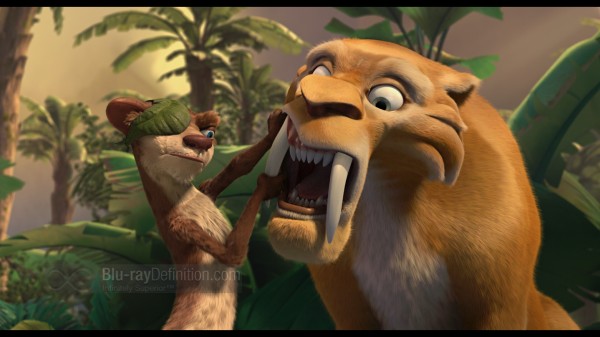 Some less demanding kids may like Ice Age: Dawn of the Dinosaurs, but this film may be evidence that it's time to put the series on the shelf and let it cool its heels. This Blu-ray release from Fox is a great value, however, with a solid video transfer and sound quality.

BestBuy.com:


Purchase Ice Age: Dawn of the Dinosaurs
on Blu-ray from CD Universe

Shop with us for more Blu-ray releases at Amazon.com