–
The Film
[Rating:4.5/5]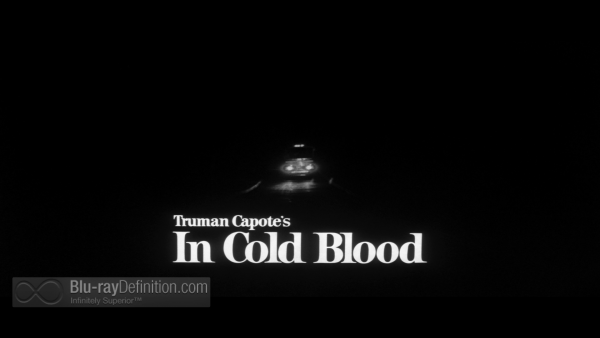 Based on Truman Capote's best-seller, what he tagged a "non-fiction novel," In Cold Blood is the real-life account of the murder of the Clutter family in Holcomb, Kansas. Richard Brooks wrote and directed the film adaptation in a bleak black-and-white with imagery evocative of film noir (courtesy of cinematographer Conrad Hall) and the Nouvelle vague.
Robert Blake and Scott Wilson play two ex-con drifters, Perry and Dick, who plot a nighttime robbery of unsuspecting farmer Herbert Clutter and his family. The scene – shot on location at the actual Clutter house where the murders took place on several years after the incident – takes place in almost complete darkness, as we eventually see later on the film, interrupted only by Perry's brilliant flashlight cutting through the eerie night. But the gory crime only gains them $43 and time on the lam passing off phony checks and a stint in Mexico with whores, while Alvin Dewey (John Forsythe) of the Kansas Bureau of Investigation, tries to track them down.
Brooks seamlessly blends the past and present in In Cold Blood, slowly unfolding the events that lead to their capture and the study of the two killers, revealing their histories to us, in particular Perry's, who we see had a troubled childhood with a violent drunk for a father and a promiscuous mother who ran off and left him and his siblings when they were young.
Playing against this all is one of Quincy Jones' most famous film scores. It is more than just jazz, it embraces classical, country, rock 'n' roll and often times melts right into the foley effects of the film itself. Jones, who many may not know studied under French composer Olivier Messiaen (who himself was a student of the famous Nadia Boulanger), is a master of arrangements, and here is evocative, often strident score sings of the psychology and violence that is bubbling up in In Cold Blood.

Video Quality
[Rating:4.5/5]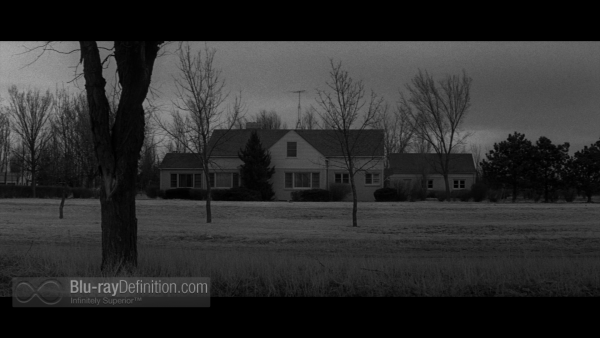 We get a stunning new 4K digital restoration of In Cold Blood on Blu-ray in an AVC/MPEG-4 1080p encodement from the Criterion Collection. The stark black and white imagery has magnificent contrast with deep, inky blacks and vivid whites. Detail is quite sharp while the film's grain is retained and natural, only a couple of spots showing some heightened grain and roughness, mainly from double pass visual effects.

Audio Quality
[Rating:4.5/5]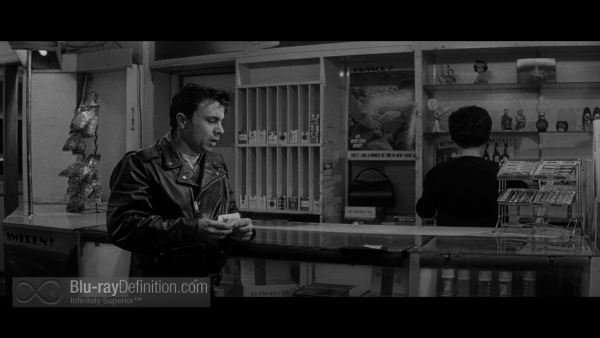 In Cold Blood was originally a three-channel stereo soundtrack, but it is provided on this Blu-ray release in a 5.1 DTS-HD Master Audio (48kHz/24-bit) mix that really brings the impressionistic Quincy Jones jazz score to life. It is big, atmospheric and spacious with wonderful balance and sense of dynamics. The dialogue is crystal clear as well and various sound effects, such as a train at the opening of the film, or the car that Perry and Dick drive, rumble down past us filling the soundstage.

Supplemental Materials
[Rating:5/5]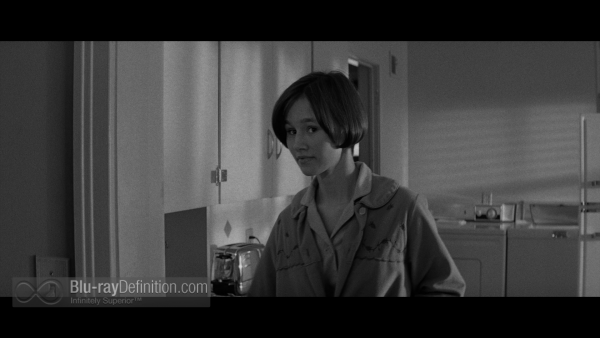 This one is packed to the gills with the usual set of very well informed Criterion Collection features such as interviews, archival footage and more. Go through all of these to learn more about the film, Capote, and the story behind In Cold Blood.
Douglas K. Daniel (1.78:1; 1080p/24; 00:16:59) – Richard Brooks biographer Douglass K. Daniel talks about the path the director took from journalism to filmmaking in this interview, recorded for the Criterion Collection in 2015.
John Bailey (1.78:1; 1080p/24; 00:27:04) – Cinematographer John Bailey discusses the work of In Cold Blood director of photography Conrad Hall in the following interview, conducted for the Criterion Collection in 2015.
Gary Giddins (1.78:1; 1080p/24; 00:21:09) – In this interview, conducted by the Criterion Collection in 2015, film critic and jazz historian Gary Giddins talks about composer and producer Quincy Jones and his score for In Cold Blood.
Bobbie O'Steen (1.78:1; 1080p/24; 00:14:35) – In this interview, conducted for the Criterion Collection in 2015, film historian Bobbie O'Steen talks about the work of In Cold Blood editor Peter Zinner.
Richard Brooks on In Cold Blood (1.33:1; 1080i/60; 00:18:24) – In this 1988 episode of the French television program Cinéma cinémas, director Richard Brooks looks back at the making of In Cold Blood.
With Love from Truman (1.33:1; 1080p/24; 00:29:06) – Truman Capote's book In Cold Blood was published in 1966, filmmakers David and Albert Maysles shot the following interview with the author about his research into the case of the Clutter family murders and the "nonfiction novel."
Truman Capote in Holcomb, Kansas (1.33:1; 1080i/60; 00:04:31) – In this segment from a 1966 episode of the Today show, In Cold Blood author Truman Capote returns to Holcomb, Kansas, where the Clutter family murders took place.
Truman Capote with Barbara Walters (1.33:1; 1080p/24; 00:09:46) – Television journalist Barbara Walters interviews author Truman Capote about his reaction to the film version of In Cold Blood in the segment from a 1967 episode of the Today show.
Trailer (2.35:1; 1080p/24; 00:02:56)
Essay by film critic Chris Fujiwara

The Definitive Word
Overall:
[Rating:4.5/5]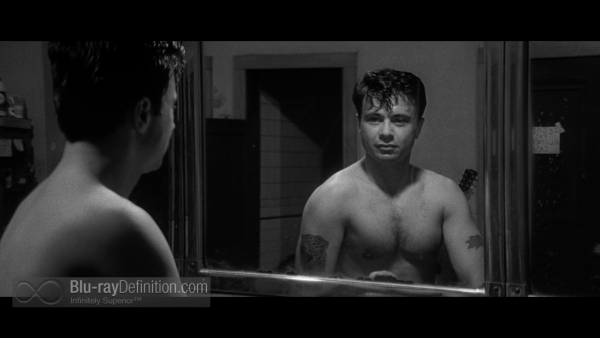 A brilliant account of violent crime and psychopathy painted in black-and-white, In Cold Blood is one of the great films of 1960s cinema. Here, Criterion Collection brings it to Blu-ray in a stunning restoration for cinephiles to enjoy.

Additional Screen Captures