–
The Film
[Rating:5/5]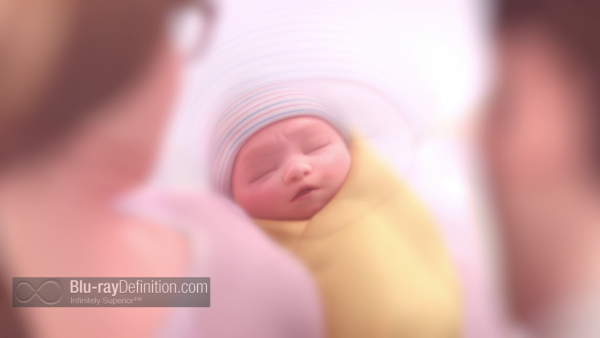 Pete Docter, the director who helmed the beloved Pixar films Up and Monsters, Inc., returns to helm the studio's latest adventure, Inside Out. This new one turns the tables and goes inside the mind of a young 11-year-old girl named Riley (Kaitlyn Dias). Uprooted from her comfortable life in Minnesota, Riley's parents move her to California where she struggles to fit in, and now the little emotions in her mind that have been keeping her happy all her life, the lead emotion Joy (Amy Poehler), Sadness (Phyllis Smith), Fear (Bill Hader), Anger (Lewis Black) and Disgust (Mindy Kaling) are struggling to keep her afloat. Joy, in particular, especially seems to be losing control, especially when Sadness begins to start touching all of Riley's memories – the memories are represented as spherical orbs that glow in the color of each emotion responsible for them – and turning them to blue, the color of sadness. When Sadness begins to change one of Riley's most important core memories blue, a memory about playing hockey with her dad as a little girl, blue, Joy takes extreme measure, grabbing them all up. But her actions result in terrible consequences. Joy and Sadness get sucked up inside a memory tube and out of the emotional headquarters with all of Riley's core memories. Now Riley is left in an emotional downward spiral with only Fear, Disgust, and Anger left to guide her. Joy and Sadness must go on a journey to somehow get back to the headquarters to replace Riley's core memories and fix things.
While making their journey back, Joy and Sadness also bump into Riley's long forgotten imaginary friend, Bing Bong (Richard Kind) a pink, part elephant, part raccoon, part cotton candy creature who cries candy and has a happy-go-lucky personality. Time is running out, though, because all of Riley's "emotional islands" the building blocks of her personality, are starting to collapse. Goofy Island is the first to fall, and soon, Friendship Island, Hockey Island, and Family Island all fall.

Pixar returned to form with an explosion of pure genius with this film, given the half-hearted sequels like Cars 2, and the retread of Monsters University. This is their greatest film since Up, and it is no surprise that Pete Docter is behind the wheel. Not only do they give us a film about people with opposite personalities (Joy and Sadness) going on an adventure and becoming friends, in true buddy film fashion, but they offer up a high concept plot that dives into the emotional world of the mind. We have various symbols of the subconscious, from our heroes heading through a hall of abstract thought to riding the train of thought, to winding up in a Hollywood-style production studio where Riley's dreams are produced every night by a jaded director.
The family dynamic is also what gives the film so much of the heart that will appeal to audiences. It is heartwarming to see Riley struggling to keep her sadness from her mother and father, and during a pivotal scene when Riley thinks she will perhaps never be happy outside of Minnesota, she is pained to hurt her mom in order to try to find that happiness again. And the ending, when Joy realizes that Riley needs sadness too, and that her old memories now need to be sad ones, is one sad, but brilliant moment of psychological art that will leave you teary-eyed and longing for more.

Video Quality
2D HD: [Rating:5/5]
3D Effect: [Rating:5/5]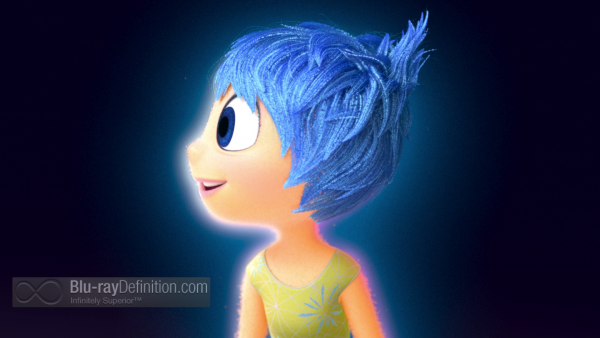 Inside Out is an original 3DCG animated production and it arrives on Blu-ray and Blu-ray 3D in two marvelous, reference quality transfers that are just flawless and beautiful to watch. The native 3D CG animation stays true to the Pixar tradition of having a natural depth of field and good pop, but without any gimmicky or excessive pop-out effects. The most effective visual effects are the "train of thought" and Joy and Bing Bong as they try to fly the rocket out of the memory dump, but other moments also shine. All of the memory globes really look beautifully dimensional. In 2D, the film looks even more candy colored and bright without the slight hints of ghosting that my display still shows in some of the backgrounds. We get an AVC 1080p encodement on the Blu-ray and the usual MVC in 1080p for the Blu-ray 3D.

Audio Quality
[Rating:5/5]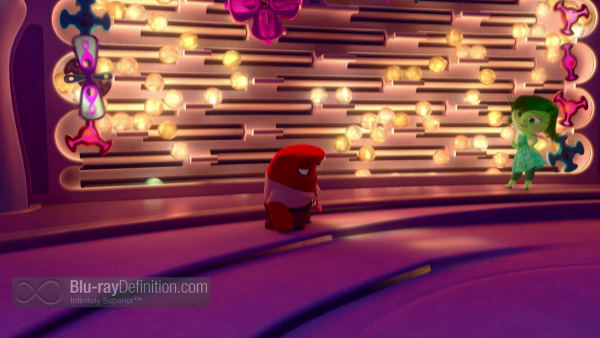 Two surround options are provided for Inside Out, a lossless DTS-HD Master Audio 7.1 (48kHz/24-bit) mix and a lossy DTS-HD High Resolution 5.1 (48kHz/24-bit) mix. Both sound very good, with the slight edge going to the lossless with which has a slightly more realistic sounding atmosphere and cleaner high frequency response. There are balanced sound effects panned through the surround and surround back channels, the low end is deep, it is especially pronounced when Joy, Sadness, and Bing Bong awaken the clown locked away in Riley's subconscious, or when her various "islands" begin to collapse. The high end is also very relaxed and easy on the ears.

Supplemental Materials
[Rating:5/5]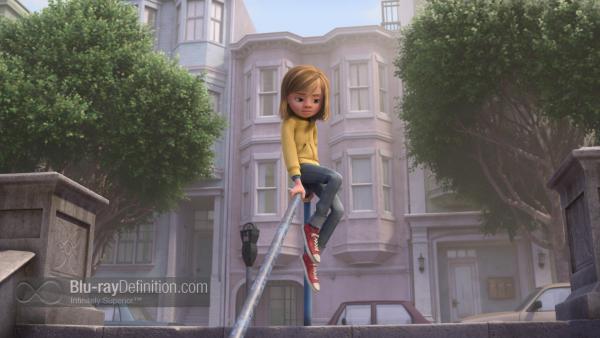 DVD
Disney Movies Anywhere
2D Blu-ray Feature Disc:
Lava Animated Short – This animated short features a lonely volcano longing for someone to "lava"
Riley's First Date? (1.78:1; 1080p/24; 00:04:40) – New animated short finds Riley, now 12, bringing a boy home and her mom and dad freaking out.
Path's to Pixar: The Women of Inside Out (1.78:1; 1080p/24; 00:11:22)
Mixed Emotions (1.78:1; 1080p/24; 00:07:17)
Commentary
3D Blu-ray Feature Disc:
Bonus Blu-ray Disc:
Behind the Scenes:
Story of the Story (1.78:1; 1080p/24; 00:10:30)
Mapping the Mind (1.78:1; 1080p/24; 00:08:24)
Our Dads, the Filmmakers (1.78:1; 1080p/24; 00:07:25)
Into the Unknown: The Sound of Inside Out (1.78:1; 1080p/24; 00:07:09)
The Misunderstood Art of Animation Film Editing (1.78:1; 1080p/24; 00:04:43)
Mind Candy (1.78:1; 1080p/24; 00:14:26)
Info
Deleted Scenes (1.78:1; 1080p/24; 00:16:53):

General Introduction by Pete Docter
Riley Grows Up
Joy's Decline
Misdirection
Construction
Trailers
Remember (1.78:1; 1080p/24; 00:01:38)
Experience (1.78:1; 1080p/24; 00:02:19)
Japan Trailer (1.78:1; 1080p/24; 00:02:30)

The Definitive Word
Overall:
[Rating:5/5]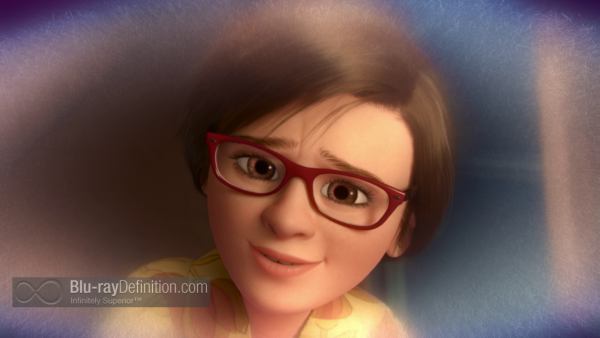 Brilliant return to form for Pixar. I didn't think this film would be much when I first saw the TV spots, but, wow, talk about bad advertising for a great product – everyone should watch Inside Out.

Additional Screen Captures