– –

The Film
[Rating:1.5/5]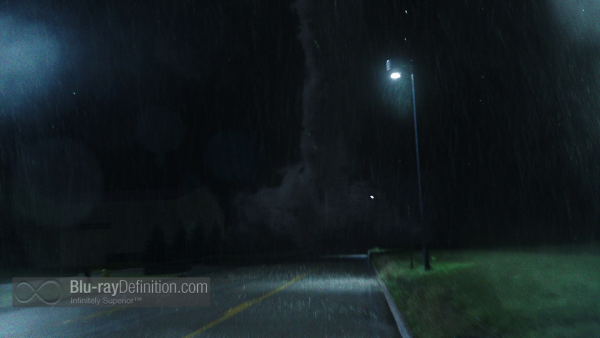 One could be forgiven for thinking one had been knocked over the head or perhaps stepped into a DeLorean and arrived in 1996 after sitting through director Steven Quale's (Final Destination 5; asst. dir on Avatar) latest action romp Into the Storm, because it bears a striking resemblance to that year's Twister. Except for some obviously updated visual effects and a millennial fascination with the found footage format of filmmaking, Into the Storm may as well be the even dumber sequel to that nearly two-decade old film.
Set in the Midwestern heart of tornado alley, Into the Storm follows a group of daring storm chasers in Oklahoma as they chase the superstorm of a lifetime, an unprecedented convergence of weather patterns that unleashes multiple vortexes and what is the largest tornado in history on a small town.
Richard Armitage (The Hobbit trilogy), Sarah Wayne Callies (TV's The Walking Dead) and Matt Walsh (TV's Veep) all star, but even their presence cannot rescue what is a terribly written film (John Swetnam is the screenwriter) from the beginning. Quale and Swetnam undercut the feeling of impending doom by weaving in a subplot with two rather dimwitted buffoons from the town following the storm chasers around with a GoPro camera and doing dumb stunts in order to get famous on YouTube. Add to this another cliché subplot involving two high school kids, a romance, and them trapped together during the storm, and there's too much bad than good.
Were it not for what are, without a doubt, some fantastic visual effects, Into the Storm would have absolutely nothing going for it. At one point a vortex carries flames up into the air in what is one of the most dazzling moments in the film. It is one of the big upgrades in this film over 1996's Twister, but even the effects become so overwhelming and overdone that they lose impact. There's no story to help carry them, and Into the Storm feels like no more than a better looking version of a bad SyFy original movie.
Video Quality
[Rating:3.5/5]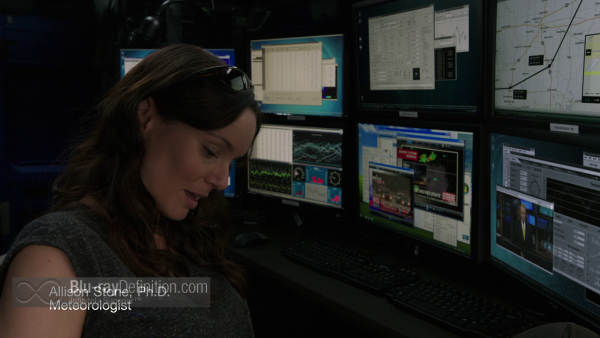 Into the Storm was shot in HD, but there is a bit of a "shot on video" quality to the image, most likely an artistic intention given the found footage format of this movie. The AVC/MPEG-4 1080p encodement to Blu-ray doesn't show any compression noise, but there is some slight banding that can be spotted. The color palette is desaturated to convey that grey, stormy look, so nothing clearly pops.
Audio Quality
[Rating:3.5/5]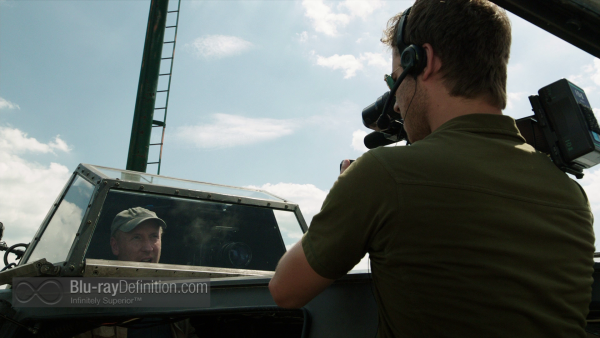 Into the Storm is an aural assault and the channels are pretty much filled straight through. Sadly, this becomes rather fatiguing, since there is much dynamic range here, its just loud all the time, and there is also what sounds like a boost in the upper midrange. Dialogue also has a sort of "talking into a cup" effect, probably intended, but it sounds somewhat less than full and natural.
Supplemental Materials
[Rating:2/5]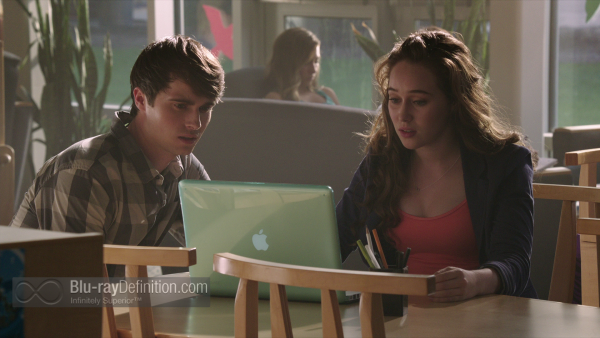 DVD
Digital HD UltraViolet
Into the Storm: Tornado Files (1.78:1; 1080p/24; 00:10:48)
Titus: The Ultimate Storm Chasing Vehicle (1.78:1; 1080p/24; 00:08:23)
Fake Storms: Real Conditions (1.78:1; 1080p/24; 00:05:37)
The Definitive Word
Overall:
[Rating:3/5]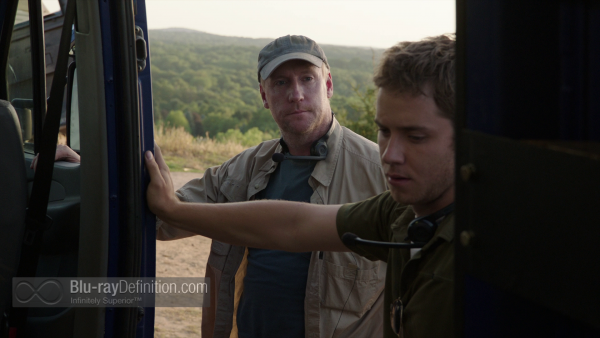 Into the Storm dazzles with visual effects, but has nothing else to offer to keep viewers interested. It's a disappointing action film that feels like little more than a rehash of the 20-year-old Twister updated for the millennial crowd.
Additional Screen Captures
[amazon-product]B00MJANW40[/amazon-product]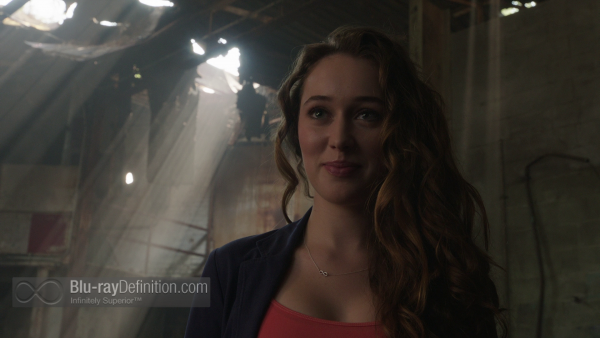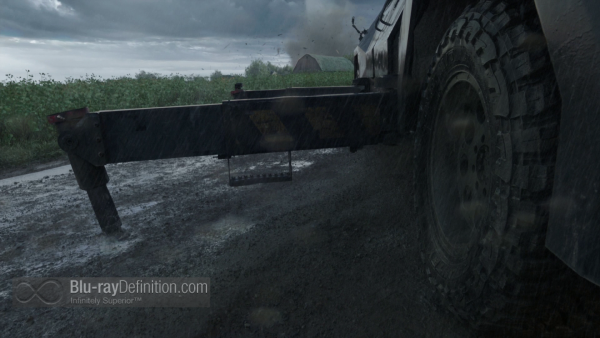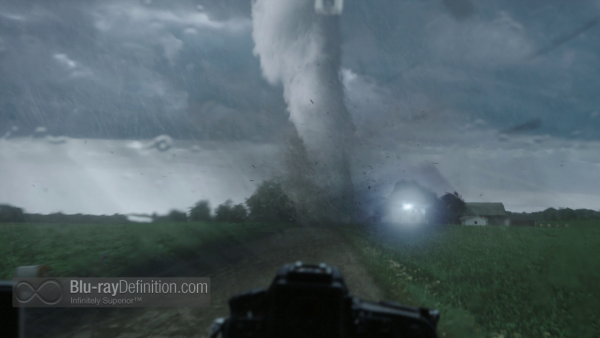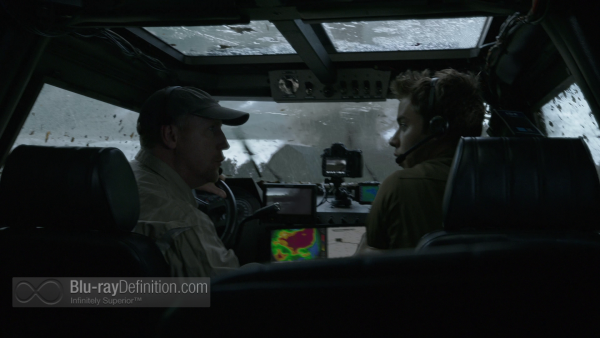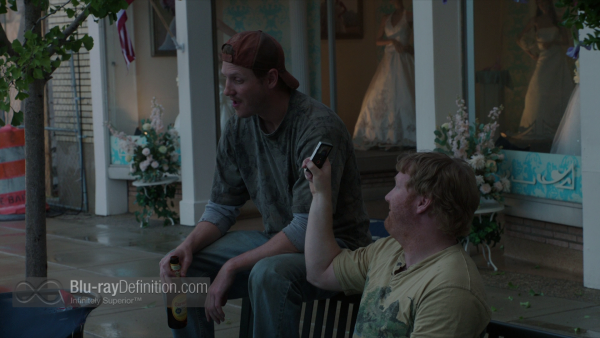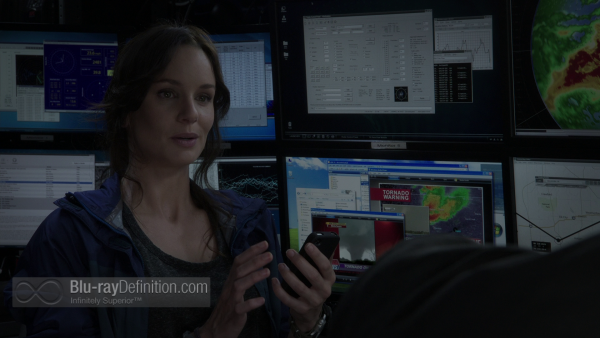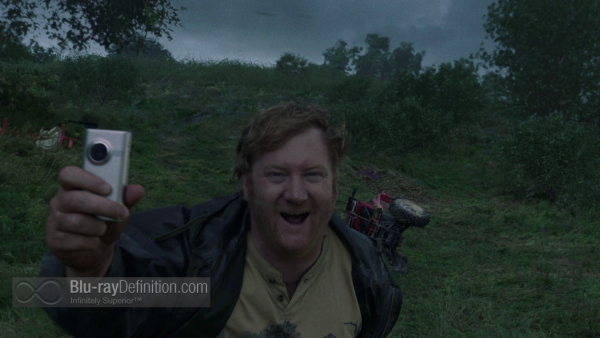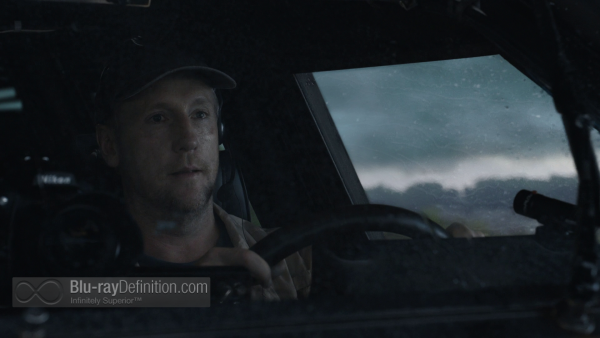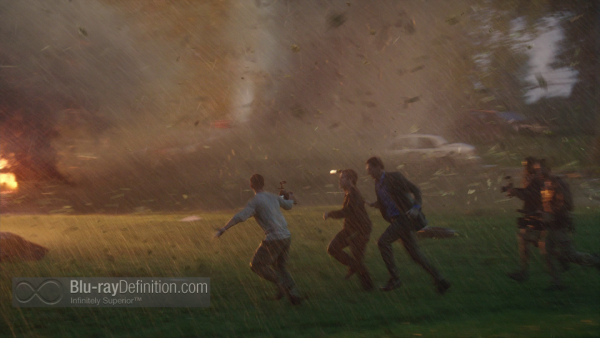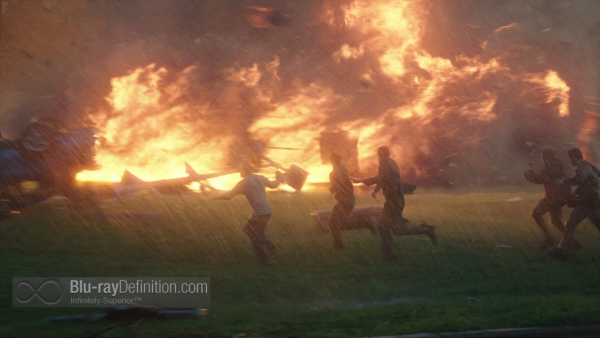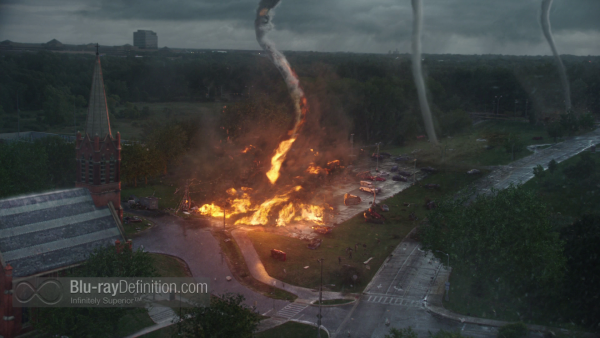 Non-Exclusive Q&A with INTO THE STORM director Steven Quale
Q: What is it like directing actors with the added distraction of extreme weather elements?
A: It was a real challenge to get a performance with all the distracting noises of the wind machines and rain towers.  The loud noise of the equipment made communication very difficult and I had to rely on hand signals.  One advantage to all the wind and rain is that it gave the actors something real to play against when shooting with green screens.
Q: What is the most exciting part about directing high-energy, intense films?
A: The most exciting thing about directing high-energy, intense films is taking the audience into a world that feels real.
Q: What can you tell us about Titus and how similar is it to a real storm chasing vehicle?
A: The Titus was designed by David Sanderford and has the same functions that a real storm chasing vehicle would have.  The most important features are two hydraulic outriggers that can fire spikes into the ground to hold the vehicle in place during the 100 mile per hour winds of a Tornado.  The Titus also has a motorized turret that allows a camera to photography a 360 degree view of any severe weather systems.
Q: What special features can we expect to see on the Blu-ray / DVD?
A: The Blu-ray/DVD for "Into the Storm" will have several behind the scenes features showing how we were able to realistically recreate the weather conditions of a tornado.  It also has a segment where world famous storm chaser Reed Timmer explains all of the types of tornados in or film and how they compare to the real ones that he has chased.
Q: What interested you in this story and joining as Director?
A: What attracted me to "Into the Storm" is being able to take the audience right into the center of a tornado.  To experience what it is like to see and hear the unimaginable power that a tornado can unleash.  I also wanted to explore how different people react to such an extreme event.
Q: How is Into the Storm different from previous tornado movies?
A: "Into the Storm" benefits from the advances in visual effects over the years so the tornadoes look much more realistic.  It also differs from other tornado movies in that we are not just following storm-chasers –  we have a  diverse group of unrelated people who are thrust together during the adversity of the storm and we get to experience how each of the different people react under the pressure of the storm.
Q: How does the film mix big visual effects with a grounded human element?
A: You experience the tornadoes through the eyes of the main characters and thus you have a vested interest in what everyone does.
Q: You have an extensive background in visual effects.  Tell us about what went into making this film look and feel real.
A: The most important thing to make this film look real was weeks and weeks of extensive research.  I studied every single video of any severe weather and tornado footage I could find.  Every major type of tornado was based on actual footage of real tornadoes.  In addition to the visuals I insisted on having the sound feel as real as possible and that is where academy award winning sound supervisor Par Hallberg shined with his amazing soundscape.  You really feel like you are in a tornado with the rumbling sound.
Q: Did the film require practical effects in addition to visual effects?
A: The films visual effects work so effective because they are a mix of practical physical effects such as wind machines and rain towers combined with the digital tornadoes and debris.  For the last half of the film, almost every shot required rain and wind machines.  We dropped a real truck in close proximity with Richard Armitage.
Q: How did the tornadoes act like characters in the film?
A: "Into the Storm" has several different types of tornadoes ranging from thing rope tornadoes, fire tornado to a large two mile wide wedge shaped tornado. Each of these tornadoes act like characters in that they have unique qualities that make them different.
Q: Why do you think audiences are so interested in disaster films?
A: People are always drawn to what scares them and they love to experience something that takes them on a thrill ride in the safety of movie going experience at home or in the theater.
[amazon-product]B00MJANW40[/amazon-product]