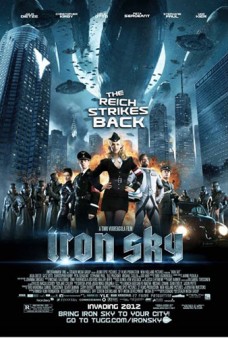 – –

Iron Sky is a cross between Plan 9 From Outer Space and a Nazi Germany education movie. It takes place in 2018, not on planet Earth, but on planet Nazi.
Two U.S. astronauts land on planet Nazi, and one of them sees, over a hill, a huge and strangely-shaped building, similar to the Pentagon, but in the shape of what appears to be a swastika. Suddenly Nazi soldiers appear and shoot him dead. The other astronaut, James Washington, played by a very funny Christopher Kirby, is taken captive, taken by the soldiers to the huge Nazi edifice.
From the opening scenes to the very end of the film, Iron Sky offers the viewer an amazing film with the look and feel so unlike any film in recent memory. Iron Sky is a drama, comedy, a suspense, and a spoof of all these combined into one. And now it is available in a limited edition version called Iron Sky: The Dictator's Cut.
Why, you may ask, are the Nazis living on a different planet. Well, right before WW2 ended, some of the highest Nazi military officers and their families boarded a spaceship and headed to this planet, to live, to reproduce, and to eventually go back to conquer planet Earth, as they had previously intended during WWII. What a great idea for a film!
Once in the Nazi headquarters, there are thousands of soldiers parading about, in hallways and rooms that are so large, no end in sight. Within this compound is teacher Renate Richter (Julia Dietze), who teaches the young children the Nazi way of life, which she says is the only way of life. She has been chosen to mate with Nazi commander Klaus Adler (Gotz Otto), who has intentions on becoming the next Fuhrer and head of the Nazi state. He plans to to take control from the clueless and emotionless current Fuhrer (Udo Kier). Dietze is the daughter of Doktor Richter, who has been tasked with the mission of building a super aircraft that will lift them off from their planet back to planet Earth. He is also tasked with looking after Washington. Doktor Richter discovers Washington's mobile phone, and in a euraka moment, he discovers that the phone helps to power up the engine to the spacecraft, just.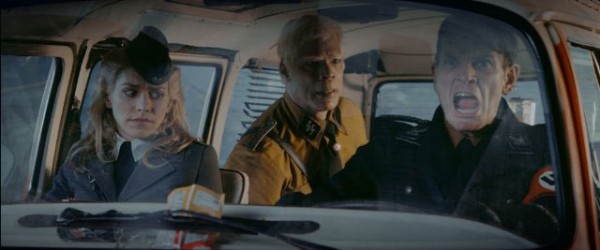 With the landing of U.S. astronauts on their planet, this is the Nazi's signal to them that perhaps they have been discovered living on 'their' planet and so they feel it is time to go back to Earth. So Adler, along with a white-washed Washington (Doktor Richter had given him some drugs to make him look white, just like the rest of them) are chosen by the supreme general to go to Earth and obtain more mobile phones to juice up their super aircraft. They discover that Renate has stowed away on the aircraft. They end up, believe it not, getting introduced to the President of the United States – Stephanie Paul – who is portrayed as a parody of Sarah Palin – to excellent effect. Miss President spends all her time on her stairmaster in the Oval Office, giving orders to her very loyal assistant Vivian Wagner (Peta Sergeant). And it turns out the mission the astronauts were on was part of President Wagner's re-election campaign, where Washington was chosen for his looks, and not because of his astronaut skills.
Iron Sky continues with the involvement of the United Nations with President Wagner leading the way to thwart the Nazi threat, explosions, fights that break out, the huge German spacecraft taking off from the Nazi planet, and battle scenes that take place in space that rivals those of Star Wars.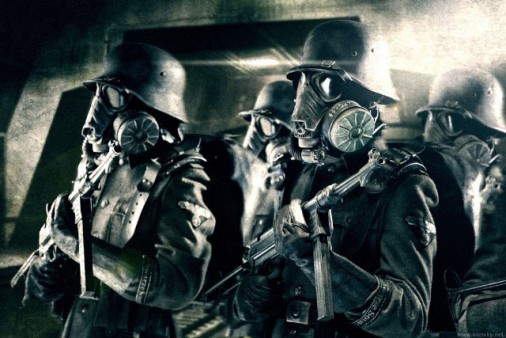 Iron Sky is a thoroughly enjoyable movie, with excellent direction by Timo Vuorensola. As mentioned above, it is funny, dramatic, suspenseful, and very different, parodying everything from Palin, to the Nazi's, to the United Nations to black people. The special effects are second to none, it is hard to believe the budget for this film was only $8,000,000.00. It looks like it was much, much more expensive to produce. While you can no longer see it at the cinema (except for perhaps when it becomes a midnight screening phenomenon like the Rocky Horror Picture Show), it can be bought now on DVD and Blu-ray. The Dictator's Cut comes with 20 minutes of additional footage, a 32-page concept art book, and a making of Iron Sky 75-minute video. This one is highly recommended for you've never seen anything like it before and will probably never see anything like it again!
Movie Rating:
[Rating:4.5/5]
[amazon-product]B00HI9QDQ6[/amazon-product]