– –

The Film
[Rating:3.5/5]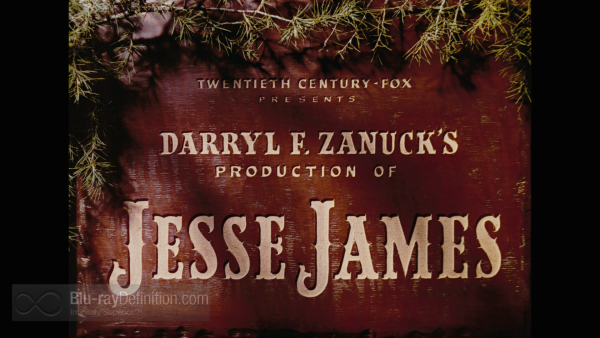 Virtually everybody is familiar with the legend of Jesse James, the most famous outlaw of his times, who was gunned down at the ripe old age of 34. Jesse James the movie is a mostly accurate account (with a few omissions) of the bandit's life and exploits.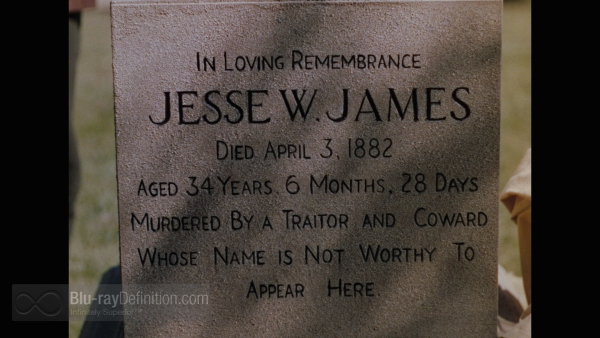 This film opens with the post-Civil War appropriation of privately owned farm land. Jesse James (Tyrone Power) watches some railroad flunkies led by Barshee (Brian Donlevy) try to "buy" the family farm from James's mother (Jane Darwell) for one dollar an acre, a price well below market value. Frank James (Henry Fonda) jumps in and beats up Barshee but in the ensuing melee, Jesse wounds one of Barshee's men. Frank and Jesse are now wanted men but the editor of the local newspaper Major Cobb (Henry Hull) takes up their cause against the railroad. Cobb also happens to be the uncle of Zerelda or "Zee" Cobb (Nancy Kelly) who is Jesse's lover.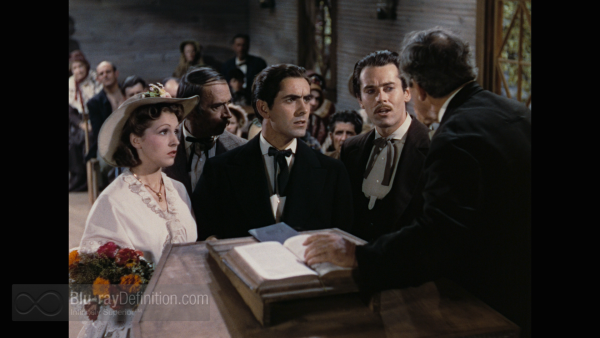 Later Jesse and Frank find out that Barshee has caused their mother's death and Jesse shoots him to avenge this loss. The brothers now take to the road, becoming notorious outlaws with a large price on their heads.  Eventually, Jesse marries Zee and turns himself in to Marshal Will Wright (Randolph Scott) who assures him that he will receive a light sentence. However, when a replacement judge decides that this will be a death penalty case, brother Frank comes to his rescue and breaks him out of jail.
Jesse's criminal activities continue and Zee, after bearing him a son, leaves him because she can no longer handle the stress of his life. Jesse plans to rob the huge bank in Northfield, Minnesota.. Unfortunately for the gang, Bob Ford has ratted them out and they are trapped in a shoot out. A wounded Jesse escapes with Frank and returns home to Zee. They plan to run off to California to start a new life.  Frank has broken out of prison and sends Bob Ford (John Carradine) to let Jesse know that he is ready for another bank job. Jesse declines and while he is taking down a "Home Sweet Home" sign, Ford fatally shoots him in the back.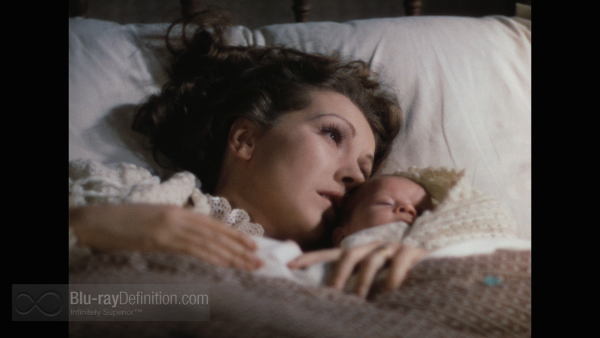 Unlike many of the Westerns that preceded Jesse James, this film has much more of a psychological element that seems to work well with its excellent cast. Jesse James was very well received by its 1939 audiences, only having the misfortune to be released in the same year as Gone With the Wind, The Wizard of Oz, and The Hunchback of Notre Dame.
Video Quality
[Rating:4/5]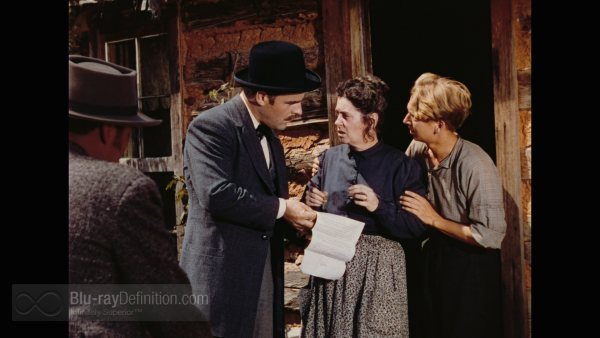 This is one beautifully restored film with great action sequences, picturesque landscapes, and super close ups.  Colors are natural and the amount of detail recovered in the remastering is simply astonishing. There is a refreshing lack of grain or noise.
Audio Quality
[Rating:3/5]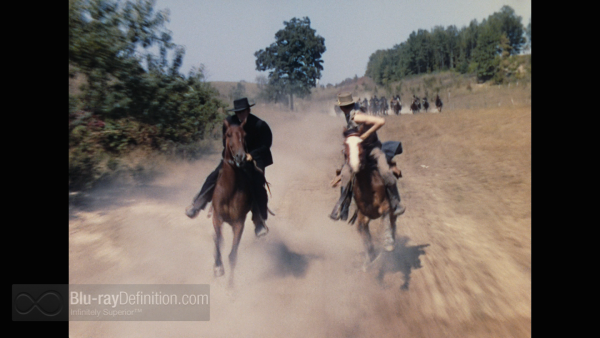 The DTS-HD Master Audio 5.1 soundtrack is the way to go with this one. It discretely spreads the original mono sound across the speakers, adding some depth and clarity.
Supplemental Materials
[Rating:1.5/5]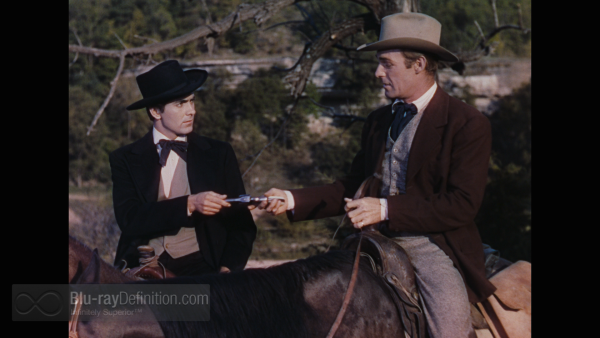 Not much going on here.
Original Theatrical Trailer 2:14  (English Dolby Digital Stereo 48kHz/16b)
MovieTone News: Jesse James At The Roxy: 0:33. English Dolby Digital Mono): a brief clip showing a reaction to the original screening.
Hollywood Spotlight: 1:26 (English Dolby Digital Mono 48kHz/16b). A brief feature on the actors in this film.
The Definitive Word
Overall:
[Rating:3.5/5]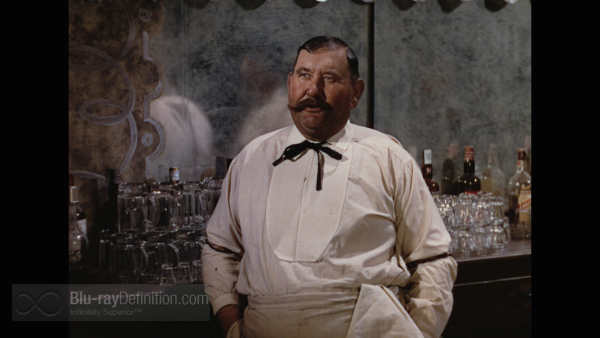 Jesse James is a very successful retelling of a often told tale about one of the most famous outlaws in US history. With an excellent cast from top to bottom working with a topnotch script, and getting great cinematography and direction, this is one sure entertainment bet, particularly in such well restored form.
Additional Screen Captures
[amazon-product]B00FL2F1O2[/amazon-product]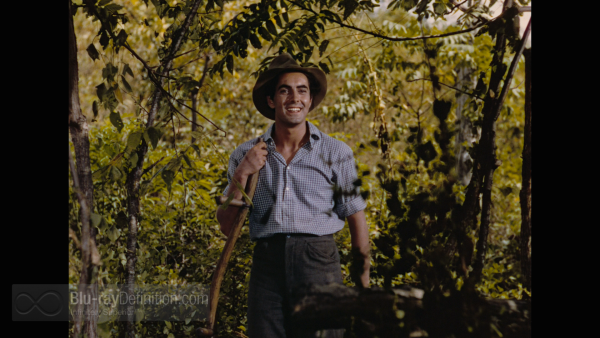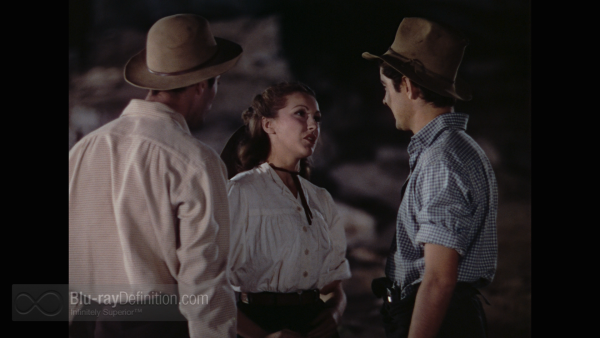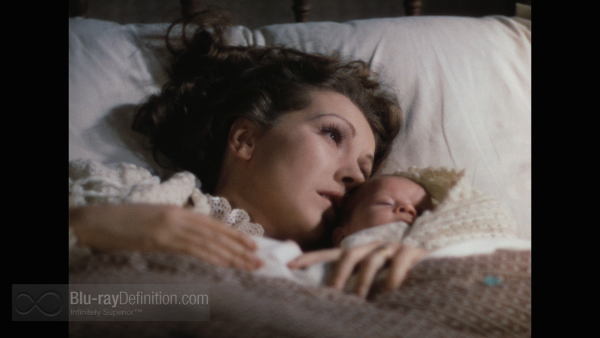 [amazon-product]B00FL2F1O2[/amazon-product]