– (scroll to bottom if using mobile OS

The Performance
[Rating:4/5]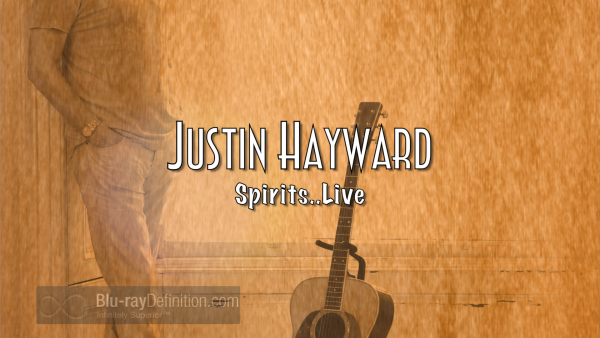 As one of the iconic bands of the first British invasion in the 1960s, the Moody Blues wrote pensive albums with rich symphonic backgrounds. Justin Hayward was the Moody's guitarist and front man as well as songwriter.  In this 2013 concert in Atlanta's Buckhead Theater, Hayward and colleagues-Mike Dawes (guitar), Julie Ragins (keyboards, percussion, backing vocals) Alan Hewitt (keyboards, backing vocals)-give us a concert full of TMB hits as well as Hayward's own. The playlist follows:
Captivated By You
Tuesday Afternoon
It's Up To You/Lovely To See You
In Your Blue Eyes
The Western Sky
Land Of Make Believe
New Horizons
In The Beginning
One Day Someday
The Eastern Sun
It's Cold Ouside Of Your Heart
Your Wildest Dreams
Forever Autumn
Question
Nights in White Satin
I Know You're Out There Somewhere
Captivated by You (Reprise)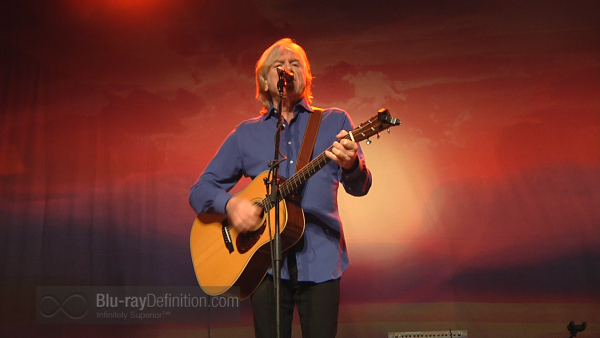 The motivation for this tour was the launch of Hayward's new album Spirits of the Western Sky that furnishes nine of the seventeen songs and demonstrates that his talent for writing songs has not diminished over a half-century career. While the Hayward voice has lost some of its sheen and is occasionally raspy it still delivers songs in a convincing and compelling manner. The newer numbers are retrospective looks at some of the early performers like Buddy Holly who strongly influenced Hayward's style and career. The Moody's hits like "Nights in White Satin," "Tuesday Afternoon," and "Your Wildest Dreams" are given some nice updating for 21st century listeners. Of course, "Question" is a rocker that gets the entire joint clapping and jumping for joy.
Video Quality
[Rating:4/5]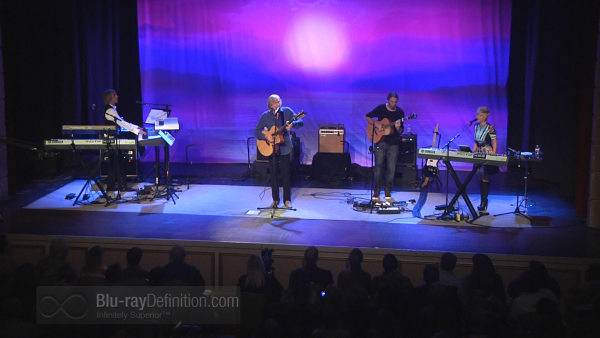 As a high-resolution film, detail is quite good with minimal motion motion artifact. Colors are generally quite well produced, muted only when the lights dim or place a bluish cast on the stage. Camera coverage is excellent.
Audio Quality
[Rating:4/5]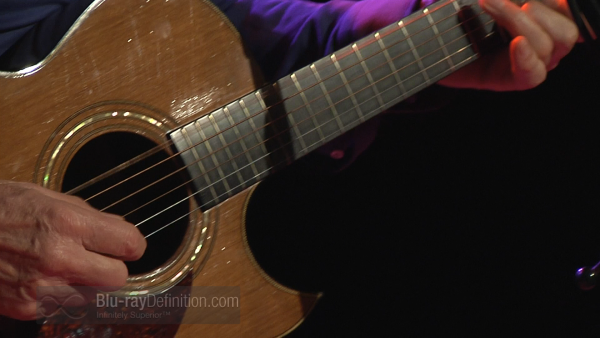 Both surround and two-channel soundtracks are quite good with not much too chose between them as the surround channels do very little here. Vocals and instruments are perfectly clear.
Supplemental Materials
[Rating:3.5/5]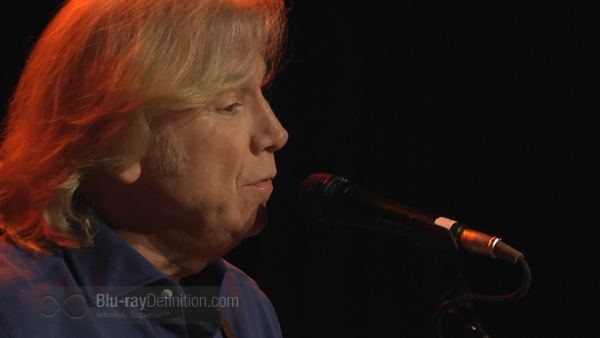 There is a one-hour long documentary film "Justin Hayward: On the Road to Love" (English DTS-HD Master Audio 2.0 Stereo (48kHz/24-bit).  Essentially the behind-the-scenes story of Hayward's 2013 American tour, we get a great feel for the live of a traveling musician and his preparation for shows in differing venues including the amazing amount of technology required for each performance. There is also a slim program booklet with cast and production credits and a personal note from Hayward.
The Definitive Word
Overall:
[Rating:4/5]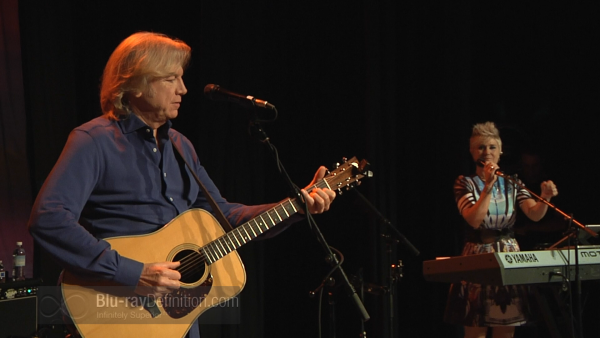 For a group that had its heyday long before many of today's audiences were born, the scope and range of the Moody Blues' songs as delivered by Justin Hayward today will be a true revelation. It was reassuring to see how well his musicianship has been sustained and this Atlanta concert should provide listening enjoyment to old fans as well as those coming to this artist for the first time.
Additional Screen Captures
[amazon-product]B00KS6EQCY[/amazon-product]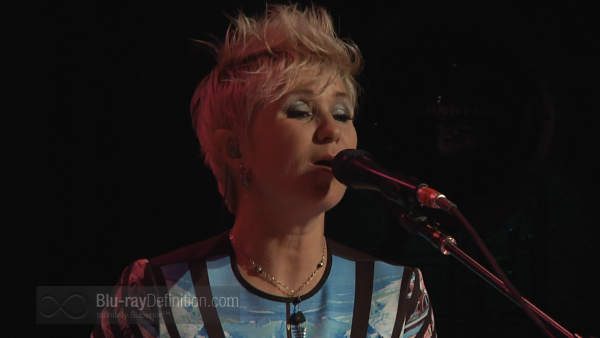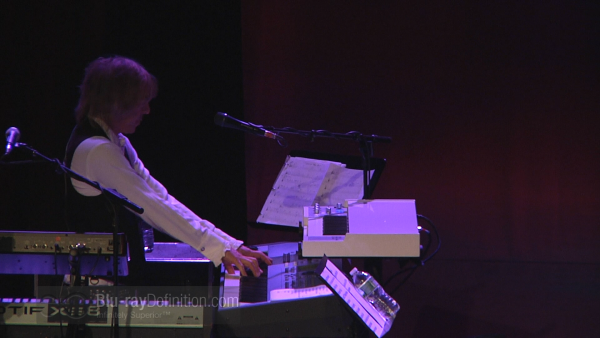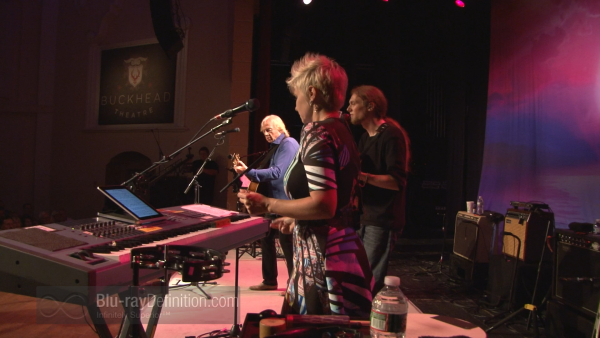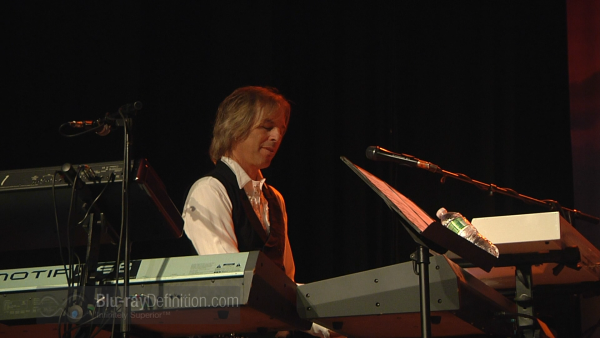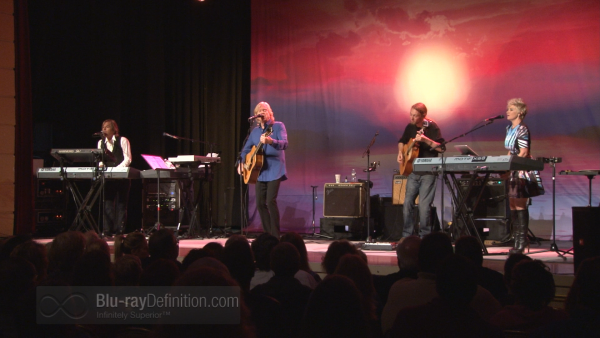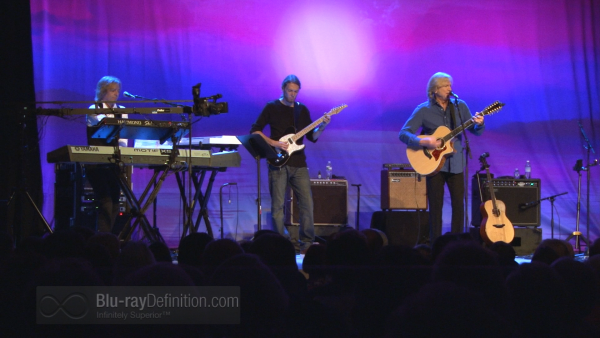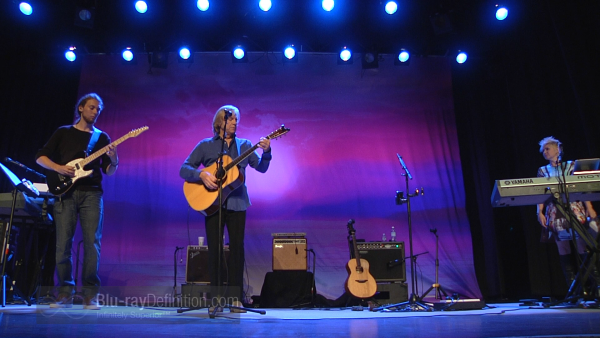 [amazon-product]B00KS6EQCY[/amazon-product]