– –

The Film
[Rating:4.5/5]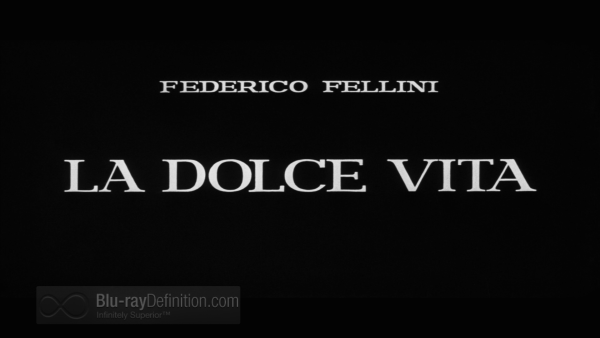 La Dolce Vita (The Sweet Life) focuses on the romantic escapades of Roman gossip columnist Marcello Rubini (Marcello Masroianni). Considered the pinnacle of writer/director Federico Fellini's cinematic career, this film covers seven (but not necessarily consecutive) days during which Rubini rubs elbows (and quite a bit more) with Rome's rich and famous people.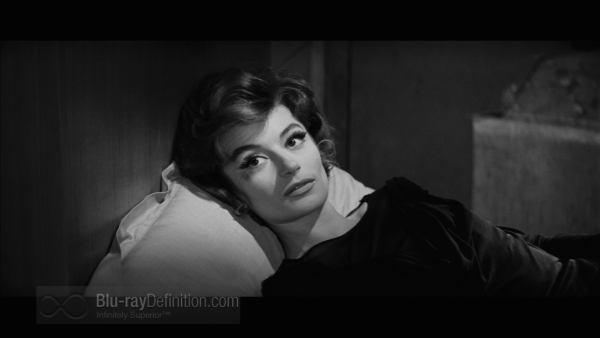 Soon into the film, Rubini strikes up a cozy relationship with the wealthy Maddalena (Anouk Aimée) in a prostitute's apartment. When Marcello returns home, he finds his fiancée Emma (Yvonne Furneaux) unconscious after taking a drug overdose. Marcello rushes her to the hospital but one gets an uneasy feeling about the future of their relationship. As the film proceeds, this relationship grows increasingly discordant since both characters are so self-absorbed that little room is left for anyone else.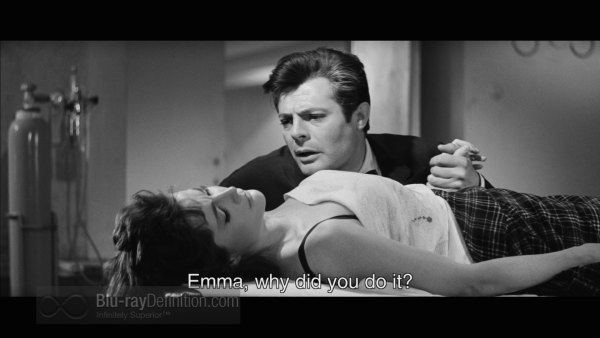 Marcello next goes to the airport to cover the arrival of Sylvia Rank (Anita Ekberg), a famous Swedish-American actress who is surrounded by an army of paparazzi. [Note: the nickname "Paparazzo" or "sparrow" given to one of the characters has become synonymous with the voracious cameramen that stalk celebrities.] Sylvia admits that the three things she likes most in life are "love, love, and love." Her interview is interrupted by her drunken boy friend, film actor Robert (Lex Barker). Eventually, Sylvia, Robert, and Marcello go out for a wild night on the town and the evening culminates with famous Trevi Fountain scene, as Sylvia and Marcello literally get all wet.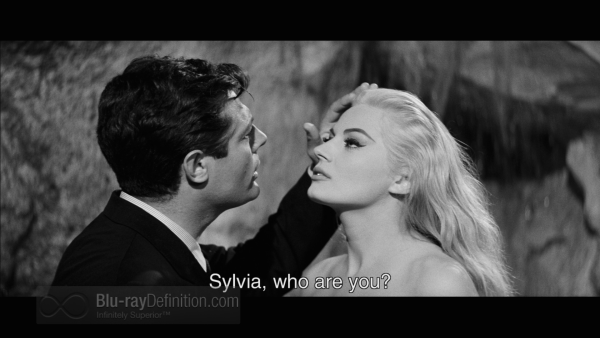 Emma accompanies Marcello as he covers a so-called "miraculous" sighting of the Madonna by two children as the growing crowd turns the location into a virtual circus.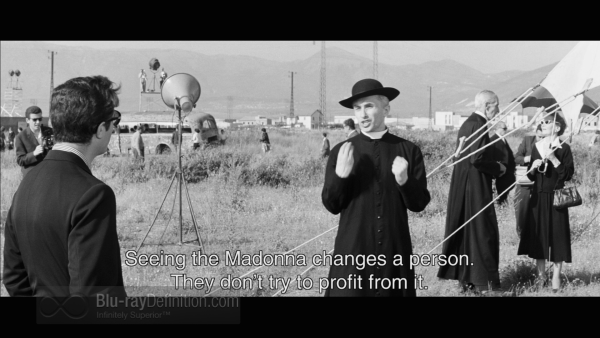 During an evening at friend Steiner's (Alain Cuny) lovely home, Marcello comes to realize that his life is going nowhere, Emma may not be the right woman for him, and that he needs to make major career changes.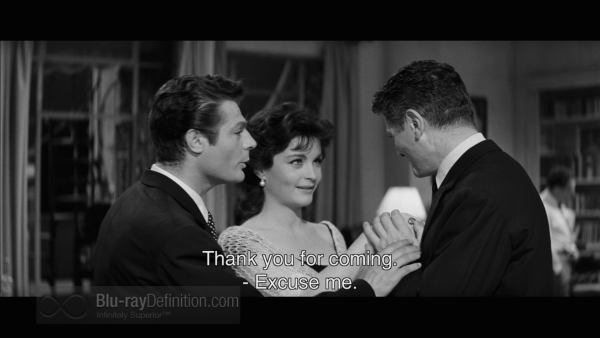 We see a more sympathetic side of Marcello after he runs into his father (Annibale Ninchi) and, with Paparazzo (Walter Santesso), the trio goes to the Cha-Cha-Cha night club. It turns out that Marcello does not know his father very well since Papa was always on the road. Later, Papa hooks up with dancer Fanny (Magali Noël) and when he becomes ill, Marcello shows his sensitive and  caring self.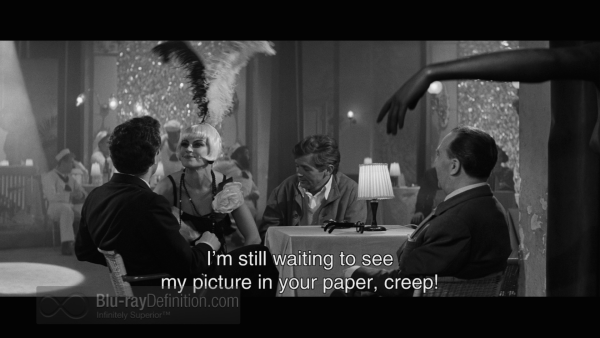 More late nights and parties for Rome's beautiful people ensue with Marcello seemingly always in tow. The seemingly endless (and mindless) celebrations are punctuated by a tragic event, and, by the film's conclusion, it has become quite clear that La Dolce Vita is not so sweet after all.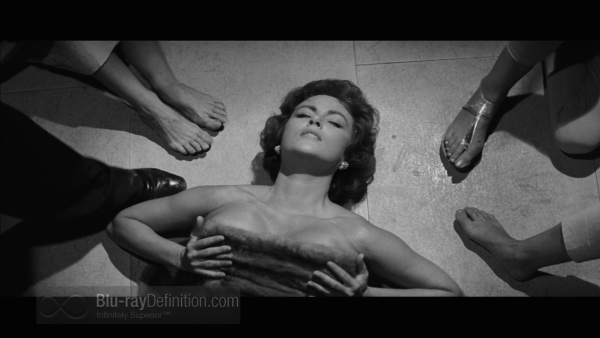 Director Fellini took considerable heat from the Catholic Church for some of the visual and script jabs that were headed in the Vatican's direction. That aside, La Dolce Vita was an artistic and financial success that has secured this film a permanent place in the silver screen pantheon.
Video Quality
[Rating:4.5/5]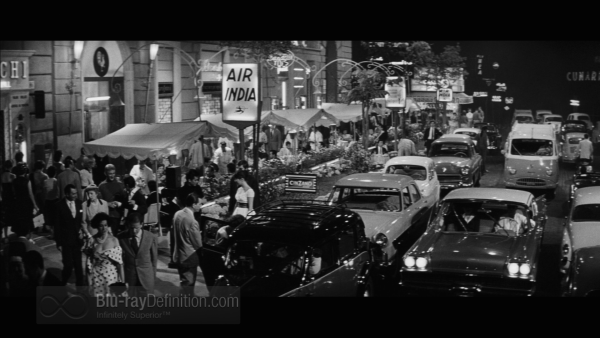 The original 35 mm negative and fine-grain positive received a truly fine 4K makeover with an ARRISCAN scanner.  The final result truly looks like a freshly minted motion picture.
Audio Quality
[Rating:3.5/5]
The original soundtrack in glorious monaural sound was remastered at uncompressed 24 bits from a 35 mm optical soundtrack positive. While it remains a tad boxy, Nino Rota's brilliant score come through loud and clear, as does the dialogue.
Supplemental Materials
[Rating:3.5/5]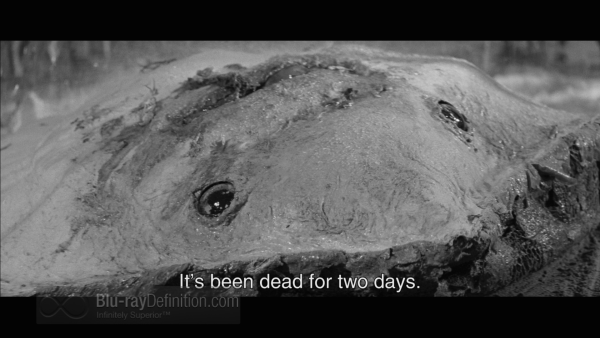 The extras:
The Eye and the Beholder (9:32) (English Dolby Digital Stereo 48khz/16-bit): a 2014 visual essay on the mobile camera technique by film-maker ::kogonada that shows how shifting points of view are modulated through the cinematic lens.
Federico Fellini (30:07) (Italian/English Dolby Digital Mono 48kHz/16-bit): A 1965 interview conducted by Irving R. Levine for NBC News gives us Fellini's thoughts on films (other than his own) and how he works.
Lina Wertmuller (7:25) (Italian Dolby Digital Stereo 48kHz/16-bit): Renowned film director Wertmuller worked on two films with Fellini, including La Dolce Vita. This 2014 interview describes their working relationship and weighs in on the film's ending.
David Gorgacs (14:29) (English Dolby Digital Mono 48kHz/16-bit): The film scholar delves into the way in which this film dealt with the many changes in Italian society during the 1960s.
Antonello Sarno (15: 51) (Italian  Dolby Digital Stereo 48kHz/16-bit): This Italian film journalist weighs in on La Dolce Vita, particularly the over-the-top fashions that were featured.
Marcello Mastroianni (9:32) (English Dolby Digital Stereo 48kHz/16-bit):  A vintage 1963 audio interview with film historian Gideon Bachmann in which the actor shares his relationship with director Fellini.
Felliniana: a visual tour through posters, lobby cards, and press books that have been collected by Dan Young.
Program booklet with background piece "Tuxedos at Dawn" by critic Gary Giddins, production credits, and a brief description of the restoration.
The Definitive Word
Overall:
[Rating:4.5/5]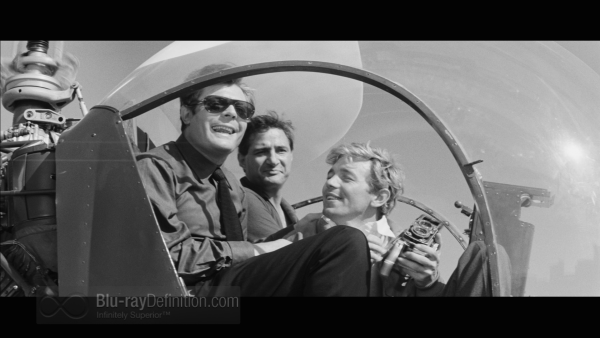 This film has cinema verite quality that is abetted by cinematography that draws the viewer into the action. The nearly three-hour running time might seem off-putting to the attention spans of today's movie fans, but this film does not seem that long. Watching iconic actors like Mastroianni, Ekberg, or Aimée, to name but a few, one gets the sense that Fellini wants to make a statement in each scene and this he does better than almost everyone else in his generation. There are few if any films like La Dolce Vita and this one belongs in every movie-lover's library.
 Additional Screen Captures
[amazon-product]B00LUSUWB8[/amazon-product]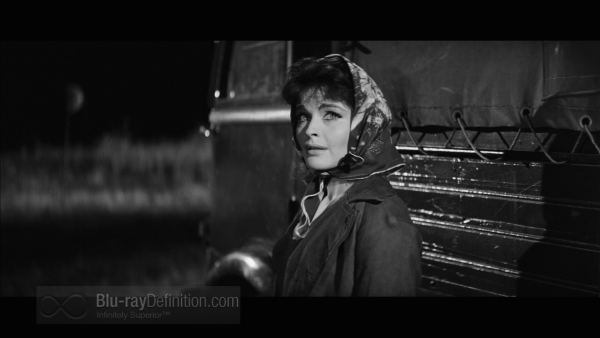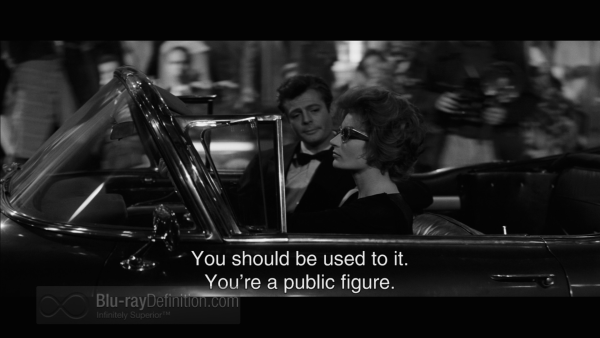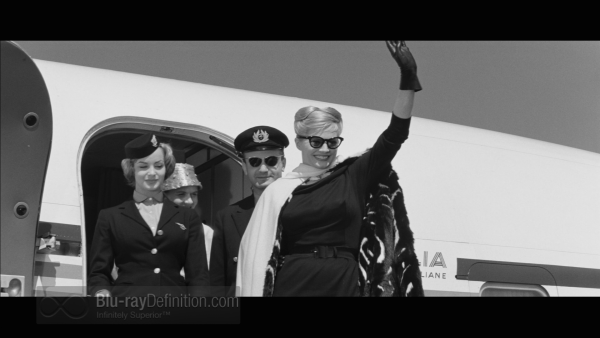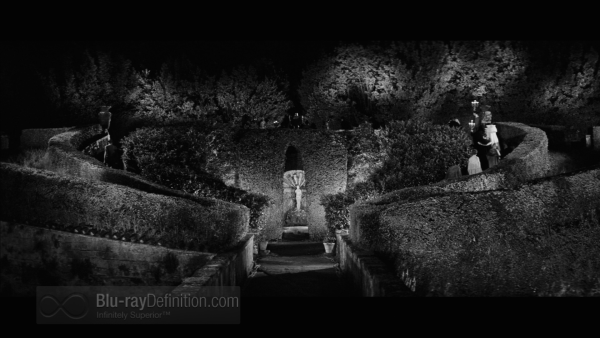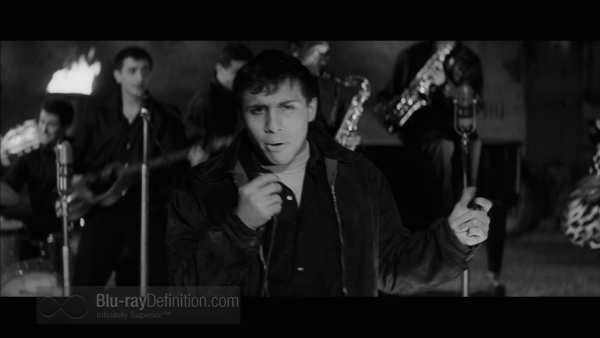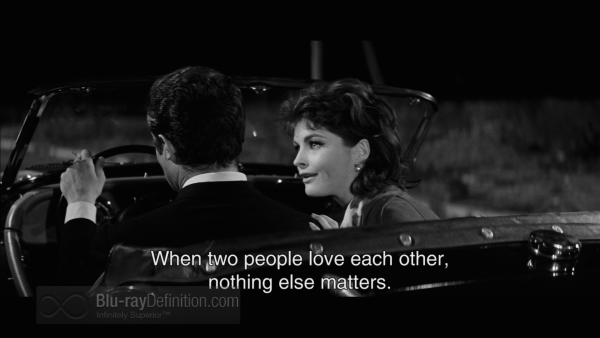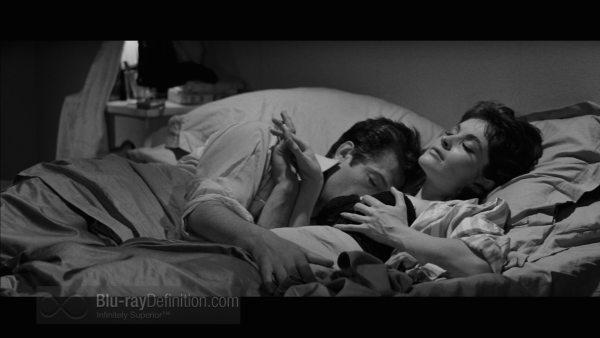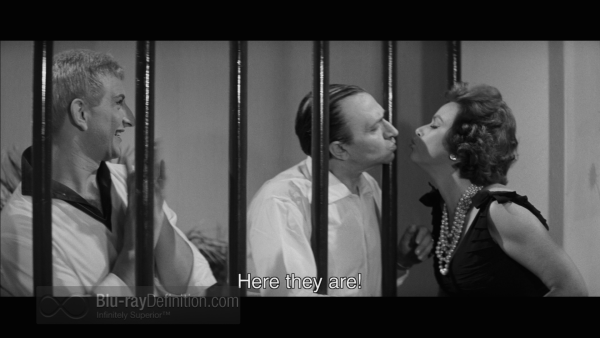 [amazon-product]B00LUSUWB8[/amazon-product]