– –

The Film
[Rating:4/5]
As L'Eclisse (The Eclipse) opens, it is a warm summer night in 1961 Rome and Vittoria (Monica Vitti) is breaking up with her longtime lover Riccardo (Francisco Rabal) for whom she works as a literary translator.  Later, Vittoria visits her mother (Lilia Brignone) at the Rome stock market, and meets Piero (Alain Delon) her mother's young broker.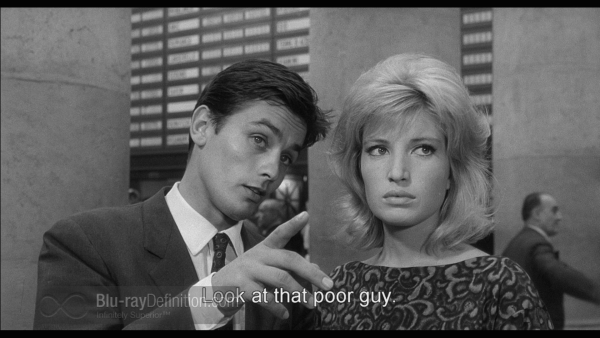 During the evening, Vittoria joins her friend Anita (Rosanna Rory) at Marta's (Mirella Ricciardi) apartment for a "girls' night in." Marta has recently returned from Africa and the girls "go native" during their cocktail party. A passionate (and politically incorrect) discussion about colonialism ensues.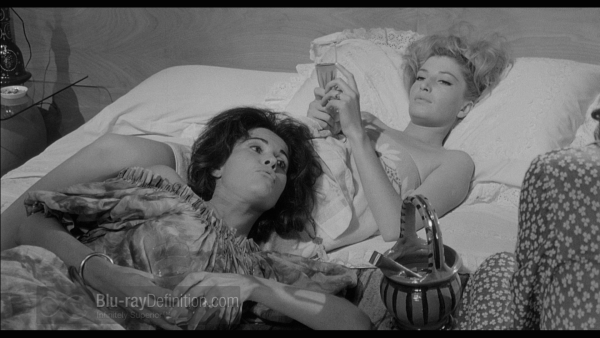 Vittoria is being stalked by Riccardo and decides to take a scenic airplane getaway ride over Rome with Anita. The scene returns to the stock market where Piero is wheeling and dealing as Vittoria's mother arrives. The cacophony of the market and the incomprehensible signals of the brokers become a surrealistic bedlam without apparent direction. Vittoria arrives in the middle of a market crisis that has cost her mother millions of lire, and meets Piero again.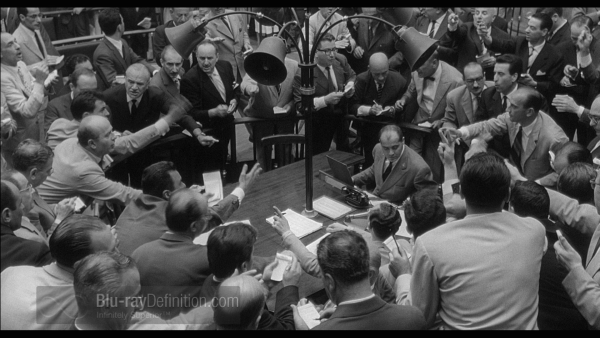 We now get a glimpse of Piero's largely aimless life with one-night stands and sports cars. Ultimately, the hook up with Vittoria begins when Piero's car gets stolen (and ultimately retrieved from the river with a dead car thief at the wheel).  Finally, we get the obligatory (and largely expurgated) sex scene in Piero's very expensive apartment (owned by his parents). The relationship is intense but ambiguous and, eventually, Piero's crass materialism dooms any future with Vittoria.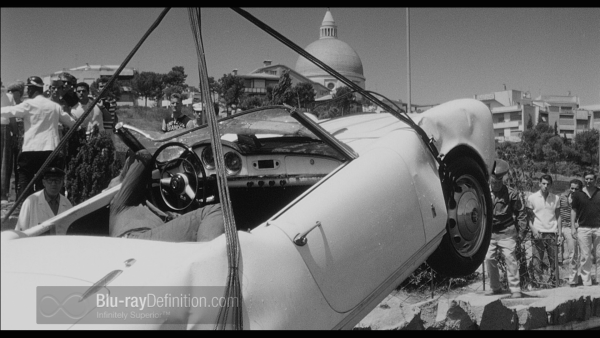 Directotor Michelangelo Antonioni, a leading exponent of the Italian "new wave" cinema of the 1960s, had already directed two earlier films, also featuring Monica Vitti, L'Avventura (The Adventure) (1960) and La Notte (The Night) (1961). L'Eclisse became the final and, perhaps,  the most potent entry in this trilogy that explores the intimacies of the human condition with no holds barred.
Video Quality
[Rating:4/5]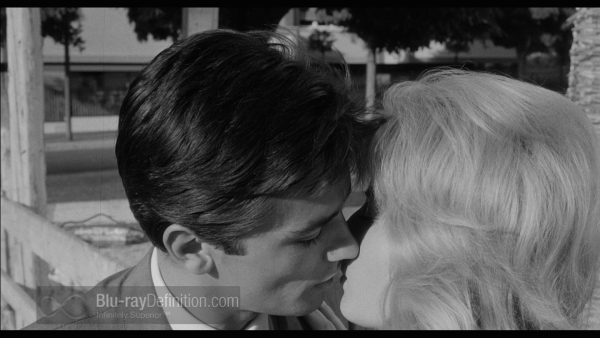 Gianni Di Venanzo's beautiful camera work spars with the characters and the backdrop of the "Eternal City," the principal setting of the film. The interjection of modern and mostly sterile construction work becomes a visual metaphor for the film's personal interactions. The digital restoration is clearly up to the Criterion Collection's high standards and provides details and contrasts that are truly extraordinary, making viewers forget that this is a 52 year-old film.
Audio Quality
[Rating:3/5]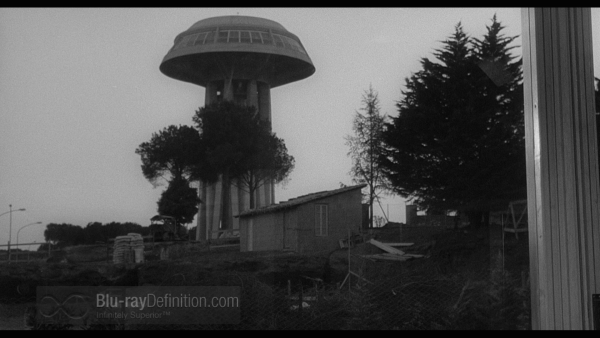 Given the provenance of the soundtrack, there is relatively modest compression or boxiness with clear dialogue that, as an Italian speaker, I truly appreciated. Giovanni Fusco's modern (and minimalist) soundtrack is more than appropriate for the subject matter and well reproduced.
Supplemental Materials
[Rating:3/5]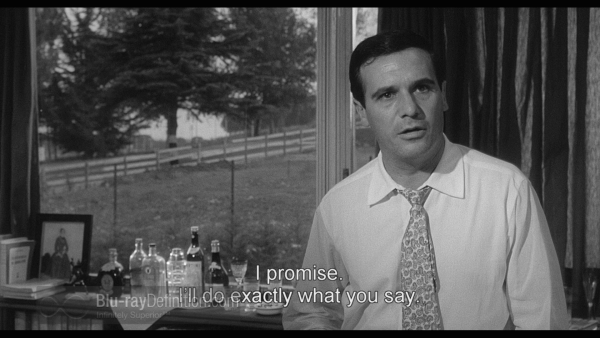 The bonus materials include the following:
The Eye That Changed Cinema (55:58) (Italian Dolby Digital Stereo 48 kHz/16-bit): a Sandro Lai 2001 docmentary that chronicles the career of director Antonioni and his methods.
Elements of Landscape (22:02)  (Italian Dolby Digital Digital Stereo 48kHz/16-bit) Adriano Apra and Carlo di Carlo analyze the film in this 2005 documentary.
Booklet with essays by film critics Jonathan Rosenbaum and Gilberto Perez along with some excerpts from Antonioni about his films.
Audio Commentary by film scholar Richard Pena, former program director of New York's Film Society of Lincoln Center
The Definitive Word
Overall:
[Rating:4/5]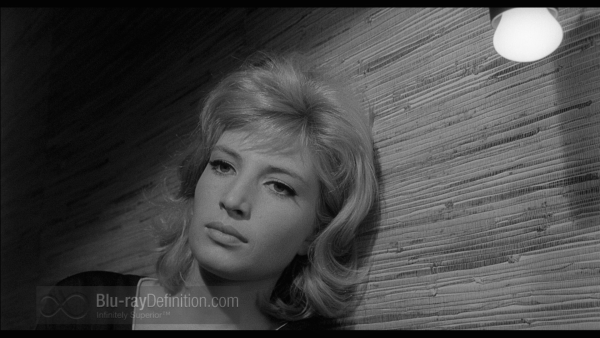 Moviegoers who are familiar with Antonioni's films will appreciate the economy of expression that characterizes L'Eclisse both in terms of dialogue and camerawork. While the title might refer to the phenomenon of one individual obscuring another (the rationale for Vittoria's initial breakup with Riccardo), it is also a metaphor for how the elements of one life may blot out the ingredients that are essential for a lasting relationship. Taken in the context of Antonioni's two preceding films, L'Eclisse provides a perfect conclusion to his cinematic trilogy
 Additional Screen Captures
[amazon-product]B00J2PQZRQ[/amazon-product]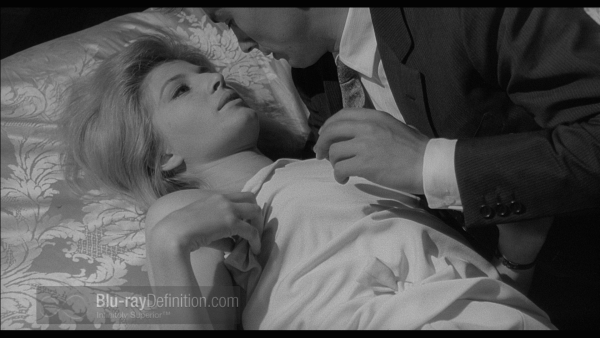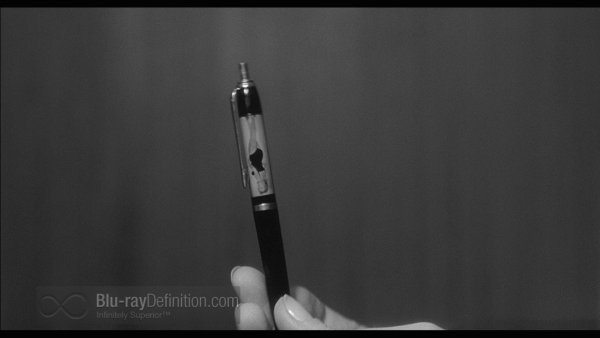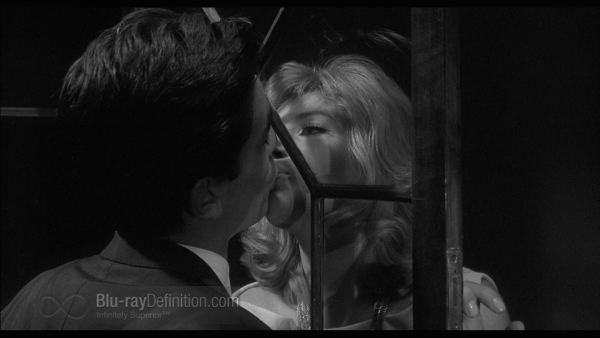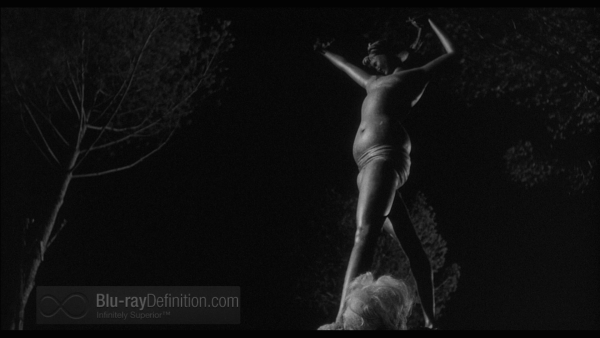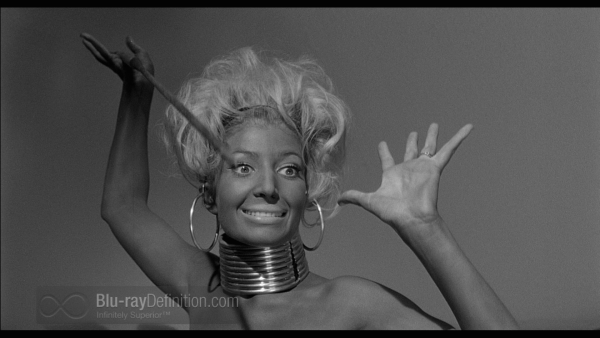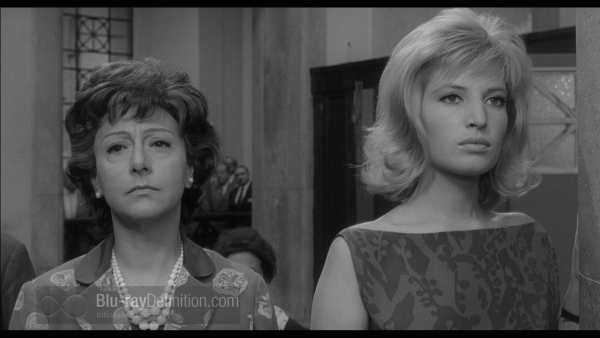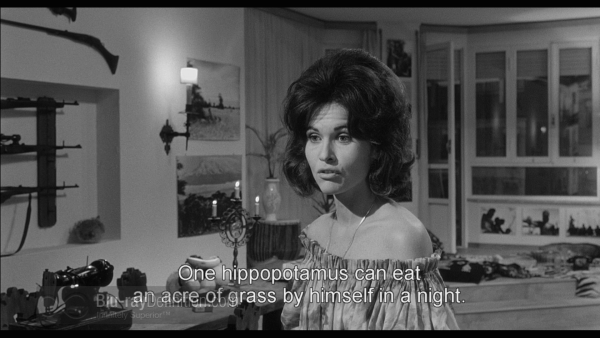 [amazon-product]B00J2PQZRQ[/amazon-product]