– –
The Film
[Rating:4/5]
In 1994, Luc Besson had already made a name for himself as a filmmaker internationally through his work on the films Nikita and La Grand Bleu. If there was any mark against him, it was that his work was often criticized for being all gloss, no substance, and overly violent. Surely Nikita, or La Femme Nikita as it is known in the US, might easily fit that description. The world, then, was not quite prepared for what was  still to come from the writer/director in the form of Léon (known in the US as The Professional).
Léon is French director Luc Besson's, slickly stylized and controversial 1994 film about an Italian hitman or "cleaner," Léon, who befriends a young 12-year-old girl, Mathilda (Natalie Portman) after her entire family is killed by crooked DEA agents. When he takes the girl into his apartment to save her from the men looking to kill her, the two quickly develop a bond and the young girl is drawn to the lonely hitman, asking him to train her as a cleaner.
As the two grow closer together, Mathilda professes her love for Léon, and begins to try to seduce him into taking her virginity and also tries to hire him to kill the men who killed her family. Natalie Portman, in her first starring role, displays a talent far beyond her years here and certainly hints at things to come (notwithstanding the Star Wars prequels). In fact, in the supplements on this disc, Portman explains how landing this role helped her to avoid the typical child star trap of doing kids movies, as she would from this point on be viewed as an "adult" leading actress.  I would be remiss to not also point out Gary Oldman's typically strong character performance as the corrupt and murderous, drug addicted DEA agent Stansfield.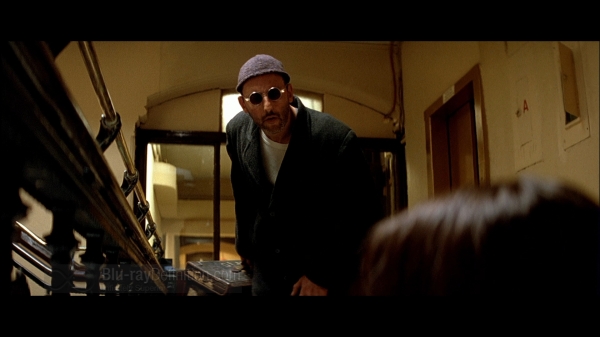 What makes Besson's film controversial, obviously, is the awkward, to many, sexual overtones of the relationship between the precocious young Mathilda and the unsuspecting Léon. Initially, the longer, so-called, "international version" of the film, which contained some 33-minutes of additional scenes exploring the relationship between Mathilda and Léon was available only in Japan. Eventually, the extended edition was released to DVD and laserdisc, but, alas, only in Europe and Japan. Anyone who has seen the extended version of the film knows that it is superior to the gutted version that, for many years, was the only one made available to US consumers.
Altogether, this extended version of Léon not only makes for a great action film, but, even more, a wonderful character study and exploration of human sexuality, loneliness, friendship and love that crosses all boarders and boundaries. It's not a film for prudes or the squeamish, but with that being said, its controversy has been far too played up. It's a quiet film about two unusual people brought together by extraordinary circumstances and it is definitely some of the best of Besson's work.
Video Quality
[Rating:4.5/5]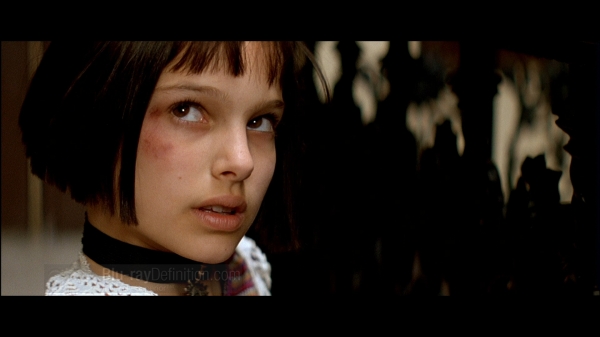 Léon is given a fine Blu treatment in this 1080p/24 AVC/MPEG-4  2.35:1 encoding from Kinowelt Home Entertainment.  Being 15-years-old now, one would expect the source to be less than spectacular, but it is obvious right from the opening scenes that great care and attention has been used in bringing this classic film to high definition. Artifacts of age are few, with only a minor speckle or scratch creeping in on the odd occasion, which is to be expected. Léon has been cleaned up, for certain, but unlike catalogue releases from other studios, DNR (Digital Noise Reduction) is hardly excessive here, and the grain structure has been well preserved, with sharp detail retained in flesh and clothing.
Black levels are obsidian and consistent, though there is some occasional crushing in dark scenes. Contrast never blooms and flesh tones are natural even as colors pop in Besson's stylized lens. This Ultimate Edition of Léon is a deservedly reference-quality catalogue release.
Audio Quality
[Rating:3.5/5]
This release is provided with two main audio options, a DTS-HD High Resolution 7.1 mix of the original English soundtrack and a German DTS-HD High Resolution 7.1 dub mix. Additionally, there are German subtitles available. Although the DTS-HD HR mix is not lossless, its high bitrate provides superb sound quality that will be quite adequate for most people and will most likely be indistinguishable from a lossless DTS-HD Master Audio encoding on a preponderance of sound systems.
The mix is not the most aggressive of 7.1 mix mixes I have ever heard, that designation will still have to go to either Saw V or the Japanese release of Ghost in the Shell, but the added channels provide for a more immersive soundstage filled with many ambient effects that make for a lively and entertaining presentation. The dialogue is intelligible, with only some vaguely noticeable clipping in one or two scenes, and in the film's dénouement, the sound effects are skillfully aided by a decent amount of low frequency extension, but don't expect a thorough workout for the subwoofer from this soundtrack.
Supplemental Materials
[Rating:2.5/5]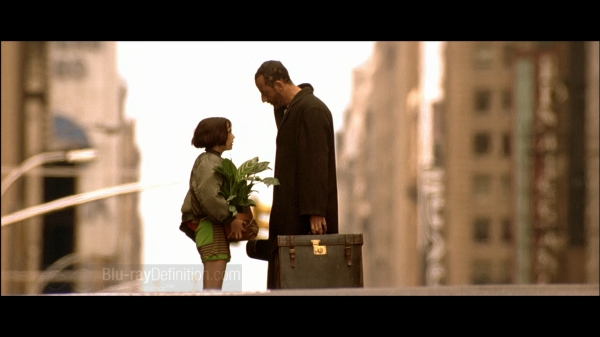 All supplements, save the Photo Gallery are provided in standard definition PAL on this release, so unless you are in a PAL region or using a player capable of making the conversion from PAL-to-NTSC, you will not be able to view those. The supplements offered are surprisingly interesting and, also interestingly, all in English. They have also managed to track down the film's big stars, Jean Reno and Natalie Portman for interviews, which is a welcome bonus, making this release even more worthy of the moniker "Ultimate Edition."
The supplements available on this release are:
Isolated Music Score — Watch the film with just the score.
Fact Track — An in-movie trivia track (in German).
Jean Reno — The Road to Léon (1.78:1; standard definition; PAL)  — In a lengthy interview, the actor discusses his early career in film, his friendship with director Luc Besson, and how Besson created the role of Léon for him. Additionally, he speaks of preparing for one of the film's controversial moments with young actress Natalie Portman.
Natalie Portman — Starting Young (1.78:1; standard definition; PAL) — Natalie Portman discusses how she was given the script and auditioned for the role at the young age of 11, but her parents had to make director Luc Besson agree to strict requirements before agreeing to allow her to take on the controversial role, including limiting the scenes of her smoking and removing a scene of Léon walking in on her in the shower.
Léon — A Ten Year Retrospective (1.78:1; standard definition; PAL) — This featurette shows the cast and crew reminiscing on the making of the film.
Trailer (1.78:1; standard definition; PAL; German) — The original German theatrical trailer.
Fotogallerie (1.33:1; HD) — A slide show of production stills.
The Definitive Word
Overall:
[Rating:4/5]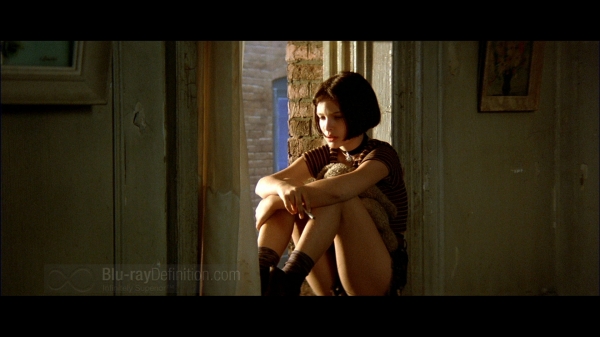 This Luc Besson film featuring timeless performances from Jean Reno, Gary Oldman, and a young Natalie Portman is treated to a fine video transfer in this German Steelbook release. If you can playback Region B titles, then I highly recommend picking this one up if you cannot wait for it to head to US shores.
Purchase Léon — Der Profi (Leon: The Professional) — Ultimate Edition Steelbook Blu-ray on Amazon.de
Shop with us for More Blu-ray Titles at Amazon.de
Shop with Us for More Blu-ray Titles at Amazon.com