– –

The Film
[Rating:3/5]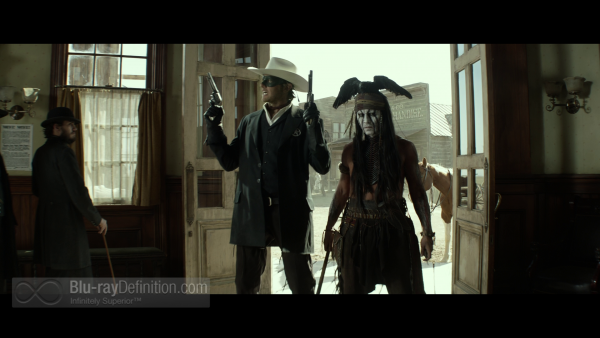 Director Gore Verbinski (Rango; The Ring) and producer Jerry Bruckheimer combine forces again for this big budget reimagining of the The Lone Ranger. As one might expect, the film brings in Johnny Depp (Dark Shadows; The Rum Diary) as a headliner and features a string grand action sequences.
A puzzlingly complicated telling of a straightforward plot, The Lone Ranger tells the story of how the mild mannered lawyer John Reid (Armie Hammer) becomes the Lone Ranger during the railroad boom of the 19th century. As Comanche, Tonto (Depp), (yes, that's Johnny Depp playing playing Tonto, because, you know, apparently there weren't enough indigenous peoples in all of Hollywood or the entire Americas to fill this role) tells the story, Reid is returning to his home in Colby, TX aboard a train that also contains captured gangster Butch Cavendish (William Fichtner), being taking back for a public hanging by the railroad's head honcho Latham Cole (Tom Wilkinson). Tonto is also on-board under arrest, as he puts it, for being "Indian!". Tonto, we soon realize, is a bit of an eccentric who has been shunned by his people for being, to put it bluntly, a wacko, who is out for revenge. He has his own reasons for going after Cavendish that date back to an incident from his childhood. When the dangerous Cavendish manages to escape the train with the help of his gang, John Reid's older brother Dan (James Badge Dale) gathers a posse to hunt him down, and the gun shy John joins them, but they are fatally ambushed by Cavendish and his bandits. Almost miraculously, John survives and Tonto gathers him up, proclaiming that he is now a "spirit walker", incapable of being killed. He convinces John to join him in his quest to hunt down Cavendish. John Reid dons a white hat and black mask and becomes the Lone Ranger, well, sort of "lone", as he and Tonto bumble along together from one adventure to the next on their quest for vengeance.
There is no faulting the visual appeal of this popcorn western from Gore Verbinski. From the opening sequences he assaults us with wide open spaces, speeding trains, and the typical fight sequence on top of the train that has been done to death, though here it has a sense of humor that helps it come off well.
Where The Lone Ranger goes awry is in its one-dimensional characters that seem only to exist has human placeholders to help accent the visual effects, and the fact that much of the film goes on for far too long, including the big action set pieces. It's telling that the sole deleted scene included on the Blu-ray Disc is a brief animatic. This is a film that feels like nothing was cut, from chase scenes that run out their usefulness, to a completely unnecessary device that has an aged Tonto recounting the tales of his and the Lone Ranger's heroics from a museum display window to a young boy.
Were it not for Johnny Depp's ability to take a thinly written character and turn it into something worthwhile, we'd have no investment in Tonto, and Armie Hammer just makes for a goofy Lone Ranger. It may be the only argument for using Johnny Depp and not a real Native American in the role that makes any kind of sense. The rest of the characters are poorly written and cartoonish, even the bad guy, Cavendish, seems ripped from the pages of a comic strip rather than someone with any real pathos.
In the end, despite some of the enjoyable moments along the way in The Lone Ranger and Johnny Depp's charismatic crafting of yet another quirky character, this film feels less like one that will be another successful multi-film franchise along the lines of Pirates of the Caribbean, and more like a one off, and forgettable, afternoon waster.
Video Quality
[Rating:5/5]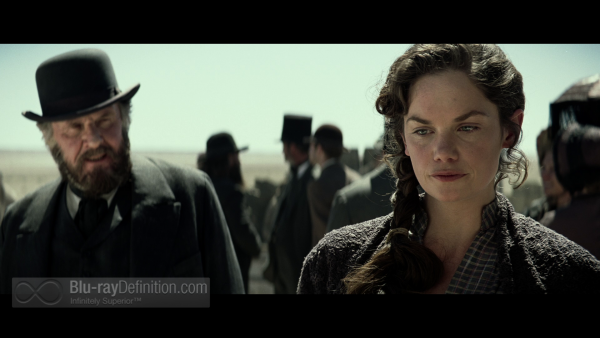 The Lone Ranger was primarily shot on 35 mm (Kodak Vision3 50D 5203) film stock on a range of Arri and Panavision cameras, with some scenes shot in HD on the Arri Alexa Studio. The Blu-ray transfer is done in AVC/MPEG-4 1080p and it's a reference release. The top notch image offers up fine, sharp textures, a clean source, and obsidian blacks with extended contrast and nuanced darker scenes. The flesh tones look realistic while other colors really look naturalistic. Textures really look three-dimensional, such as the paint on Johnny Depp's face.
Audio Quality
[Rating:5/5]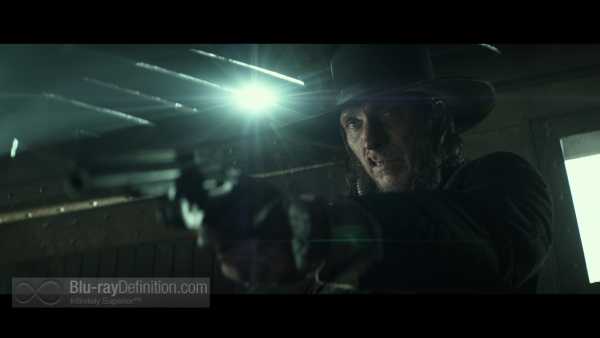 The audio mix on Blu-ray that has been provided is a lossless English DTS-HD Master Audio 7.1 (48kHz/24-bit) soundtrack that is dynamic, natural, and wholly encapsulating. The galloping of horses is beefy and fills the entire room. Dialogue is full and clear while the myriad gunshots ring out through all channels, surround back channels included, and have a clean and airy sound without a tweaked high end.
Supplemental Materials
[Rating:2.5/5]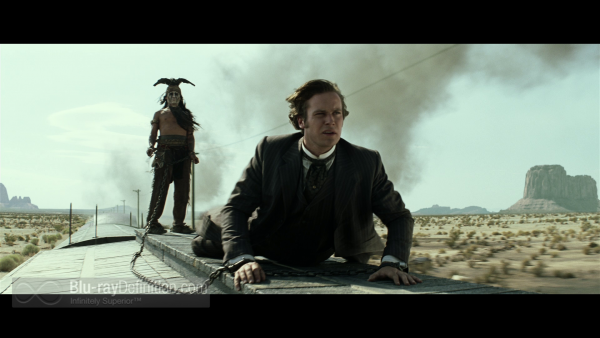 The extras do not offer much replay value and just offer up a few, brief, standard press kit-type featurettes.
The supplements:
DVD
iTunes Digital Copy
Armie's Western Road Trip (1.78:1; 1080p/24; 00:14:37)
Becoming a Cowboy (1.78:1; 1080p/24; 00:08:03)
Riding the Rails of The Lone Ranger (1.78:1; 1080p/24; 00:10:39)
Deleted Scene – Locust Storm/ Great Warriors Must Adapt (2.35:1; 1080p/24; 00:03:49)
Bloopers (2.35:1; 1080p/24; 00:03:51)
The Definitive Word
Overall:
[Rating:4/5]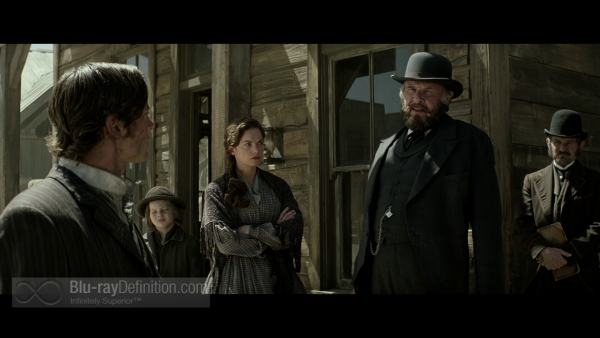 The Lone Ranger is a fine home theater experience on Blu-ray for those looking for a mindless weekend distraction, but overall, as a film, it is a flawed one, and hardly one of the best from director Gore Verbinski and actor Johnny Depp.
Additional Screen Captures
[amazon-product]B00G8P2400[/amazon-product]
[amazon-product]B00DJYJWVW[/amazon-product]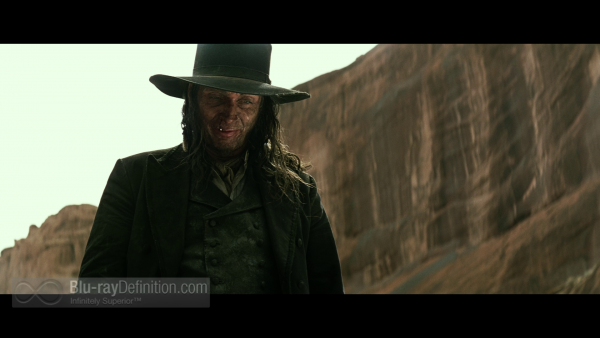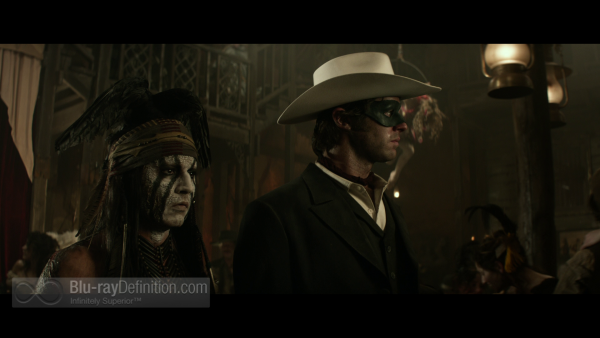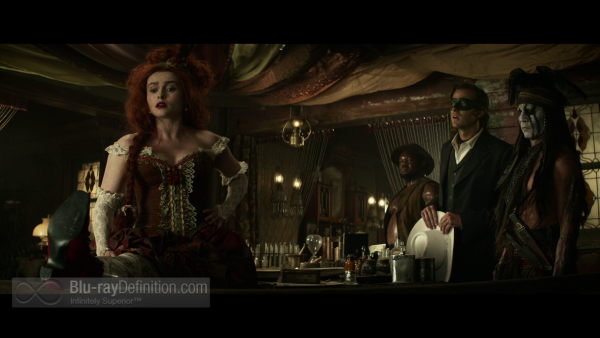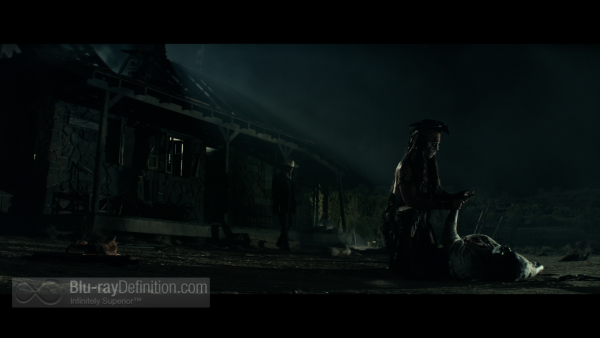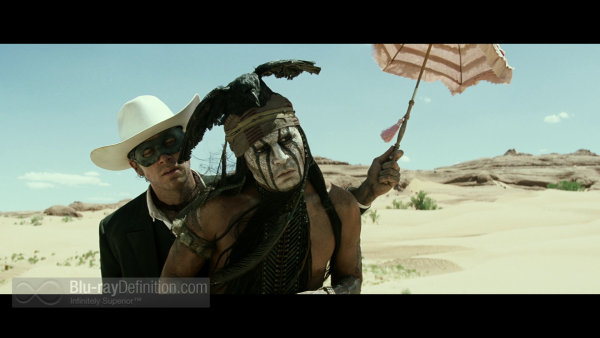 [amazon-product]B00G8P2400[/amazon-product]
[amazon-product]B00DJYJWVW[/amazon-product]