– –

The Film
[Rating:5/5]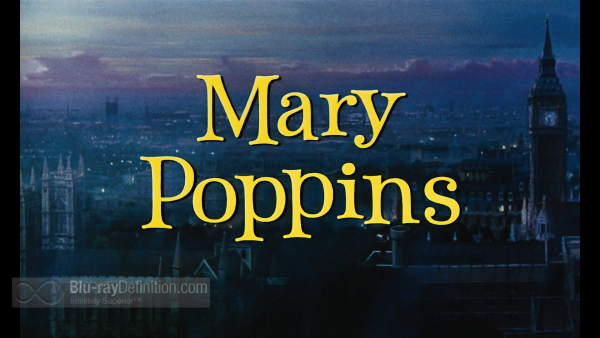 Disney's 1964 musical fantasy/comedy triumph Mary Poppins was a technological achievement that really brought together all the best that Disney had to offer, and also brought home 5 Oscars for the House of Mouse.
Adapted from the P.L. Travers books, the series is brought together into one fantastical tale of the Edwardian-era Banks family of London, their mischievous two children Jane (Karen Dotrice) and Michael (Matthew Garber), their overly stern father (David Tomlinson) and long-suffering suffragette mother (Glynis Johns). Magical nanny Mary Poppins (Julie Andrews in her film debut) arrives to take care of the children after they drive away a string of nannies hired on by their mother. She soon has the household topsy-turvy with her magical tricks, the siblings behaving differently, and their father both worried and perplexed at the change and wild stories they tell him of their outings with Mary Poppins, like jumping into paintings with Mary and her longtime friend, the street artist Bert (Dick Van Dyke), and having tea parties on ceilings. What the Banks' don't realize is that Mary Poppins'  has been bringing them closer together, in a manner. All her work may unravel, however, when Mary convinces Mr. Banks to take the children to work at the bank with him and a string of events leads to him losing his job. All seems dark, but with a little more of her "perfect in every way" charm and magic, Mary Poppins manages to save the day and guarantee a happy and love-filled ending for all.
Punctuated by memorable tunes and dance numbers including "Supercalifragilisticexpialidocious", the stunning gymnastics of "Step in Time" and the candy-colored animated/live action world of "Jolly Holiday", Mary Poppins gives us all the best things in a Disney movie we love – the music, the lighthearted comedy, the richly colored animation, and the magical worlds.
Julie Andrews is splendid as the stern, but loving and magical nanny that somehow finds a way to give kids exactly the kind of attention, love, and discipline they need while not being overbearing, and Dick Van Dyke, well, he's Dick Van Dyke – funny, goofy, charming. Overlook his bad cockney accent here, and it's a nearly flawless performance.
Video Quality
[Rating:4.5/5]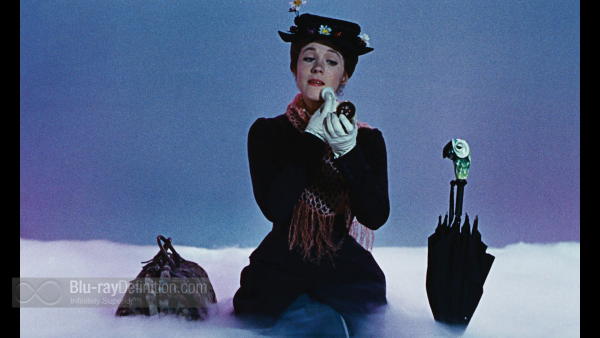 This is quite a fine presentation of the original 35mm Technicolor source, framed at 1.66:1 in an AVC/MPEG-4 1080p encodement. While the grain structure does look typically thick and there are some rougher moments during the effects sequences due to the unavoidable heightened grain from the dupe process, this otherwise looks marvelous. Colors are really rich, textures look sharp and three-dimensional, especially on close-ups, and darker scenes have finely gradated detail
Audio Quality
[Rating:4.5/5]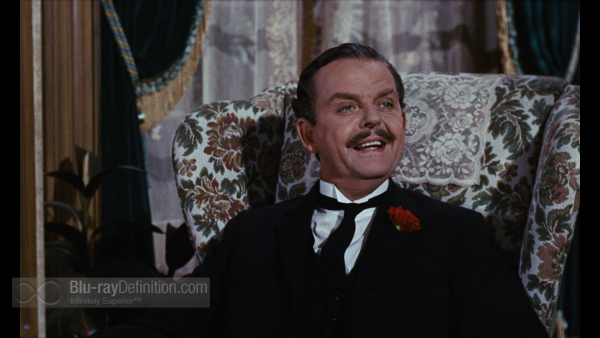 For those traditionalists, the original stereo mix is included in Dolby Digital 2.0. For anyone looking for something to fill up their home theatre, a new English DTS-HD Master Audio 7.1 (48kHz/24-bit) mix is supplied as well. It's quite good too, offering up a good bit of atmosphere in the surrounds, robust low frequencies during the "Step in Time" fireworks sequence and other spots, and also some discrete panning here and there, particularly noticeable during the end of "Step in Time" as well. Dialogue and vocals are quite clear and there's good dynamic range. English, French, and Spanish Dolby Digital 5.1 mixes are also included.
Supplemental Materials
[Rating:3/5]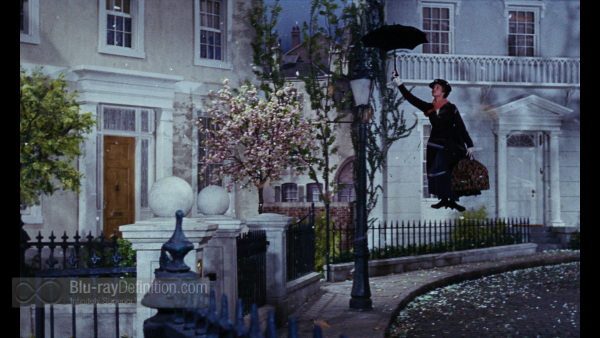 At first glance, it looks like a lot of extras stuffed into this anniversary edition, but what we're really getting are port-overs from DVD. Only a new Karaoke feature and a featurette on the forthcoming film about how Mary Poppins came to the big scree, starring Tom Hanks as Walt Disney, are new.
The supplements:
DVD
iTunes Digital Copy
Becoming Mr. Sherman (1080p/24; 00:14:01)
Mary-Oke – Mary Poppins Karaoke
Classic Bonus Features:

Disney on Broadway:

Mary Poppins from Page to Stage (1.78:1; SD; 00:48:06)
Step in Time (1.78:1; SD; 00:07:08)

Backstage Disney:

Supercalifragilisticexpialidocious: The Making of Mary Poppins (1.33:1; SD; 00:50:46)
The Gala World Premiere (1.33:1; SD; 00:17:45)
The Gala World Premiere Party (1.33:1; SD; 00:06:23)
Movie Magic (1.33:1; SD; 00:07:05)
Deconstruction of a Scene: Jolly Holiday (1.33:1; SD; 00:13:03)
Deconstruction of a Scene: Step in Time (1.33:1; SD; 00:04:52)
Dick Van Dyke Make-Up Test (1.33:1; SD; 00:01:07)

Publicity:

Original Theatrical Teaser Trailer (1.33:1; SD; 00:02:54)
Original Theatrical Trailer (1.33:1; SD; 00:04:14)
Julie Andrews' Premiere Greeting (1.33:1; SD; 00:00:39)
Original TV Spot #1 (1.33:1; SD; 00:00:32)
Original TV Spot #2 (1.33:1; SD; 00:00:33)
1966 Re-Issue Trailer (1.33:1; SD; 00:01:02)
1973 Re-Issue Trailer #1 (1.33:1; SD; 00:01:12)
1973 Re-Issue Trailer #2 (1.33:1; SD; 00:01:02)

Music & More:

A Magical Musical Reunion Featuring Julie Andrews, Dick Van Dyke and Richard Sherman (1.33:1; SD; 00:17:19)
Deleted Song: Chimpanzoo (1.33:1; SD; 00:01:38)
Disney Song Selection

Bonus Short: The Cat that Looked at a King (1.78:1; SD; 00:09:52)
Audio Commentary by Julie Andrews, Karen Dotrice, Richard Sherman & Dick Van Dyke
The Definitive Word
Overall:
[Rating:4/5]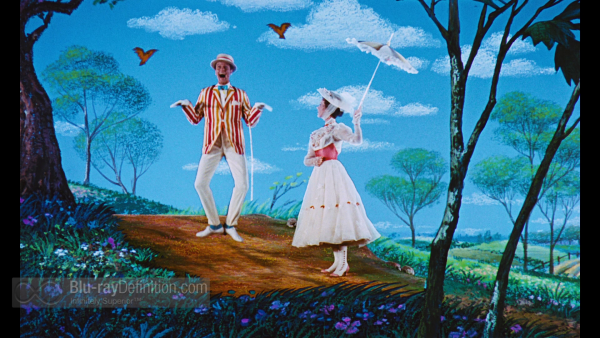 The 50th anniversary edition of Mary Poppins offers a perfect opportunity to relive the wonder that is this beloved classic from Disney. This film was originally released several years before my time, but I remember growing up with the soundtrack LP in my collection as a young child. Now's the opportunity for you to introduce this superb family film to your children, grandchildren, or just enjoy it again for yourself in vibrant HD.
Additional Screen Captures
[amazon-product]B006G3JQ78[/amazon-product]
[amazon-product]B00E9ZAT4Y[/amazon-product]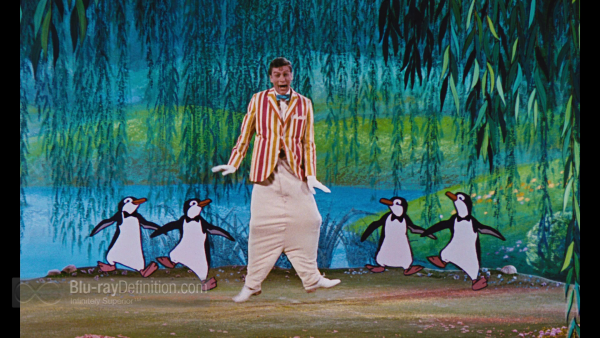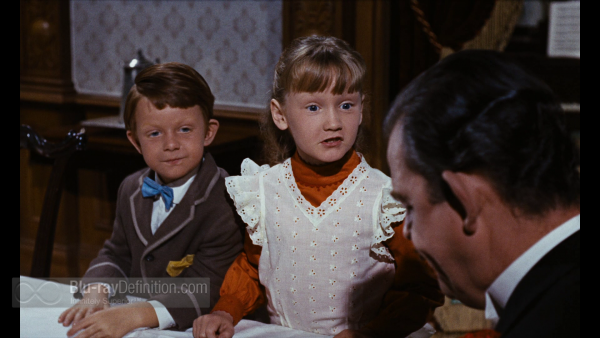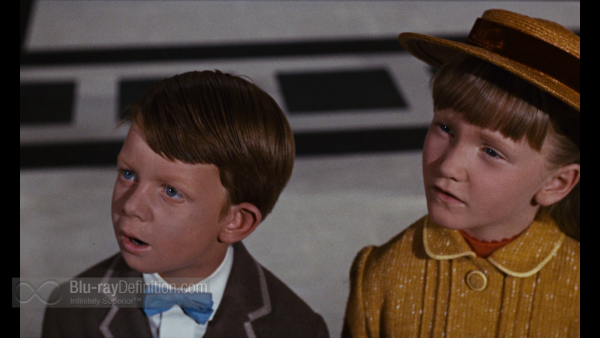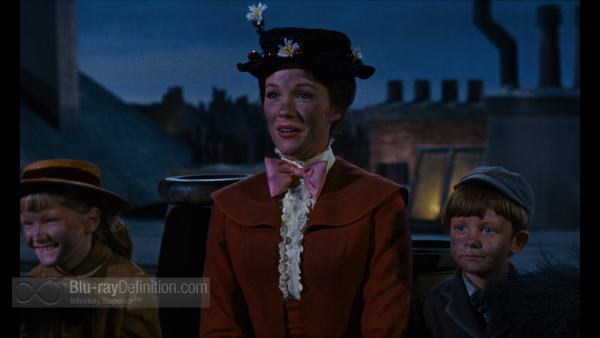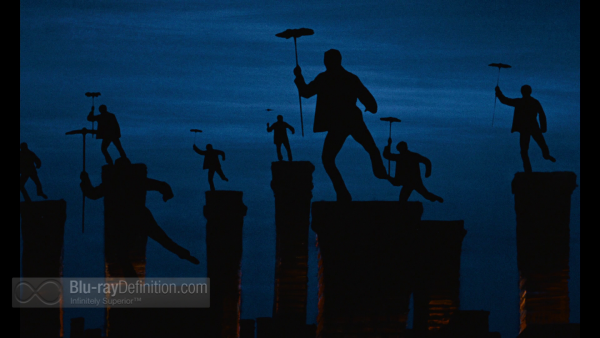 [amazon-product]B006G3JQ78[/amazon-product]
[amazon-product]B00E9ZAT4Y[/amazon-product]