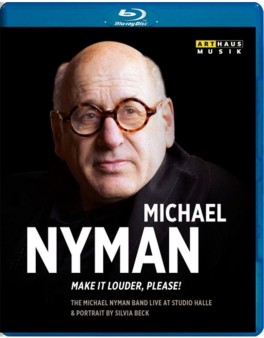 – –

The Film
[Rating:4/5]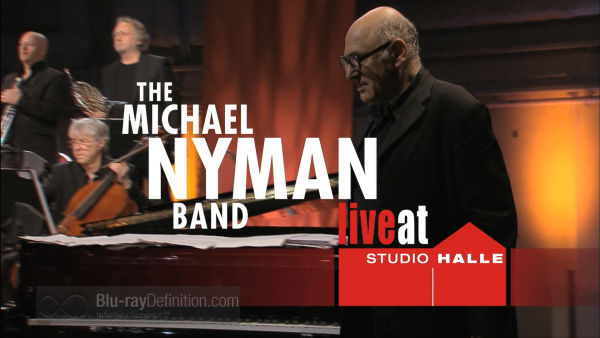 A contemporary British composer who has written numerous works for the silver screen (The Piano, Gattaca), the concert hall (Double Concerto for Trombone and Orchestra), and the operatic stage (Facing Goya), Michael Nyman refuses to be pigeonholed into a musical style or genre.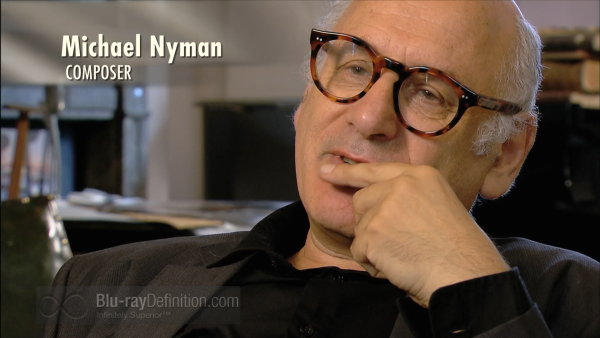 This Blu-ray release contains two programs: The Michael Nyman Band Live at Studio Halle with his Michael Nyman Band, an odd assortment of string quartet, saxophone, flute, piano, brass, and bass guitar, and Michael Nyman-Composer in Progress, a documentary film about his life and artistic career.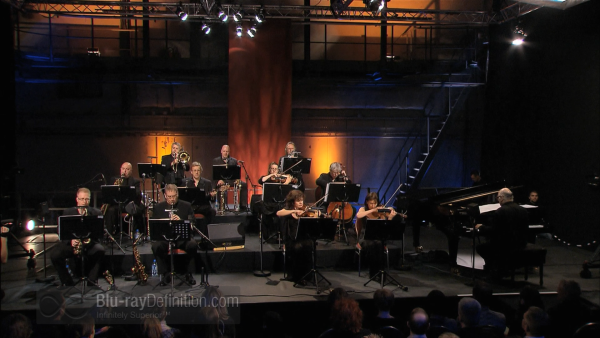 The 2009 concert at the Arthaus Studio in Halle, Germany consists of the following playlist:
Chasing Sheep is Best Left to Shepherds
An Eye for Optical Theory
Prawn Watching
Time Lapse
Nadia
Molly
Diary of Hate
Diary of Love
Against Constancy
Come onto these Yellow Sands
Miranda
Musicologist Scores
Wheelbarrow Walk
Knowing the Ropes
Water Dances
In Re Don Giovanni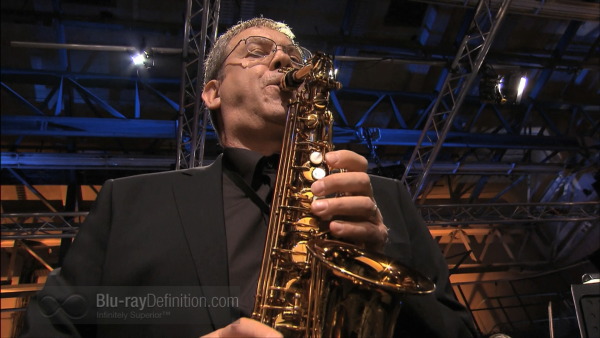 It takes a bit of listening to get your ears attuned to Nyman's unusual ensemble, but once locked in to his musical idiom, you get a large dose of seriously transmuted George Frederick Handel, replete with throbbing basso ostinato lines.  Here and there are touches of minimalism (Prawn Watching), shades of Philip Glass or John Adams, but Nyman always seems to put his individual stamp on each piece's chord progressions and rhythms. An Eye for Optical Theory is a bald-faced reworking of a Henry Purcell theme that found its way into Peter Greenaway's 1982 film, The Draughtsman's Contract.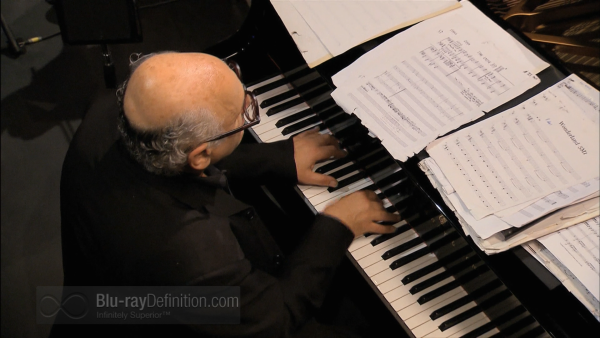 Looking forward in time, Time Lapse plays the sonorities of modern brass (trombone, trumpet, French Horn) against the string quartet, very much in the concerto grosso style of the Baroque era, and Nyman makes these disparate partners come together perfectly.
Of course, this concert is not all sound and fury. We get a gentle, truly beautiful reprieve in Nadia and Molly, two companion pieces featuring Nyman's piano. Diary of Hate and Diary of Love are also companion works that feature introspective melodies that must surely have stemmed from Nyman's own life.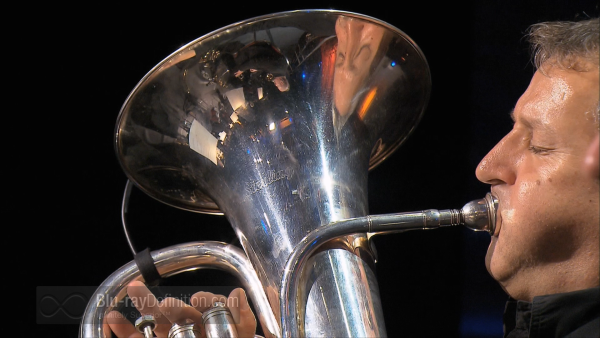 The composer's jazzy side shows up in Against Constancy and Come onto these Yellow Sands, two 3-minute studies in neat syncopation.The centerpiece of this concert, The Musicologist Scores, is a large 21-minute excursion into familiar and not so familiar Nyman themes that received its German premiere during this concert. This composition pays homage to Handel in the 250th anniversary of the composer's death year, including among other parts,  a Baroque trumpet solo.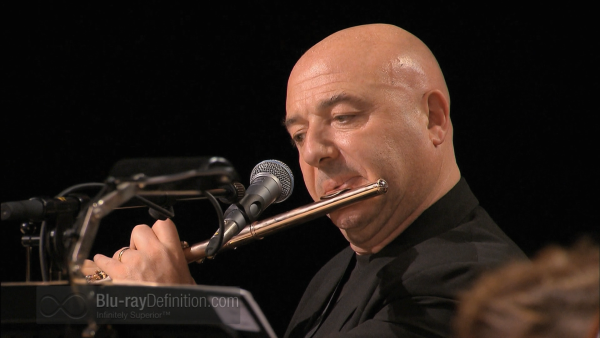 The final work, In Re Don Giovanni, has clear echoes of the opera's famous "Catalog Aria" that becomes Mozart as played in the style of rocker Jerry Lee Lewis. In Nyman's own words, this piece "dictated the dynamic, articulation and texture of everything I've subsequently done."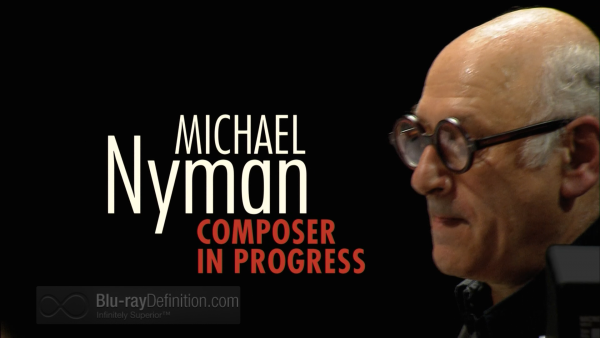 Composer in Progress mixes snippets from his numerous works with a documentary of a life in music, starting with the fore-mentioned Mozart aria. Sylvia Beck's film then moves into the background of a number of pieces that were included in the concert. We follow Michael's revisiting his ancestral homeland, Poland, and reconnecting with his roots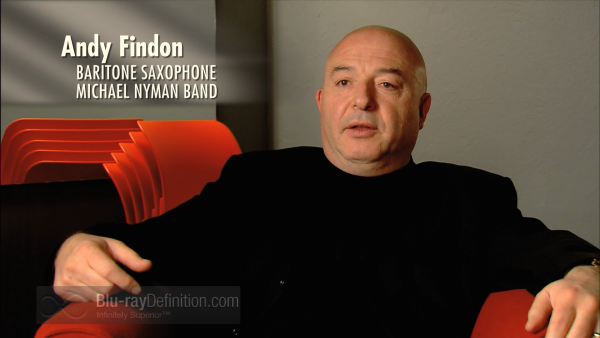 In the 1960s, Nyman had moved from composition to music criticism, a move that was eventually redirected by his meeting with American minimalist composer Steve Reich who convinced him to return to writing music, this time the score for Volker Schlondorff's film, Der Unhold (The Ogre), and, his best known piece, the soundtrack for Jane Campion's The Piano.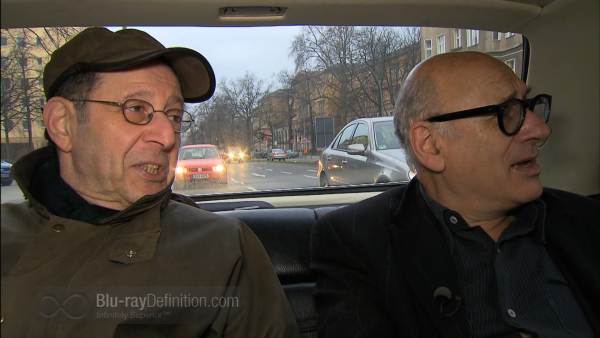 The film covers the formation of the Michael Nyman Band that became the launching platform for his subsequent compositions. Nyman's work in other media, including photography and film-making concludes with his crowning moment, a 2009 BBC performance at the Proms Concert in the Royal Albert Hall.
Video Quality
[Rating:4/5]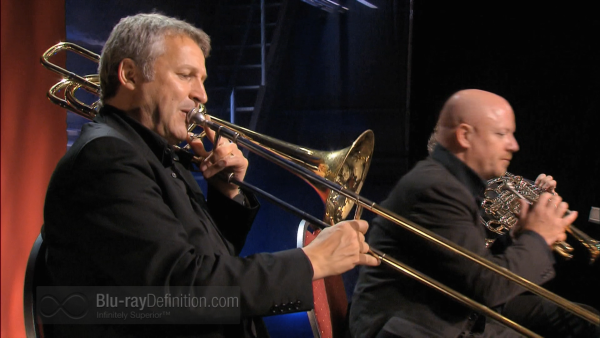 Both the concert and the documentary film (except for some archival footage) are beautifully shot with superb presentation of details and a rich color palette. The concert video is particularly thrilling as the cameras move deftly back and forth between the soloists and the entire ensemble.
Audio Quality
[Rating:4/5]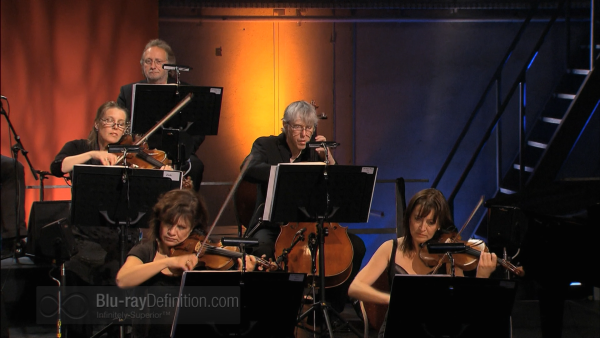 I was initially disappointed to find that my review copy was plain-vanilla LPCM Stereo (lossless in the concert, but lossy in the documentary) in spite of the labeling on the disc's box that the concert had DTS-HD Master Audio and Dolby Digital surround versions.  Given the relatively high volume of the concert (according to the title, Nyman likes his music loud), I did not really miss the absence of discrete surround-channel information.  The music was reproduced extremely clearly with a tremendous amount of body and bass energy.
Supplemental Materials
[Rating:1/5]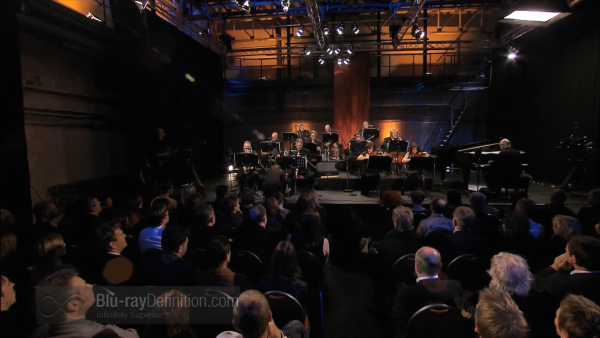 The booklet supplied with the disc has a background essay by Hella-Brit Giese on the concert, the composer, and the documentary with cast and production credits.
The Definitive Word
Overall:
[Rating:4/5]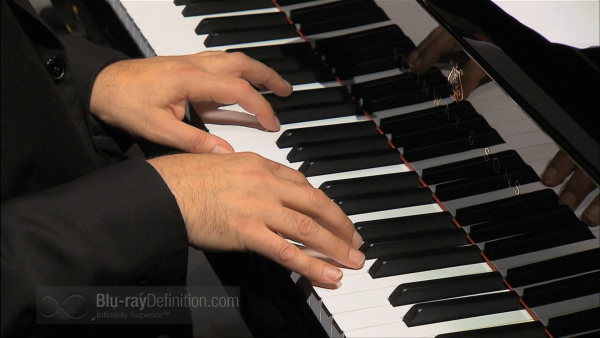 Seeing a contemporary composer at work, particularly one as articulate as Michael Nyman is a very pleasurable experience. As Nyman and I are the same age and were exposed in our respective youths to the disparate elements of classical music and to the nascent musical style that was to become "rock and roll," I have always felt that his music spoke to me more directly than did most composers of the second half of the 20th century. This Blu-ray double feature will be an enlightening watch for those less familiar with Nyman's life and compositions, and well worth the two-plus hours running time.
Additional Screen Captures
[amazon-product region="uk" tracking_id="bluraydefinit-21″]B00M552Q0K[/amazon-product]
[amazon-product region="ca" tracking_id="bluraydefinit-20″]B00M552Q0K[/amazon-product]
[amazon-product]B00M552Q0K[/amazon-product]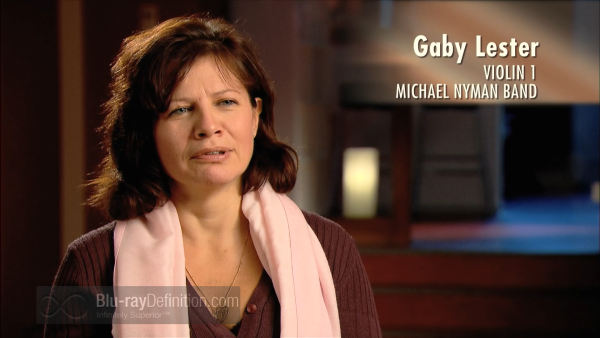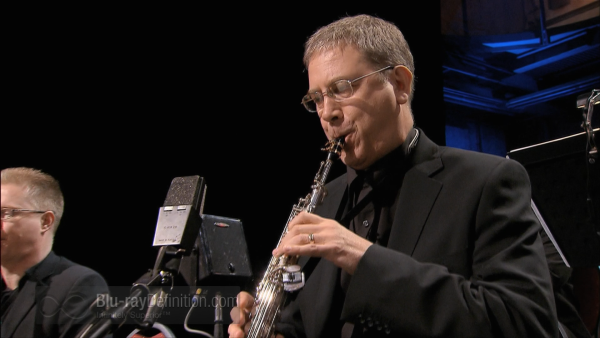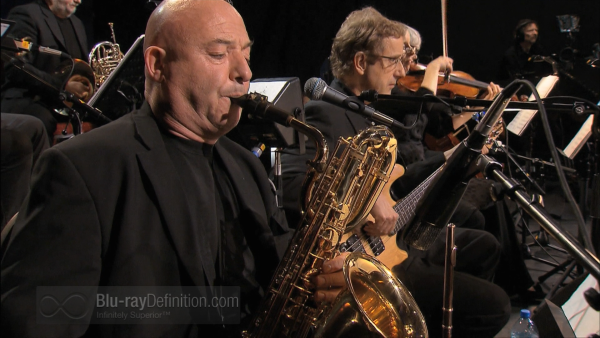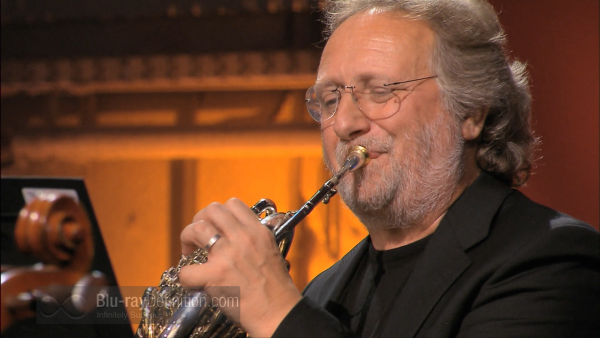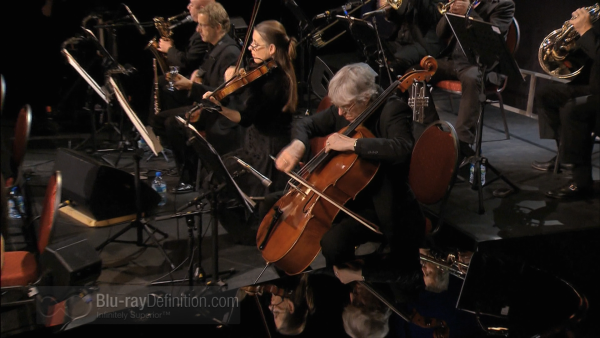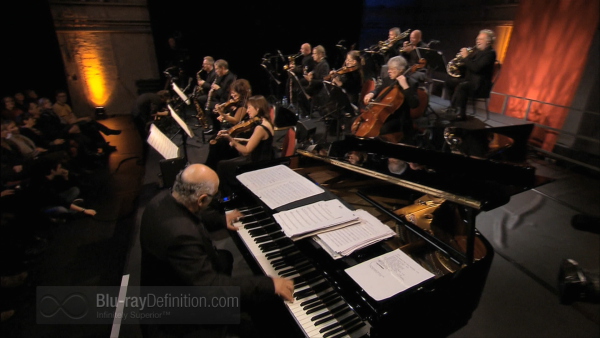 [amazon-product region="uk" tracking_id="bluraydefinit-21″]B00M552Q0K[/amazon-product]
[amazon-product region="ca" tracking_id="bluraydefinit-20″]B00M552Q0K[/amazon-product]
[amazon-product]B00M552Q0K[/amazon-product]