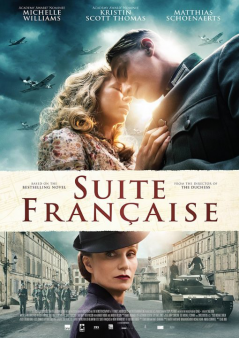 –
The Film
In the early 1940's a young woman wrote a novel about the romance between a young French Jewish woman and a German soldier. The writings were found 50 years later and was then published as a very successful book. Now Suite française is a movie.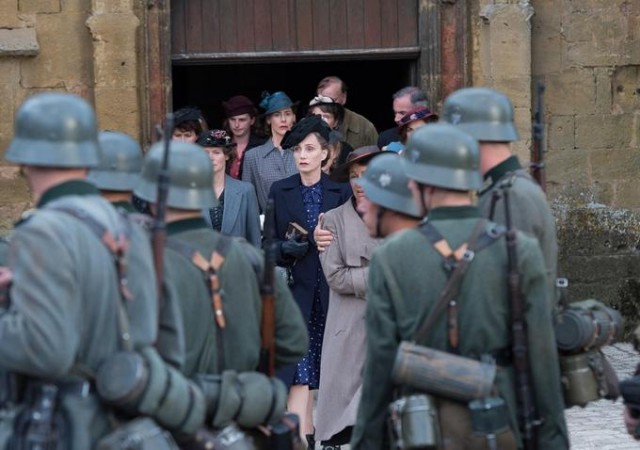 In the German occupied French town of Bussy during World War II, each house was expected to house a German soldier. Lucille Angellier (played by Michelle Williams) lives in a large house with her mother-in-law Madame Angellier (Kristin Scott Thomas) and their housekeeper. Of course the locals aren't happy about this, they're downright scared. It gets even more serious when soldier Bruno van Falk (Matthias Schoenaerts) is placed in the Angellier household in their upstairs room. Lucille's husband is off fighting in the war and it's been a long time since there has been any news about him. Lucille continues to receive conflicting reports as to whether he is on the battlefield or in a camp. Meanwhile, one of Madame Angelliers tenants is extremely jealous that the German soldier who is staying with them has started making advances on his wife.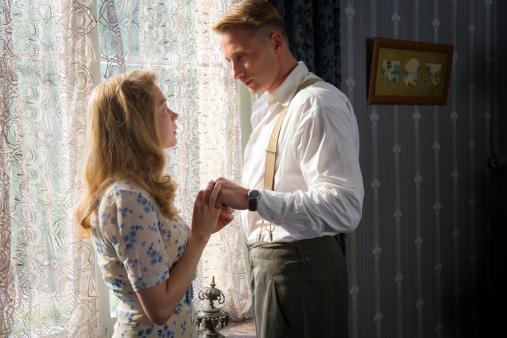 Back at the Angellier home, Lucille slowly starts to have feelings for Bruno, especially after she discovers he, like her, loves to play the piano. Slowly they fall in love with each other, it's of course a forbidden love, but they can't hold back the feelings they have for each other. Things come to a blow when the tenant kills the German soldier and goes on the run (hiding in Lucille's home), and the German Commander holds the towns' Viscount responsible, and if not found in a few days, the Viscount will be killed. It's up to the brave Lucille to ask for Bruno's help, and in turn they risk not just their relationship but their lives as well.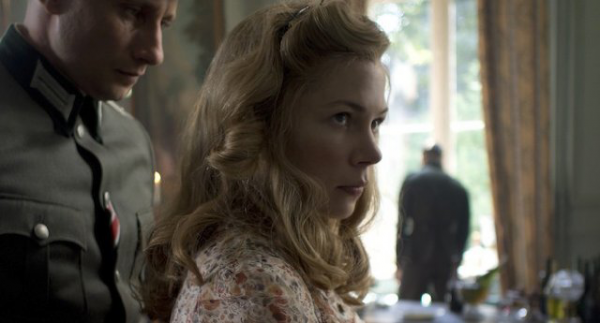 What could've been a beautifully told film from an amazing novel is turned, by director Saul Dibb, into a less than believable romance movie that seems to be missing the sum of it's parts. Lucille and Bruno's relationship starts all too quick, it feels like some scenes have been edited out for time, leaving gaps in the story. Some of the characters actions are left unexplained, and the ending is not as dramatic and emotional as it should be. American Williams looks every bit like a young French woman falling in love and Schoenaerts looks every bit a German soldier falling in love, and they have great on screen chemistry. Meanwhile Scott Thomas never fails to impress. Costumes, art direction, sound, music, cinematography and all the supporting actors are all top notch. But Suite française is not as good as one would've hoped in light of the fascinating background to the book. In 1942 Irène Némirovsky had finished writing two novels when she was arrested and eventually was murdered at Auschwitz. The notebook containing the two novels was eventually read by her daughters in 1998 and went on to become a best selling book in 2004.
Suite française is on Limited Release in the U.S.

Our Movie Rating:
[Rating:2.5/5]