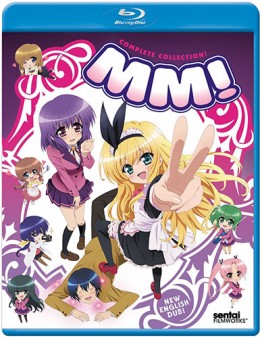 – –

The Series
[Rating:4/5]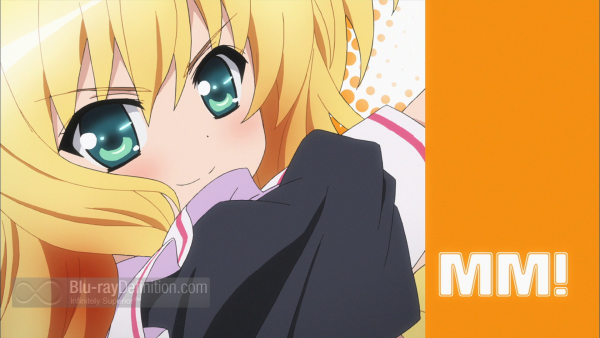 MM! (えむえむっ!) is a strange, over-the-top anime series based on the light novel series by the late Matsuno Akinari. You could say there's a little bit of everything here – ecchi, moe, mild fan service, and some harem themes, all based around the usual high school romance setup. Central to the story is the perverted main character Sado Taro's problem with his masochisim. He's an uncontrolable "super masochist" who enjoys being physically and verbally abused by pretty girls. Taro has fallen in love with a girl he wants to confess to, but he can't until he is cured, so he decides to join his high school's Second Vounteer's Club to seek help for his problem. Well, it turns out that the girl he was in love with was his best friend Hayama Tatsukichi dressed in drag, and the girl who sparked his masochism in middle school, Yūno Arashiko is also a member of the club he just joined. Ironically, Arashiko suffers from androphobia, the fear of men, because of something that happened to her in her past. They are all gathered in the Second Volunteers Club to gain help from Isurugi Mio the head of the club and a second year at Sakuramori High School. A self professed kamisama (god), Mio is determined to help people with their problems. It also turns out that she kind of likes beating up on Taro – a lot. Perhaps too much. In fact, she's a bit of a super sadist, but she doesn't even realize it. Together, Mio, Taro, and Yuno form a weird love triangle. Other characters include Mamiya Yumi, Yuno's longtime friend who transferred from an all-girls school. She is extremely protective over Yuno and also has a major crush on Taro's best friend Tatsukichi. Then there is the tiny Hiiragi Noa from the science club. She is older than Taro, but she looks like a preteen. She is madly in love with Taro, but because of her diminutive size, he's not interested. There's also the school nurse Onigawara Michiru who acts as the adviser to the Second Volunteer Club. She is as close as a sister to Mio and is obsessed with taking pictures of the girls in cosplay. She also has some sadistic tendencies. Lastly, there are Taro's older sister Shizuka and his mother Tomoko, both of whom are obsessed with him and compete as rivals for his romantic attentions, much to his chagrin.
The series does tend to overuse many of its physical gags concerning the S&M aspects of the characters. For example, Mio's intended "treatment" for Taro's masochism always entails various forms of physical punishment and bondage, and whenever he annoys her, he gets a swift kick or whacked with her aluminum baseball bat. Of course, he absolutely loves the abuse, especially when she calls him "pig". Even Yuno manages to arouse his "super masochism". If he happens to touch her accidentally, or even if she touches him, she gives him an uppercut that he loves.
Despite the repetitiveness, MM! is a whacky series that keeps things interesting with its unexpected, and wholly unapologetic sense of humor. The series also plays it loose with gender roles and sexuality, as does the animation. Between the use of bishōnen in the wonderfully designed cross-dressing alter ego of Tatsukichi (and even a few moments for Taro) as well as the girl-obsessed school nurse, the series pokes fun at all the social mores and taboo subjects of our society as a whole.  As the series goes on, the characters become more enjoyable, especially Mio and Yuno who develop more depth and change as their feelings for Taro grow.
Video Quality
[Rating:4/5]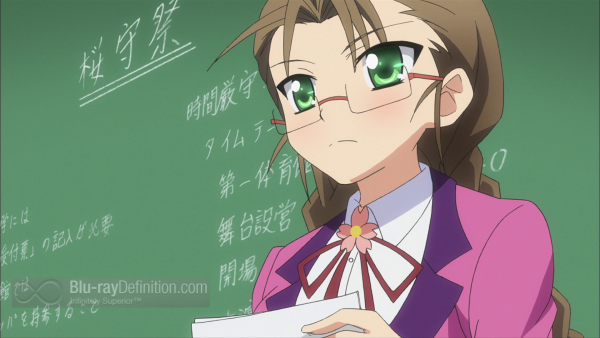 MM! comes to Blu-ray with an AVC/MPEG-4 1080p encodement from Sentai Filmworks. The picture shows a little softness and colors sometimes tend to not look as vivid as they could, but otherwise we get a clean image with no aliasing and no problems with banding or video noise.
Audio Quality
[Rating:4/5]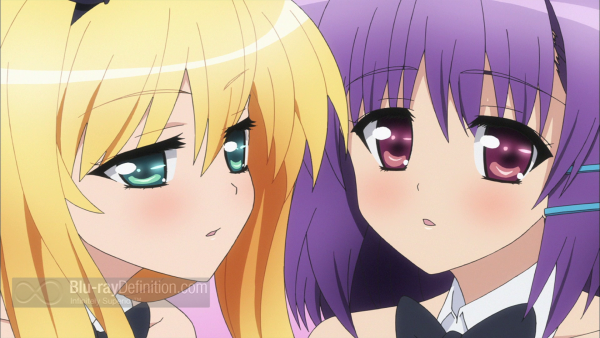 Sentai has included the original Japanese-language track and a brand new English dub in lossless DTS-HD Master Audio 2.0 (48kHz/24-bit). Fans of either one have good pickings here as they both sound good, with wide stereo panning and a good balance between the dialogue and the jazzy sounding musical score.
Supplemental Materials
[Rating:3.5/5]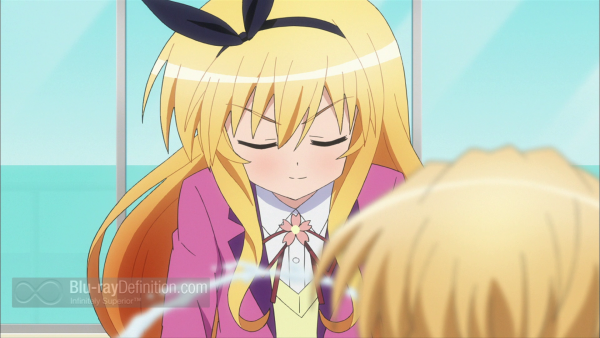 The Japanese commentaries and extra naughty OVAs plus promos make this an unusually packed set from Sentai and an enjoyable collection of extras as well.
The supplements:
Commentary with Ayano Taketatsu (Mio) & Saori Hayami (Arashiko) (Episode 1)
A Rather Extreme Short Story:

Mio & Yuno (1.78:1; 1080p/24; 00:01:56)
Mio, Yumi & Taro (1.78:1; 1080p/24; 00:01:52)
Taro & Noa (1.78:1; 1080p/24; 00:01:40)
Taro, Tomoko & Shizuka (1.78:1; 1080p/24; 00:02:36)
Mio, Noa & Yuno (1.78:1; 1080p/24; 00:02:50)

Hidden Camera Shorts:

Mio (1.78:1; 1080p/24; 00:01:25)
Yuno (1.78:1; 1080p/24; 00:01:19)
Noa (1.78:1; 1080p/24; 00:01:17)
Mio & Michiru (1.78:1; 1080p/24; 00:02:50)

Japanese Promotional Video (1.78:1; 1080p/24; 00:02:02)
Japanese TV Commercials (1.78:1; 1080p/24; 00:00:51)
Japanese DVD Commercials (1.78:1; 1080p/24; 00:00:18)
Clean Opening Animation
Clean Closing Animation
Sentai Filmworks Trailers
Disc Credits
The Definitive Word
Overall:
[Rating:4/5]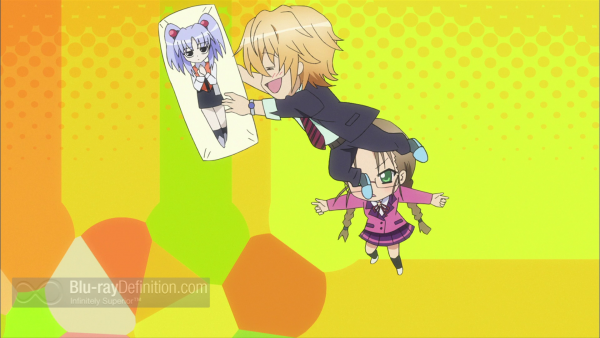 MM! is wild ride. Edgy, risqué, and hilarious. It's definitely a different kind of series, but one that uses familiar elements and mixes them up in a new way to create something somewhat original. It's very fun to watch.
Additional Screen Captures
[amazon-product]B00GB0OX1K[/amazon-product]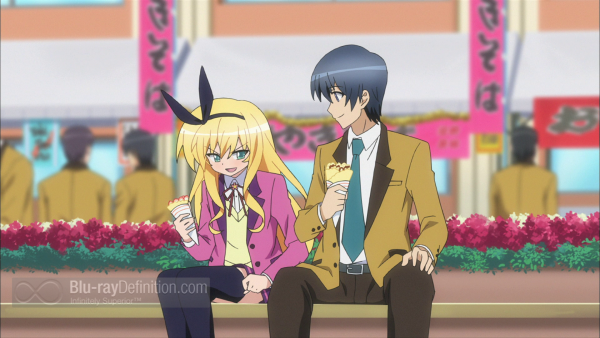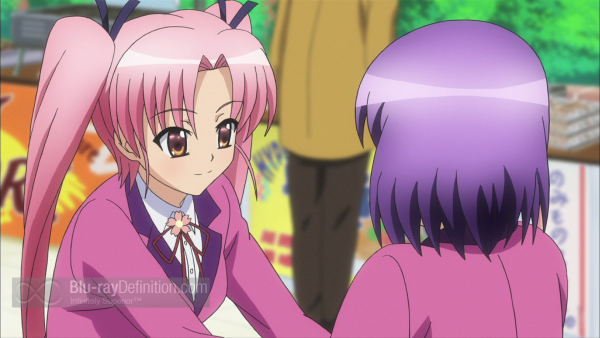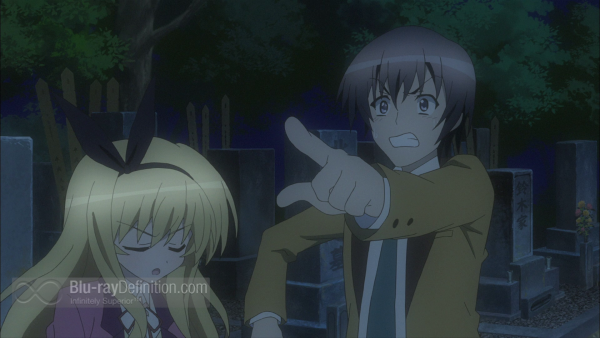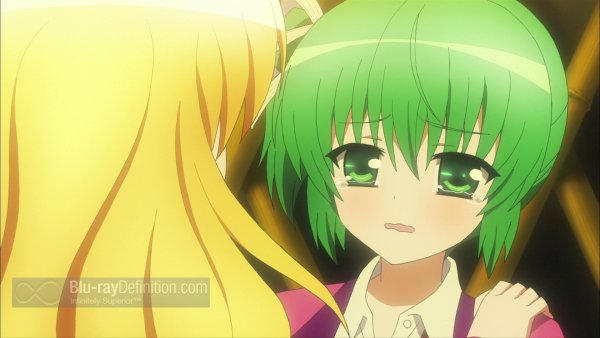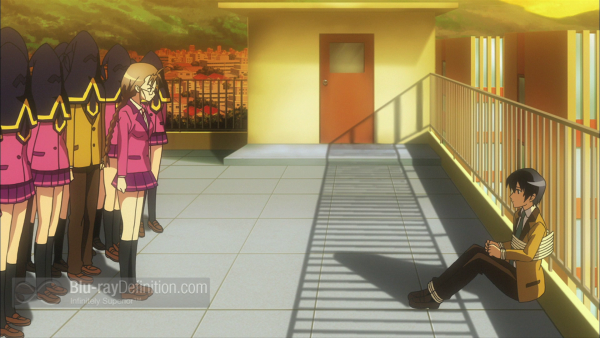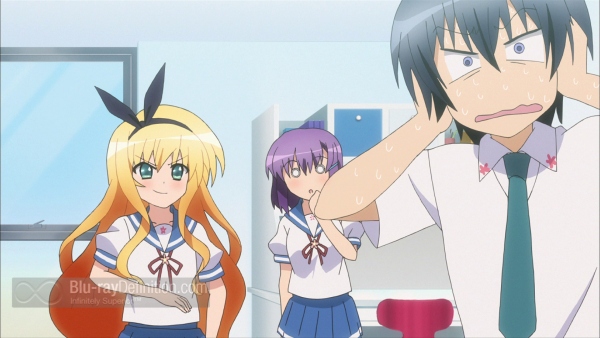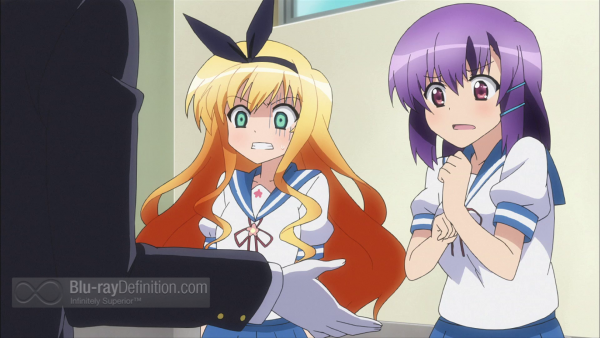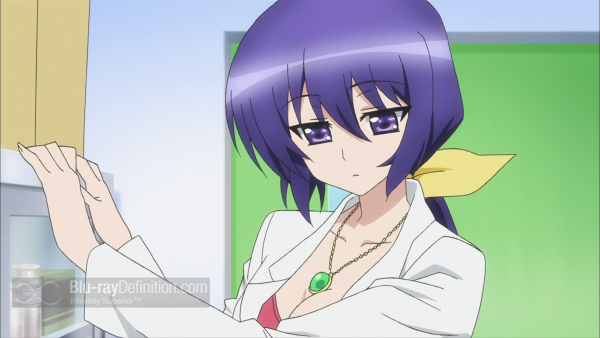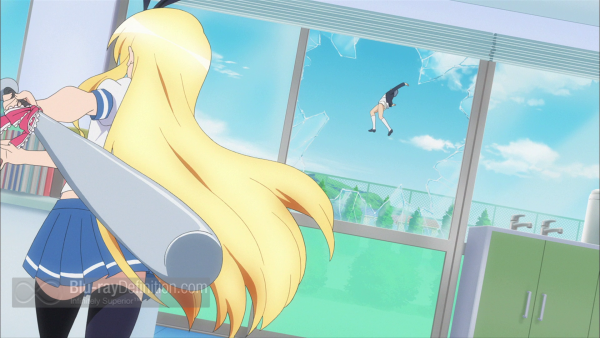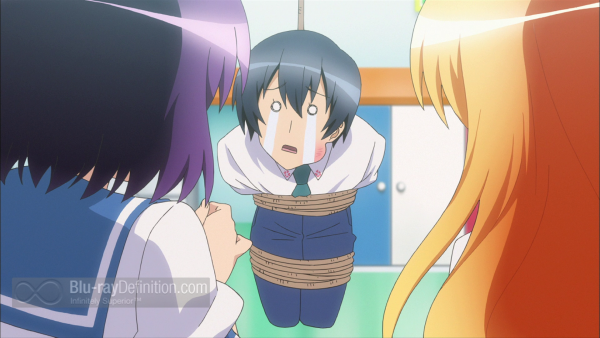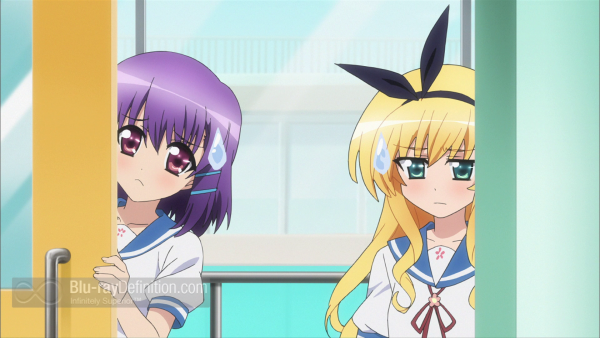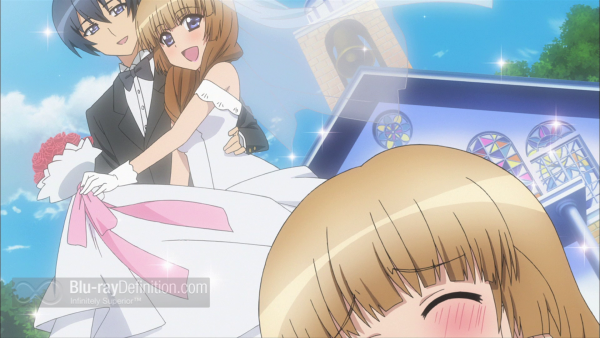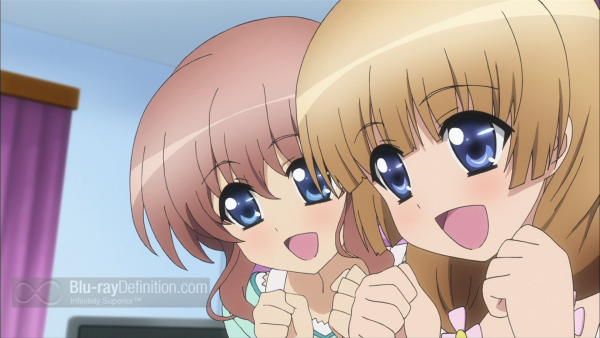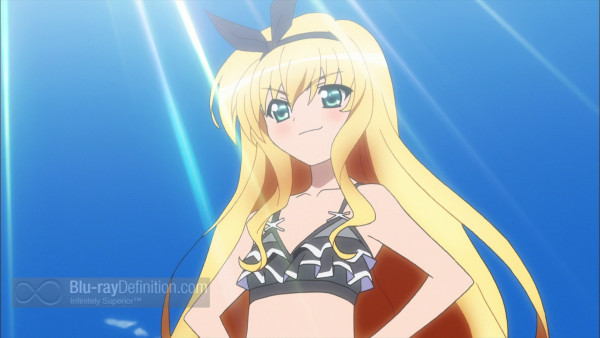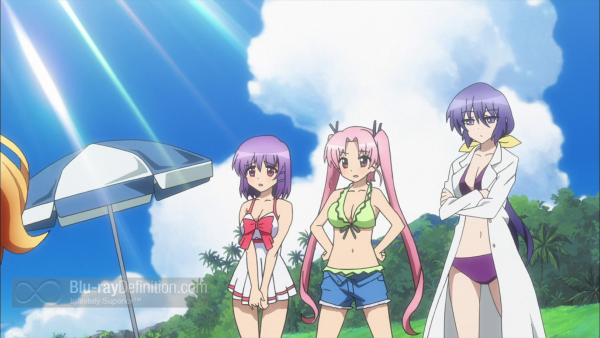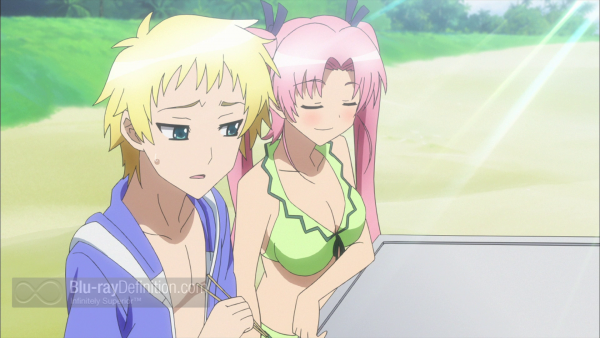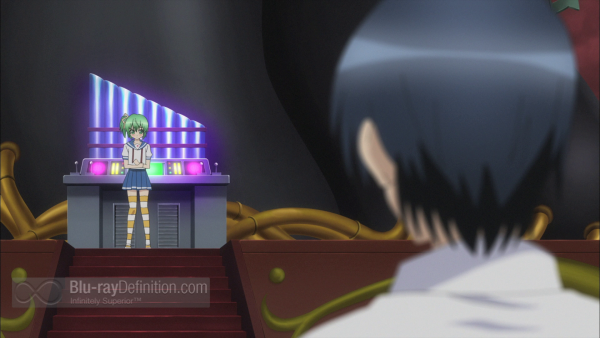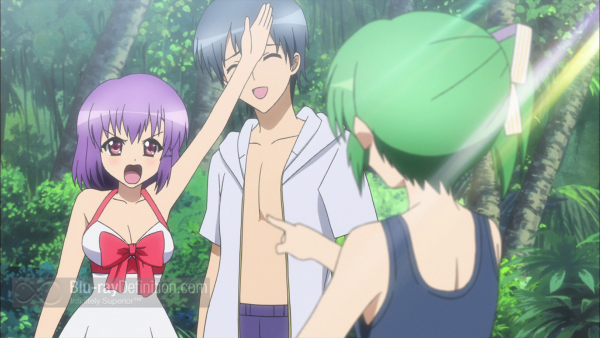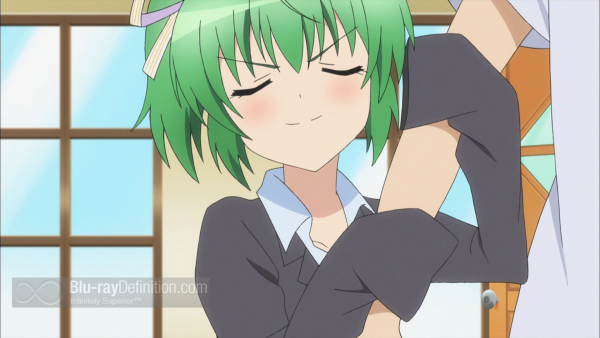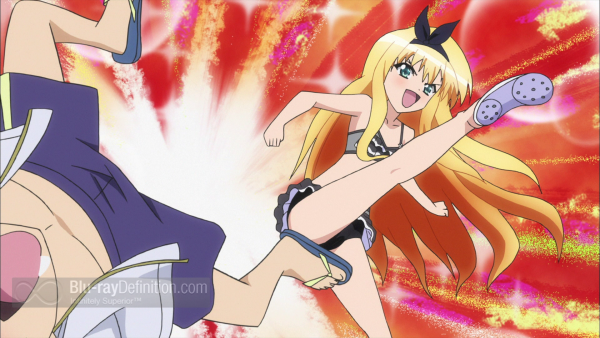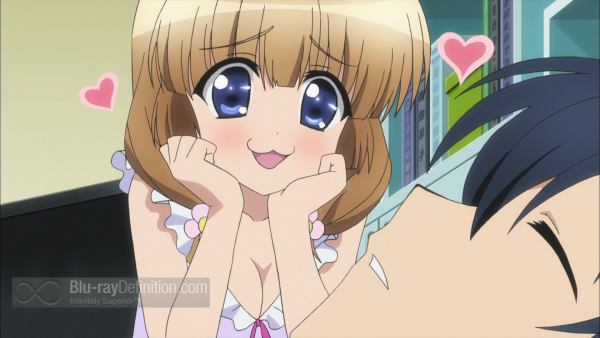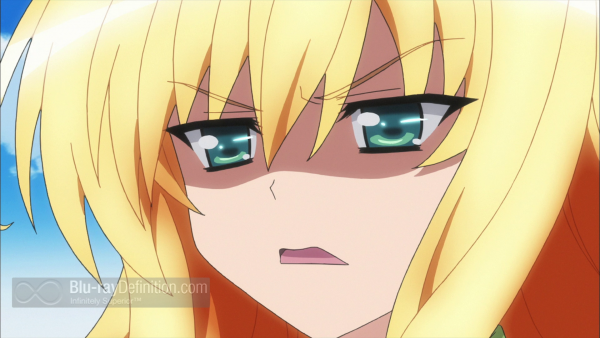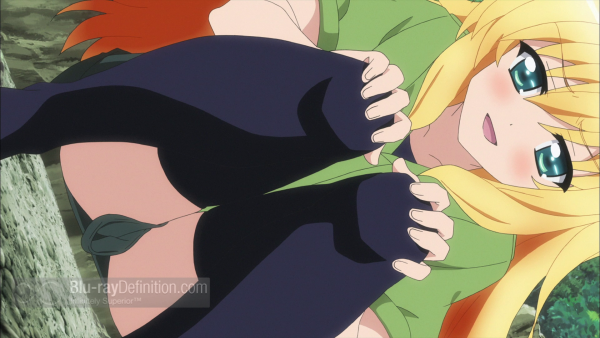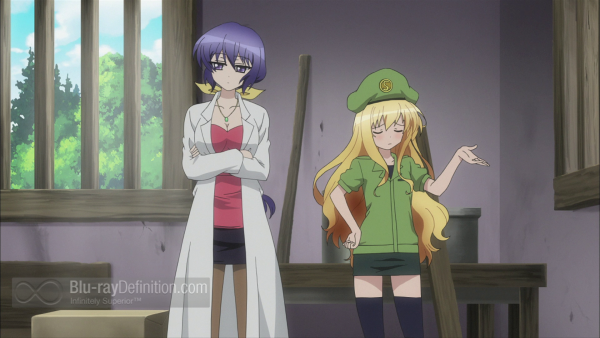 [amazon-product]B00GB0OX1K[/amazon-product]