– –

The Film
[Rating:4/5]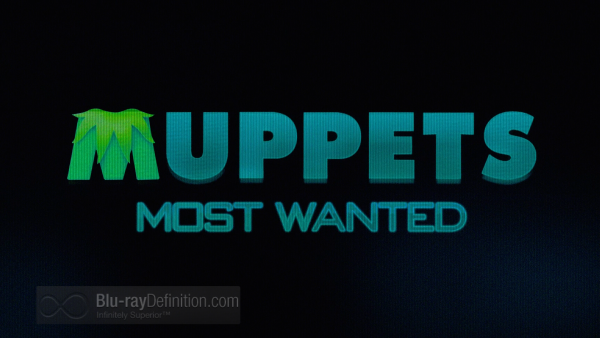 "Breathes there the man with soul so dead who never to himself hath said", it's… The Muppets… again! This time, The Muppets Most Wanted  deals with the most dangerous frog in the world, AKA Constantine (Matt Vogel), who has just escaped from a maximum security Russian Gulag.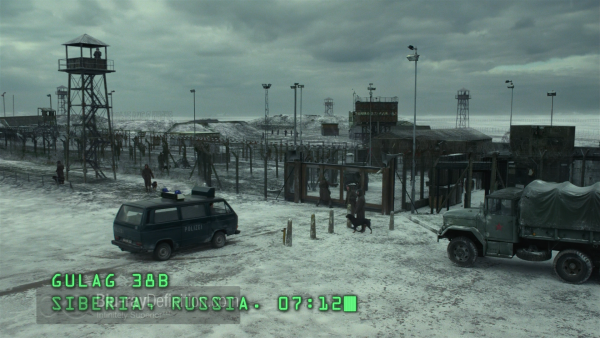 Constantine's accomplice, Dominic Badguy (oh, really!) (Ricky Gervais) convinces the troupe to take to the road for a world tour, starting with Berlin's National Theater. It soon becomes obvious that Dominic has replaced Kermit (Steve Whitmire) as team leader and to make matters worse, the evil Constantine now taking Kermit's place, in spite of his obvious foreign accent,  is planning the crime of the century.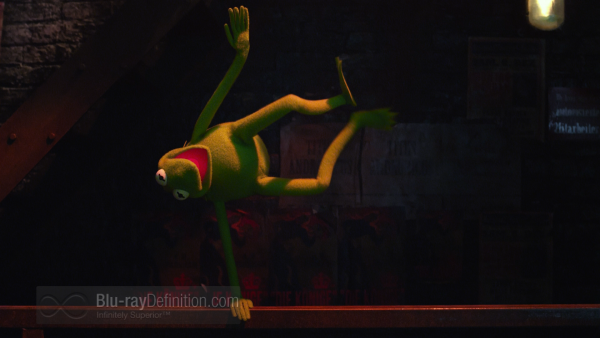 After Constantine and Dominic steal valuable paintings, Jean Pierre Napoleon (Ty Burrell) from Interpol joins forces with the CIA's Sam Eagle  (Eric Jacobson) to get the works of art back but the real caper is about to take place when the two baddies go after the Crown Jewels.  Meanwhile, back in the Gulag, Kermit (believed to be Constantine) has been imprisoned and meets guard Nadya (Tina Fey) who vamps him with a doo-wop number (she is a closet Kermit groupie).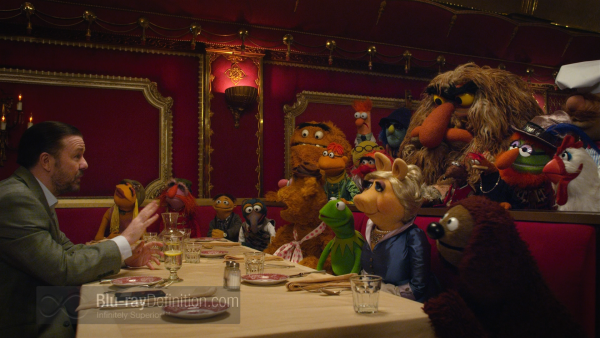 The Muppet show moves to Madrid where the entertainment continues with special guest Salma Hayek. When Constantine and Dominic find the keys to the repository of the Crown Jewels, their next stop, along with the Muppets, is a heist at the Irish National Bank. To create further diversion, Constantine proposes to Miss Piggy (Eric Jacobson) and stages their wedding at…The Tower of London, the home of the Jewels in question.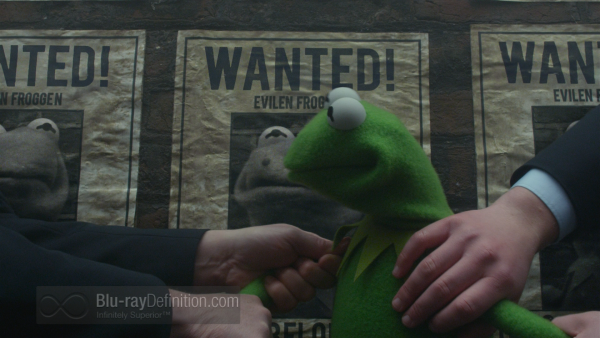 In a whirlwind affair, effectively mixing puppets in with "real" people, we get a big dose of what made the Muppets audience favorites for so many years and decades after their creator Jim Henson's untimely death.  The take-off on the opening number from A Chorus Line (Scene 14) starring the Gulag prisoners is an absolute hoot and there are plenty more moments like that one (did I forget to mention the "Workin' in a Coal Mine" number (Scene 18)) or the grand finale)?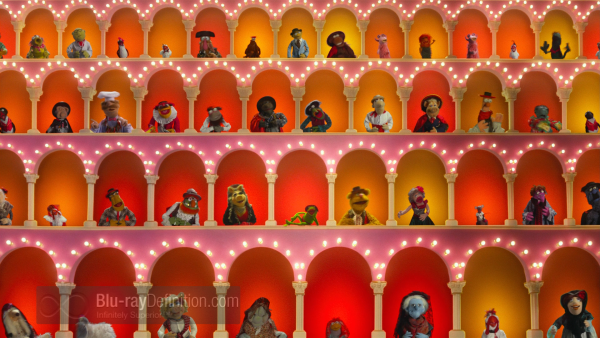 This fast-paced comedy/musical features a number of delightful cameos by Sean "P Diddy" Coombs, Usher, Tony Bennett, Celine Dion, Lady Gaga, Zach Galifianakis, Josh Groban, Frank Langella, Ray Liotta, Christoph Waltz, and Stanley Tucci, to name but a few.
Video Quality
[Rating:4.5/5]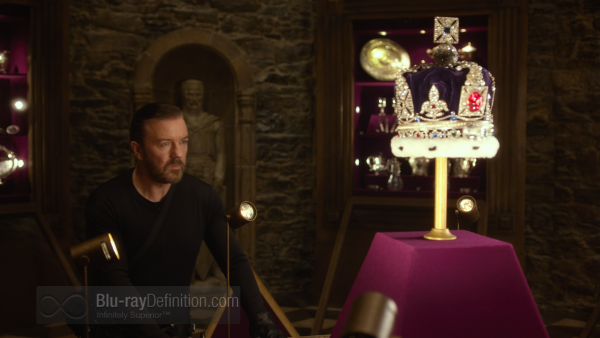 The camera team led by Don Burgess (Forrest Gump, Spider-Man, Cast Away, and The Muppets (2011)) delivers an often eye-popping spectacle replete with great colors and details. The integration of the puppets is seamless and brings them to life as real characters. While the location shots suggest some fine foreign cities, this film was actually shot on various UK locations as well as the Disney Burbank studio.
Audio Quality
[Rating:4.5/5]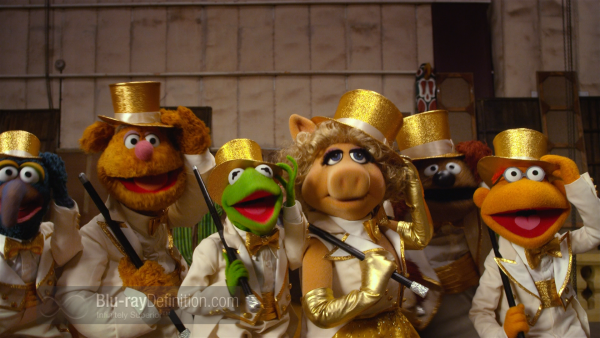 Given a soundtrack that has numerous musical moments, the surround 7.1-channel version is engaging and immersive with great depth and breadth. The extra channels are used judiciously with occasional special effects.
Supplemental Materials
[Rating:4/5]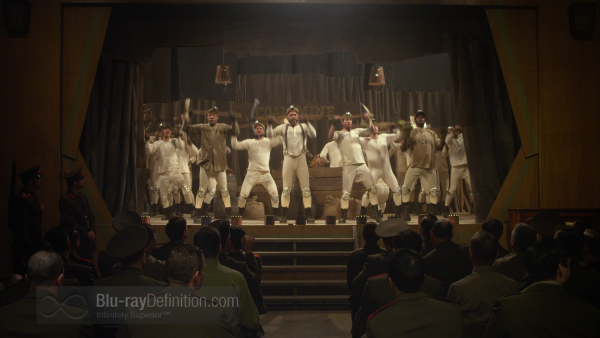 There are two additional "versions" of the original theatrical release:
The Unnecessarily Extended Version (English DTS-HD Master Audio 7.1) (1:59:00) adds about twelve minutes with a few extended scenes that do not really add much to the original film.
Statler and Waldorf Cut (English Dolby Digital Stereo 48k/16b) (1:42) gets in a little dig about the cutting and editing process
Three bonus features are also included:
"The Longer Longest Blooper Reel in Muppets History" (English Dolby Digital Stereo 48k/16b) (9:46)
"Rizzo's Biggest Fan" (English Dolby Digital Stereo 48k/16b) (2:47): Rizzo writes a mash review of the film, singling out Rizzo the Rat.
"I'll Get You What You Want" Music Video (English Dolby Digital Stereo 48k/16b) (3:18) featuring Bret McKenzie
The Definitive Word
Overall:
[Rating:4/5]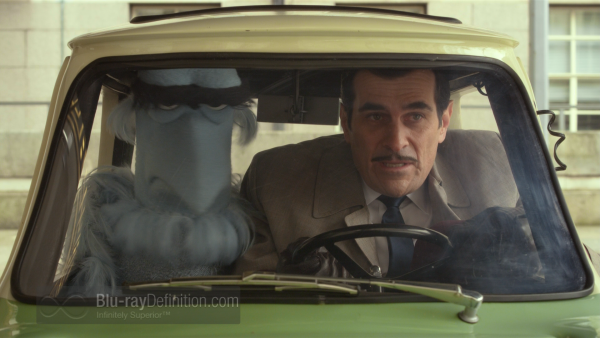 A sequel that is every bit as good as its 2011 predecessor, The Muppets Most Wanted! film will thrill and delight its target audiences which is just about everybody. There is enough cleverness in the script and the plot twists to make a couple of hours pass quite quickly. The production values are as good as they get and deliver this story in all of its video and audio glory. Highly recommended for viewers of all ages ("PG" rating notwithstanding).
Additional Screen Captures
[amazon-product]B00HNX28TI[/amazon-product]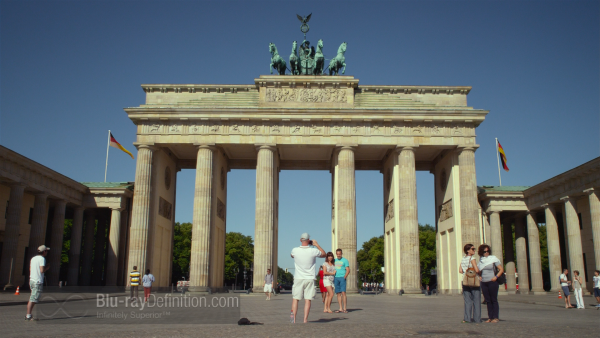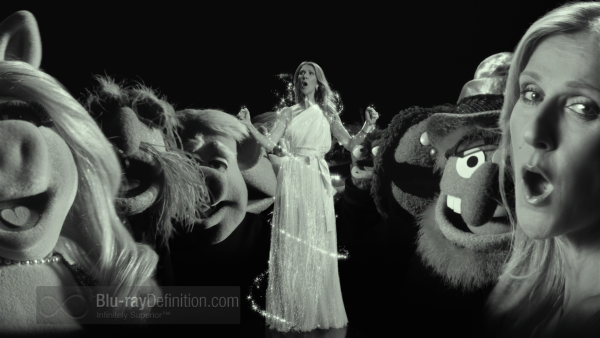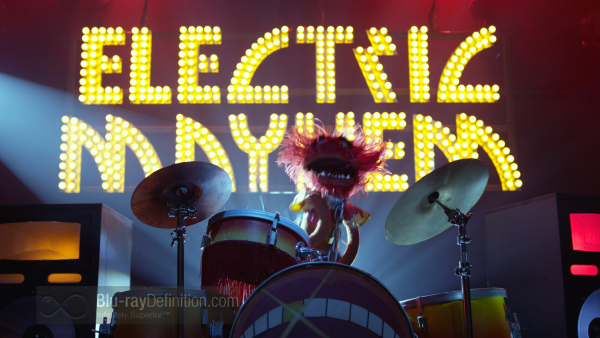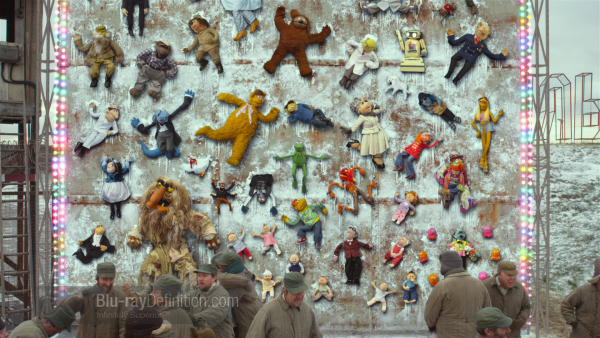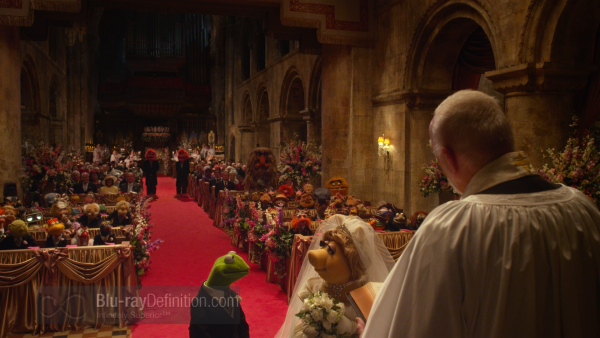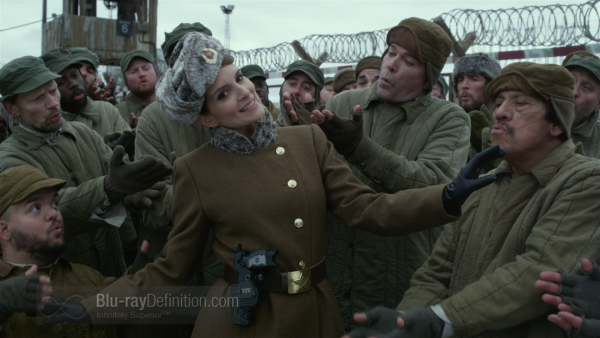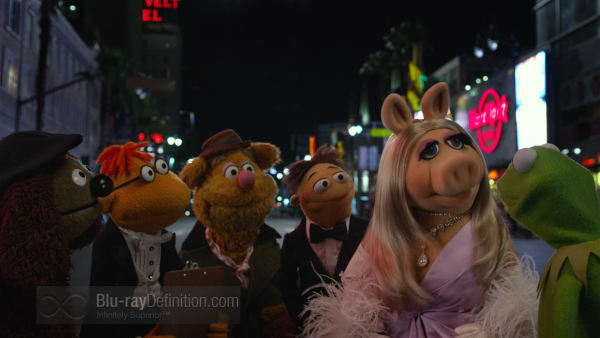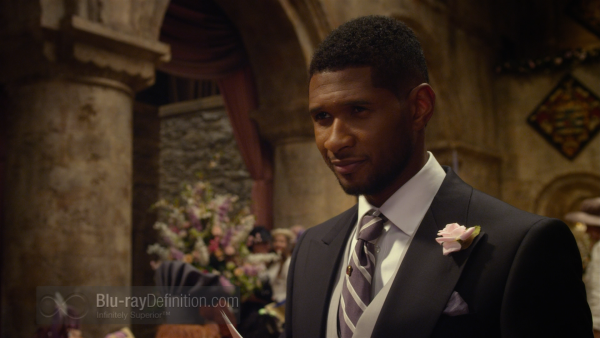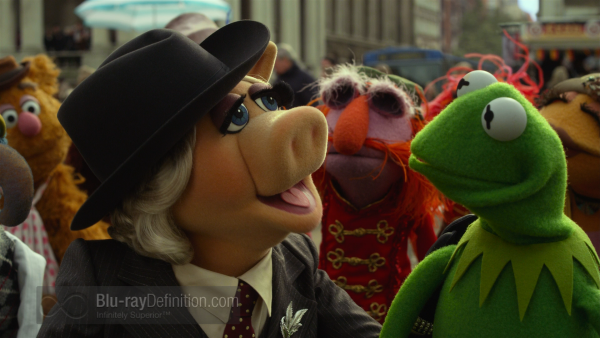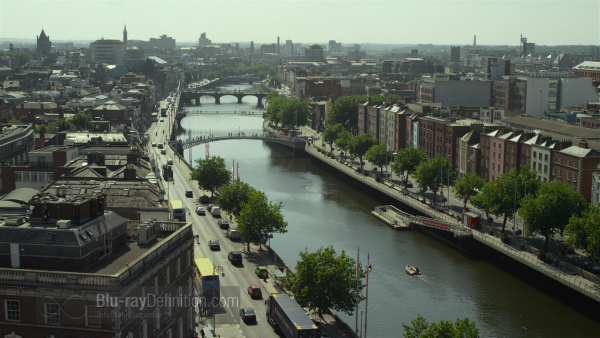 [amazon-product]B00HNX28TI[/amazon-product]