–
The Performance
[Rating:4/5]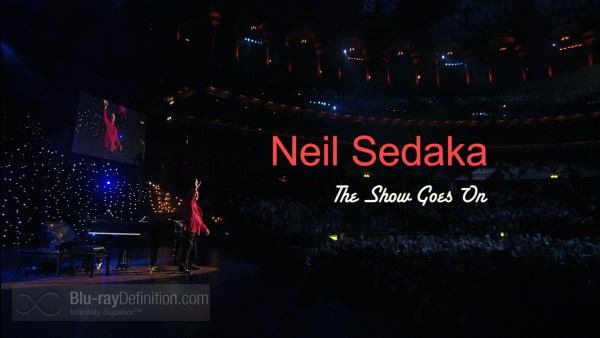 A living legend of American popular music, Neil Sedaka is captured in a 2006 live performance at the Royal Albert Hall. At 67 years of age, it does not appear that either Sedaka's fingers on the keyboard or vocal cords have ceded any ground to the passage of time. What this 2-hour concert demonstrates is how well and how long, Neil was able to capture the spirit of the times in his words and music. This 29-number playlist is like reading a Billboard Top 40 hits roster, interspersed with ones that might have escaped your attention:
The Other Side Of Me
Standing On The Inside
The Miracle Song
The Queen of 1964
Our Last Song Together
Inseparable
Oh Carol
Happy Birthday, Sweet Sixteen
Where The Boys Are
Calendar Girl
You
Cardboard California
Laughter In The Rain
Should Have Never Let You Go (duet with Dara Sedaka)
Is This The Way To Amarillo (duet with Tony Christie)
Solitaire
Never Again (duet with Dinah Washington)
Betty Grable
Breaking Up Is Hard To Do
Stairway To Heaven
One Way Ticket To The Blues
I Go Ape
The Hungry Years
Fantasy Impromptu
Superbird
The Immigrant
Love Will Keep Us Together
That's When The Music Takes Me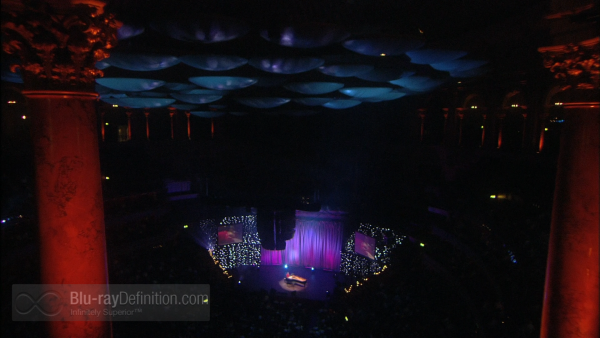 The five decades of writing, playing, and performing rise quickly to the surface of a solo tour de force that mixes in many moods, themes, rhythms, and just damn good music. Neil Sedaka belongs to that rare group of composer-performers who simply understand the medium of popular music and can deliver the goods to a live audience.
Video Quality
[Rating:4/5]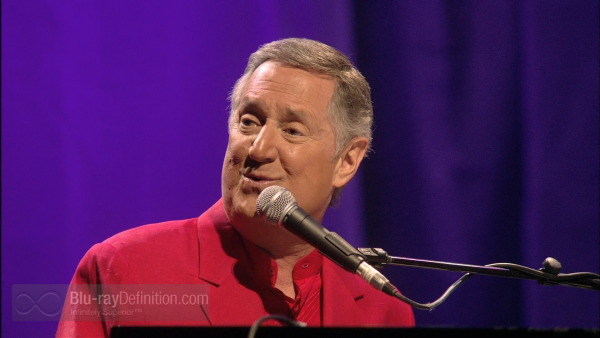 Outside of a little oversaturation of Neil's red jacket and the purple background curtain, camera coverage of the stage is excellent and the details of his fingers on the keys, terrific.
Audio Quality
[Rating:4/5]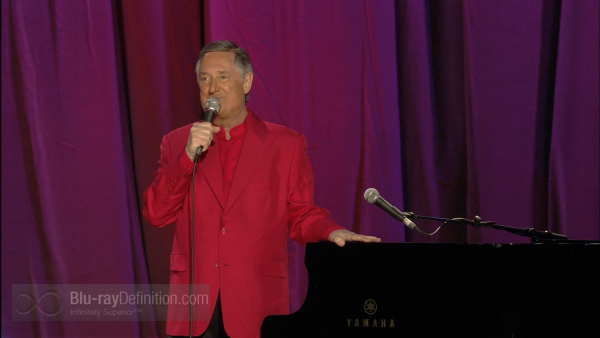 Recording one man playing a piano would seem to be a simple task for audio engineers. However, getting the balance right is always a challenge and what we get here is nearly as good as it gets. Of note, 95% of the soundstage is in the main right/left/center channels with barely a smidge of ambience in the surrounds on the DTS-HD Master Audio 5.0 version. Some listeners might actually prefer to listen to the 2.0 LPCM version in a some matrix mode or other. Either way, Neil sounds great.
Supplemental Materials
[Rating:2.5/5]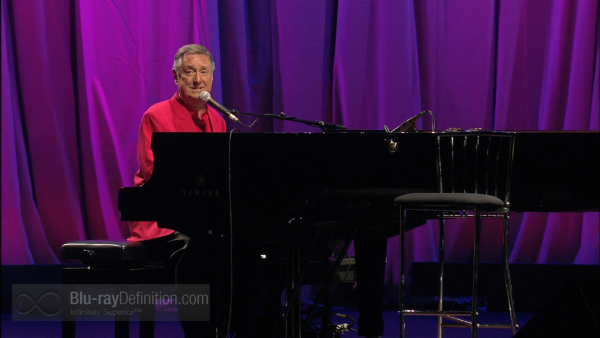 The program booklet gives us a brief bio and background on Sedaka and his works. However, the real prize is a 30-minute behind-the-scenes interview with BBC host Paul Gambaccini.
The Definitive Word
Overall:
[Rating:4/5]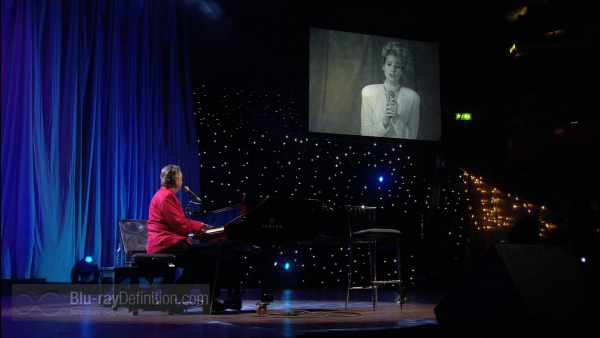 Many younger viewers may not be familiar with Neil Sedaka and his incredible body of work from the past half century. I want to reassure such individuals that this concert Blu-ray will not only thoroughly entertain them but introduce them to a vital performer who can still bring it.  For those of us who grew up with Sedaka's music, just being able to see Neil do his thing like no one else can is reason enough to own this disc. While I enjoyed the hit singles like "Oh Carol," and "Breaking Up Is Hard To Do," I was absolutely moved by some less well known numbers like "The Miracle Song." Do not miss Julliard-trained pianist Sedaka tossing off Chopin in "Fantasy Impromptu" like it was a piece of cake. The Sedaka voice has held up remarkably well over the years and certainly showed no signs of wear or fatigue over this generous program. Sedaka obviously enjoys performing as much as his audience enjoys watching and hearing him. Neil Sedaka: Live at Royal Albert Hall is just one big helping of a pop icon that no music lover should pass up.
Additional Screen Captures
[amazon-product]B00E4Q6U3M[/amazon-product]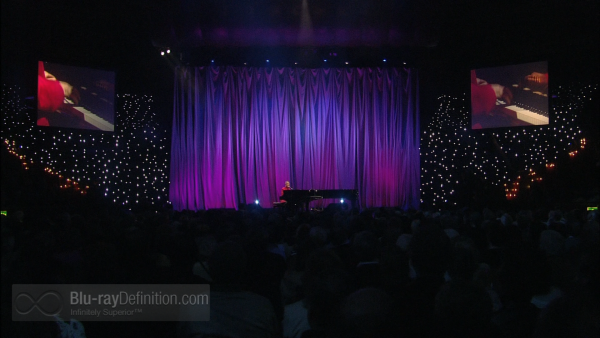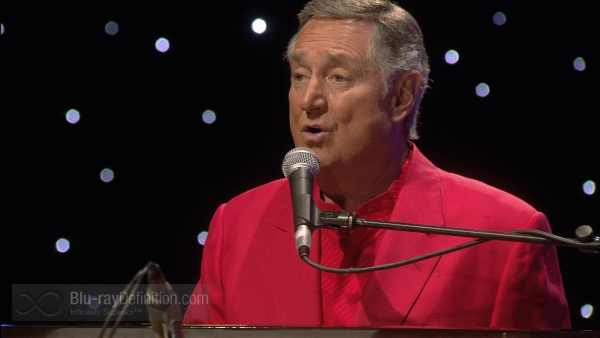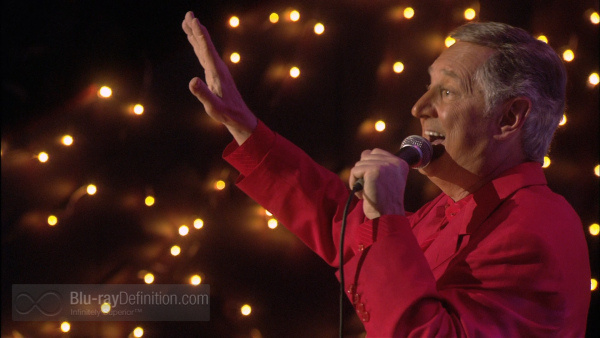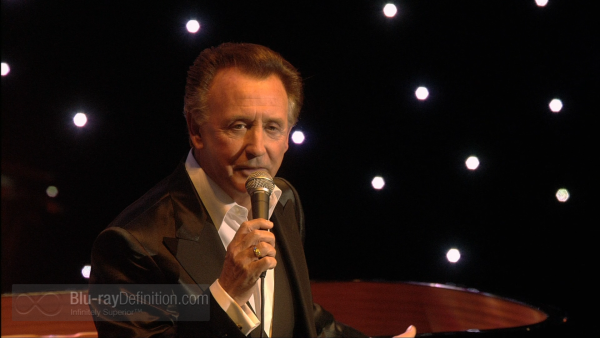 [amazon-product]B00E4Q6U3M[/amazon-product]