–
(The below TheaterByte screen captures were taken directly from the Blu-ray Disc and losslessly compressed in the PNG format. There should be no loss of picture quality with this format. All screen captures should be regarded only as an approximation of the full capabilities of the Blu-ray format.)
The Film
[Rating:4/5]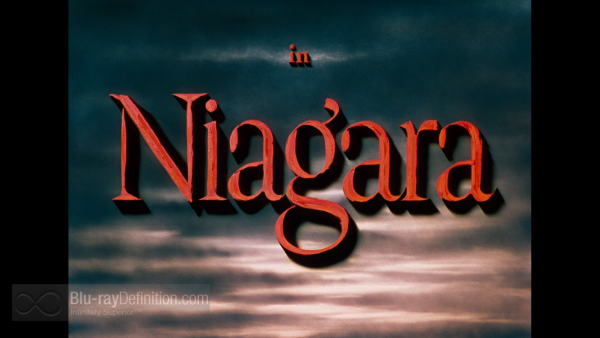 In 1953, when this Technicolor "film noir" screened, Marilyn Monroe had become a leading lady in the motion picture industry. While her career soared to even greater heights after Niagara with two more films that year, How to Marry a Millionaire and Gentleman Prefer Blondes, all of Marilyn's animal magnetism was already present in abundance. As the film opens, Ray and Polly Cutler (Jean Peters and Max Showalter) are embarking on a delayed honeymoon to Niagara Falls. When they check in to the Rainbow Motel, they find that their room is already occupied by an odd couple, George and Rose Loomis (Joseph Cotton and Marilyn Monroe). It obvious that the Loomises have a troubled marriage: George has clearly got some psychological issues, possibly stemming from battle fatigue, while Rose is an unabashed exhibitionist who runs around on her husband with Patrick (Richard Allen).  The plot thickens when George becomes suspicious that Rose will leave him for another man.  Suddenly, George goes missing and a dead body turns up. With the magnificent Niagara Falls as a cinematic backdrop, the webs of deceit woven by the principal characters begin to unravel with some surprising results.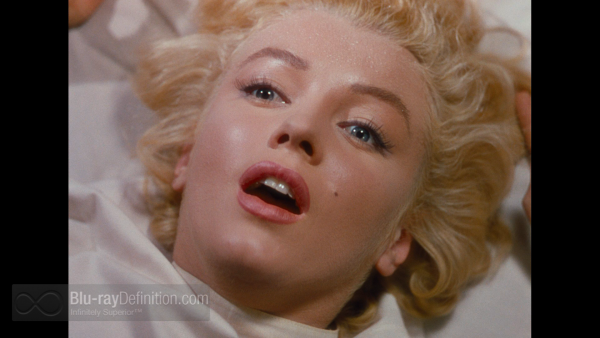 In the best film noir tradition, Niagara has a tightly wound storyline, a well-crafted script, and taut direction by screen veteran Henry Hathaway (Johnny Apollo, Wing and a Prayer, How the West was Won).  Joseph Mac Donald's  cinematography takes advantage of the site's natural beauty and Sol Kaplan's atmospheric score is spot-on.
Video Quality
[Rating:3.5/5]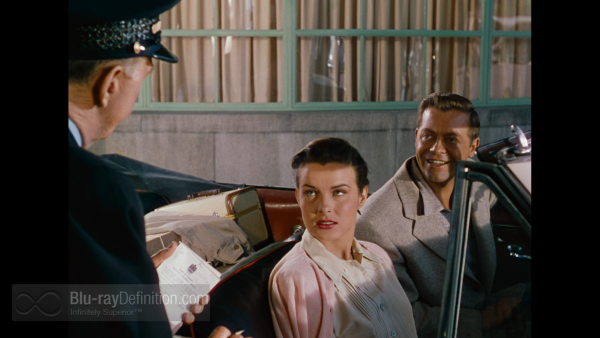 20th Century Fox has been delving deeply into their extensive archive and their film restoration crew has done it again. We get a great picture with very few anomalies of color or detail. Given this film's age, it is simply one terrific watch.
Audio Quality
[Rating:3/5]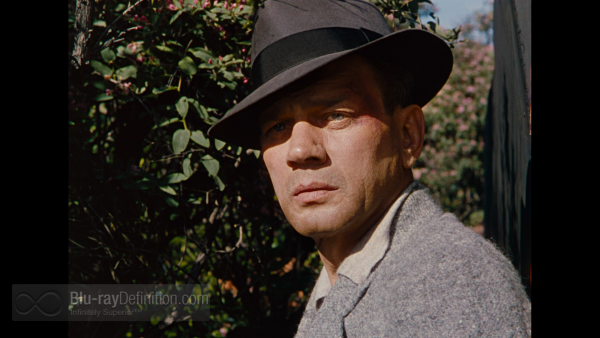 The DTS-HD Master Audio 5.1 soundtrack has slightly boxy sound. However, the multichannel remastering gives it a sense of air that is simply missing in the mono version. There is just a touch of distortion in the loudest passages while the raw thunder of the falls is extremely effective. Dialogue is quite clear. The original monaural soundtrack is also included in a lossless DTS-HD Master Audio 1.0 option.
Supplemental Materials
[Rating:1.5/5]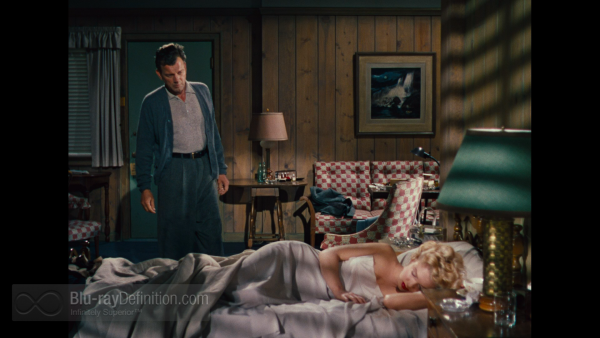 We get the original theatrical trailer and trailers from other Marilyn Monroe films.
The Definitive Word
Overall:
[Rating:3.5/5]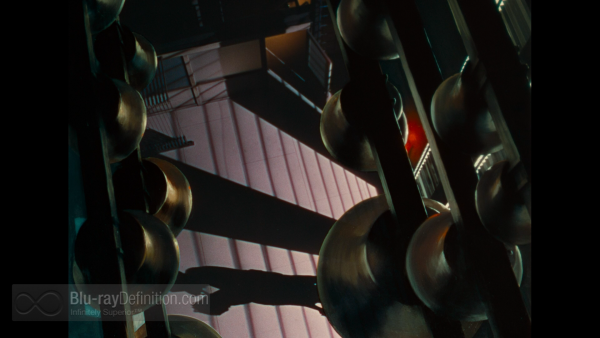 Hollywood simply does not make movies like this anymore, and that is a real pity. In the spirit of Dial M for Murder and Rear Window, Niagara gives us a psychological thriller that effectively holds our interest until its high voltage conclusion. A great cast, superb direction, and cinematography that would have made Alfred Hitchcock proud, this is one well worth watching for its treatment of the eternal themes of love, betrayal, and jealousy.  Another 20th Century Fox successful revival.
Additional Screen Captures
[amazon-product]B00CPIXO62[/amazon-product]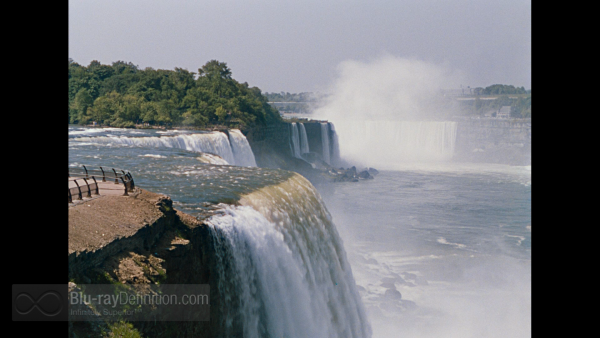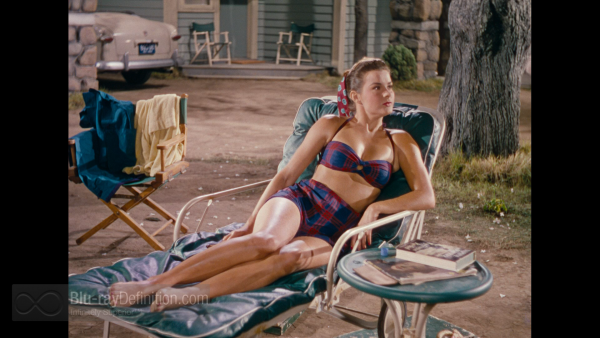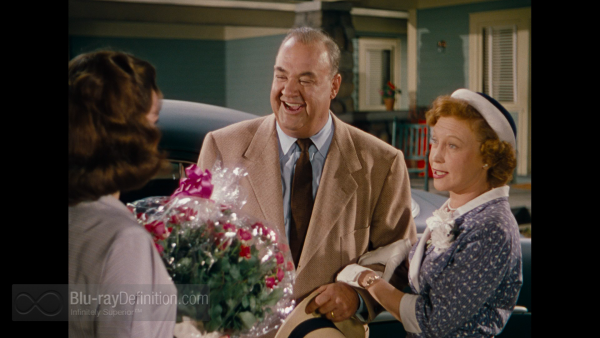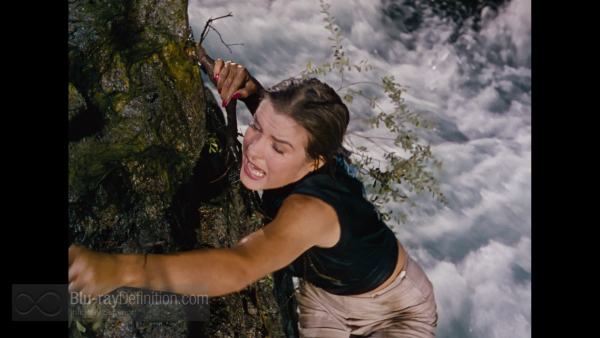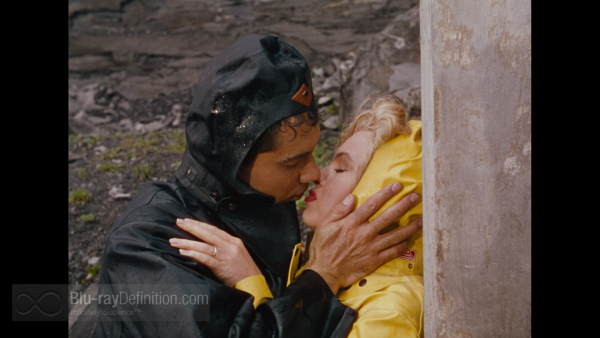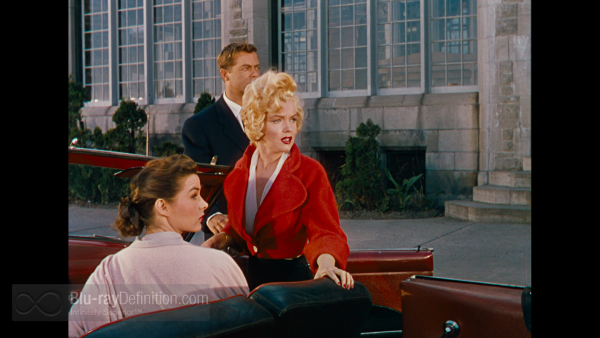 [amazon-product]B00CPIXO62[/amazon-product]