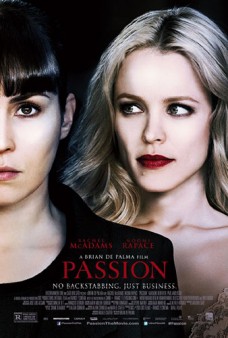 – –
Passion, now out on Blu-ray, is not particularly one of Brian's De Palma's best films. Theatrically released in 2012, with a budget of $30 million, Passion ended up grossing a measly $1,393,407, in both the U.S. and internationally.
Passion, which is Brian De Palma's first film since 2007's Redacted (not too many people will remember it as it received a very limited release in the U.S. due to its subject of America's involvement in the Iraq War), Passion is typical De Palma. The story (written by De Palma and Natalie Carter), the imagery, the drama, the shadows, the lighting, the score, are all typical of De Palma's style (examples include The Black Dahlia and Body Double).
Passion is a highly dramatic film in which the assistant of an advertising executive, Isabelle, (Noomi Rapace) wants to further her career but is held back by her boss' manipulative ways (Christine – Rachel McAdams). These ways include taking credit for some of Isabelle's ideas. Things get more complicated when Isabelle has an affair with Christine's husband, making Christine take action against her, which leads to public humiliation, and murder. Add in some twists and turns, including mistaken identity, strange dreams, and an unresolved murder, and you have all the trappings of a De Palma film, but definitely not his best work.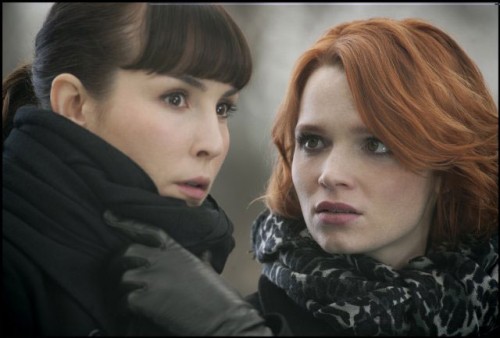 McAdams, who recently starred in Terence Malick's To The Wonder, plays the advertising executive with lots of emotion and feelings, the woman who holds some sort of power (and perhaps more) over Isabelle. Rapace, of The Girl with the Dragon Tattoo fame, is the assistant who has one too many tricks up her sleeve, and is she really who she says she is? De Palma has made this as a mediocre film, but it has been such a long time since De Palma has made a memorable and very good film. Remember the days when a Brian DePalma film was like an event? Films like Dressed to Kill, Blow Out, Scarface, Body Double and Carlito's Way are considered classics. The Black Dahlia, released in 2006, about the murder of a Hollywood actress in 1947, was a critical and commercial failure. De Palma's last successful movie was 1996's Mission Impossible, but of course that film had Tom Cruise who, back then, was at the top of his game. In Passion, De Palma shows that he is rapidly losing his touch and that perhaps his time in Hollywood is up.
Passion is now available to buy on Blu-ray and DVD.
Movie Rating:
[Rating:2.5/5]
[amazon-product]B00EVU3S4U[/amazon-product]