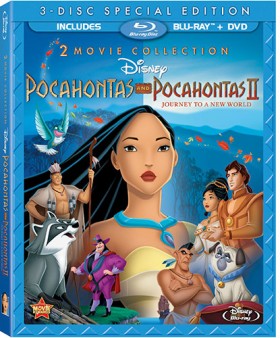 Aspect Ratio: 1.78:1
Video Codec: AVC/MPEG-4

Resolution: 1080p/24 (23.976Hz)
Audio Codec: English DTS-HD Master Audio 5.1 (48kHz/24-bit), French & Spanish Dolby Digital 5.1

Subtitles: English SDH, French, Spanish

Subtitles Color: White
Region: ABC (Region-Free)
Rating: G
Run Time: 81 Mins. (Pocahontas), 73 Mins. (Pocahontas II)

Discs: 3 (1 x Blu-ray + 2 x DVD)
Studio: Buena Vista Home Entertainment

Blu-ray Release Date: August 21, 2012
List Price: $39.99
–
Overall
[Rating:3.5/5]
The Films
Pocahontas:
[Rating:3.5/5]
Pocahontas II: Journey to a New World:
[Rating:2/5]
Video Quality
Pocahontas:
[Rating:4/5]
Pocahontas II: Journey to a New World:
[Rating:3/5]
Audio Quality
Pocahontas:
[Rating:4.5/5]
Pocahontas II: Journey to a New World:
[Rating:3.5/5]
Supplemental Materials
[Rating:3.5/5]
Click thumbnails for high-resolution 1920X1080p screen captures
(All TheaterByte screen captures are lightly compressed with lossy JPEG at 100% quality setting and are meant as a general representation of the content. They do not fully reveal the capabilities of the Blu-ray format)
–
The Films
Pocahontas
[Rating:3.5/5]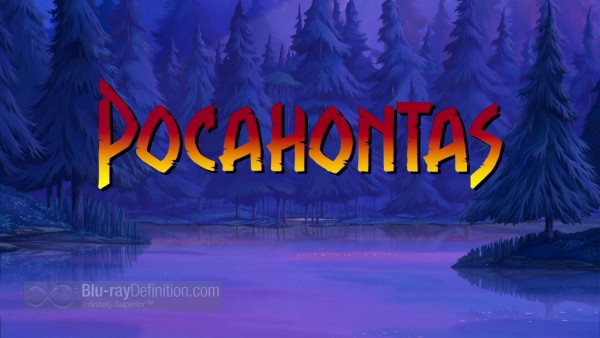 Coming after a parade of animated successes in the late 80s and early 90s from the "house of mouse" that included The Little Mermaid, Beauty and the Beast, and The Lion King, Pocahontas, despite its box office take of nearly $150 million, seemed dwarfed. The studio's first film to be based on history, it suffers from a bland set of characters; firstly its forgettable villain Governor Ratcliffe (David Ogden Stiers) and uninteresting leading man in John Smith, voiced so flatly by Mel Gibson one forgets Smith is even supposed to be an Englishman. Amplifying all of these faults is the necessary landscape of political correctness the studio was boxed into following when creating an animated feature film for children about Native Americans and English invaders in what is now Virginia. So, instead of the usual Disney inspiration, we are given an odd mishmash of historical fantasy and love story involving the daughter of Algonquin chief Powhatan (Russell Means), Pocahontas (voiced by Irene Bedard), who meets the Englishman John Smith (Gibson) when he arrives with his fellow explorers under the command of the avaricious Governor Ratcliffe (Stiers). Pocahontas and Smith fall in love, encouraged by a talking tree known as Grandmother Willow (Linda Hunt). The two are somehow able to communicate despite their language barrier because they "listen to their hearts," but their people are at odds with one another and about to head into war, mainly due to Governor Radcliffe's desire to make himself rich by finding gold.
I know this is a children's film and meant to be a fantasy, but the communication barrier that suddenly disappears is one issue that ruins the film and was obviously not well thought out. Perhaps a short montage sequence that showed Smith and Pocahontas teaching each other the other's language would have been more effective. This is just one example of where the elements of historical fact and fantasy just don't seem to blend quite well in the film. Apart from the aforementioned issues, however, the film is thankfully saved by its brevity and typically immense Disney production quality. It is masterfully animated and sprinkled with many big, lush musical numbers that hearken back to the classic Disney years.
Pocahontas II: Journey to a New World
[Rating:2/5]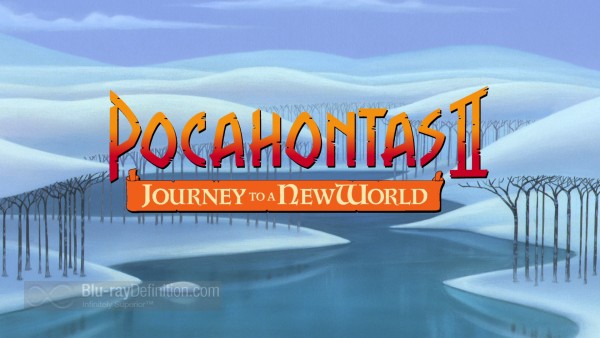 This direct-to-video sequel is just one of many forgettable and unnecessary sequels of poor quality from the studio that have done more harm to their legacy and the legacy of their franchises than they have done good, despite raking in a lot of cash. This film is even more forgettable than the original theatrical release it pretends to be a sequel of. It has an obviously low quality of animation, with blocky, non-detailed looking character designs and awful CGI animation that sticks out like a sore thumb. The story takes the Algonquin princess Pocahontas (Irene Bedard reprising her role) out of Virginia and sends her to London with Sir John Rolfe (Billy Zane) to meet with King James as an ambassador of sorts. The purpose is to convince the King not to send an armada of ships, led by Governor Ratcliffe (David Ogden Stiers,) to Virginia to make war against the Native Americans. Once Pocahontas is in London, Ratcliffe is determined to derail her meeting with the King so he can get his way and finally make war so he can get the gold he's been after. An interesting factoid for anyone interested is that Donal Gibson, younger brother to Mel Gibson, takes over the voice acting duties for the much shortened role of John Smith.
Video Quality
Pocahontas: [Rating:4/5]
Pocahontas II: [Rating:3/5]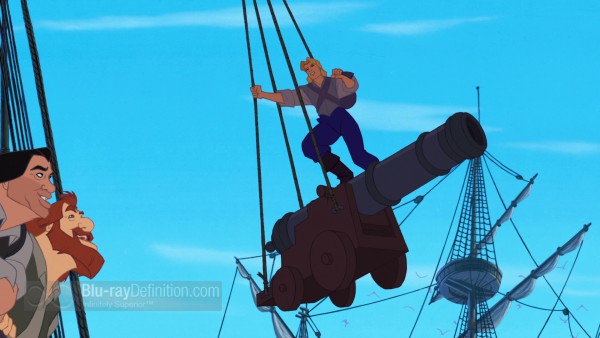 There really is no comparison in the quality of these transfers whether one is strictly speaking of the encodement itself or the original animation. Pocahontas shows much of the high quality that is common in most of Disney's animated releases on Blu-ray, although there can be some shimmering spotted around the edges of the line art, mostly from the CGI work, and in some places, midrange shots and distance shots look ever so slightly soft, as if they could have used just a little more breathing room, rather than being squeezed onto the same disc with another film. Otherwise, the film is clean and vibrant. Pocahontas II is a different matter entirely. From the blocky looking animation that is vastly inferior to the original film down to the CGI animation that looks to my eyes to have been done in standard definition, which Disney hasn't even bothered to go back and redo for this release, it looks subpar for a Disney animated release on Blu-ray. It suffers from aliasing/stairstepping around the line art, the aforementioned poor quality CG work and some banding issues as well.
Audio Quality
Pocahontas: [Rating:4.5/5]
Pocahontas II: [Rating:3.5/5]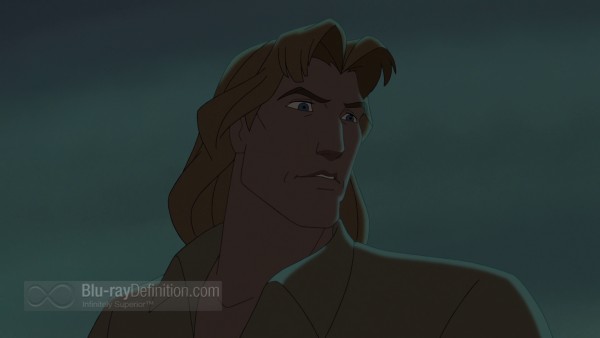 Primary audio for both films is offered in English DTS-HD Master Audio 5.1 (48kHz/24-bit). Pocahontas definitely has the superior sound of the two films with better dynamic range and a superior use of the surround channels for ambience and discrete effects, but it still sounds a little thin to my ears with high frequencies that are just a little on the crispy side. Pocahontas II in contrast is a far more subtle and less compelling mix altogether, in keeping with the lower overall quality of the film on the whole.
Supplemental Materials
[Rating:3.5/5]
All of the supplements on the disc pertain to the original Pocahontas. There are no extras at this time specific to Pocahontas II, although since the BD-Live option was not as yet enabled, I can't say if something will be added there.
The supplements:
Audio commentary by commentary by co-directors Eric Goldberg, Mike Gabriel, and producer James Pentecost (Pocahontas)
Drawing Inspiration: The Story of Hiawatha (1.78:1; 1080p/24; 00:11:49) – A look at how the long lost Walt Disney animated project Hiawatha inspired Pocahontas; includes a look at some storyboards and archival footage of Walt himself.
"If I Never Knew You" Deleted Song w/ optional commentary by co-directors Eric Goldberg, Mike Gabriel, and producer James Pentecost (1.78:1; 1080p/24; 00:04:51)
The Music of Pocahontas (1.33:1; SD; 00:07:05)
Deleted Scenes (1.33:1; SD):

Below Deck After Thomas' Rescue
Dancing to the Wedding Drum
Transition to "Just Around the Riverbend"
Pocahontas Dresses as an Englishwoman
Wiggins Gets Mud Thrown at Him
In the Middle of the River
John Smith Escapes
"Just Around the Riverbend"
Miscellaneous Scenes

"Little Hiawatha" Cartoon Short (1.33:1; SD; 00:09:11) – The Walt Disney Silly Symphony short.
Disney's Virtual Vault – BD-Live (not enabled at time of the review)
DVD – The set contains two standard DVDs of each film as well.
The Definitive Word
Overall:
[Rating:3.5/5]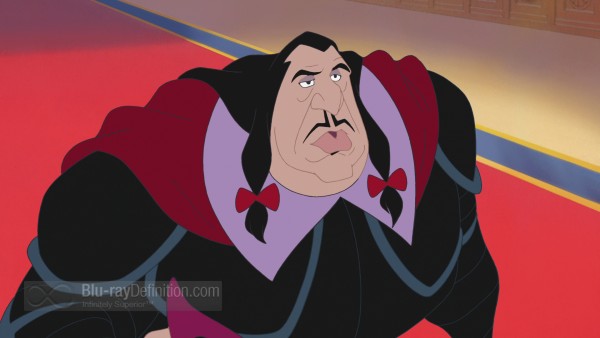 While Pocahontas may not be one of the strongest Disney animated films, it is still pleasant family entertainment with many of the classic strengths from the studio on display throughout the film. The sequel isn't worth sitting through, but since it's tacked on with this release, then no harm, no foul.
Additional Screen Captures
[amazon-product]B0084IHVIY[/amazon-product]
Purchase Pocahontas/Pocahontas II on Blu-ray at CD Universe
Shop for more Blu-ray titles at Amazon.com
Pocahontas: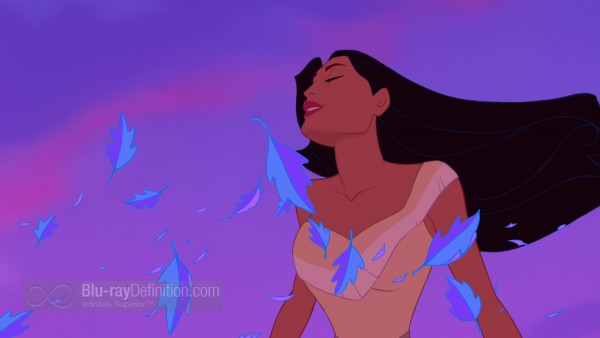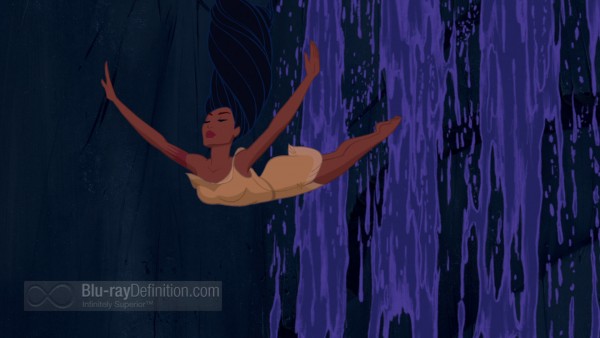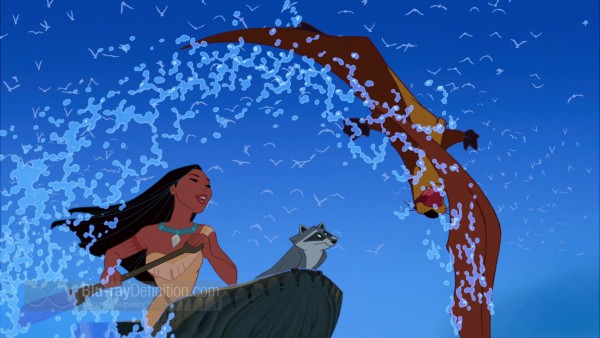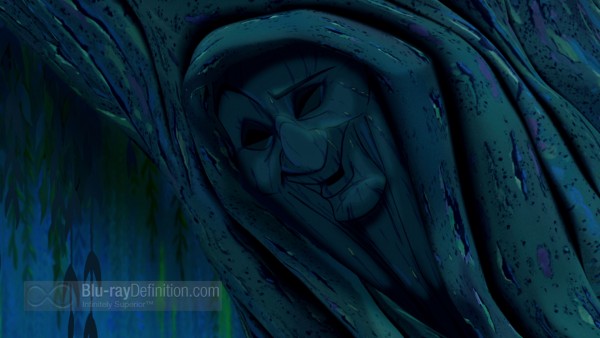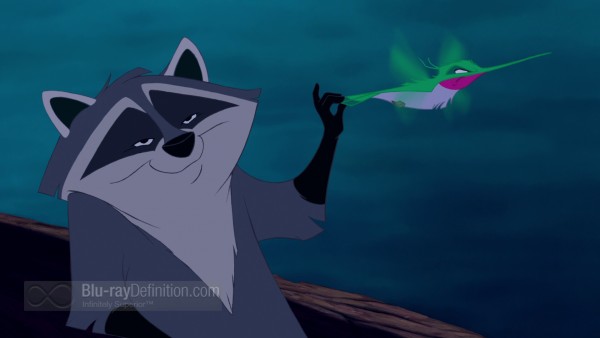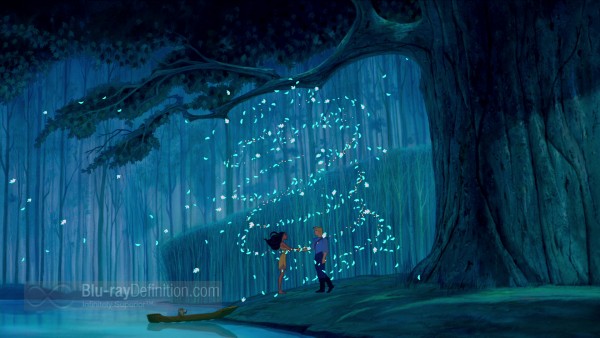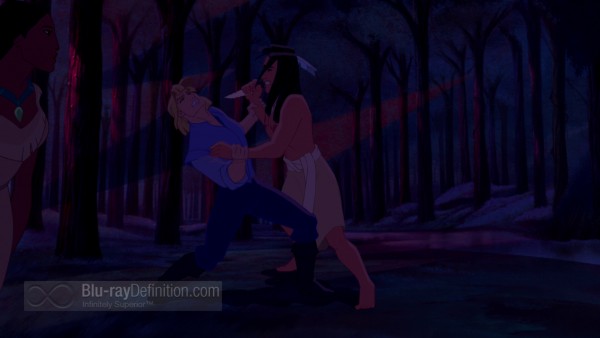 Pocahontas II: Journey to a New World: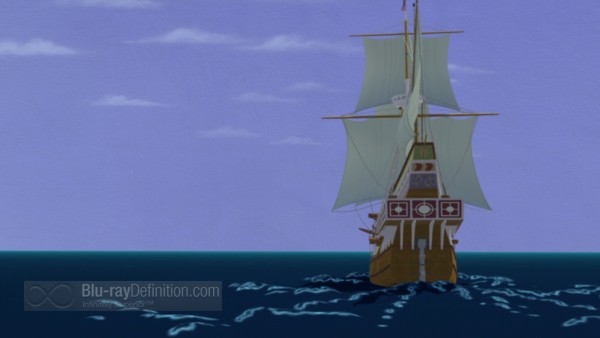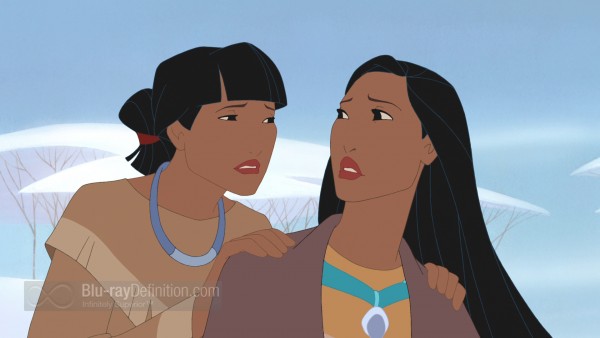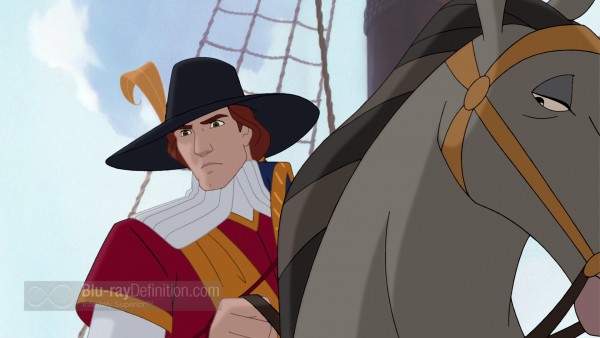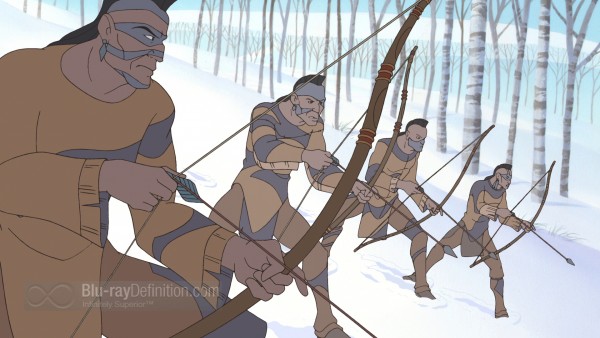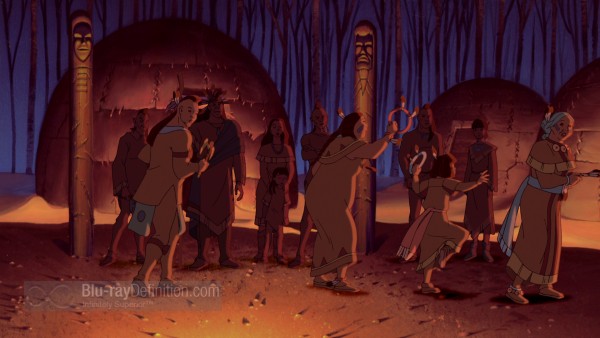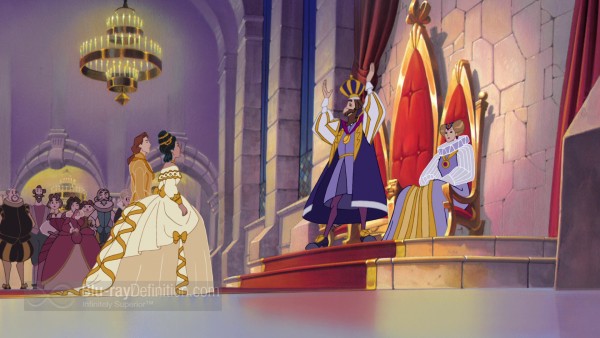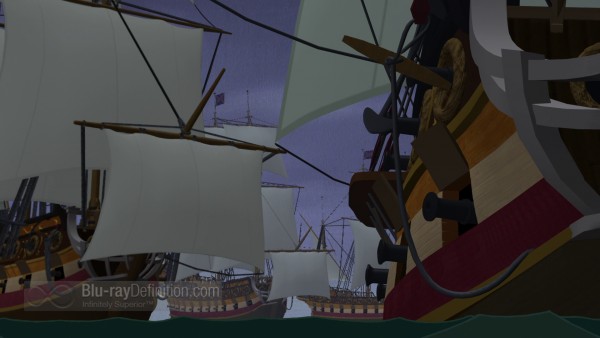 –
[amazon-product]B0084IHVIY[/amazon-product]
Purchase Pocahontas/Pocahontas II on Blu-ray at CD Universe
Shop for more Blu-ray titles at Amazon.com
Overall
[Rating:3.5/5]
The Films
Pocahontas:
[Rating:3.5/5]
Pocahontas II: Journey to a New World:
[Rating:2/5]
Video Quality
Pocahontas:
[Rating:4/5]
Pocahontas II: Journey to a New World:
[Rating:3/5]
Audio Quality
Pocahontas:
[Rating:4.5/5]
Pocahontas II: Journey to a New World:
[Rating:3.5/5]
Supplemental Materials
[Rating:3.5/5]
–