– –

The Film
[Rating:4/5]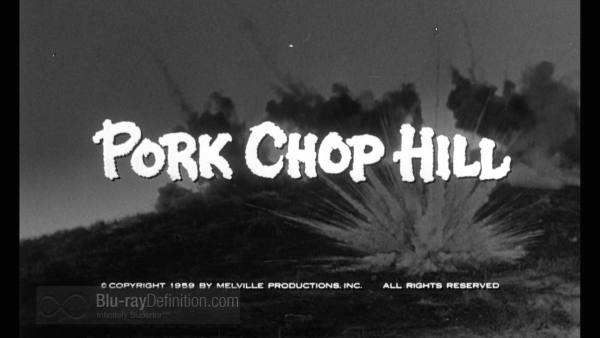 The Korean War ended more than sixty years ago, and was the first major twentieth century conflict in which the United States did not come away a clear winner. Pork Chop Hill tells the true story of a battle that epitomized American's first (but not last) stand against the growing threat of Communism.  Famed military historian Brigadier General S.L.A. Marshall provided the book on which this film is based, reporting on events as he had in World Wars I and II.
Stoic and stone-faced Lieutenant Joe Clemons (Gregory Peck) and his infantry company are encamped about seventy miles from Pork Chop Hill while, at Panmunjom, truce negotiations are under way. The troops are disgruntled, and several, like Private Forstman (Harry Guardino), are anxious to avoid further hostilities with the war's end in sight. When news comes that Pork Chop Hill has fallen into the hands of the Communist Chinese army, Clemons receives direct orders to take his men into battle.
Plans for retaking the hill are finalized and as Clemons's forces march to the summit they get a nice surprise…a radio broadcast from a Chinese propaganda station (Viraj Amonsin) accompanied by the sound of "Taps. [Note: these broadcasts will recur throughout the film much in the way that "Tokyo Rose" greeted our forces in the Pacific during WW II]. Arriving at the barbed wire (that was supposed to be taken down), the soldiers are greeted with heavy fire and explosives.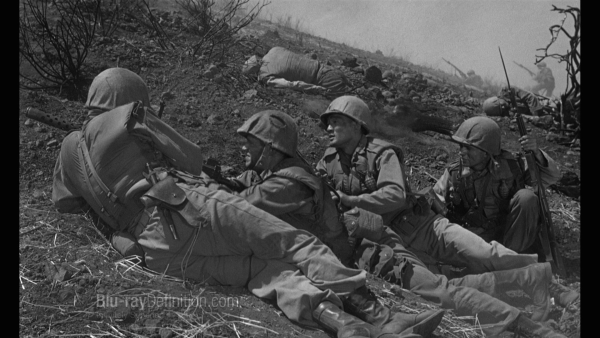 Looking to fellow company commander Lt. Ohashi (George Shibata) for assistance, Clemons gets the bad news that none will be soon forthcoming so he must lead his men alone to take the ridge. The battle for Pork Chop Hill was brutal and by the time the decimated American forces recaptured the site, only twenty-five of the original one hundred thirty-five soldiers were still alive.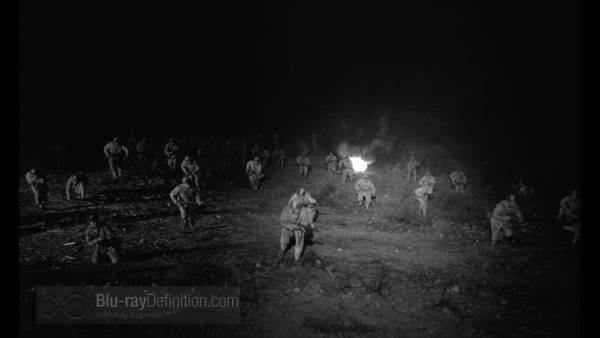 As the peace negotiations falter, it becomes clear that Pork Chop Hill is more of a symbolic than strategic target, testing the strength of wills between world powers. Outmanned, Clemons' troops must hold off a large enemy force bent on retaking the hill, making the final moments of this film a testimony to courage under fire.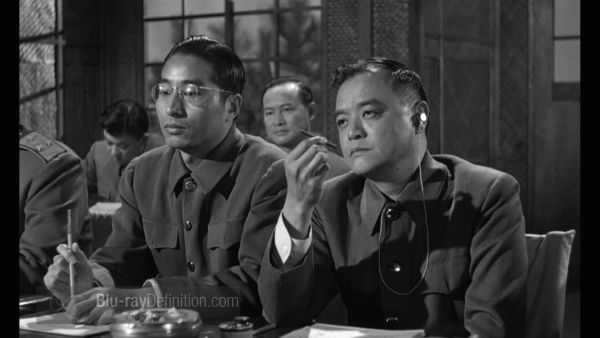 Director Lewis Milestone (All Quiet on the Western Front, Of Mice and Men) leads a great cast and lets Sam Leavitt's camera crew create the battlefield realism. James R. Webb's script is chock-full of the terse, occasionally reflective, exchanges between men under the stress of combat. Pork Chop Hill was a very well received film in 1959, a mere six years after the Korean War ended.
Video Quality
[Rating:4/5]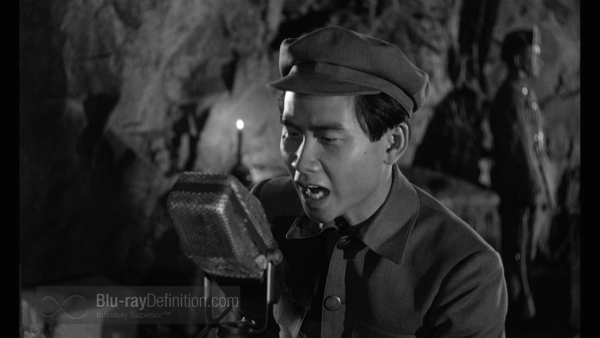 The restoration of this black-and-white film is outstanding with generally crisp images, good contrasts and very little streaking or blurring.
Audio Quality
[Rating:3.5/5]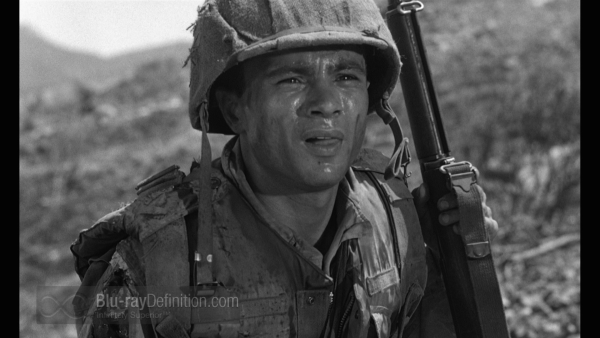 The sound track is has very little evidence of compression in the DTS-HD Master Audio 1.0 version. Dialogue is clear and there are enough explosions to make all battle buffs happy.
Supplemental Materials
[Rating:0/5]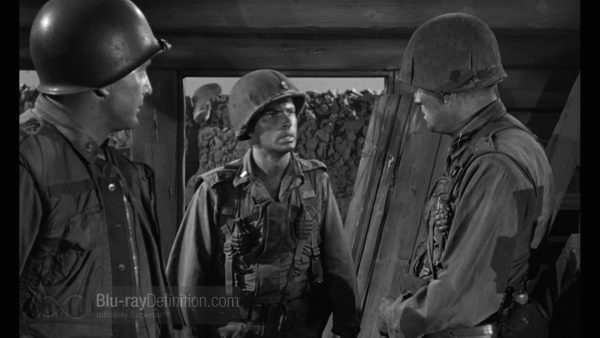 No extras are provided.
The Definitive Word
Overall:
[Rating:4/5]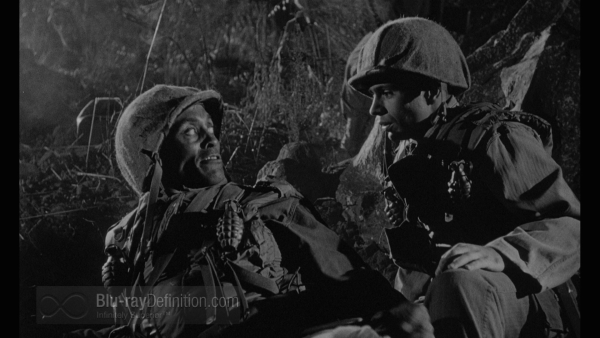 Pork Chop Hill is the quintessential "war is hell" film that conveys the brutal nature of ground warfare with quite graphic depictions of death and destruction. For film fans, the supporting cast is loaded with actors who went on to major film and/or television careers: Robert Blake (Private Velie), Rip Torn (Lieutenant Walter Russell), George Peppard (Corporal Chuck Fedderson), Norman Fell (Sergeant Coleman), Martin Landau (Lieutenant Marshall), Gavin MacLeon (Private Saxon), Woody Strode (Private Franklen) and Harry Dean Stanton (BAR man).  A gritty film that tells a compelling tale and one well worth watching.
 Additional Screen Captures
[amazon-product]B00QK4AS4S[/amazon-product]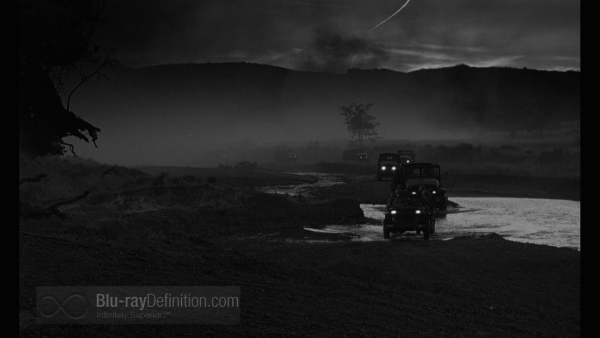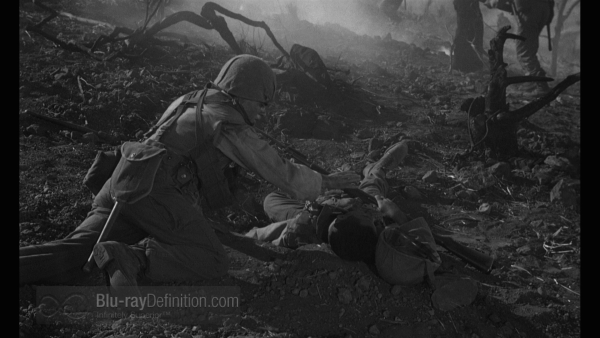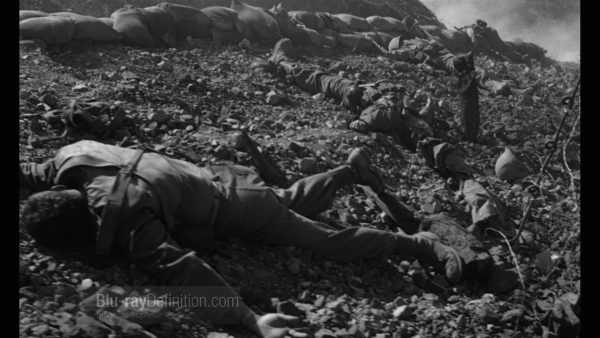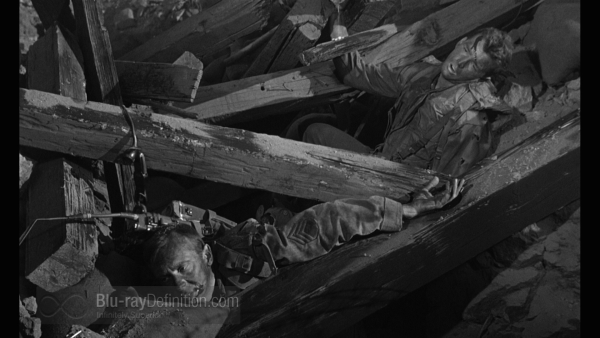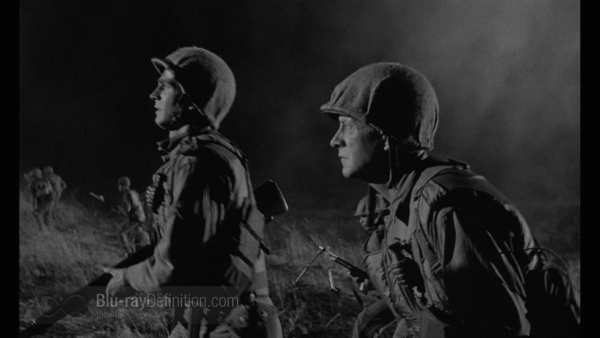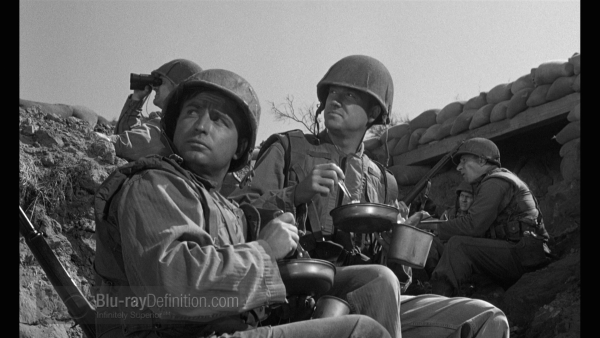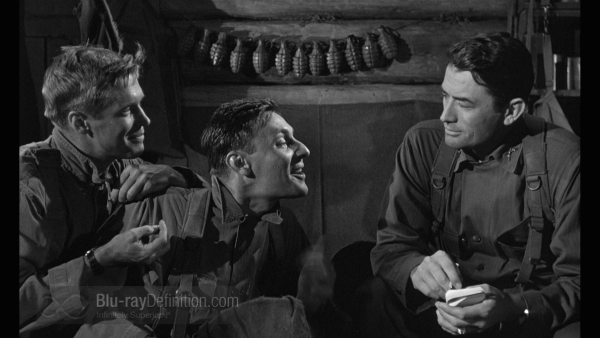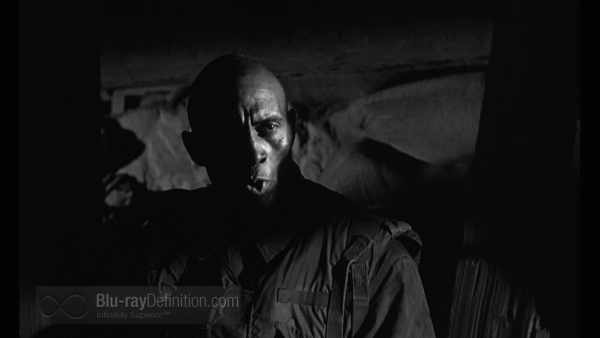 [amazon-product]B00QK4AS4S[/amazon-product]