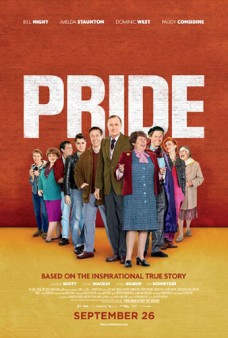 – –

The Film
In 1984 a group of gay activists decided to raise money for striking mineworkers, and this is the subject of the new film Pride.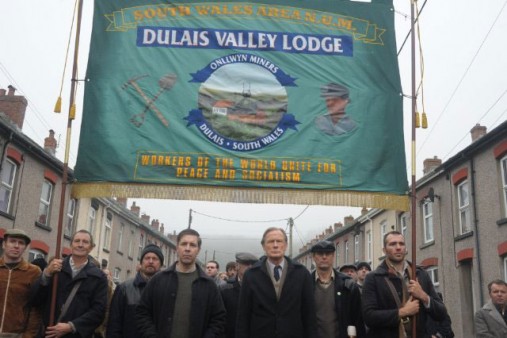 The UK miners strike, which lasted for one year from March 1984, took place after Margaret Thatcher's government announced its intention to close 20 coal mines and more at a later date, severely financially affecting the workers and their families. Pride tells the story of a group of young gay activists — who called themselves 'Lesbians and Gays Support the Miners (LGSM)' — and their enthusiasm and motivation to raise money for the miners and their families in a small community called Onllym in South Wales, which resulted in a strange and unusual relationship between both groups.
The rag tag group of LGSM activists include George MacKay as Joe, not yet out to his parents and barely just out to himself; Ben Schnetzer as Mark, the leader of the group but also the most passionate; Andrew Scott plays Gethin – the owner of Gay's The Word bookshop who has not set foot in his native Wales or spoken to his mother in 16 years; Dominic West as Jonathan – Gethin's actor boyfriend; Faye Marsay as Steph – the Lesbian in Lesbian and Gays Support the Miners; and Joe Gilgin who plays Mike Jackson – the co-founder of LGSM. Members of the mining community include Bill Nighy as Cliff — the mining club secretary who also happens to be gay; Imelda Staunton as Hefina — a resident of Onllym and a member of the mining committee who gets on fabulously with the LGSM members; and Paddy Considine as Dai Donnvan — a miner who eventually comes around and accepts LGSM's support.
Pride begins at the June 1984 gay pride parade, with a relatively small group of people marching through central London, and it's where Joe, watching the parade from the sidelines, decides that this is the group that he belongs to, so he joins the parade. One of the activists carries a sign which reads 'Queers, better blatant than latent.' Anti-gay activists line the street with their own signs – one reading 'Burn in Hell.' Such was the sentiment in 1984.
The group of people that Joe attaches himself to has an office at a gay bookstore called 'Gay's the Word' which is an actual gay bookstore in central London. Upstairs is their war room, where they come up with the idea to raise money to support the mineworkers. They call several mineworker unions around the country saying that they want to raise money for the strikers, but once they mention that they are Lesbian and Gay, they get hung up on. But there is one small mining village in Wales that doesn't hang up on them, they in fact welcome the group, and the money they have raised.
So outside of the bookshop the activists stand, asking for passersby to donate money for the striking mineworkers. Some people put money into their buckets, while others spit on them as they walk by. After having raised a large bit of money, the group head to Onllym and give the mining committee the money they raised. They drive up in a van that has 'Out Loud Theatre Group' written on it's doors. One of the women in the committee hall yells 'Guys — your gays have arrived.' They are met with resistance by most of the men, one of them commenting 'bring gays into a Working Men's Group, you have problems.' It's the women, and especially Hefina, who welcome the group, and it's up to Mark to, reluctantly, give a speech about who they are and how they plan to help.
So Pride gets itself in gear to bring us the actual true story of how LGSM won over the community of Onllym. It isn't easy at first — there's lots of strong opposition, especially by a local woman with two teenage sons who doesn't want the gays to be anywhere near their village. But there is also one of the LGSM members who has doubts, saying 'the miners don't care about us so why should we care about the miners.' But Pride is an extraordinary tale of friendship and solidarity, between two totally opposite groups, over the course of 12 months during which LGSM become one of the biggest fundraising groups in the UK.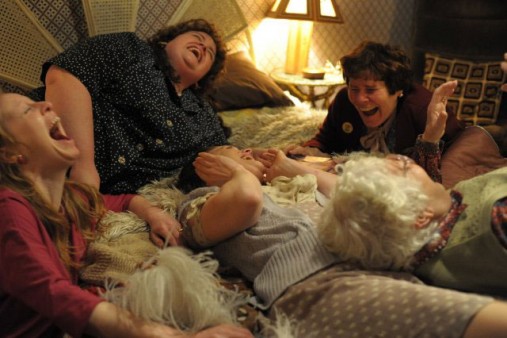 Playing itself as a comedy/drama — a comedic film infused with bits and pieces of drama — Pride works only when you realize that it is not 100% the actual story. Writer Stephen Beresford admits that some of the screenplay had to be fictionalized in order for the film to work from a viewer's perspective – that he had to take artistic license. Beresford adds that Pride is more than 80% true. Two of the scenes which take place in the film are memorable but one has to question whether or not they actually happened. In one of them, the Onllym women go to London to visit the LGSM group and to attend a 'Pits and Perverts' fundraising concert for them. During their visit they walk straight into a rubber club asking the men, who are in various states of undress, what they do and how they do it. Hmmmm.
The two gay pride parade scenes that bookend the film look a bit too staged, though it is nice to see the town of Onllym arrive in buses at the last minute to take part in the parade to support the gays, which actually did happen. A scene which takes place right after the Onllym woman leave the rubber club is perhaps the most pivotal scene in the film. Russell Tovey makes a too brief cameo appearance as Mark's ex-boyfriend, and on the way into the club which Mark is just exiting, Tovey's character tells Mark that that specific night is his last hurrah, the final party, and then he gives Mark a kiss and heads into the club. We know that this being 1984 AIDS is rearing it's ugly head. It's a brief haunting moment, and one that will stick with you long after you've seen the film. And at the end of the film we learn that in 1986 the miners had enshrined Gay & Lesbian rights into their constitution. Bless them.
Director Stephen Beresford has crafted a film that has feel good factor written all over it. It's a film that should be successful at the box office, and rightly so, and should be enjoyed at the cinema by everyone — gay and straight. And the acting is top notch. Newcomer American Schnetzer is perfect as Mark, while Mackay brings a sense of innocence and vulnerability (and believability) in his portrayal of Joe. Nighy, Staunton, West and Scott all also shine. It's a film with a huge cast that works very well together, with an excellent soundtrack (Bronski Beat, Pet Shop Boys, Culture Club, Joy Division, Billy Bragg). Pride is a must-see film even if it is a bit too sugar and spice and everything nice.
Movie Rating
[Rating:3.5/5]