– –

The Film
[Rating:4/5]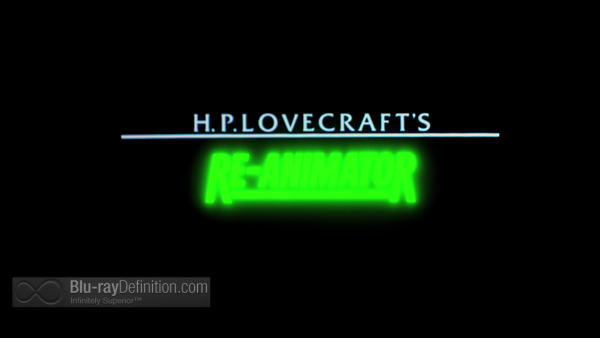 No one can accuse '80s horror maven Stuart Gordon of subtlety, and Re-Animator is no exception. Another of his broad adaptations of the works of H.P. Lovecraft, along the lines of 1986's From Beyond, Re-Animator is a genre bending, B-movie cult classic saturated with wry humor, and plenty of gore.
The film concerns itself with Herbert West (Gordon favorite Jeffrey Combs), a medical who studied in Germany under a famed neuroscientist that comes back to America and inveigles medical student Dan Cain (Bruce Abbott) and his girlfriend Megan Halsey (Barbara Crampton) in his strange experiments concerning the reanimation of dead tissue. It first begins with Dean and Megan's cat and a wild set piece that gets the gory ball rolling, so to speak, as the cat springs back to life in feral, zombie form, attacking Herbert and forcing Dan to smash it against the wall. Their experiments don't stay secret for long and when the dean of their university, Megan's father (Robert Sampson), finds out, Dan and Herbert are forced into even more secret experiments in the school's morgue, which leads to another spectacular set piece involving a reanimated human corpse, a pro-wrestling style zombie match complete with bone saw, and Dean Halsey being brought back to life with Herbert West's fluorescent green serum. The ever-increasing madness of Re-Animator doesn't stop there, as the film continues its progress from one outrageously gory set piece to another. The school's star neurosurgeon Dr. Carl Hill (David Gale) has an unhealthy sexual obsession with Megan, and he uses the opportunity brought on by the dean's reanimation to take control of his mind and to seize control of Herbert's research, but it doesn't go too well and he ends up headless, reanimated, a carrying his head around with him in a bag. This offers up one of the film's richest moments of gore, exploitation, and B-movie offense, as the head of Dr. Hill commands its body to strap down a naked Megan to an operating table for a creepy, stomach turning sexual assault.
With references to Gothic horror, sci-fi, slasher flicks, and monster movies, Re-Animator is one that is hard to define, categorize, or easily reference, to allude to a line by Fox Mulder in the first X-Files movie. But what it is, is a visually appetizing feast with gloriously rich, campy, and disgusting visual effects that no cult horror fan could possibly dislike. The standout performances here are definitely from David Gale as the obsessed and beheaded maniacal surgeon and Jeffrey Combs as the driven, eccentric, nerdy scientist, but one also has to offer kudos to Stuart Gordon for staging a viewable low budget production and taking the film where, perhaps, no other would dare, especially in this unrated edition.
Video Quality
[Rating:4/5]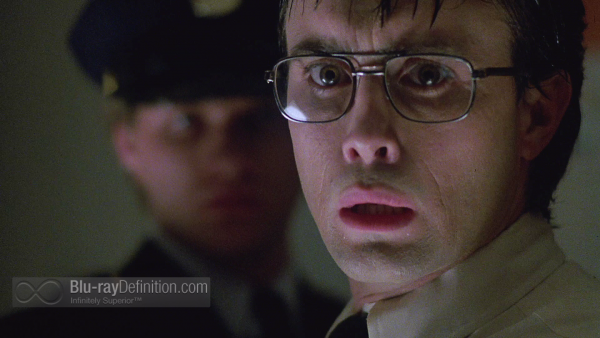 There's no mention of a new restoration being undertaken for the so-called" "Integral" version by Second Sight, but the Unrated Version has been given a new 4K restoration. There's an obvious difference in quality between the two versions, with the Unrated version having a finer grain structure, less instances of source damage and compression noise, and more natural color reproduction. The flesh tones in the "Integral" version are pushed toward red, whereas the Unrated version have more peachy hue. Both are offered in AVC/MPEG-4 1080p encodements.
Audio Quality
[Rating:3.5/5]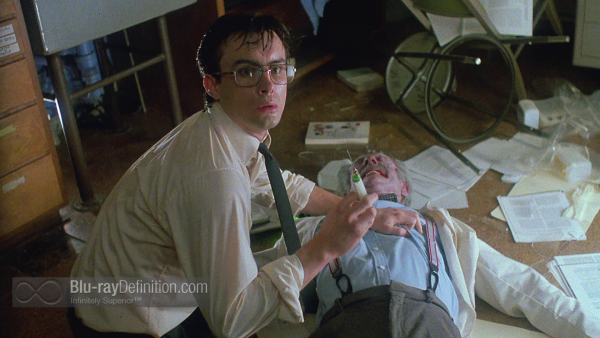 While there are English DTS-HD Master Audio 5.1 (48kHz/16-bit) mixes included for both versions of the film, you might want to stick with the English LPCM 2.0 (48kHz/16-bit) stereo mix as it sounds more natural as opposed to the somewhat artificial ambience that permeates the 5.1 version.
Supplemental Materials
[Rating:3.5/5]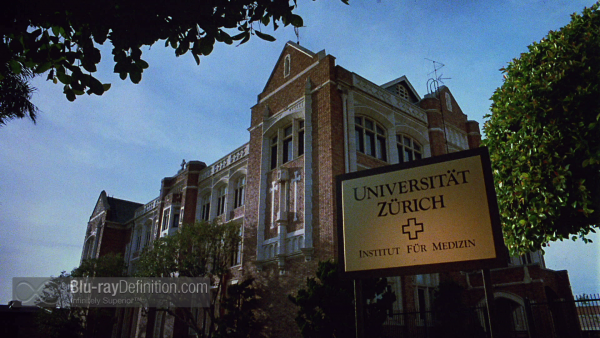 Unrated Version – Brand New 4K restoration
"Integral" Version – Exclusive to Blu-ray
Audio Commentary with director Stuart Gordon (Unrated Version Only)
Audio Commentary with producer Brian Yuzna and actor Jeffrey Combs, Robert Sampson, Barbara Crampton and Bruce Abbott (Unrated Version Only)
Interviews with Stuart Gordon and Brian Yuzna, writer Dennis Paoli, composer Richard Band and Fangoria editor Tony Timpone:

Stuart Gordon and Brian Yuzna (1.33:1; upscaled; 00:48:49)
Writer Dennis Paoli(1.33:1; upscaled; 00:10:40)
Composer Richard Band (1.33:1; upscaled; 00:14:43)
Music Discussion with Richard Band (1.33:1; upscaled; 00:16:29)
Fangoria Editor Tony Timpone (1.33:1; upscaled; 00:04:35)

Re-Animator –Resurrectus (1.85:1; 1080p/24; 01:08:40)

Extended Scenes, deleted scenes and trailers:
Extended Scenes (1.78:1; 1080p/24; 00:21:22)
Deleted Scene (1.78:1; 1080p/24; 00:02:51)

Trailers (1080p/24; 00:06:45)
Galleries:

Behind-the-Scenes (1080p/24; 00:05:52)
Production Stills (1080p/24; 00:02:07)
The Definitive Word
Overall:
[Rating:4/5]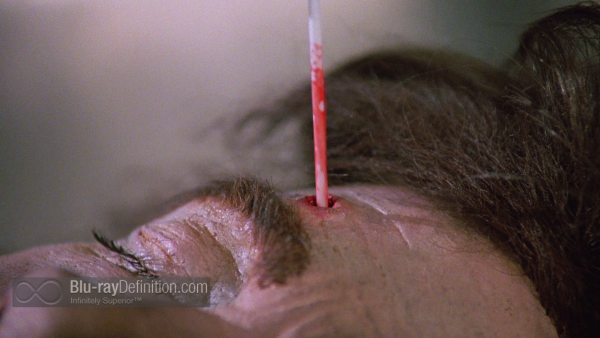 Re-Animator is one of the all-time favorite comedy/horror films and sitting through it leaves no doubt as to why. It isn't clear to me if it is always intended as outright humor, but it sure comes across as almost slapstick in its use of physical horror and visual effects. A must for genre fans.
Additional Screen Captures
[amazon-product region="uk" tracking_id="bluraydefinit-21″]B00JE9VS90[/amazon-product]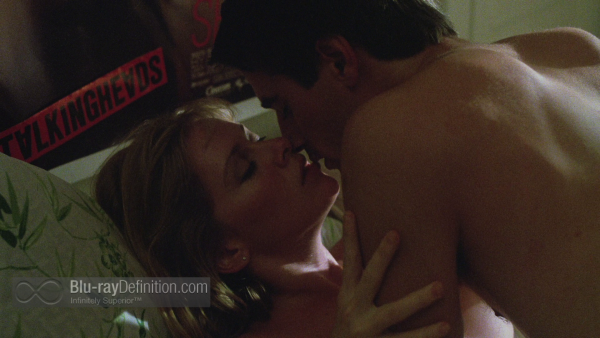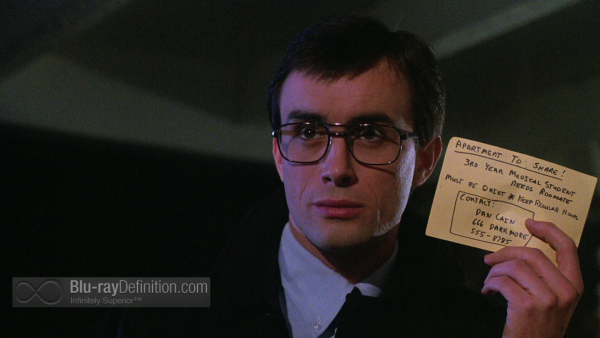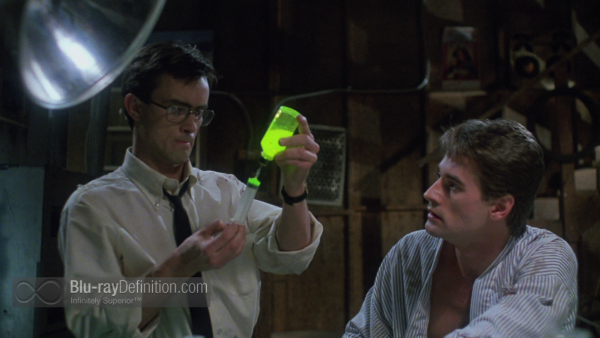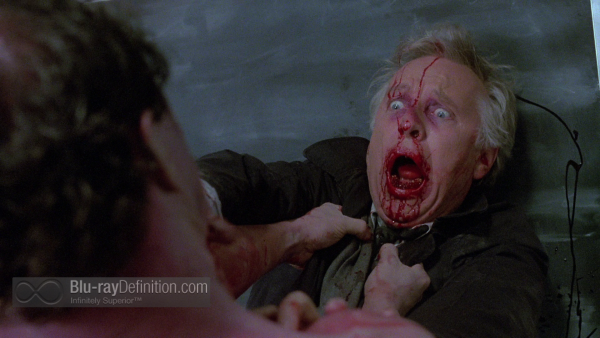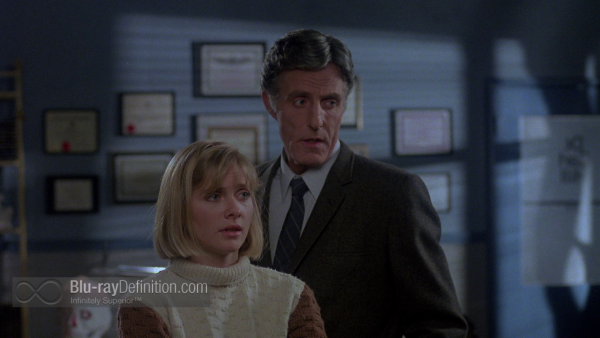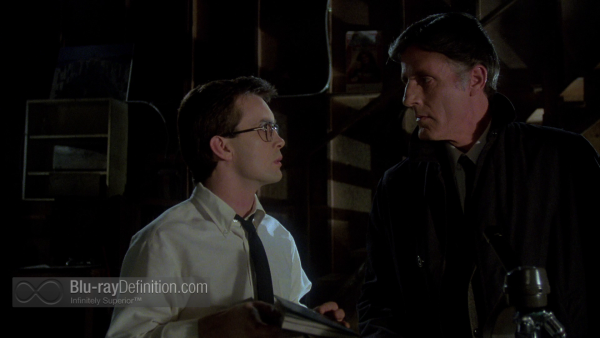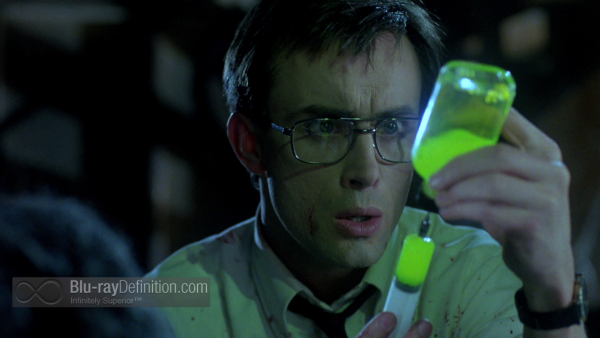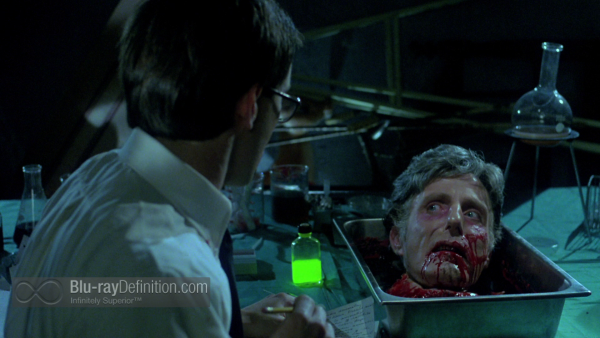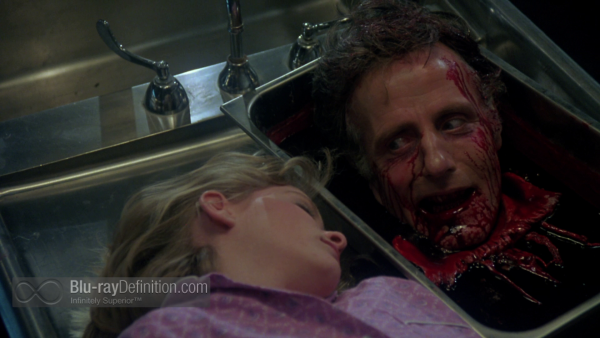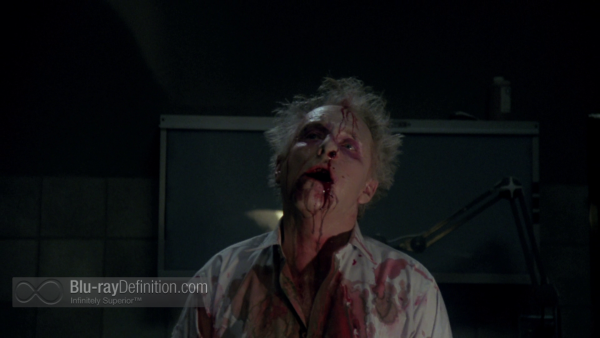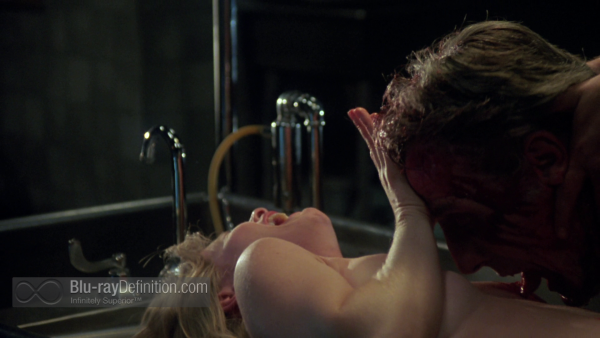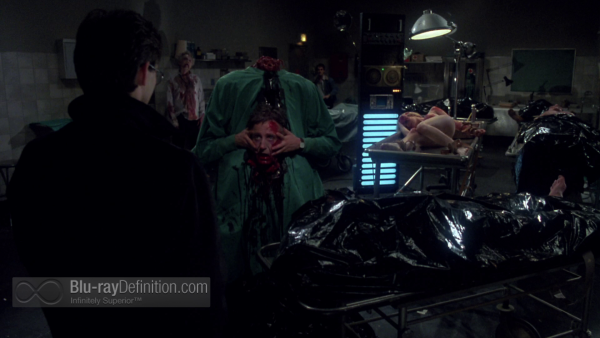 "Integral" Version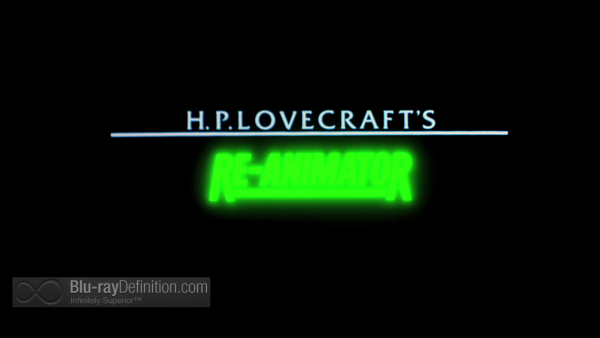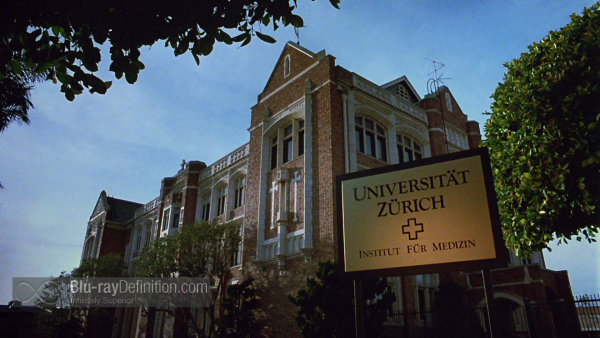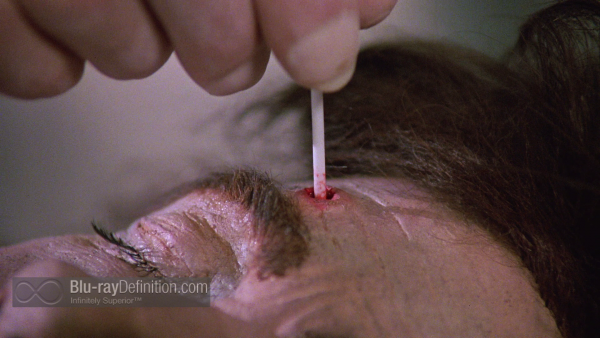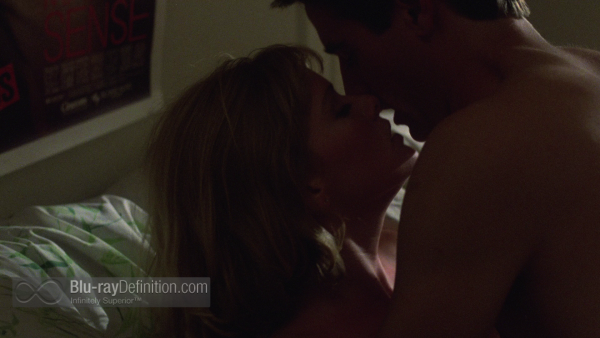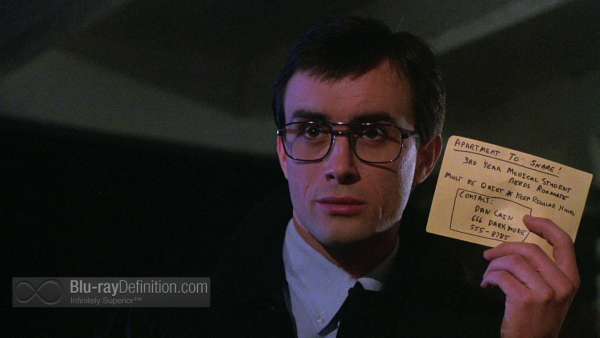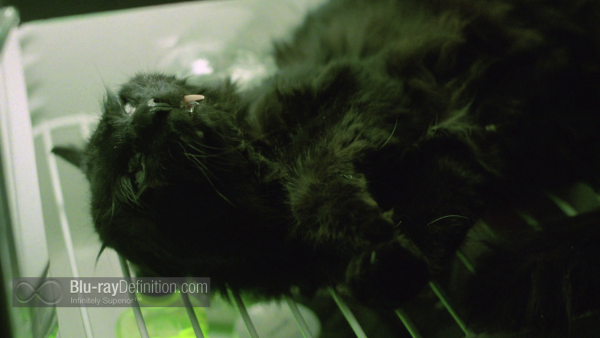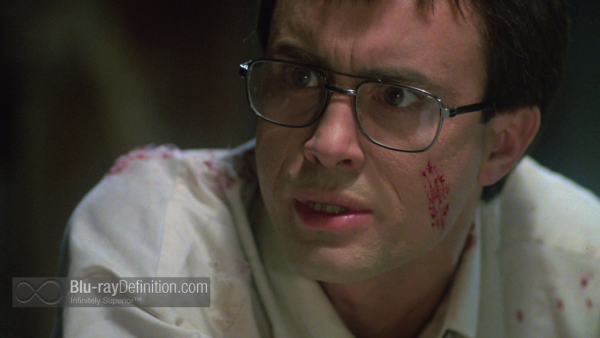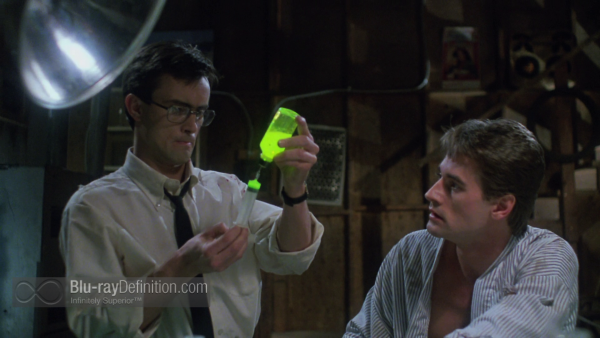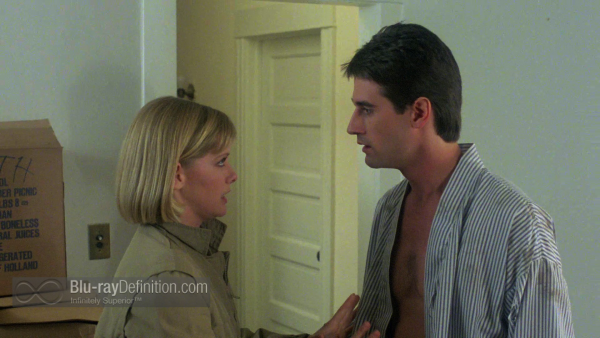 [amazon-product region="uk" tracking_id="bluraydefinit-21″]B00JE9VS90[/amazon-product]