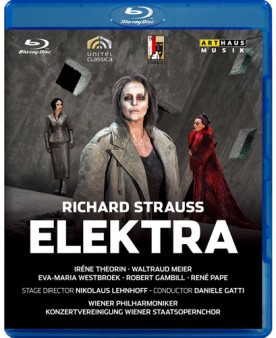 Mouse-Over Cover Art for details –
The Performance
[Rating:4.5/5]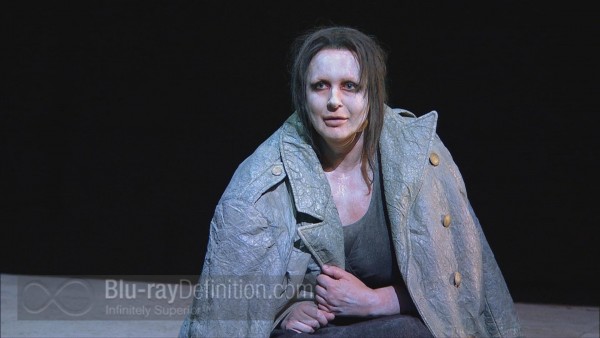 Nikolaus Lehnhoff is one of the current meisters of the nontraditional opera production, and this Elektra is no exception. However, as this opera is an archetypal psychodrama, it is not harmed by the sparse set with its dark windows and cellar hatch. The cast is powerhouse in terms of today's singers.  Irene Theorin, overcomes her grotesque Dawn of the Dead make-up  and  delivers an amazing sing. Her Wagnerian chops come in quite handy for this role which is supported by a huge orchestra. Two other Wagnerian veterans, Waltrud Meier (Elektra's mother, Klytemnestra), and Eva-MariaWestbroek (Elektra's sister, Chrysothemis) are superb supporting artists. The casting luxuries continue with Robert Gambill (Elektra's stepfather, Aegisth) and Rene Pape (Elektra's brother, Orest) who provide  small but important contributions to this performance.  Elektra may not be Richard Strauss's most popular opera, cast in a musical mold similar to the earlier Salome, but it has greater dramatic power when this well performed. This 2010 Salzburg Festival Production bears the usual Lehnhoff stamp including  minimalist sets and modern costumes. Fortunately, Strauss's operatic drama can survive such liberties with its original ancient Greek setting and still reach today's audiences.  Maestro Daniele Gatti paces this declamatory score with a deft baton and keeps the Vienna Philharmonic Orchestra on a steady course.
For those unfamiliar with the original Elektra story, this opera begins some years after Elektra's father, Agamemnon, was murdered,  by her mother and her lover, Aegisthus. Elektra's brother, Orestes, has been hidden safely for a long time. Elektra mourns her father's death and seeks revenge which finally materializes when Orestes returns to perform the deed. Elektra performs her vengeance monologue, and falls lifeless at the opera's conclusion.
Video Quality
[Rating:4/5]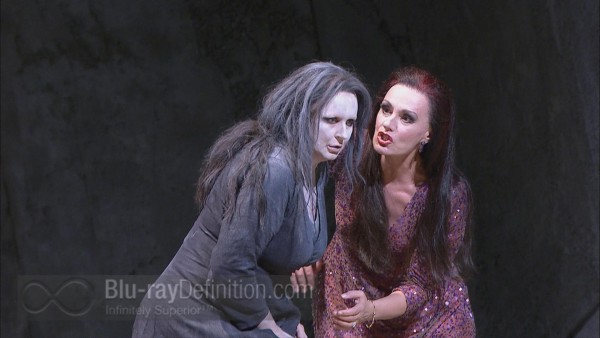 There is an abundance of close camera work which highlights Elektra's stark makeup. In an effort to make Theorin look bizarre, the costumiers also succeed brilliantly. From the beginning, there is no doubt that Elektra is disturbed, very disturbed, and her raving is her normal behavior. With the exception of  Klytemnestra's garish outfit and Aegisth's foppish suit, the rest of the cast is clad in rather drab outfits. The videography mercifully minimizes the bareness of the stage, only relieved by a brightly lit death chamber at the end. The highlight of this opera is the recognition scene between Elektra and Orest, captured with outstanding camera work. My only disappointment was the omission of Elektra's choreography for her final vengeance monologue. Overall, the predominant close ups of the singers brings this performance right at the viewer, enhancing its impact.
Audio Quality
[Rating:4.5/5]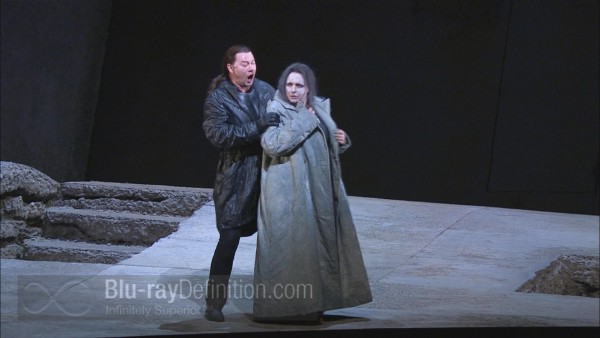 The soundtrack is DTS-HD Master Audio 5.1. The orchestra and singers are perfectly reproduced with the essence of a live recording. Because the impact of Elektra is dependent on hearing the singers' monologues over the large orchestral forces employed, compliments must be given to maestro Gatti, and the sound engineers who keep the balance nearly perfect.  From the viewer's perspective, the soundtrack offers choice mid-orchestra row seats to this performance. This is particularly gratifying considering that the Vienna Philharmonic Orchestra remains one of the premiere operatic orchestras in the world. Simply stated, you will not hear Elektra better sung or played in today's operatic world.
Supplemental Materials
[Rating:0/5]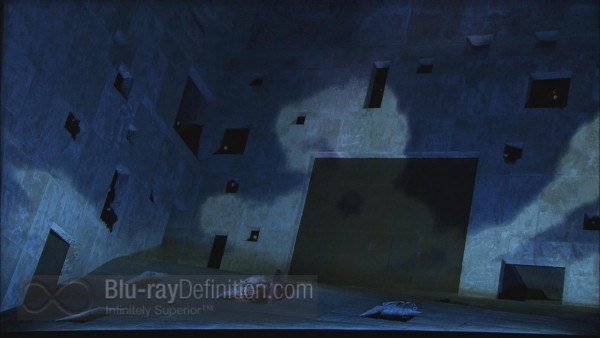 With the exception of 5 trailers for other Arthaus operas, this BD is devoid of extras. Normally, this would be a detriment, but given the otherwise superb production values, I hardly missed them.
The Definitive Word
Overall:
[Rating:4/5]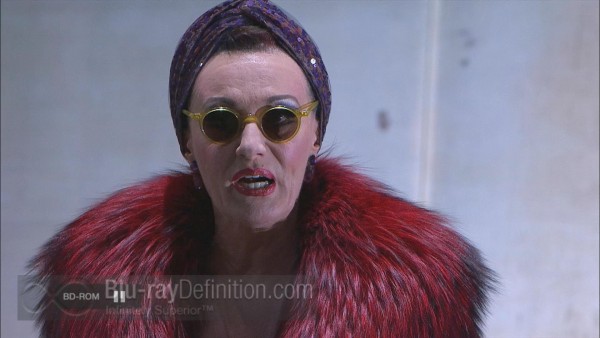 There are two other BD versions of this opera with some casting strengths and production alternatives. This Elektra features strong videography and sound recording, critical to the effect of an opera in which there is more action off than on the stage. It is also the most strongly cast in all of the key roles. While it could be argued that Christian Thielemann (in the Opus Arte BD) is to the Strauss manner born, Maestro Gatti also possesses a great Straussian touch and maintains the orchestral pulse in good order. The typically off-center Lehnhoff staging and costumes do not keep this performance from achieving its desired impact. My gauge for the success of an Elektra performance is the degree to which it makes me sweat. Bring on the antiperspirant, this Elektra is the real deal.
Additional Screen Captures
[amazon-product region="ca" tracking_id="bluraydefinit-20″]B004KDO2NO[/amazon-product]
[amazon-product]B004KDO2NO[/amazon-product]
[amazon-product region="uk" tracking_id="bluraydefinit-21″]B004KDO2NO[/amazon-product]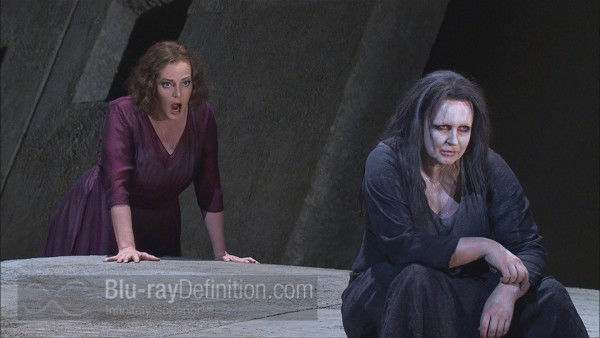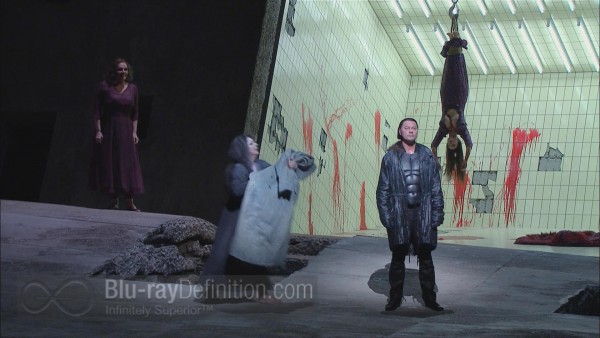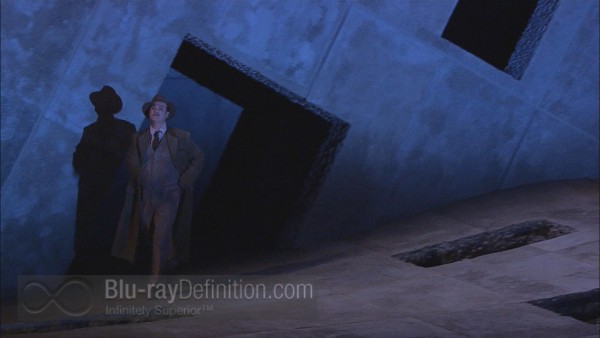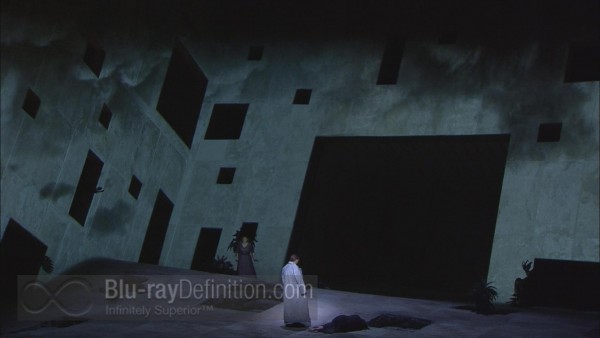 [amazon-product region="ca" tracking_id="bluraydefinit-20″]B004KDO2NO[/amazon-product]
[amazon-product]B004KDO2NO[/amazon-product]
[amazon-product region="uk" tracking_id="bluraydefinit-21″]B004KDO2NO[/amazon-product]