– (scroll to bottom if using mobile os)
The Film
[Rating:3.5/5]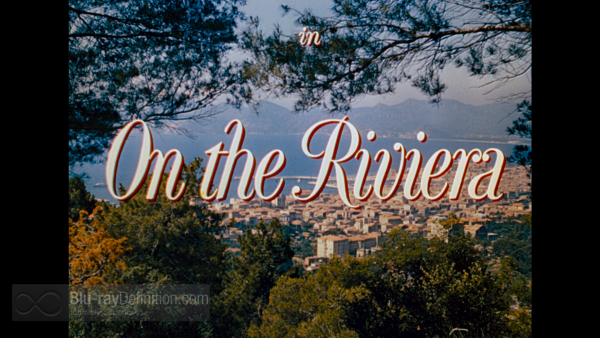 Danny Kaye's comedic star was in its ascendance in 1951 when On the Riviera was filmed. This musical comedy is replete with snappy song and dance numbers and recalls the successful Fred Astaire/Ginger Rogers and Busby Berkeley films of the 1940s.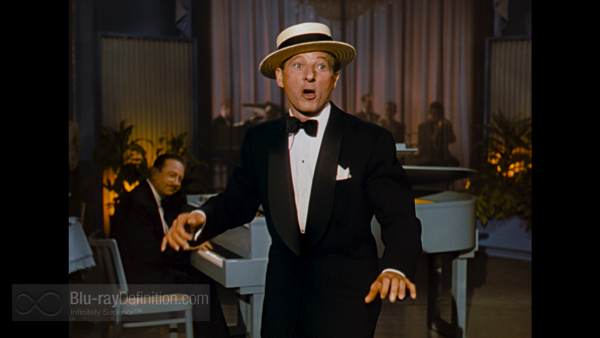 The premise of this film is based on the incredible resemblance between small time nightclub entertainer, Jack Martin, and the famous globe-trotting pilot Capitaine Henri Duran (both portrayed by Kaye). Further star power is provided by the gorgeous screen siren Gene Tierney (Mme Lili Duran) and noted French actress Corinne Calvet (Kaye's girlfriend and dance partner Colette). Duran's airplane company, bolstered by a record-breaking around the world flight is threatened by a lack of funds. When this financial crisis is piqued by business associate Felix Periton (Jean Murat), Jack Martin is pressed into service as the stand-in for the real Duran. Aided by Duran's assistants Phillipe (Marcel Dalo) and Louis (Henri Latondal), Jack's impersonation scores major points and lends to the sexual tension of this lighthearted film. The movie's highlight is the extravagant party scene when Jack becomes Henri and we get a Marx Brothers type plot with an abundance of mistaken identities.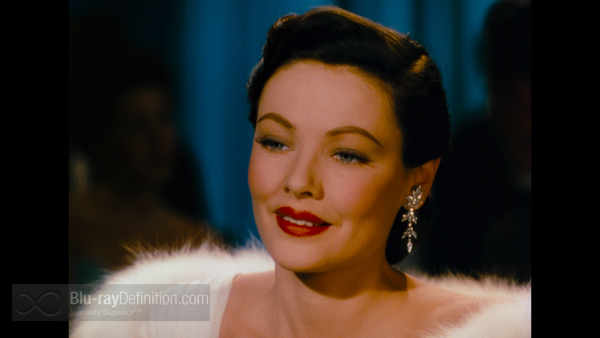 Since the Danny Kaye era, there have been few if any screen comedians that can approach his skill at improvisation. Kaye's innate ability with foreign accents is on full display as is his gift for seamless transition from one character to another. Regardless of the supporting cast (which is excellent), this is a tour de force by one of the greatest screen actor-comedians of all times. While this same story had two previous film incarnations as Folies Bergère  and That Night in Rio, On the Riviera was well received by the critics and garnered Academy Award nominations for Best Music and Best Art Direction.
Video Quality
[Rating:3.5/5]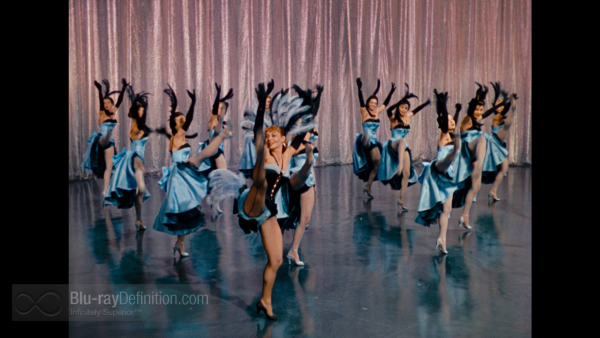 The film restoration crew gets kudos for taking a chestnut and digitally roasting it to great improvement over the original. There is crispness and contrast that makes this look like a much more recent release. Colors are simply gorgeous. Some grain and edge blurring remain, but for a film that is over 60 years old, this is a minimal distraction.
Audio Quality
[Rating:3/5]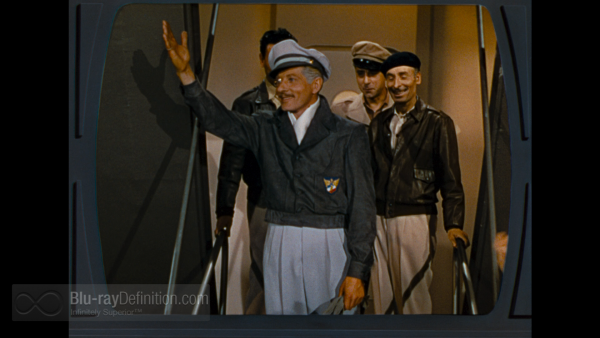 The soundtrack is well served by remastering and the DTS-HD Master Audio 1.0 version is crisp and clear.
Supplemental Materials
[Rating:2.5/5]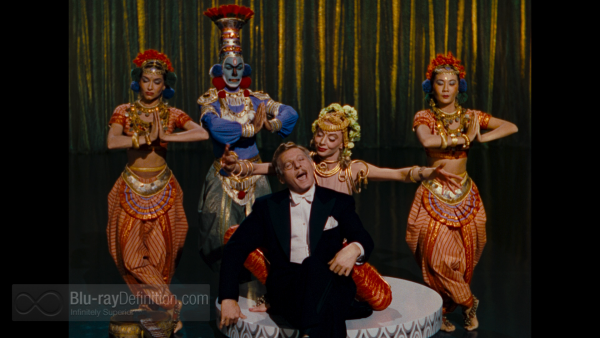 The Riviera Story: A Remarkable Impersonation 10:40 (English Dolby Digital Stereo 48kHz/16-bit) This is a brief but insightful mini-feature into the inspiration for this film.
Portrait of Danny Kaye: 26:36 (English Dolby Digital Stereo 48kHz/16-bit). A mini featurette of a star that left us all too soon.
The Jack of Clubs: (English Dolby Digital Stereo 48kHz/16-bit).9:50. A featurette about the film's legendary choreographer, Jack Cole.
Theatrical Trailer (English Dolby Digital Stereo 48kHz/16-bit) (2:35)
The Definitive Word
Overall:
[Rating:3.5/5]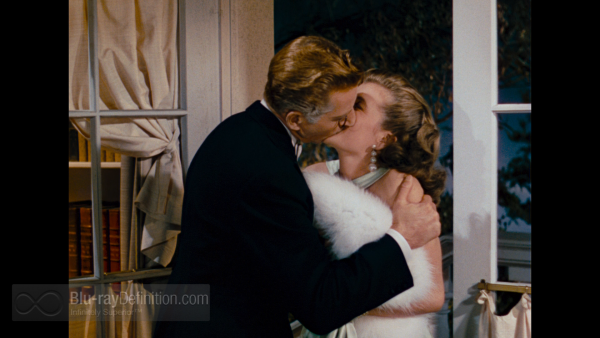 The world of screwball comedies has received relatively little attention since its heyday in the 1930s and 1940s. More is the pity since such lighthearted movies offer audiences the kind of needed escape from everyday stress and strain. Danny Kaye was a star who could really carry such a picture regardless of its lightweight plot and somewhat hackneyed script. With a good supporting cast and brilliantly staged musical selections, On the Riviera is a must see for all lovers of this cinematic genre.
Additional Screen Captures
[amazon-product]B00E98G4AE[/amazon-product]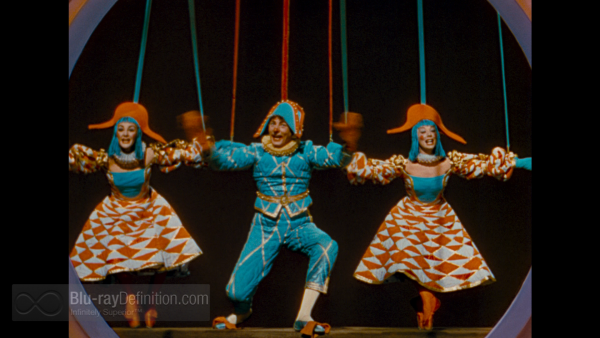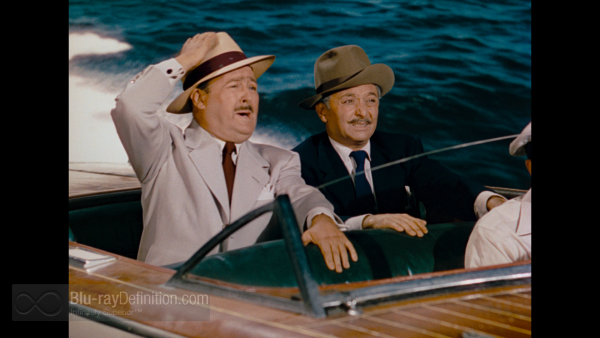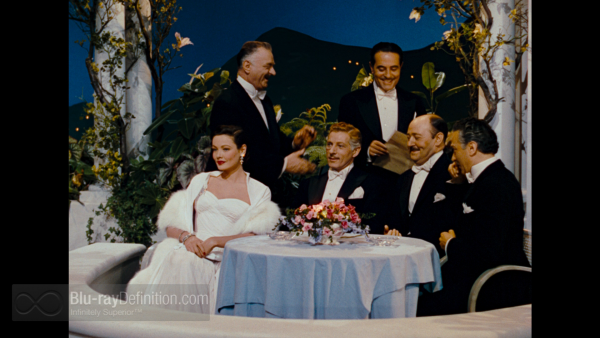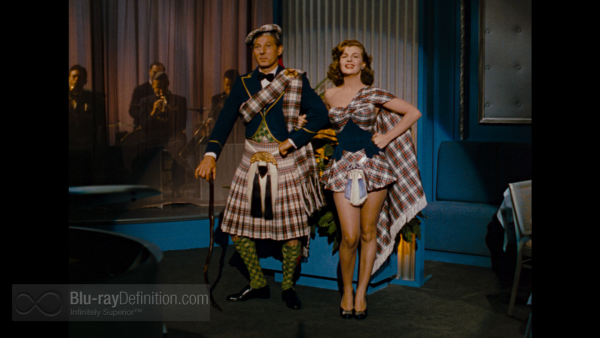 [amazon-product]B00E98G4AE[/amazon-product]