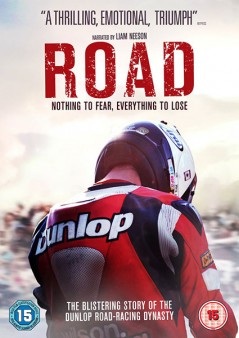 – (scroll to bottom if suing mobile OS)
The Film
The lives and careers of two generations of Road Racers is explored in the new documentary Road.
The sport of Road Racing is in effect racing motorcycles on the open roads. And the Dunlop family of Ireland have dominated this sport for over three decades. Road weaves the story of two generations of the Dunlops into a riveting documentary, even for those who know nothing about Road Racing, or even sports in general.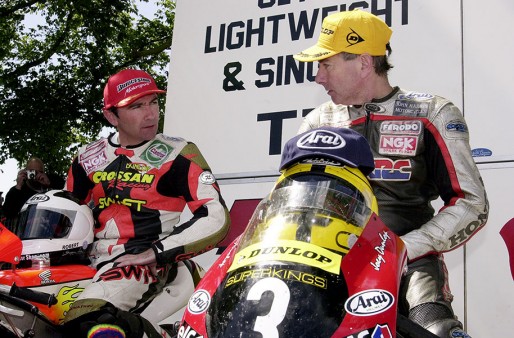 In the 1970's, Robert and Joey Dunlop started racing motorcycles for fun in their hometown in Northern Ireland. They were young men who spent every minute they could on their motorcycles. They were in their late teens when they started Road Racing, racing on Ireland's country roads where on any other day there would be traffic. This was part of the thrill, and the risk, of Road Racing. The roads in Ireland are not long stretches of road but they twist and turn, past forests and rock cliffs. So imagine racing these roads on a motorcycle going over 100 miles per hour, and it can be quite dangerous. But this is what Robert and Joey loved. Robert was a few years older than Joey, and they would compete against each other, and against the road itself.
In the late 1970's, Joey was one of the top road racers in Ireland. But the dangers of the sport came to the forefront when in 1979 three racers died in the North West 200 – an annual race in Northern Ireland made up of public roads and one of the fastest races in the world, with the racers hitting speeds as fast at 200 mph. 100,000 spectators were on hand that year to watch the race.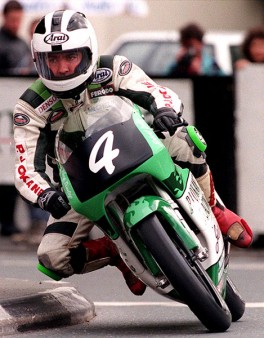 Still, the Dunlops continued to race, in Ireland as well as on the Isle of Man. Throughout the 1980's and 90's Joey won or placed in the top 6 in almost all of the races he was in, he was just one of the best, or if not the best road racer of his time.
The second generation to take up road racing is Robert's two sons Michael and William. The Road intersperses footage of the older Dunlop's with the younger Dunlop's, uncanny in their appearances and love of the sport. But Joey and Robert's journeys in the sport turn tragic, and this is where the documentary picks up speed, in both content and emotion.
Robert was actually the first of the two brothers to be in a bad accident. In May 1994, Robert crashed into into a rock wall in a race he was expected to win and he was told that he would never walk again. Meanwhile, Joey continued to race, even into his 40's, and winning lots of races, even though he was an older man in a young man's sport. Joey also was less known for his charity work. He would, on his own, pack a van full of food and supplies and drive to the orphanages of Romania in Eastern Europe, however, a few years later it would be in Eastern Europe where Joey would ride his final race.
Robert, in the meanwhile, wanted to return to racing in 1996 but was banned due to his previous injuries, but in 1998 he came back strong and actually won a major race. The Dunlop family continued their dominance of the sport. By the late 1990's when most men who have been racing after 30 years would retire, the Dunlops would not. In 2000, Joey would go on to win the TT race, 23 years after he first had won it. Robert came in third in the same race.
But it was a few years later when Joey was in a minor race in Estonia that he crashed his bike into a tree in a heavy thunderstorm. He died on impact. The outpouring of grief in Northern Ireland was so big that 50,000 people attended his funeral.
In 2004, William and Michael took up road racing, just like their father and uncle over 25 years before. Four years later, Robert Dunlop, at the age of 47, still in competition, was in a practice session for the NW200, a race his two sons were also in. Joey was traveling 150 MPH, and was going perhaps a little too fast for a practice session, when his tire buckled and came loose, throwing his body into the air, which went crashing to the ground, and then got run over by another bike. The unimaginable crash is shown in the documentary, taken from a camera in a helicopter, and we see his body fly off the bike and get hit by a motorcycle. It's horrific and shocking, and also extremely gut-wrenching. And the course was just a few miles from his home.
Two days later, with the race was still scheduled to go on, and both William and Michael agreed that they would race in it in honor of their father. Race officials ruled that they both were too emotional and distraught and a harm to the other races and deemed them ineligible. But they both insisted to race, and got on their bikes. At the last minute, they were given the green light to race, but for some strange reason William's bike wouldn't work so it would be up to Michael to race in honor of their father. Miraculously Michael wins the race, and he breaks down, not only on his bike but also on the winner's podium, winning one of the greatest (and most memorable) road races ever raced. And this gives the documentary it's ending that no script writer could ever write – Michael winning a race, two days after his father had died on the same course.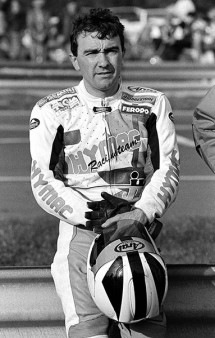 Road is a bit slow to build, Michael Hewitt and Dermot Lavery's emotionally charged documentary accelerates into an astonishing and extremely emotional documentary, with a story that I would've thought would not have interested me, but it did. The journey of Robert and Joey and how they lived their lives for the sport they loved, which in the end took their lives, is very powerful and moving. And the score, by Mark Gordon and Richard Hill, is haunting and memorable and emotional, and is perfectly suited for the ups and down you will experience watching this film. It is a superb score. Road is excellently narrated by Liam Neeson, who mentions during the film that 'for a road racer, success and tragedy are separated by the narrowest of margins. Danger is ever present, death is a split second away'. Joey and Robert are buried next to each other in their hometown of Ballymoney, Northern Ireland, while Robert's two sons continue to race.
Movie Rating:
[Rating:4/5]