– –

The Film
[Rating:3.5/5]
The six-disc Rocky Heavyweight Collection is a reissue of the previous complete 2009 Blu-ray set, Rocky: The Undisputed Collection. The main interest provided here is a completely remastered version of the original (and still the pick of the litter) Rocky, a 1976 Oscar winner for film, direction, and editing. The ratings in this review represent a composite score for all six films.
Rocky (1976)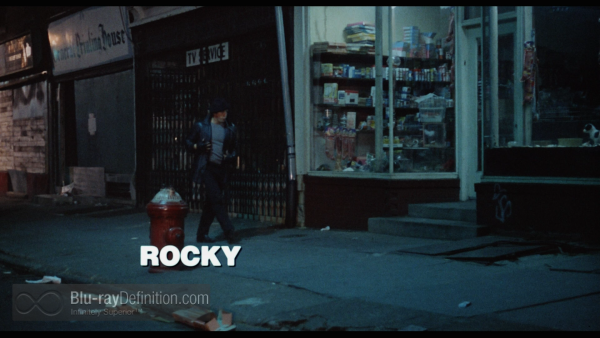 The initial offering in this series, all center on its lead character, Philadelphia tough guy, club fighter, and mob enforcer, Rocky Balboa (writer/actor Sylvester Stallone). Rocky tells the improbable story of an underdog boxer getting an unexpected shot at heavyweight champion Apollo Creed (Carl Weathers).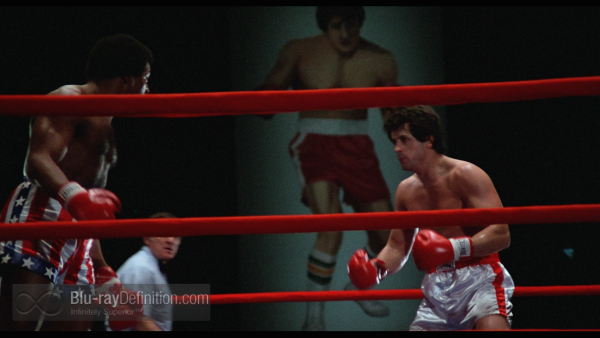 Along the way, we meet some memorable characters: the shy bespectacled Adrian (Talia Shire) (whom Rocky pursues and eventually wins); Adrienne's alcoholic brother and meat factory worker Paulie (Burt Young); gravel-voiced manager Mickey (Burgess Meredith).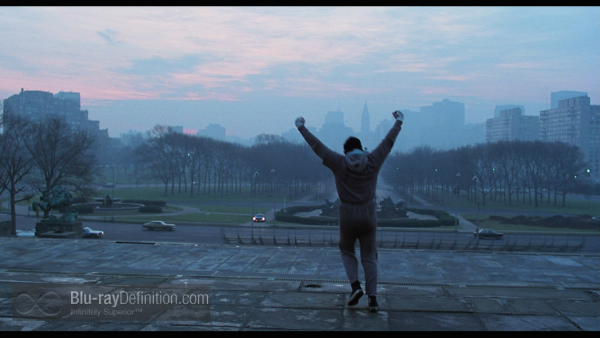 While there is plenty of action in the ring, it is the tender moments such as Rocky's courting Adrian at an ice skating rink, that give this film its heart. Of course, everything leads up to ten minutes of some of the very best (and most brutal) fight sequences every filmed.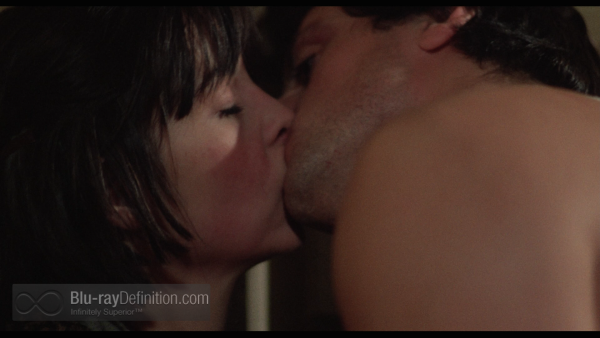 Stallone's script and John G. Avildsen's taut direction have everyone rooting for our hero with an ending that delivers a cinematic knock out.
Rocky II (1979)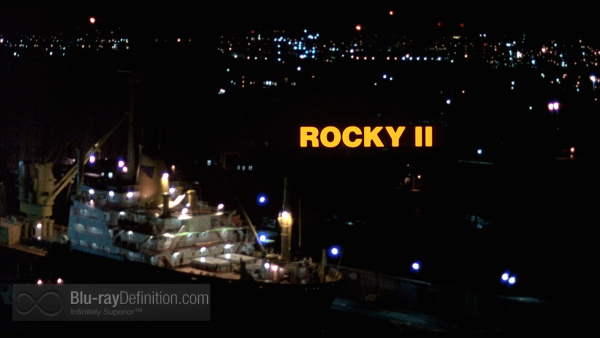 Stallone assumed the directorial as well as scripting responsibilities for this sequel and most of the original film's cast reprise their roles. Rocky II opens with the final scenes of its predecessor.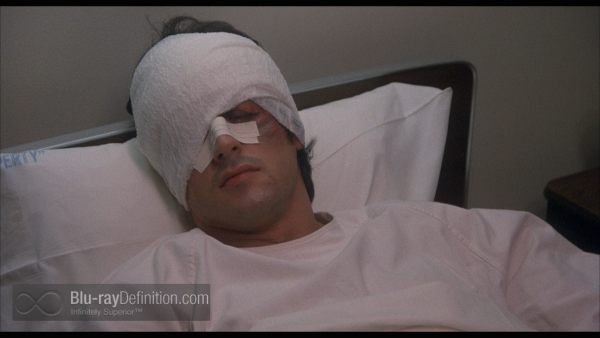 Rocky has retired and married Adrian. Soon she becomes pregnant and Rocky becomes a TV pitchman, but this peters out and, since his prize money is gone, he gets a real but unsatisfying job in the meat packing plant.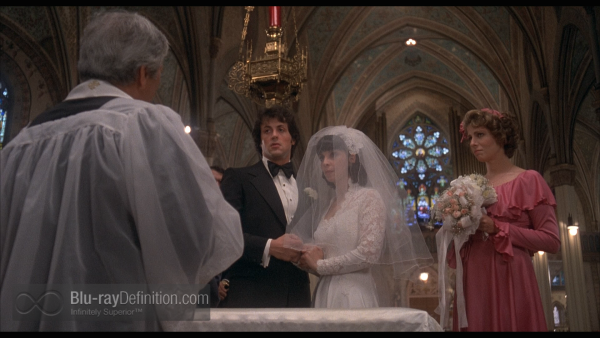 Apollo increases his pressure to mount a rematch but Adrian does not want Rocky to fight. Mickey and Rocky reunite for the main event, with some unusual training techniques, while a highly motivated Creed prepares with furious intensity. Adrian delivers prematurely, slips into a coma but recovers as Rocky resumes his training.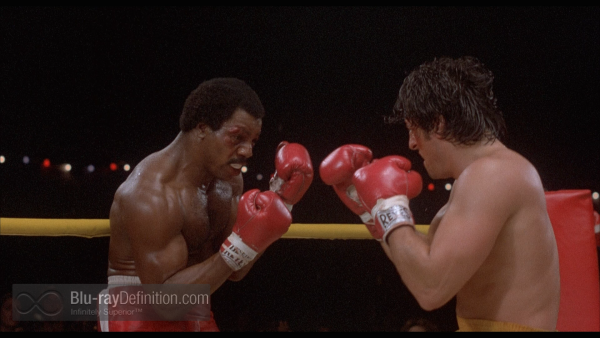 The rematch ensues and Rocky arrives with a huge local following, and a new boxing style. In a fight sequence that is every bit as exciting as the first one, with same mutual beat-down, be prepared for one of the most improbable boxing finales of all time.
Rocky III (1982)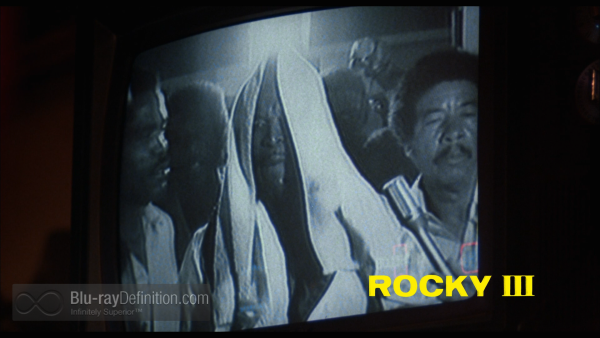 Like its predecessor, the finale of Rocky II opens Rocky III. Rocky launches a series of successful title defenses against inferior opponents that increase his fame and bank account. But lurking out there in the boxing jungle is the hungry challenger and another southpaw Clubber Lang (Mr. T AKA Lawrence Tureaud). Most of Rocky's original cast return in their now-familiar roles.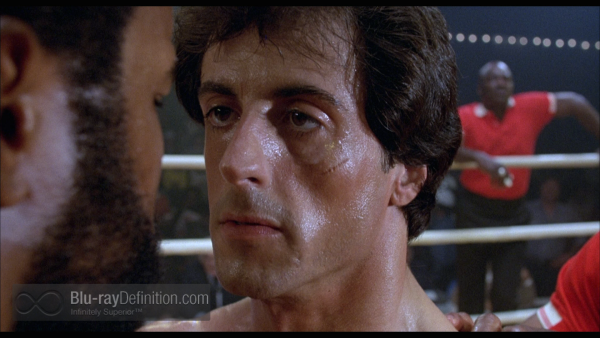 This film shows off a coiffed, tan, and chiseled transformation of Stallone's physique. A cameo by wrestler Thunderlips (Hulk Hogan) adds an entertaining side bit.  Clubber calls out Rocky at the unveiling of the "Rocky" statue.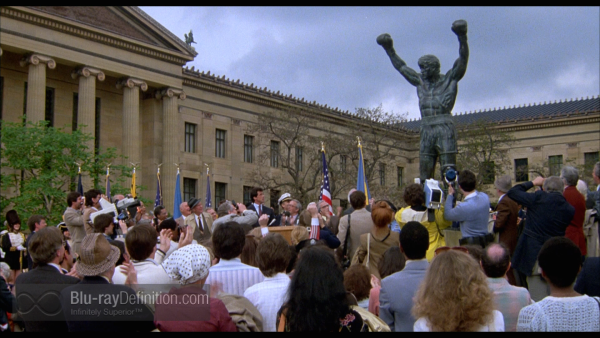 Mickey advises Balboa not to take the fight but, of course, Rocky accepts the challenge. As Rocky gets pounded to a pulp, Mickey has a fatal heart attack.  In a interesting plot twist, Apollo Creed takes over as Rocky's manager with a very different training approach to change his boxing style.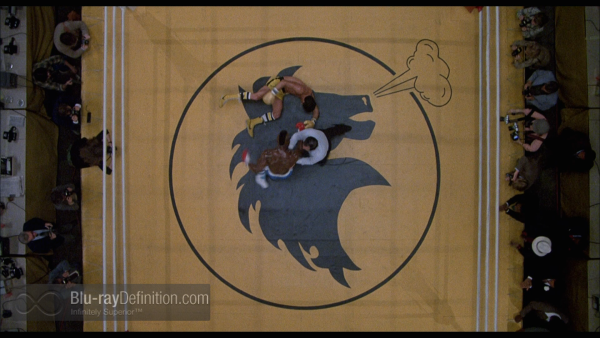 In the course of this professional makeover, Rocky confesses that he is afraid but Adrian rescues his psyche. In a rare tender moment, Rocky asks Adrian: "How'd you get so tough?" She responds: "I live with a fighter."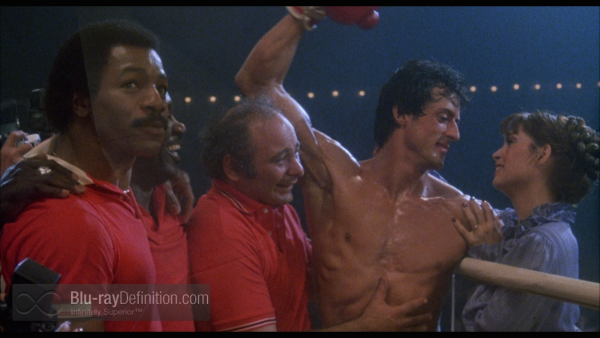 Transformation completed, the rematch with Clubber is on. As for the outcome, was there any doubt? Of course, there is a final teaser involving just Apollo and Rocky.
Rocky IV (1985)
The Rocky franchise shifts gears, after the now expected opening carry over from the previous film, to the Cold War era. Rocky IV brings back the original cast (with the exception of Mickey). Rocky, now wealthy beyond his wildest dreams, has officially retired.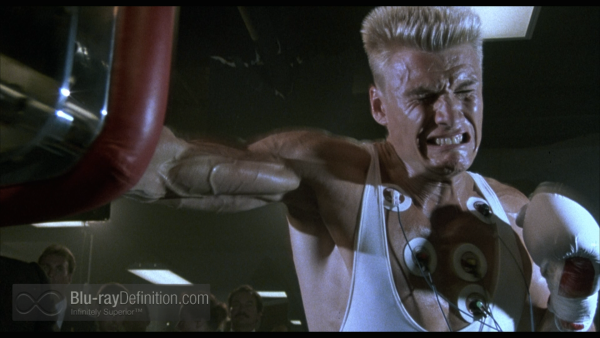 Of course, there is the new challenger, a gigantic Russian Army officer Ivan Drago (Dolph Lundgren) who has superhuman strength, is promoted by his wife Ludmilla (Brigitte Nielsen). An "exhibition" match is scheduled to illustrate how the Soviet training method creates superior performance.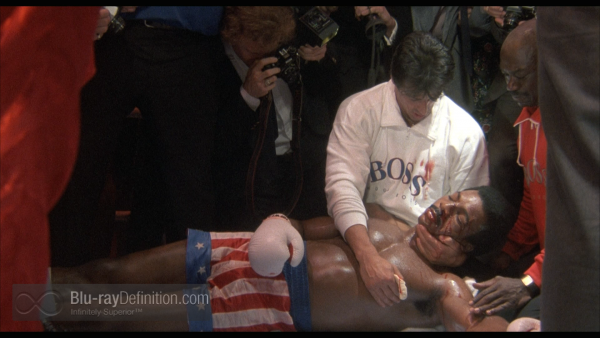 Apollo Creed agrees to fight Drago, but is literally beaten to death. Rocky leaves his retirement to avenge his former adversary and box Drago himself. To heighten the suspense, the bout between will be held in Russia.  Rocky and his training entourage arrive in the dead of winter and begin the rigorous training regimen against natural elements while Drago does cyber workouts. The big fight between is introduced by Drago's "I must break you" bringing back memories of Rocky I.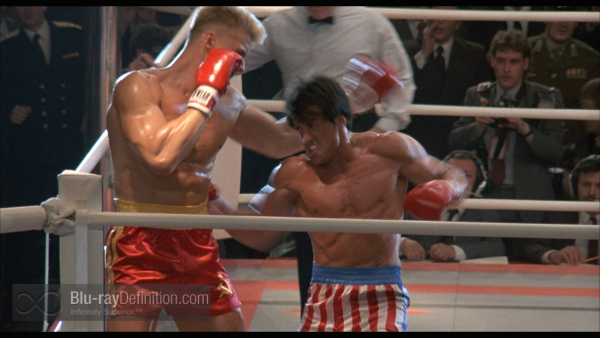 The fight sequences have the usual Rocky beat-down followed by his unbelievable recovery. The turning point occurs when the Soviet crowd begins the "Rocky chant." In a classic irresistible force versus the immoveable object contest, this film delivers a hokey political message that now appears terribly dated.
Rocky V (1990)
The Rocky series was beginning to run out of gas; and this one begins with the previous film's finale and returns most of the original cast. John G. Avildsen resumes the role of director, a potential advantage that is vitiated by a weak storyline.
As Rocky returns home from his victory over Drago only to discover that Paulie has consigned his fortune to a crooked accountant who has bankrupted their estate, forcing Rocky to consider returning to the ring. However, he has now been diagnosed with post-pugilistic brain damage and must struggle to get his boxing license restored.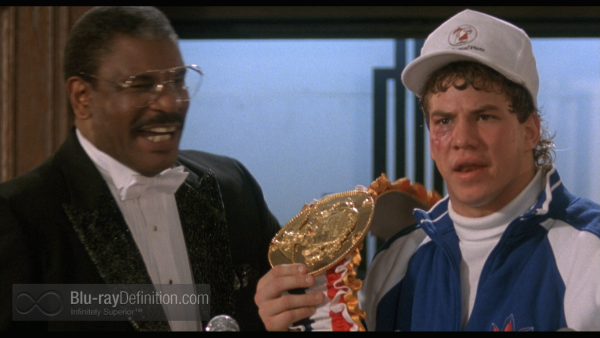 To pay off their debts, Rocky sells all of his possessions and returns to his old neighborhood. Meanwhile, promoter George Washington Duke  (Richard Gant) tries to get Rocky back into the ring.  He meets an up and coming young fighter Tommy Gunn (Tommy Morrison) who wants Rocky as a manager. Duke woos Tommy away Balboa and gets him into the championship fight which he wins.  However, Gunn's victory is tarnished by the fact that he did not defeat a bona fide champion.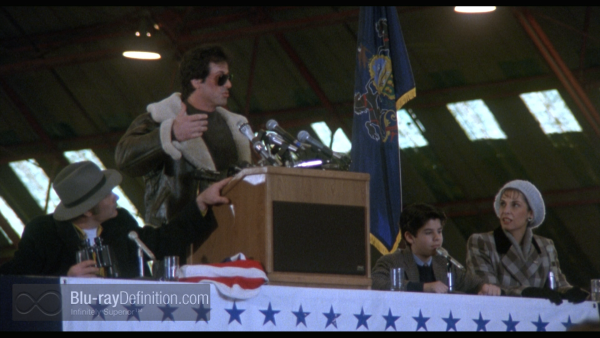 Gunn calls Rocky out and the two duke it out in a street fight to end all brawls, providing a lukewarm conclusion to a Rocky film.
Rocky Balboa (2006)
The final installment in the Rocky series Rocky Balboa finds our hero well past his boxing career days. Adrian has died and son, Rocky, Jr. (Milo Ventimiglia) is a young businessman who consciously avoids his father.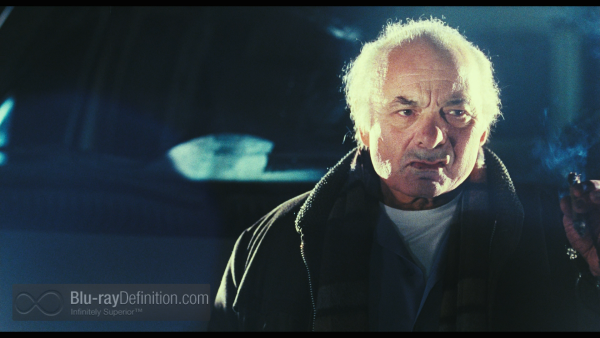 Rocky is a restauranteur,  getting by on his fame while he clearly misses life in the ring. A bittersweet rehash of the earlier Rocky films has only Burt Young returning as the dissolute Paulie. The hole in Rocky's life seems unfillable until he returns to his old Lucky 7 Bar and meets bartender Marie (Geraldine Hughes) a scrappy young girl that he used to walk home. Rocky bonds with Marie and her son Steps (James Francis Kelly III).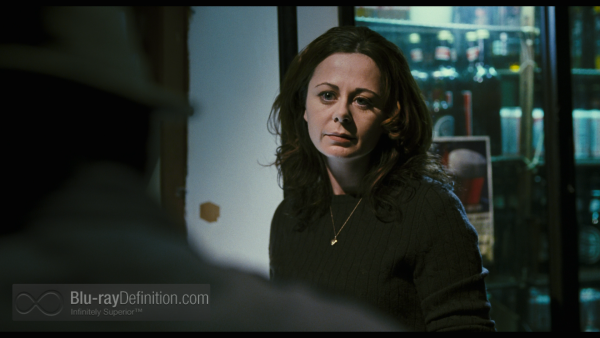 Current champion Mason "The Line" Dixon (Antonio Tarver, another professional boxer) has compiled a decent record but is not considered in the same league as Rocky, a comparison further underscored by a computerized match between Rocky and Dixon in which the former gets  a KO.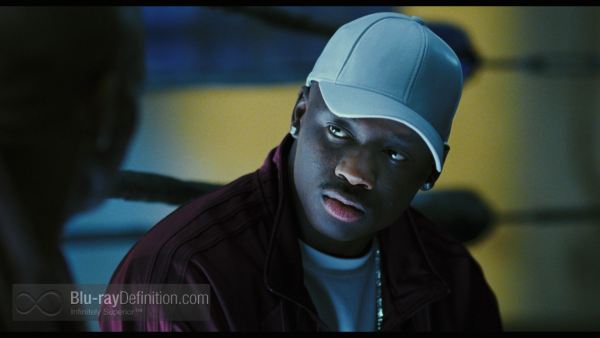 Rocky continues to struggle with his grief over the loss of Adrian and considers a return to the ring. Dixon's promoters now pitch an exhibition bout with Balboa in Las Vegas. Can he pull it off? Do you believe in miracles, well do you?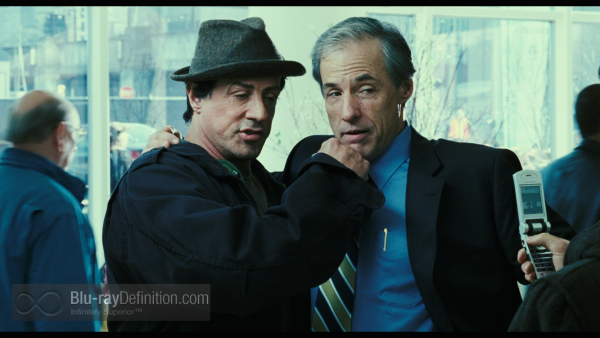 As the finale to one of the longest lived film series in history, it requires yet another giant suspension of disbelief that Balboa could actually hold his own with a better conditioned and much younger fighter.
Video Quality
[Rating:3.5/5]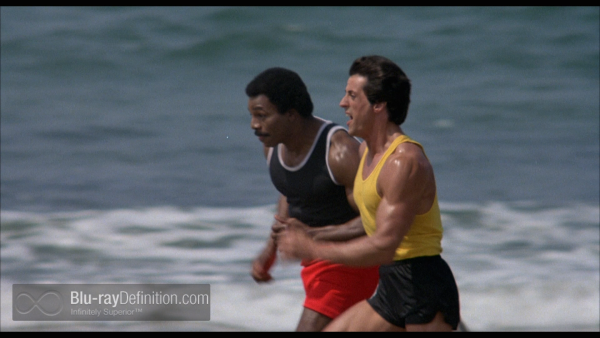 With the exception of the much newer Rocky Balboa, the remastered Rocky looks better than most of the others in the series. There is a substantial (and surprising) amount of grain in Rocky II-IV, particularly in the darker scenes. Surely this should have been dealt with by similar remastering jobs to make this new set the clearly preferred option over its predecessor. That aside, the fight scenes in the first four Rockies are still wondrous to behold thanks to the Steadicam technology.
Audio Quality
[Rating:3.5/5]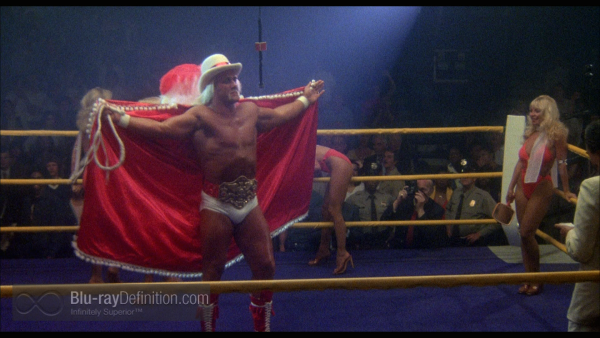 The first five films have remastered DTS-HD Master Audio 5.1 soundtracks that, despite the occasional boxiness, are pretty immersive and give a good account of Bill Conti's terrific scores and the sound effects of delivered punches. Dialogue, at least the sparse amount that each film contains, is relatively clear. I did find it hard to understand why we are given a lossy Dolby Digital 5.1 sound track for Rocky Balboa, given its relatively recent vintage.
Supplemental Materials
[Rating:4.5/5]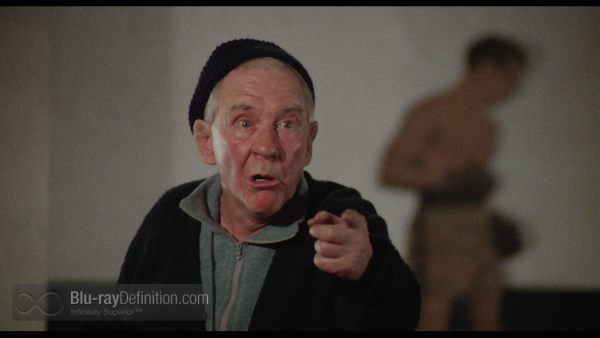 There is a most generous collection of extras contained on Discs I and VI:
8mm Home Movies of Rocky (1975) (8:13) (English Dolby Digital Stereo 48 kHz/16-bit): Brief snippets on the creation the first film, narrated by director Avildsen and Production Manager Lloyd Kaufman
Three Rounds with Legendary Trainer Lou Duva: (4:31) (English Dolby Digital Stereo 48 kHz/16-bit). One of the true giants in reputation if diminutive in stature, Duva gives viewers some brief insights into the world of boxing.
Interview with a Legend: Bert Sugar (6:47) (English Dolby Digital Stereo 48 kHz/16-bit): Sports writer Sugar, one of the preeminent columnists on the sport of boxing gives some of his reminiscences about his love affair with pugilism.
The Opponents (16:10) (English Dolby Digital Stereo 48 kHz/16-bit): Producer Robert Chartoff and actors Carl Weathers, Dolph Lundgren, Mr. T, and professional boxer Tommy Morrison share their thoughts about the Rocky series.
In the Ring: Three-Part Making-of Documentary (1:14:59) (English Dolby Digital Stereo 48 kHz/16-bit): A comprehensive triology going into the creative process of these films, featuring interviews with cast members, producer Chartoff, director Avildsen.
Steadicam: Then and Now with Garrett Brown: (17:35) (English Dolby Digital Stereo 48 kHz/16-bit) Brown relates his memories regarding his career and the ground-breaking use of his new camera technology to capture the action
Make-Up! The Art and Form with Michael Westmore (15:18) (English Dolby Digital Stereo 48 kHz/16-bit): Interviews with make-up artist and supervisor Westmore gives us the details of how the realistic creation of ring gore actually happened.
Staccato: A Composer's Notebook with Bill Conti (11:37) (English Dolby Digital Stereo 48 kHz/16-bit). The creator of the film score goes into his insights into his inspiration for music that becomes the heart and soul of Rocky.
Ring of Truth (9::35) (English Dolby Digital Stereo 48 kHz/16-bit) James Spencer, art director shares details of how he put together sets and scenes supporting this film.
Behind the Scenes with John Avildsen (12:27) (English Dolby Digital Stereo 48 kHz/16-bit). The director goes into his use of 8 mm films to prepare for the action of this film and his need to make the fight sequences look real.
Tribute to Burgess Meredith (7:47) (English Dolby Digital Stereo 48 kHz/16-bit). Stallone gives us a personal remembrance of this great actor and his importance to the success of the film.
Tribute to Jim Crabe (3:37) (English Dolby Digital Stereo 48 kHz/16-bit). Director Avildsen pays homage to Crabe, a cinematographer for the Rocky film.
Video Commentary with Sylvester Stallone (28:52) (English Dolby Digital Stereo 48 kHz/16-bit). This 25-year retrospective on Rocky by its creator is both insightful and touching.
Sylvester Stallone on Dinah! (17:17) (English Dolby Digital Stereo 48 kHz/16-bit). Dinah Shore interviews Stallone on her very popular weekly television show. The actor's refreshing honesty makes this a great segment.
Stallone Meets Rocky (2:59) (English Dolby Digital Stereo 48 kHz/16-bit). Using a camera trick, Stallone and his alter ego get together in an art gallery.
Running Commentaries by Sylvester Stallone, Lou Duva, Bert Sugar, John G. Avildsen, producers Irwin Winkler and Robert Chartoff, actors Talia Shire, Carl Weathers, Burt Young, and cameraman Garrett Brown.
Rocky Theatrical Trailer (3:34) (English Dolby Digital Stereo 48 kHz/16-bit)
Rocky Teaser Trailer (1:35) (English Dolby Digital Stereo 48 kHz/16-bit)
Rocky TV Spots (0:32)/(0:32)/(1:02) (English Dolby Digital Stereo 48 kHz/16-bit): 3 short bits on Stallone and the Rocky's critical reception.
Deleted Scenes and Alternate Ending for Rocky Balboa (23:19) (English Dolby Digital Stereo 48 kHz/16-bit).
Boxing's Bloopers (1:31) (English Dolby Digital Stereo 48 kHz/16-bit): self-explanatory.
Skill vs Will: The Making of Rocky Balboa (17:47) (English Dolby Digital Stereo 48 kHz/16-bit): A behind-the-scenes featurette on the making of this film with cast and production members.
Reality in the Ring: Filming Rocky's Final Fight (15:38) (English Dolby Digital Stereo 48 kHz/16-bit) Another behind-the-scenes look at this film.
Virtual Champing: Creating the Computer Fight  (5:08) (English Dolby Digital Stereo 48 kHz/16-bit): A documentary on the production of the simulated bout that stimulated the actual bout.
With the exception of the first item on this lengthy list, all of these supplements were available in the 2009 Blu-ray incarnation of the complete Rocky saga.
The Definitive Word
Overall:
[Rating:3.5/5]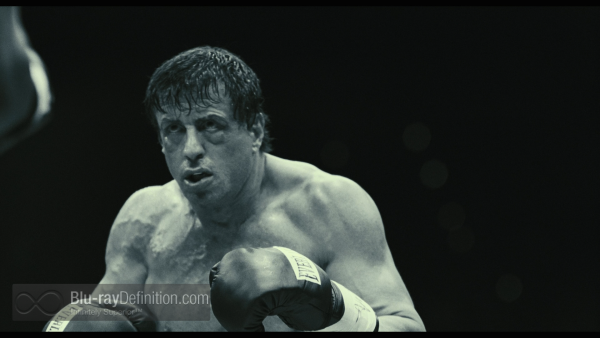 Rocky: The Heavyweight Collection gives us the entire Stallone Rocky catalog, for better or for worse. The initial entry remains the series's high water mark and while its successors attempt to maintain the high standard that it set, there is a steady creative decline that bottoms out in Rocky V and gets a slight boost in the wistful finale, Rocky Balboa. Substantial efforts were made to add to the authenticity of these films by having real broadcast announcers, referees, and cornermen involved. The boxing sequences, aided by Garrett Brown's innovative Steadicam, are still among the best ever filmed. The fact that this series has had such staying power over three decades is a testament to its creator, Sylvester Stallone, his excellent supporting casts and production teams. For Rocky aficionados who do not yet have a complete collection, this one is worth getting for the makeover of the original Rocky. For those that already own The Undisputed Collection,  you just might wait for a single release of the above-mentioned film.
Additional Screen Captures
[amazon-product]B00HF98SJY[/amazon-product]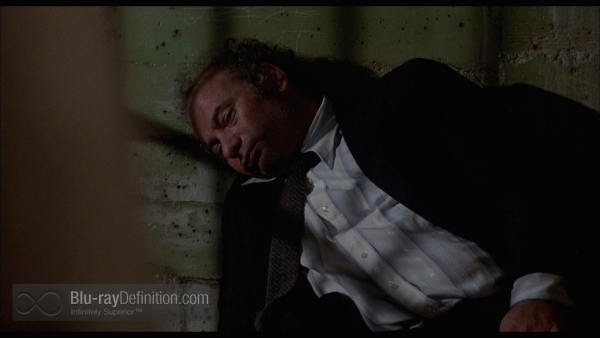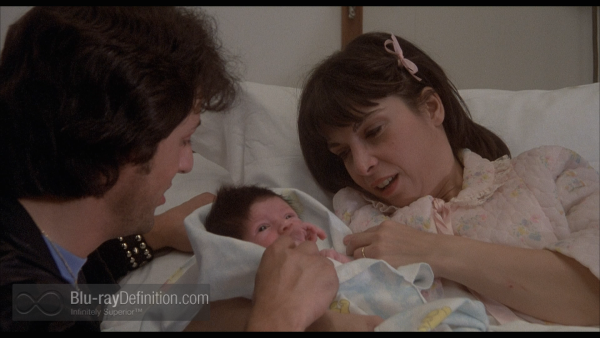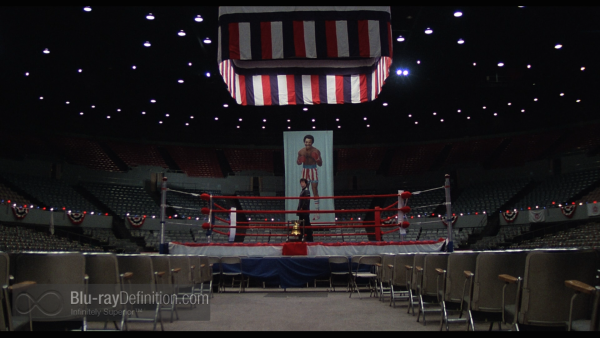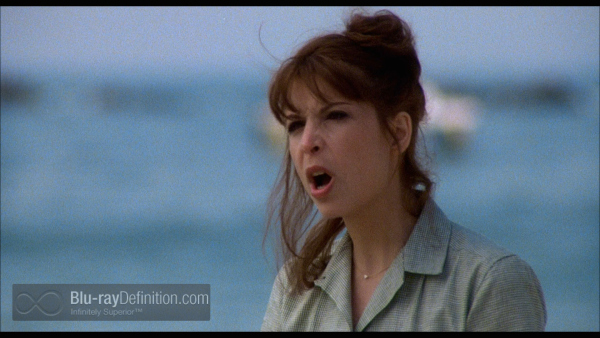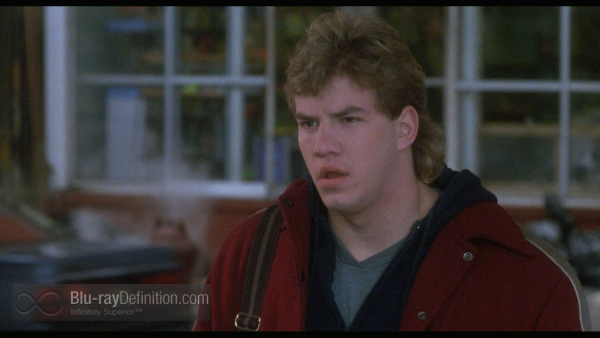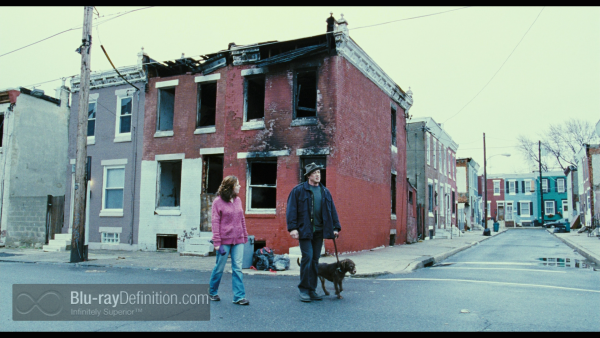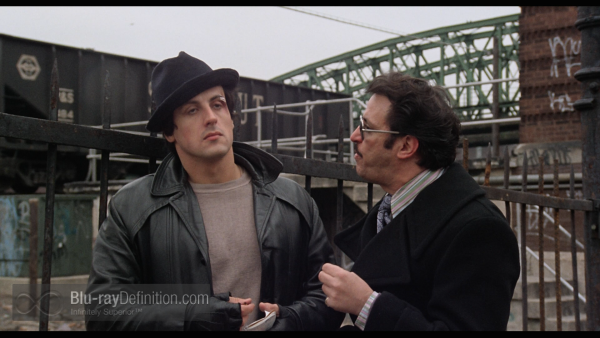 [amazon-product]B00HF98SJY[/amazon-product]