– –
The Film
[Rating:5/5]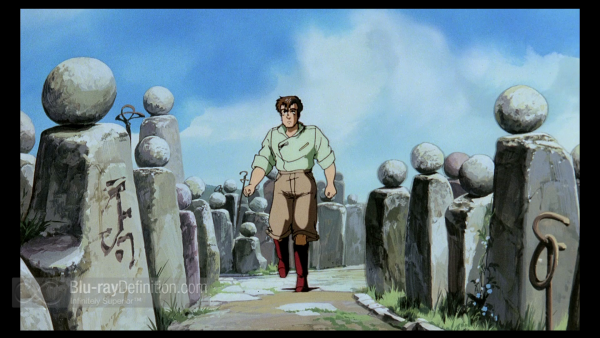 Royal Space Force: The Wings of Honnêamise (王立宇宙軍 オネアミスの翼) was directed and written by Yamaga Hiroyuki and was the  first film produced by Gainax and Bandai Visual. Released in 1987, the sci-fi/drama was a box office disappointment that failed to recoup its production costs, but it has since gone on to become one of the most critically acclaimed classics of the genre.
Set on an alternate Earth beset by war between the bordering nations of the Kingdom of Honneamise and the generically named The Republic, the story follows Shirotsugh Lhadatt, a listless young man who joins his nation's small, almost forgotten space program. Disillusioned after the death of a fellow astronaut during a test launch, Shirotsugh starts up a relationship with a local woman of strong religious faith named Riquinni Nonderaiko. Seeing Shirotsugh as a prime example of the best parts of humanity and pondering how flying into space close to the stars could serve as an escape from the chaos on Earth, Riquinni inspires Shirotsugh to become the best astronaut he can be and to go on to become the first human to go into space, even in the face of opposition from his own military, death threats, assassination attempts from opposing nations, and internal corruption.
Avoiding the fantastical elements of most sci-fi anime, Royal Space Force is down to Earth, so to speak, even in spite of it being set in an alternate version of our own world. It may seem slightly off-kilter to the world that we are used to, but nothing here is completely out of the ordinary. It is a simple drama devoid of space aliens, mecha warriors, or heightened teen melodrama. It simply follows an unsure young man of twenty-something as he comes of age in a world ravaged by war. In fact, this could be seen as an allegory of our own space age awakening during the Cold War between The United States and The Soviet Union.
One can't understate the magnificent artwork that populates Royal Space Force either. Every frame is filled with beautiful imagery that verges on cyberpunk, yet also seems like it could exist right here in the near future, or in the recent past – those Royal Space Force uniforms bear a striking resemblance to Members Only Jackets.
Video Quality
[Rating:4/5]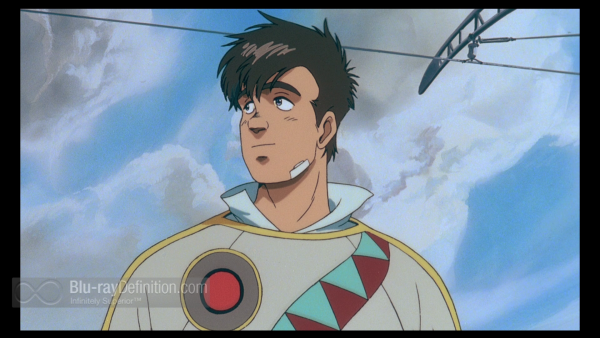 With a richly textured and film-like presentation encoded at AVC/MPEG-4 1080p, Royal Space Force: The Wings of Honnêmise looks pretty good in this Blu-ray release from Maiden Japan given its age. There are some spots where the black levels look a little faded and source damage can be spotted, but mostly we get bright, clear, richly detailed scenes with beautiful colors and natural appearance that hasn't been smoothed over or over-processed.
Audio Quality
[Rating:4.5/5]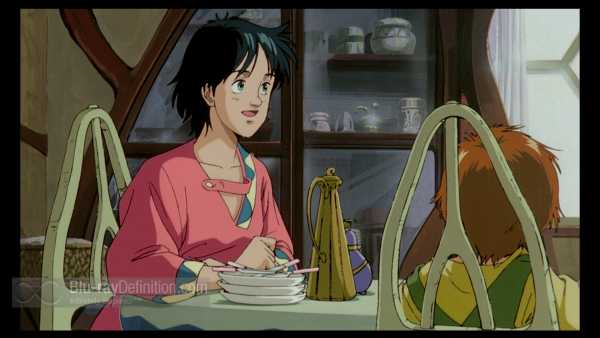 If you normally watch anime with the English dub engaged (which I would never recommend anyway), then you're really getting cheated here, perhaps even more so than on the recent Akira 25th Anniversary Edition Blu-ray release from FUNimation. Maiden Japan includes a spectacular Japanese DTS-HD Master Audio 5.1 (48kHz/24-bit) soundtrack that is dynamic, atmospheric, and rather aggressive in panning sounds throughout the room, but also very well balanced. The lows are deep, reaching well down into the bottom range as well, so when those engines start roaring, you rally feel it. In contrast, the English dub gets a DTS-HD Master Audio 2.0 (48kHz/24-bit) stereo track that is adequate, but really claustrophobic once you've heard the Japanese track. The English subtitles seem to be a literal translation, and not simply a mirror of the English dub.
Supplemental Materials
[Rating:1/5]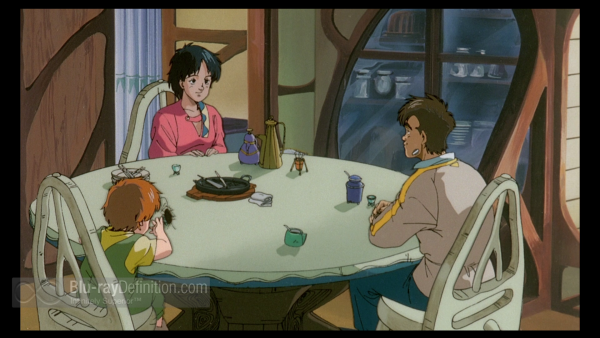 Just over 20-minutes of original trailers is all we get for this classic. The rest is promotional material for other Maiden Japan releases and disc credits.
The supplements:
Japanese Trailer Collection (1080p/24; 00:22:51)
Also Available on BD from Maiden Japan
Disc Credits
The Definitive Word
Overall:
[Rating:4.5/5]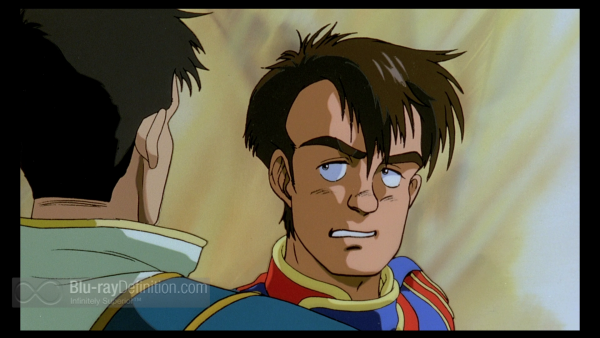 Royal Space Force: The Wings of Honnêamise only grows better with each viewing. It's a thoughtful coming of age story that ponders religion, war, romance, and politics, while figuratively and thematically reaching for the stars. It's visually beautiful and marvelously written, arriving on Blu-ray in a solid high definition transfer from Maiden Japan.
Additional Screen Captures
[amazon-product]B00DPH7S0K[/amazon-product]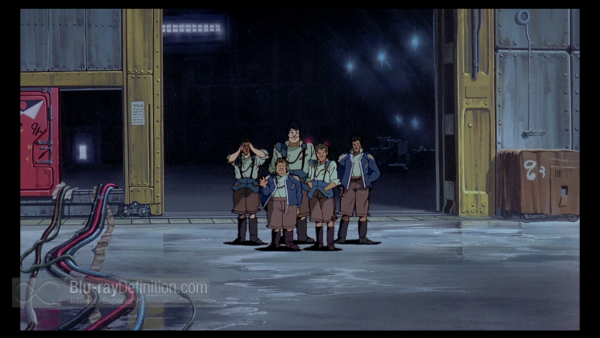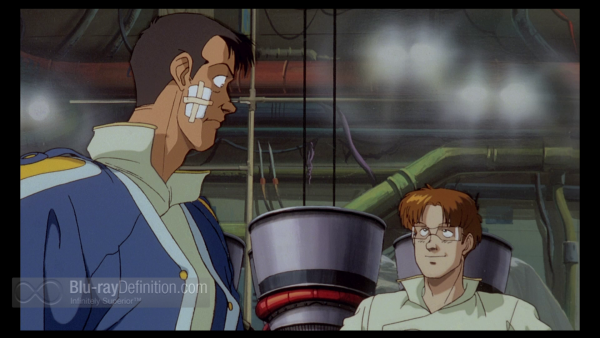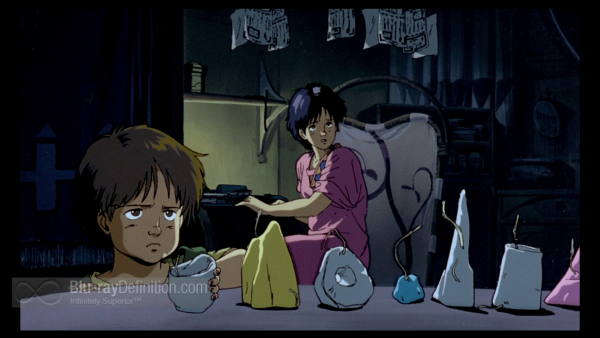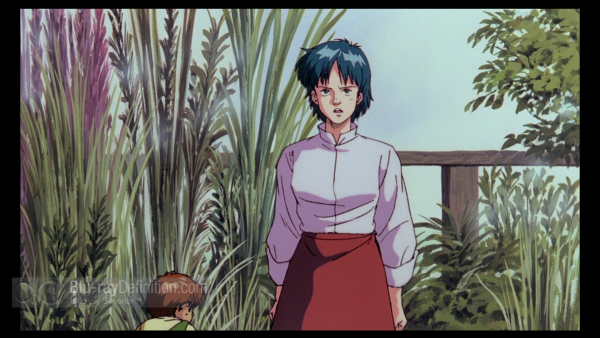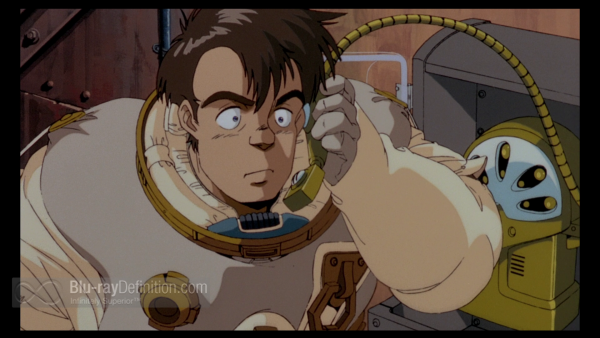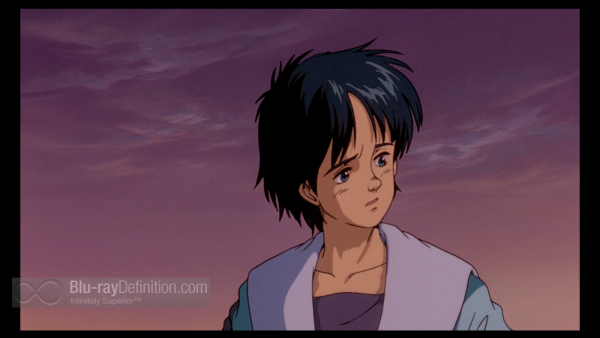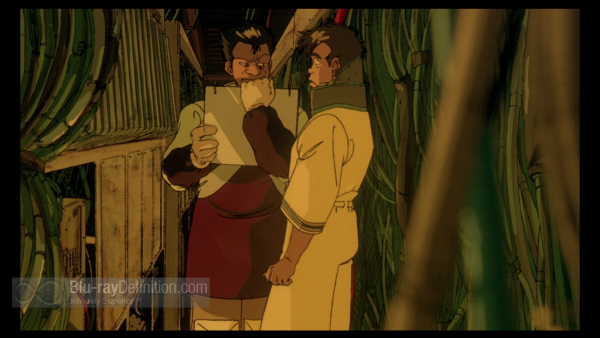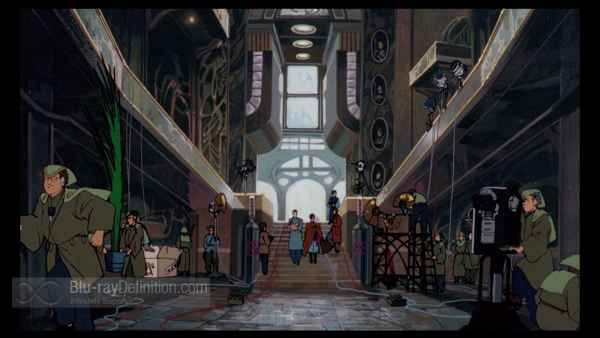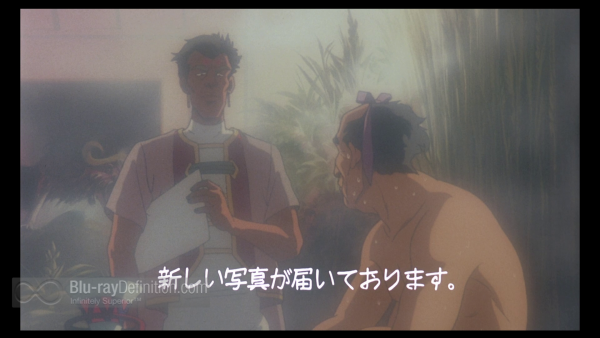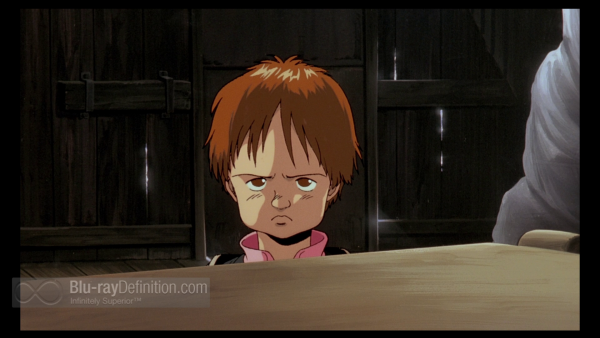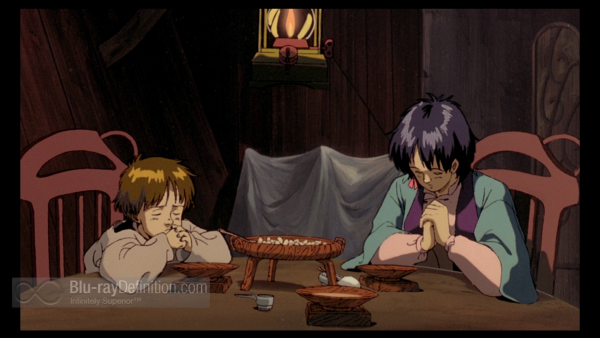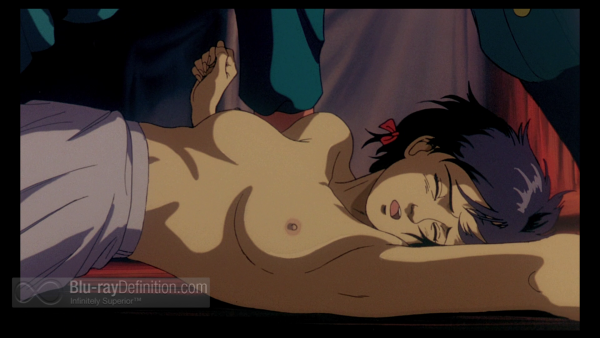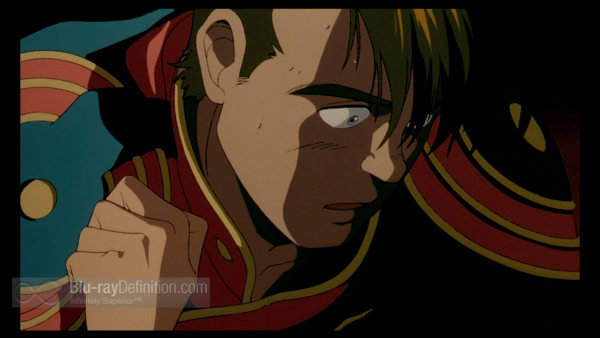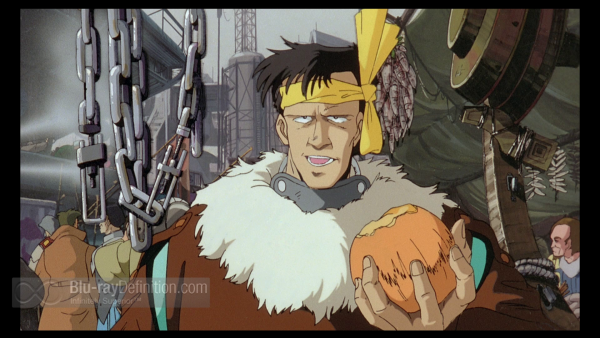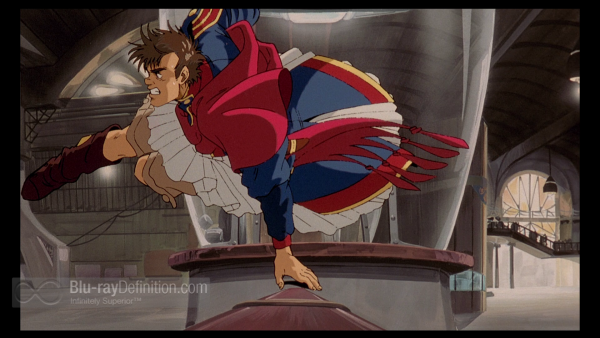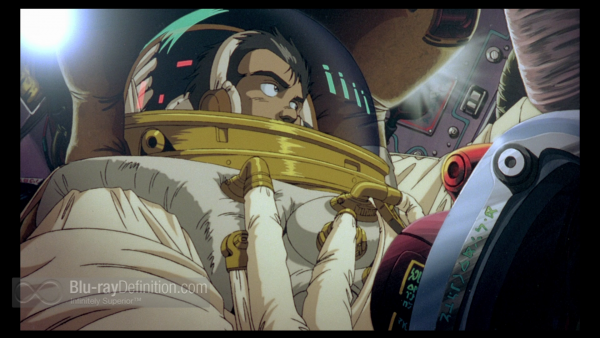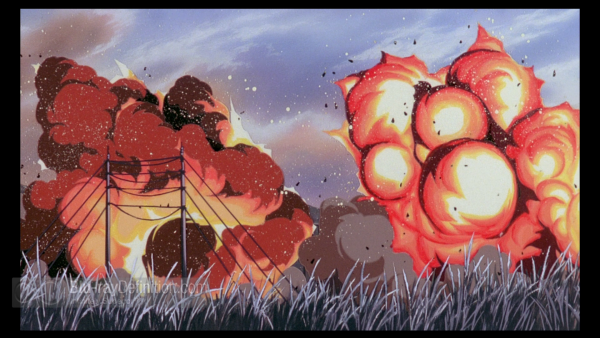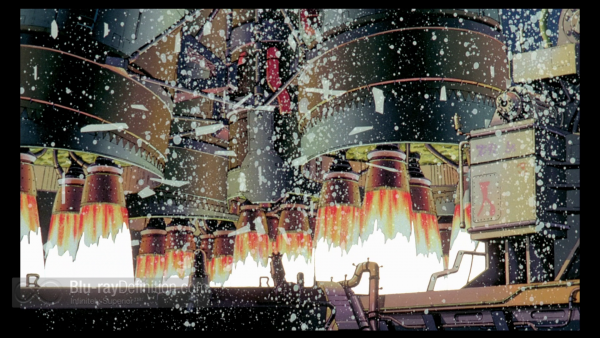 [amazon-product]B00DPH7S0K[/amazon-product]