– –

The Performance

[Rating:3.5/5]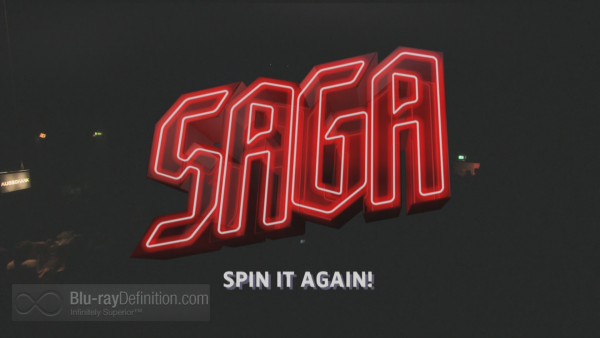 Saga: Spin It Again! Live in Munich gets most of the original 1970s Canadian rock band together for a 2012 post-Oktoberfest set in Germany's beer capital. This group may be one of the best bands that you have never heard of as it has achieved most of its success outside of the United States and continues its nearly four decade tour. Like most groups, its members have changed and Saga currently consists of Michael Sadler (lead vocals and keyboards), Jim Crichton (bass and keyboards), Ian Crichton (guitar), Jim Gilmour (main keyboards and vocals), and Mike Thorne (drums, vocals). The playlist is survey of the groups hits (and a few misses):
Anywhere You Wanna Go
Mouse In A Maze
Careful Where You Step
The Perfectionist
You're Not Alone
Spin It Again
Corkentellis
The Flyer
Fish Beat (drum solo)
Six Feet Under
The Cross
Time's Up
Scratching The Surface
Humble Stance
On The Loose
Wind Him Up
Framed
Don't Be Late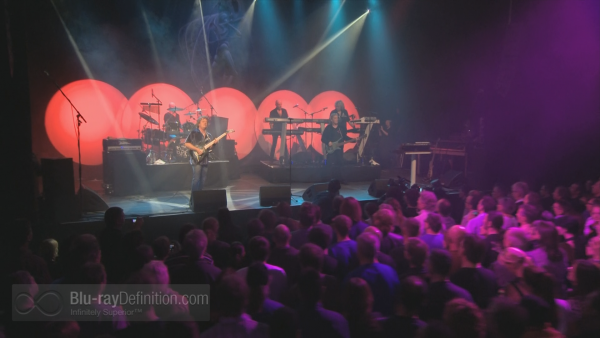 For those who remember the '80s (as well as for those who might  choose not to remember this decade), you get pretty much in-your-face and electronica-heavy (check out the dual synthesizers) music. This is a taste of Aerosmith or a bit of Journey, to dredge up some bands that may be more familiar to most viewers. Like many of the better groups, Saga does have its own voice and as the program unfolds, these talented players and their songs will definitely let you hear it. Be sure to catch the extended drum solo AKA "Fish Beat, " about half way through the set. It's a real corker! Amidst wave after wave of aggressive guitars and synthesizers, a bit of welcome relief comes in the little gem of the set, Jim Gilmour's "Scratching The Surface," a pretty ballad for voice and piano.
Video Quality
[Rating:3.5/5]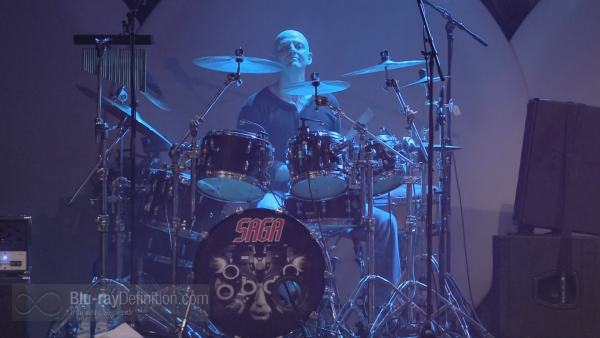 There is a literal purple haze over much of the proceedings that casts a smokey-bar atmosphere, maybe not inappropriate for a hard rock concert. This does affect the overall color palette making flesh tones seem surreal at times. Details are good if not super sharp. The film's major asset is the camera work of director Martin Muller's crew that continuously sweeps the stage and the band members giving viewers an engaging sense of the live action.
Audio Quality
[Rating:4/5]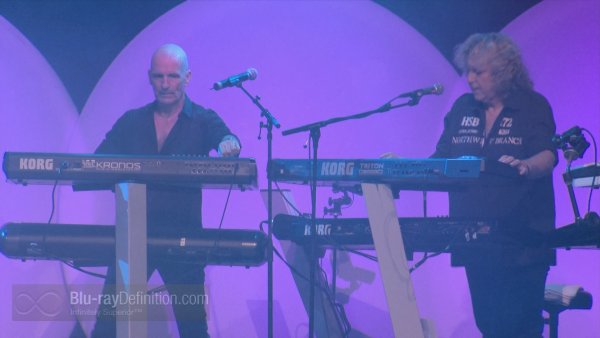 Forget about the audio choices on the disc menu: these were carried over from the DVD. The Blu-ray choices are LPCM stereo, DTS-HD Master Audio 5.1 and Dolby Digital 5.1. The lossless DTS-HD Master Audio soundtrack is the way to go here because you want to get all that bass and balls-to-the-walls synth-sounds. Surround channels contribute some hall ambience and a bit of audience noise. MAJOR WARNING: This disc has been mastered at very high levels, so better lower your receiver or processor's volume control before starting up.
Supplemental Materials
[Rating:2.5/5]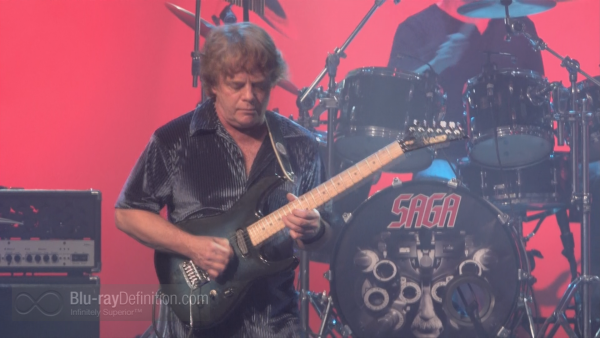 Besides the program booklet listing the tracks and players, there is a featurette:
Inside Saga: (20:42) (English Dolby Digital Stereo 48kHz/24-bit). This is a nice little behind-the-scenes set of interviews with the band members, and their support team.
The Definitive Word
Overall:
[Rating:3/5]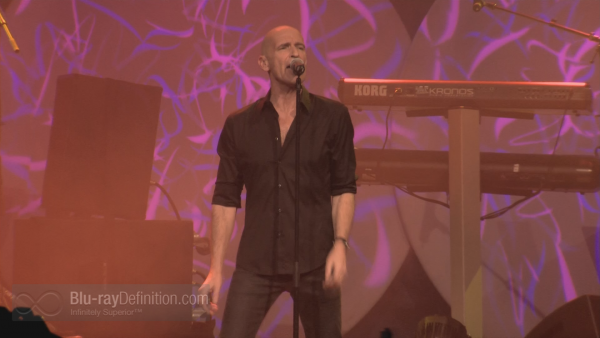 Saga: Spin It Again! will surely appeal to those whose musical tastes peaked in the era when Moogs and Korgs ruled the musical planet. For the rest of us, this may be a trip down a memory lane that we might not want to take. A live event with a generous playlist, this concert tends to become a little too much of the same thing, no matter how good the musicians may be. After all, there is a limit to how many guitar riffs and electronic keyboard chords that one's ears can abide in one sitting. Acoustic trauma notwithstanding, headbangers may not object to the high recorded levels; however, most of us will want to trim the volume controls from the get go. If, on looking into the audience, you think you see yourself, then, by all means, go for this Blu-ray. I had to watch this one in multiple sessions to give my ears adequate recovery time.
Additional Screen Captures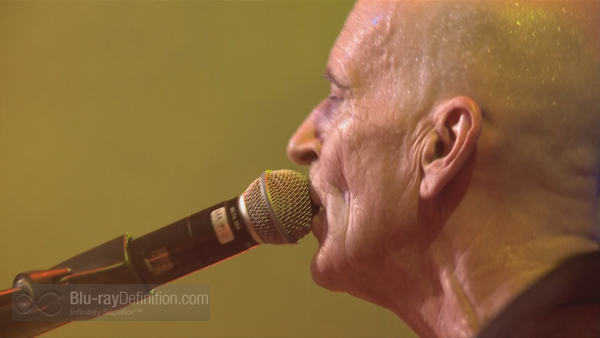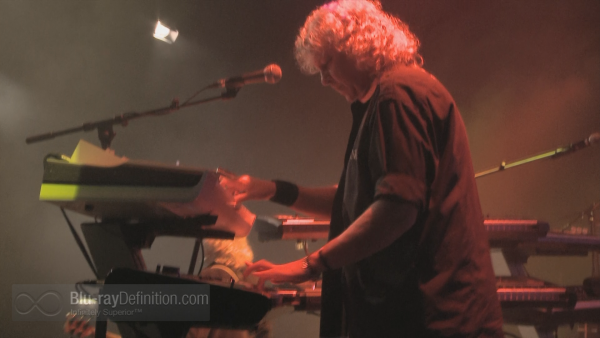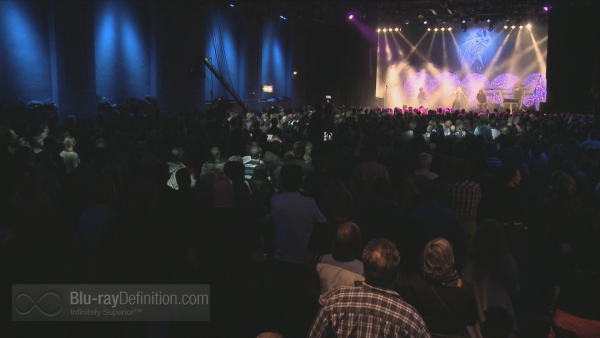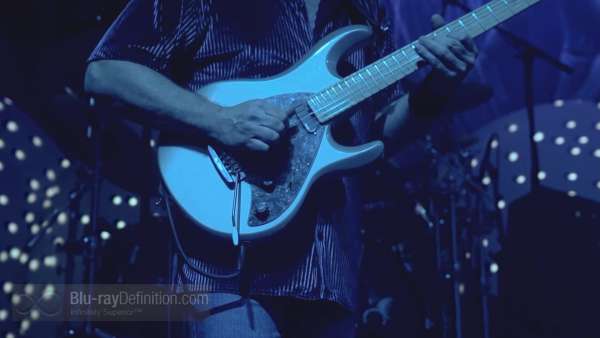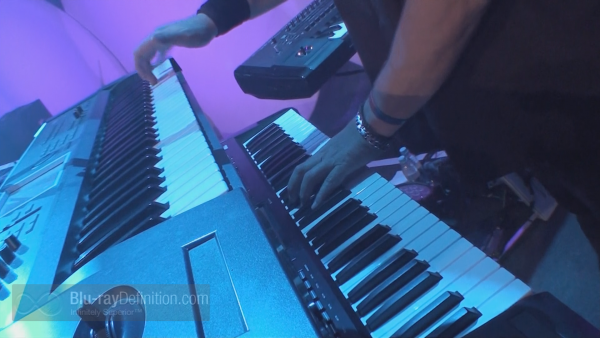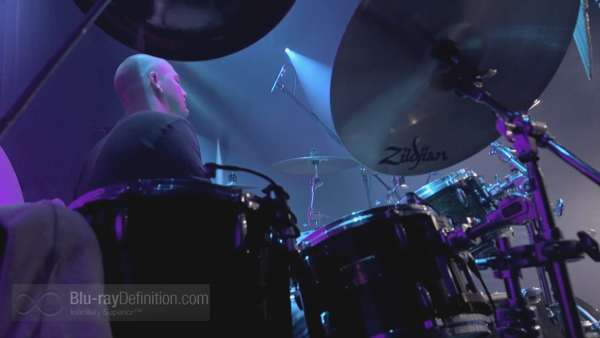 [amazon-product]B00F1W1S5I[/amazon-product]