– –

The Series
[Rating:4.5/5]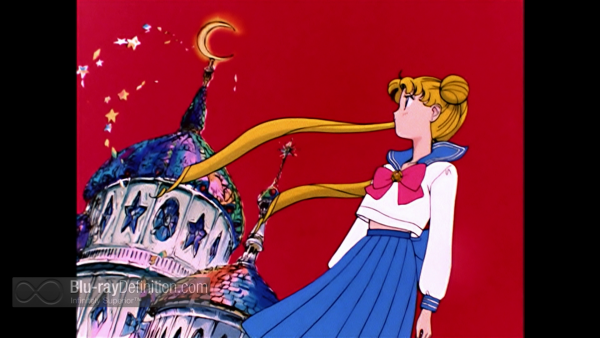 The classic magical girl series from the early-'90s Sailor Moon, based on the Japanese shōjo manga series written and illustrated by Takeuchi Naoko, is back on U.S. shelves courtesy of Viz Media.
The story follows a middle school girl in her second year, Tsukino Usagi, who saves and befriends a talking cat named Luna who then gifts her with an enchanted brooch that enables her to transform into Sailor Moon, a pretty guardian soldier in a sailor uniform able to protect the world from forces in the Dark Kingdom trying to drain humans of their energy. In these first episodes, she will eventually make two more friends, Ami, a genius-level girl focused on her schoolwork, who is also one of the chosen "Sailor Guardians," Sailor Mercury, and a hot tempered shrine maiden who attends another school, Rei, who becomes Sailor Mars. Together the three girls battle several monsters from the Dark Kingdom, with the help of a mysterious well-dressed masked man known as Tuxedo Mask, all while they try to live normal teenage lives.
Sailor Moon was and remains one of the most popular anime franchises to come along. Watching the series it isn't too difficult to understand why. The protagonist Usagi is an easy one to like. She's funny, klutzy, and down to earth. She struggles with her grades, crushes on boys, cries a lot, embarrasses herself, fights with her kid brother. In essence, she is a girl that many young girls can relate to. But if anyone thinks that she's just one big stereotype, she does also manage to somehow pull it together in order to fight for love and justice.
It's also a quite beautiful looking series, even given its age. The background watercolor look, the whimsical visages of the characters and the intricate costume designs are all eye catching. While the overall arc does have a bit of a sameness in the individual episodes the way the Sailor Guardians always seem to have to uncover a monster who has taken over a person in order to drain their energy, transform, and defeat them, the action infused with comedy and slapstick compensates for any repetitiveness.
Video Quality
[Rating:2/5]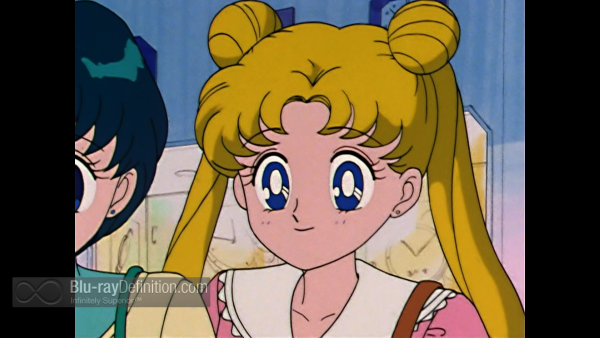 Where to begin with this remastered set from Viz Media? Sailor Moon was originally done on film, but unfortunately those film elements are no longer available, so all releases have to be taken from SD DVD masters. One can just barely make out the filmic quality of the series, but that is the least of the worries with this AVC 1080p transfer from Viz. While colors are certainly bold and bright, perhaps even too much so, the image is plagued with motion artifacts, aliasing, and ghosting. Some may not be able to pick out this latter issue while playing back in full motion, but for those sensitive ones, it will become a nuisance. It certainly did seem strange, but tolerable to me while watching the episodes, but during the screen cap process, the ghost images left over in frames was very obvious. This being only the second set I have had the pleasure to review from Viz Media, the first being the wonderful Ranma ½, I am rather disappointed to say the least.
Audio Quality
[Rating:4/5]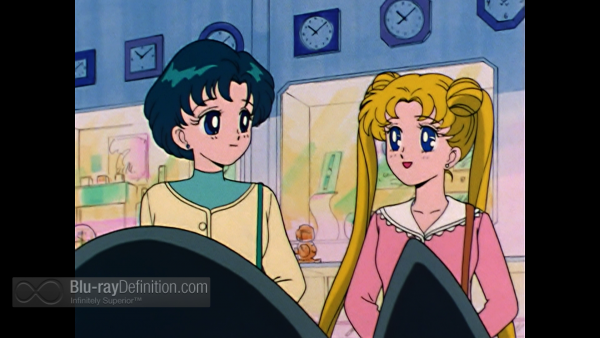 Skip the new English dub, please, it's a travesty, sounds canned and poorly acted. Stick with the highly enjoyable original Japanese voice cast. Both tracks are offered in DTS-HD Master Audio 2.0 Mono (48kHz/16-bit). They are clear and have a surprising amount of dynamics given the monaural format.
Supplemental Materials
[Rating:3.5/5]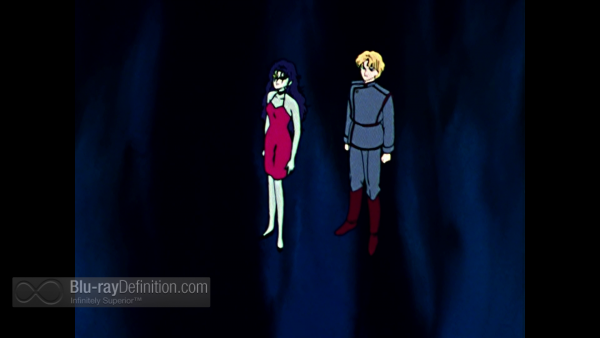 Holofoil chipboard slipcase with space for Season 1, Part 2 set
88-page booklet with episode guide, artwork, lyrics and more.
DVDs of series
Blu-ray Disc 1:
Blu-ray Disc 2:
Blu-ray Disc 3:
Sailor Moon Announcement Panel (ACEN) (1.78:1; 1080p/24; 00:13:42)
English Dub Behind the Scenes (1.78:1; 1080i/60; 00:12:53)
Official Announcement Trailer (1.78:1; 1080p/24; 00:03:19)
Fan Reactions (1.78:1; 1080p/24; 00:03:59)
AX Sailor Moon Reel (1.78:1; 1080p/24; 00:01:48)
Gallery (1080p/24)
Clean Opening
Clean Closing
Viz Media Trailers
The Definitive Word
Overall:
[Rating:3.5/5]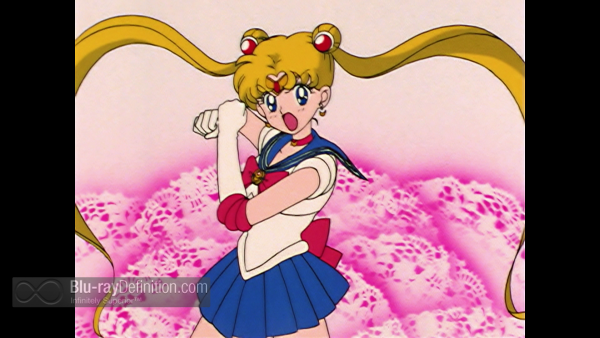 Sailor Moon is a classic series with lovable characters and returns in a remaster that is very hit and miss from Viz Media. The extras are good, the sound is fine, but the dub and video quality leave much to be desired.
Additional Screen Captures
[amazon-product]B00M0ETRHG[/amazon-product]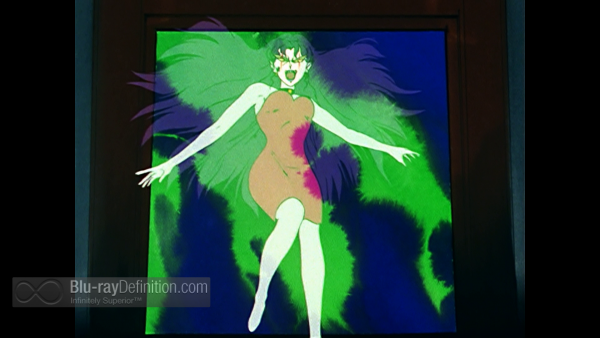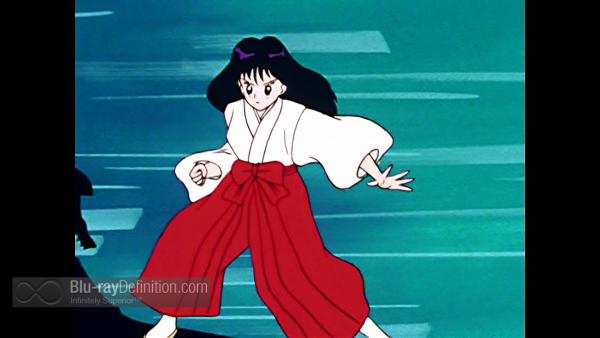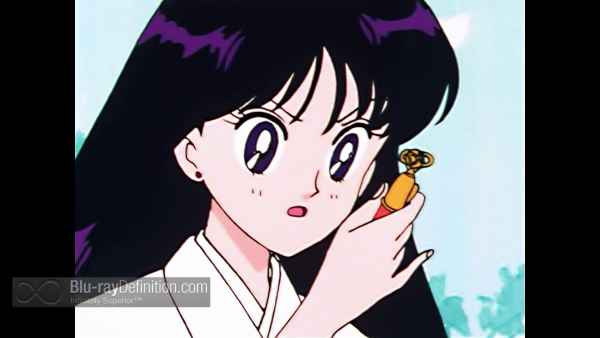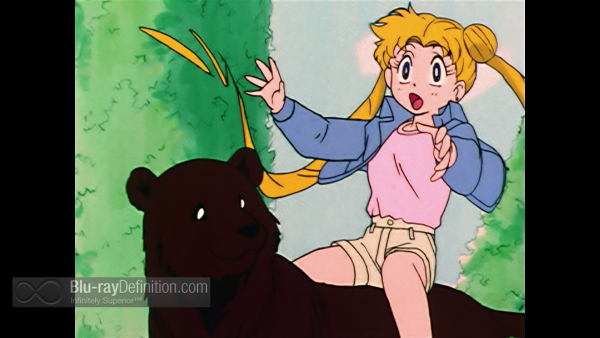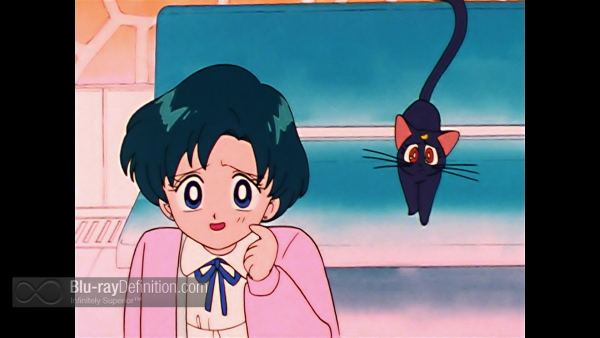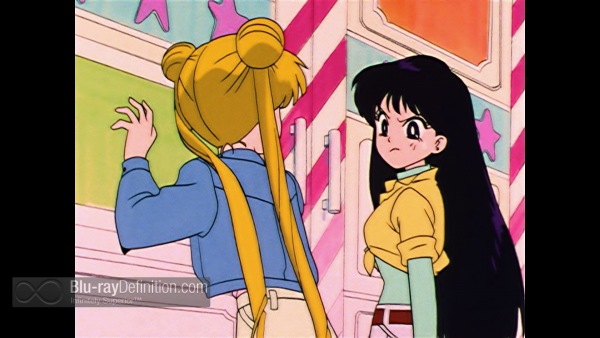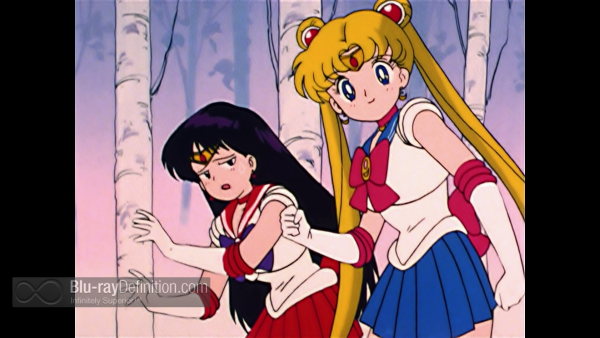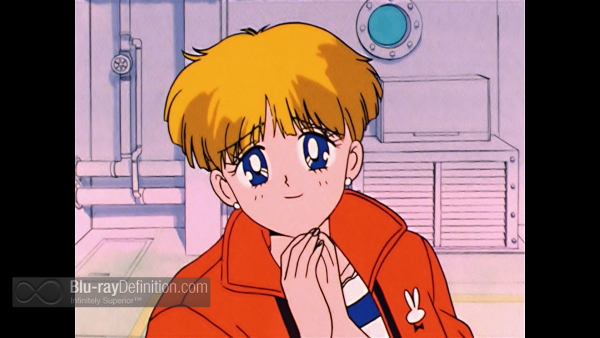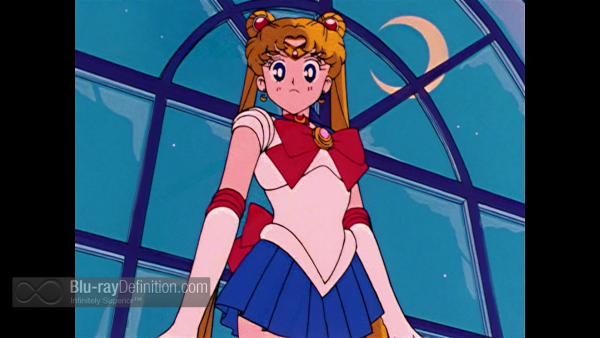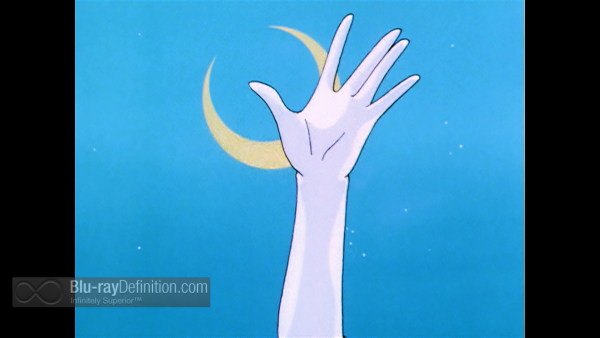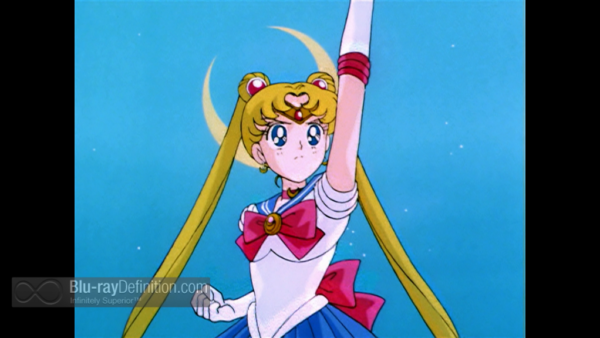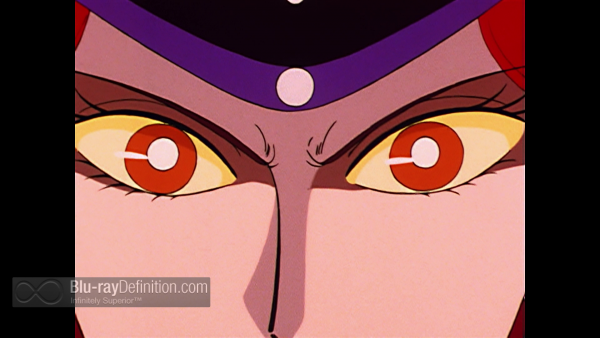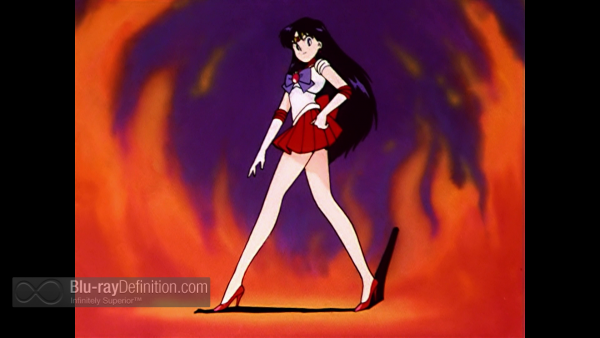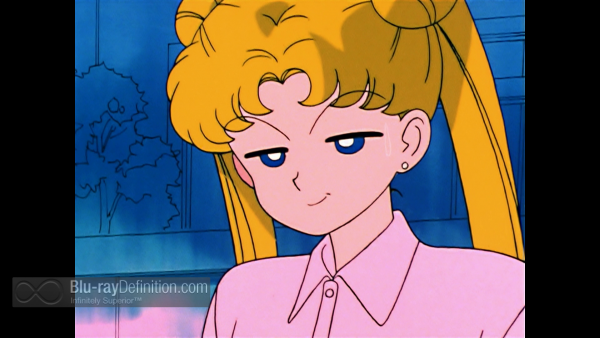 [amazon-product]B00M0ETRHG[/amazon-product]