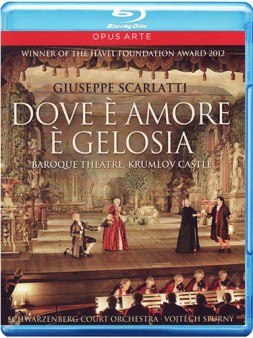 Mouse-over Cover Art for Details
Click thumbnails for high-resolution 1920X1080p screen captures
(The below TheaterByte screen captures were taken directly from the Blu-ray Disc and losslessly compressed in the PNG format. There should be no loss of picture quality with this format. All screen captures should be regarded only as an approximation of the full capabilities of the Blu-ray format.)
The Performance
[Rating:3.5/5]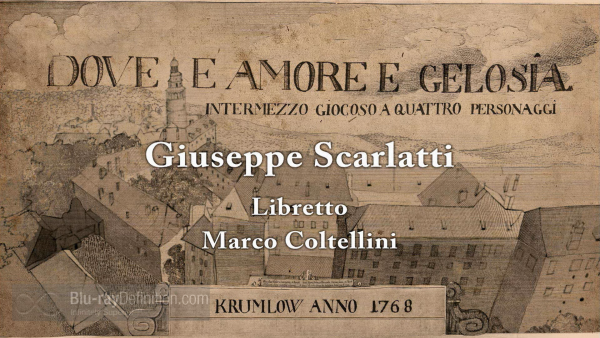 This Opus Arte Blu-ray disc offers an historic recreation of a rarely heard opera from the Mozartean era, performed in the same venue, Castle Theater, Cesky Krumov, by an ensemble similar to that heard at its 1768 premiere, the Schwartzenberg Court Orchestra, led from the harpsichord by Vojtech Spurny.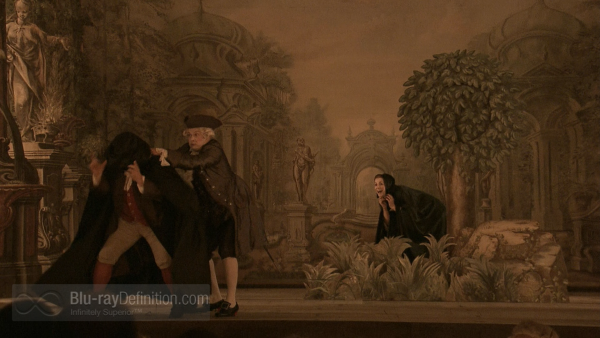 Dove è amore è gelosia (Where there is love there is jealousy) is the creation of court music master Giuseppe Scarlatti whose much more famous uncle was composer Domenico Scarlatti. The Marquise Clarice, a young widow (Lenka Macikova), is being wooed by Count Orazio who is notoriously jealous. Their respective servants, Vespetta (Katerina Knezikova) and Patrizio (Jaroslav Blezina) try to patch things up. However, the Count's efforts to apologize for a latest jealous outburst are in vain, and Clarice tosses him out of her home. In spite of his protestations that jealousy is the other side of love and threats to commit suicide, the Marquise is not convinced. Meanwhile Vespetta and Patrizio are having their own personal romantic differences. Later, Clarice has written a letter to her attorney to arrange for her wedding to Orazio. However, the latter intercepts a torn half of the letter and is convinced of her faithlessness until the truth is revealed. Numerous ruses and disguises later, both couples reconcile. All ends well, with the concession that there cannot be love without jealousy and vice versa.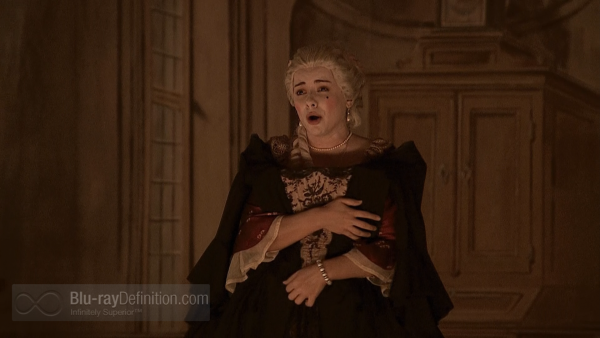 This young cast gives a decent if not terribly memorable account of the score. The stage business on a very small stage is reasonably effective. Since candle light appears to be the main source of illumination, the production is darker than most modern performances would be.
Video Quality
[Rating:3/5]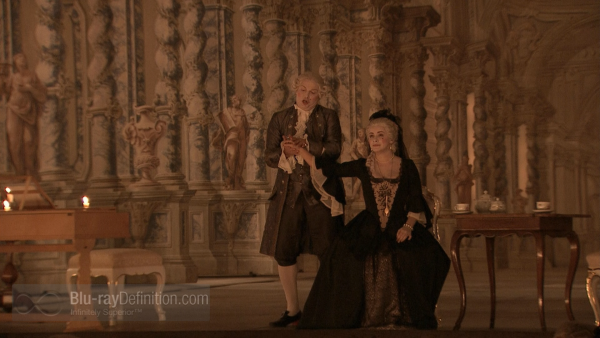 This is a filmed account, as mentioned, in rather subdued lighting, that blunts some of the color palette. There is also a bit of grain and motion artifact, not typical for an Opus Arte disc.
Audio Quality
[Rating:4/5]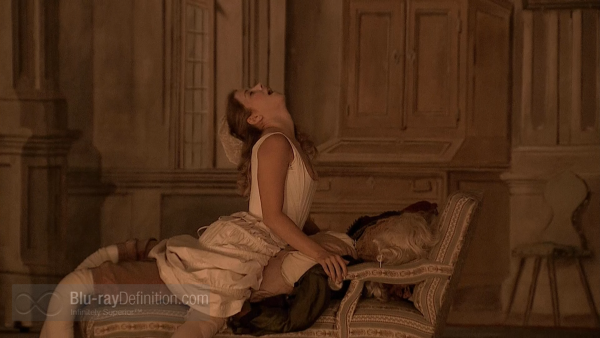 The DTS-HD Master Audio surround sound track gives us a little more vocal prominence, albeit the pit orchestra is quite small. The LPCM two-channel is reasonably good.
Supplemental Materials
[Rating:3/5]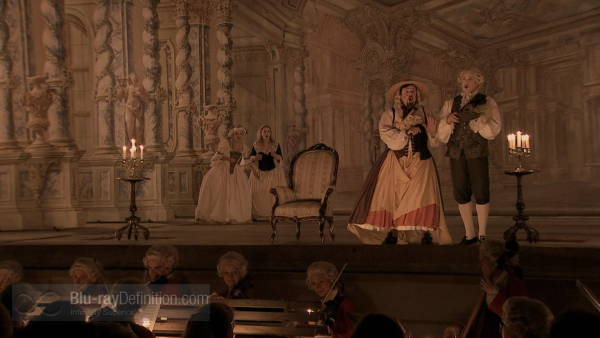 We are in luck here with a spoken introduction that sets the literal stage for this historic recreation. In addition, we get a sparkling documentary "A Jewel of the Baroque: the History of Castle Theater in Cesky Krumov." (51:32, English LPCM Stereo, 48kHz/16-bit).
The Definitive Word
Overall:
[Rating:3.5/5]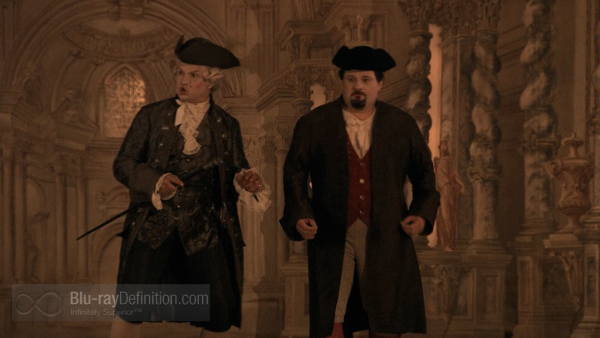 Another minor work, rescued from the obscurity by the dedicated effort of the Cesky Krumov group, Dove è amore è gelosia, is a delightful if lightweight piece of 18th century music theater. Compared with the contemporary comic operas of Mozart, Giuseppe Scarlatti's work is obviously less accomplished. However, as this piece was intended to be sung by performers unlikely to be at the level of Mozart's usual cast, the demands for each part are not extreme.  The simple themes of love and jealousy are adequately served by the onstage proceedings with singers who, if not stellar, are at least adequate in communicating the essence of this opera. The dim lighting, smudging of detail, and downplaying of color might have been what 18th century audiences expected, but today's operagoers surely expect more. Consider this an operatic stocking stuffer, not the present you would put under the tree.
Additional Screen Captures
[amazon-product region="uk" tracking_id="bluraydefinit-21″]B00C7UJBSI[/amazon-product]
[amazon-product region="ca" tracking_id="bluraydefinit-20″]B00C7UJBSI[/amazon-product]
[amazon-product]B00C7UJBSI[/amazon-product]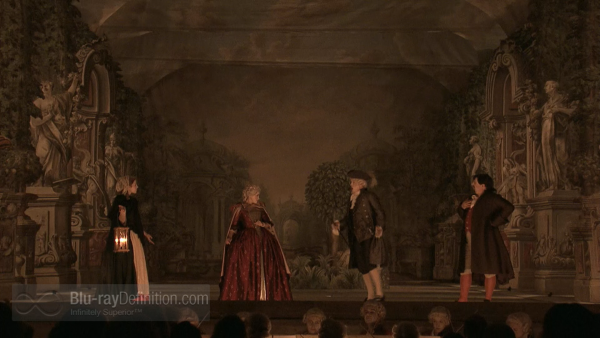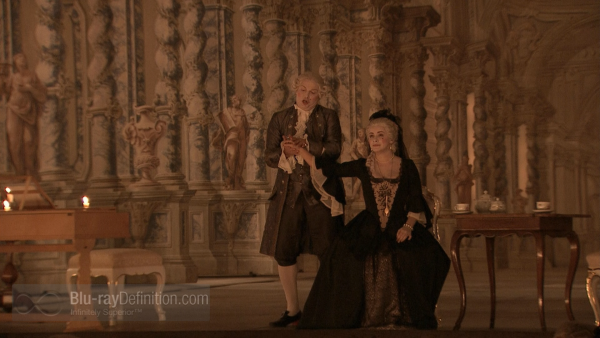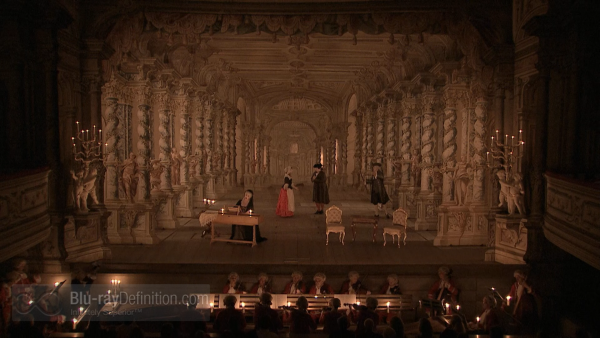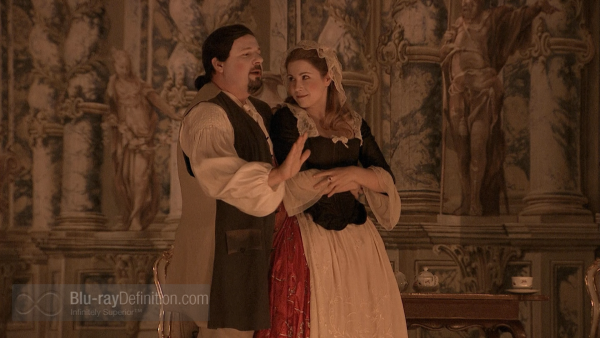 [amazon-product region="uk" tracking_id="bluraydefinit-21″]B00C7UJBSI[/amazon-product]
[amazon-product region="ca" tracking_id="bluraydefinit-20″]B00C7UJBSI[/amazon-product]
[amazon-product]B00C7UJBSI[/amazon-product]