– –

The Film
[Rating:3/5]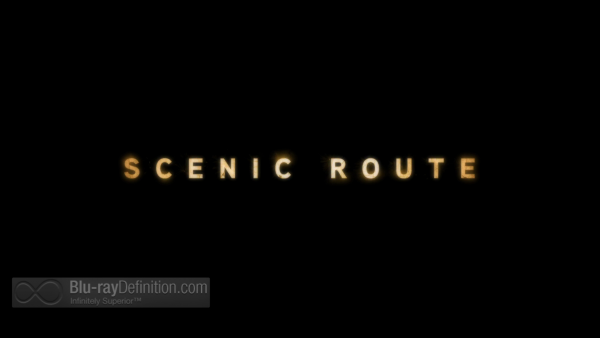 The Goetz Brothers, Kevin and Michael, direct their first feature in the Josh Duhamel-led drama/thriller Scenic Route. What begins as an ordinary buddy road trip adventure that could very well well turn into yet another version of The Hangover very quickly takes a dark turn.
Against the stark backdrop of an unforgiving desert setting that could very well be a metaphor for what's about to unfold, estranged longtime thirty-something friends Mitchell (Duhamel; New Year's Eve) and Carter (Dan Fogler; TV's Hannibal) are on their way to the Grand Canyon to relive a trip they made back in their twenties. The two friends have grown far apart and are at completely different places in their lives. Mitchell is married with a child and working in finance, having given up his dream of being a musician and moved on from a previous long-term relationship that left him heartbroken. Carter, meanwhile, is still living for his dreams – an overweight, unemployed, and homeless writer who can't get his writing published, he clings to his college-years ideals. When the old jalopy of a pickup truck they are driving through the isolated desert roads breaks down in the middle of nowhere, it leads them toward conversations they haven't had in years. They quickly begin to condemn each others life choices and it turns brutally violent in a hurry as they become increasingly violent, angry, and desperate to survive.
Equal parts thriller, survival adventure, and road trip drama, the Goetz Brothers' film holds viewers' attention with little else but its dialogue, beautiful scenery and foreboding sense of doom for the first half of the film. It's helped along by a well-played part from star Duhamel, who turns in a surprisingly unhinged performance given his penchant for nice guy roles on the big screen. Meanwhile, co-star Fogler seems the prototypical slouch alongside the straight-man gone wild we've seen in so many a cliché buddy film. He plays the role well with what he's given.
Scenic Route, however, goes awry after the first half with far too many lazy plot devices. For instance, Mitchell and Carter miss one too many opportunities to be rescued by drivers passing by to make this believabl. By the end of the film, where the screenplay from Kyle Killen could have let things simply end by escalating in a symphony of violence or resolute despair, it instead opts for an odd form of misdirection that feels out place given the tone of the film that preceded it. In the end, Scenic Route is too uneven, but does set the filmmaking duo of Kevin and Michael Goetz up as a pair to watch in the coming years.
Video Quality
[Rating:4/5]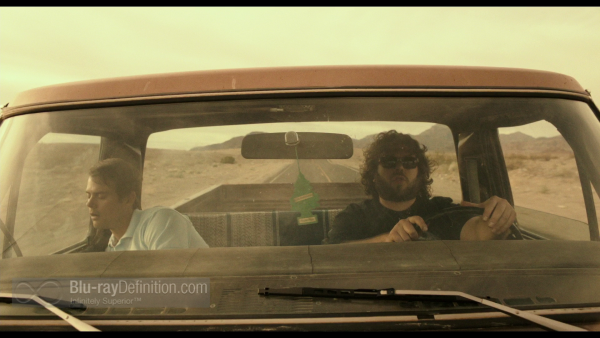 Arri Alexa and Red Epic cameras were used to shoot Scenic Route in high definition and the film comes to Blu-ray from Vertical Entertainment in an AVC/MPEG-4 1080p encodement. It's a solid transfer that has a lot of detail and relatively strong contrast, though black levels sometimes tend to look just a bit greyish. Video noise at times looks a little harsh and electronic rater than filmic, but it doesn't detract much from the overall appreciation of the film.
Audio Quality
[Rating:3.5/5]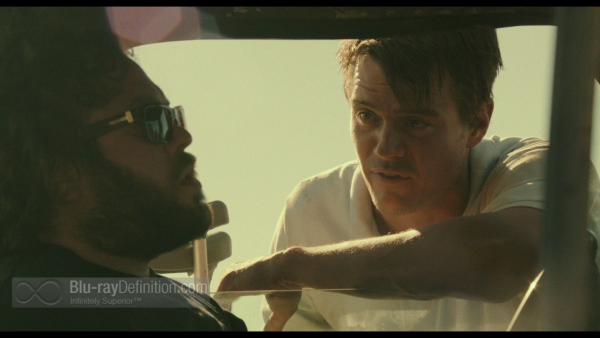 There isn't much going on in this DTS-HD Master Audio 5.1 (48kHz/16-bit) soundtrack, but it does present the dialogue in a clean and clear manner, which is good for this very dialogue intense film. A few moments the surrounds are allowed to pick the sound of wind or coyotes howling in the distance, but it is rare.
Supplemental Materials
[Rating:1/5]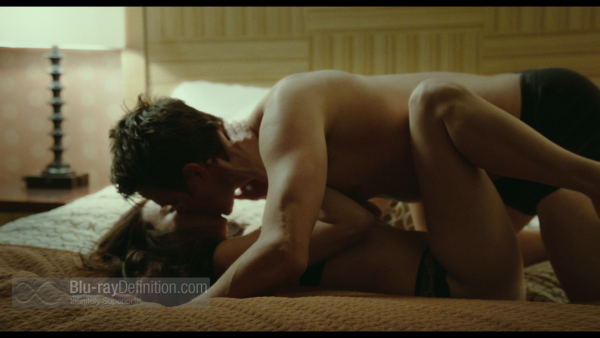 This is a very barebones release, but we are given an audio commentary with the Goetz Brothers and Josh Duhamel alongside the original theatrical trailer.
Audio commentary with Goetz brothers and Josh Duhamel
Trailer (1.85:1; 1080p/24)
The Definitive Word
Overall:
[Rating:3/5]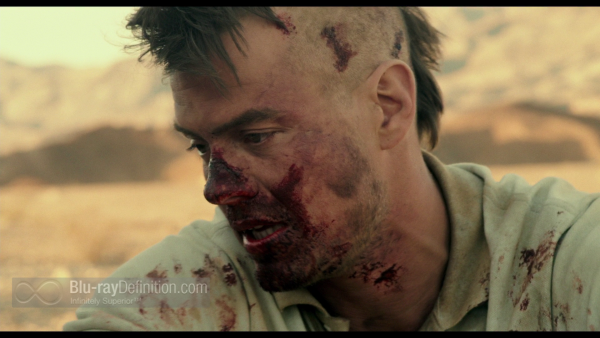 Despite the pitch-perfect performance from Josh Duhamel, Scenic Route is a film that feels half done, filled with promise, but not wholly successful. That being said, the Goetz Brothers have made a statement with their first feature here that they are a force to be reckoned with, filmmakers to keep an eye on, and there is no doubt we will be seeing more, and perhaps better, works from this filmmaking duo in future.
Additional Screen Captures
[amazon-product]B00DCRE50O[/amazon-product]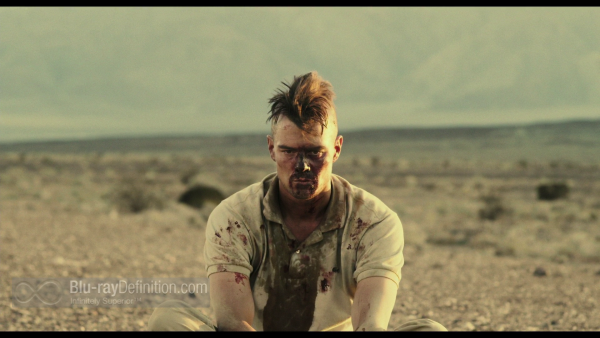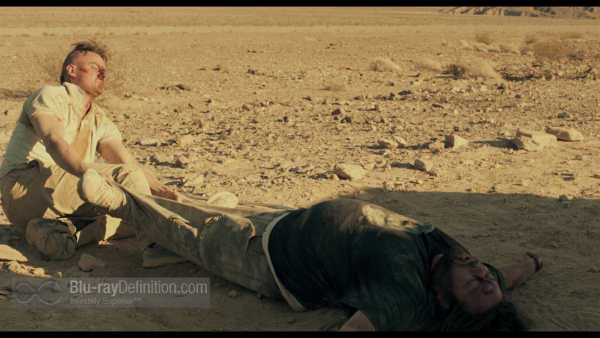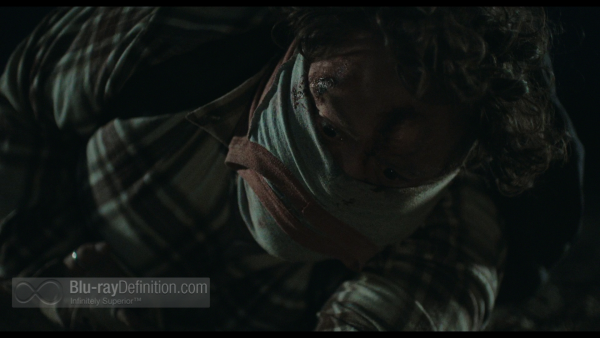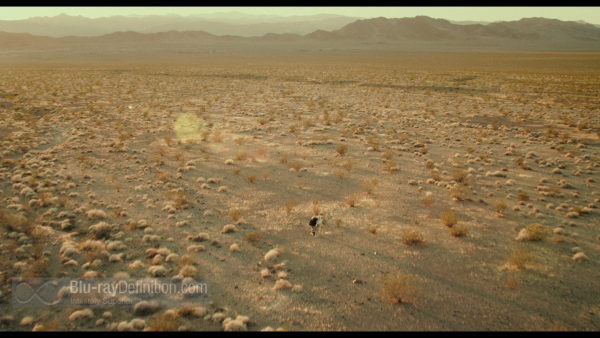 [amazon-product]B00DCRE50O[/amazon-product]