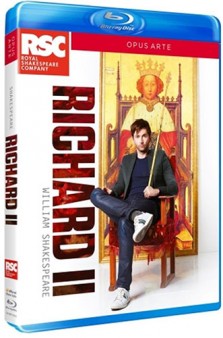 – –

The Performance
[Rating:4/5]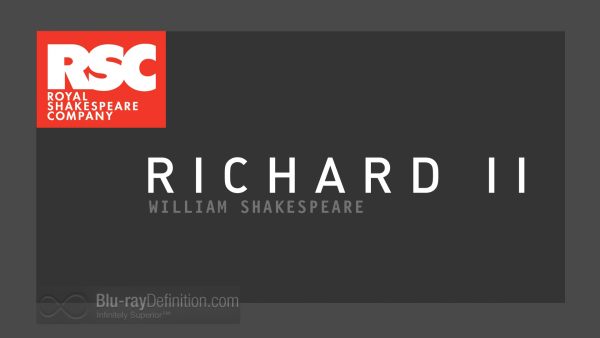 Having had a successful run with Hamlet, director Gregory Doran returned to the Royal Shakespeare Company in the fall of 2013 with this less frequently performed entry in the Bard's dramatic canon. With a strong cast headed by David Tennant (Doctor Who, Harry Potter and the Goblet of Fire), viewers are given a fairly traditional take on Richard II.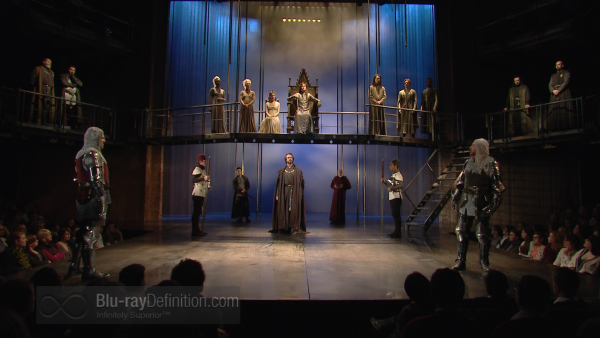 While the real King Richard II reigned for two decades, Shakespeare's historical drama covers his final two years on the throne. As the play opens, we see Richard approach the coffin of his uncle, the late Duke of Gloucester whose murder the Duke's brother, John of Gaunt (Michael Pennington) believes was engineered by the King.  Richard adjudicates a financial dispute between his cousin Henry Bolingbroke (Nigel Lindsay), and the Duke of Norfolk, Thomas Mowbray (Antony Byrne) and later averts their duel while banishing the pair from England. Mowbray predicts that Richard will eventually be slain by Bolingbroke.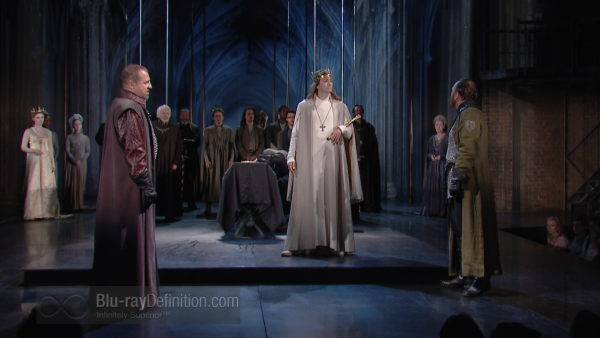 When Gaunt dies, Richard takes another misstep by seizing the dead man's assets and incurs the wrath of Bolinbroke, Gaunt's rightful heir. A plot to seize Richard's throne is fomented, beginning with the secret return of Bolingbroke.  Richard does have his supporters including Bushy (Sam Marks), Bagot (Jay Mann), and the Duke of Aumerle (Oliver Rix), a cousin of both Richard and Bolingbroke. When Richard goes to wage war in Ireland, Bolingbroke wins over Richard's pro tem regent, the Duke of York (Oliver Ford Davies), and leads his army into Northern England.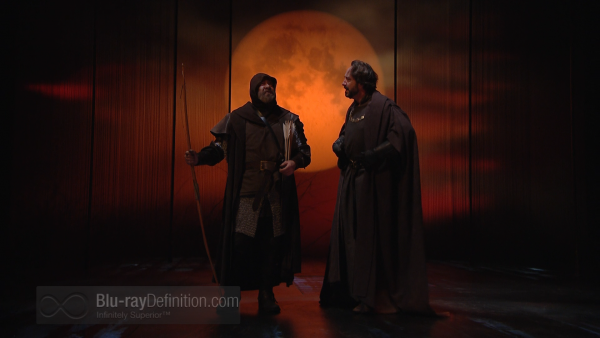 Bolingbroke names himself King Henry IV and casts Richard, who has returned from battle, into the dungeon of Pomfret Castle. Richard's allies, including Aumerle, organize a revolt against King Henry but York, Aumerle's father, foils this plot although sparing his son's life. Believing that the imprisoned Richard remains a threat to King Henry, Lord Exton murders the ex-king in his cell. Henry vows to do penance for this deed by traveling to the Holy Land.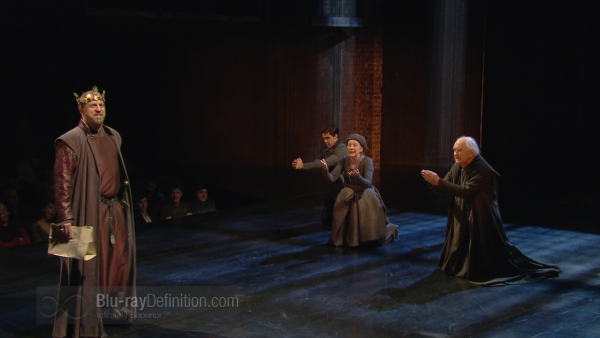 Tennant's take on this doomed monarch provides the major interest of this production. Taking the part of an effete young man (Richard was only 33 years old when he died), long hair and all, we see a flawed ruler whose unyielding belief in the divine right of kings led to his downfall. Enhanced by period music, we are drawn in to the drama that, unlike most of Shakespeare's plays, is delivered entirely in verse. Dornan's direction yields compelling performances by the principals and the period costumes compensate for a relatively empty set.
Video Quality
[Rating:4.5/5]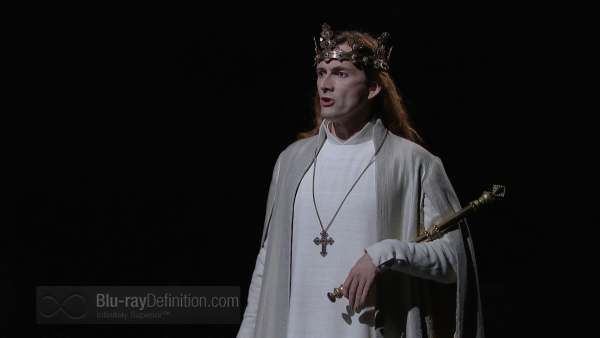 The videography of this play is beyond reproach with excellent capture of details and accurate colors.  There is a real sense of "being there" that brings Shakespeare's drama directly to its audience. Bare stage notwithstanding, we get a real sense of what Will's original audiences were privileged to see. Rear panel projections add to the atmosphere and use a clever series of chains to create the visual illusions.
Audio Quality
[Rating:3.5/5]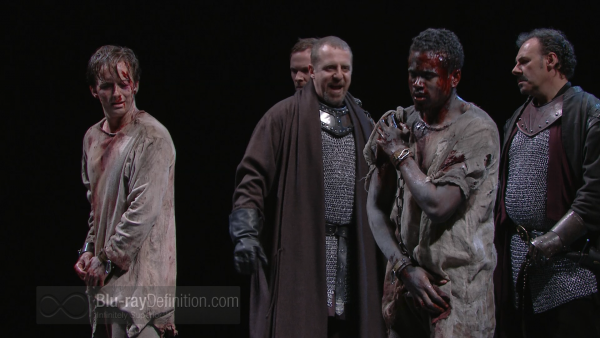 The 5.1 DTS-HD Master Audio soundtrack is deep and atmospheric making it much more compelling than the two-channel alternative. An offstage chorus of medieval polyphony augments the drama.
Supplemental Materials
[Rating:3/5]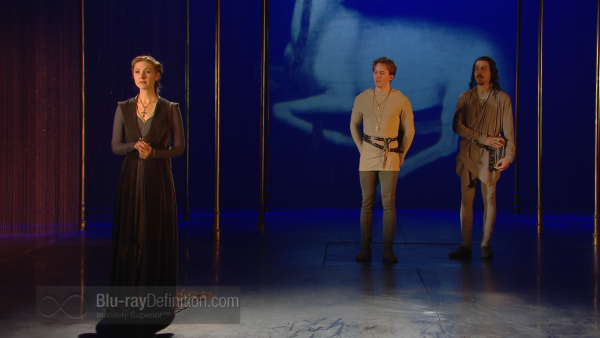 Opus Arte supplies a program booklet with full cast and production credits, a fine background essay by Michael Dobson, director of the Shakespeare Institute, and a synopsis of the play. Additional features include:
Interview with David Tennant (5:44 ) (English LPCM Stereo 48kHz/24-bit))
The World of Richard II (5:59) (English LPCM Stereo 48kHz/24-bit): A back story on the King told by David Tennant and Helen Castor
Playing with Light (4:24) (English LPCM Stereo 48kHz/24-bit)): Designers Stephen Brimson-Lewis and Tim Mitchell and production manager discuss their use of light and reflecting chains to create the atmosphere of the play.
Interview with Director Gregory Doran  (4:53) (English LPCM Stereo 48kHz/24-bit)
Interview with medieval historian Helen Castor (5:02) (English LPCM Stereo 48kHz/24-bit)
The Play: interview with historian Richard Shapiro (4:24) (English LPCM Stereo 48kHz/24-bit)
Making the Costumes: (3:33) (English LPCM Stereo 48kHz/24-bit)
Preparing the Stage: Simon Ash discusses the production (2:58) (English LPCM Stereo 48kHz/24-bit)
Interview with Stephen Brimon-Lewis (3:50) (English LPCM Stereo 48kHz/24-bit)
Preparing for the Live Broadcast: Interview with Screen Producer John Wyver (3:58) (English LPCM Stereo 48kHz/24-bit))
Cast gallery
The Definitive Word
Overall:
[Rating:4/5]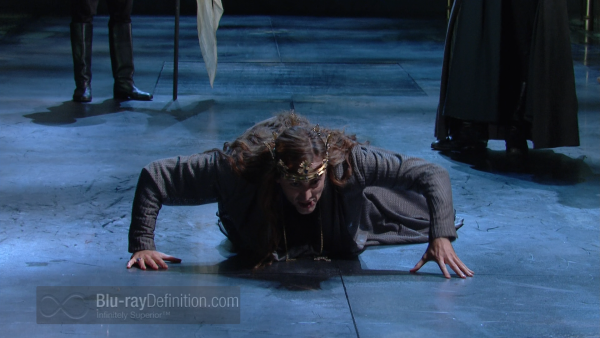 Richard II deals with the fall of a king and the political intrigue that surrounded the English throne for centuries until the ascendance of the Hanoverian line in the eighteenth century. Shakespeare presents Richard as an old-fashioned monarch at odds with his people and the more contemporary Henry who usurps his throne. The RSC's mounting of this 400-year old work is quite stirring and easy to recommend. For Shakespeare fans seeking an alternative portrayal of Richard II, there are two fine but visually and sonically dated 1970s-era DVDs headlined by Derek Jacobi and Ian McKellen, respectively.
Additional Screen Captures
[amazon-product region="uk" tracking_id="bluraydefinit-21″]B00J379KHA[/amazon-product]
[amazon-product region="ca" tracking_id="bluraydefinit-20″]B00J379KHA[/amazon-product]
[amazon-product]B00J379KHA[/amazon-product]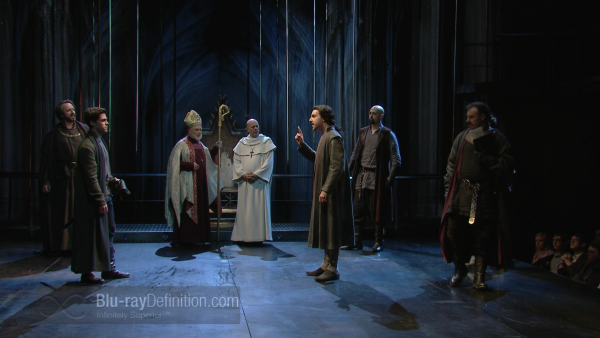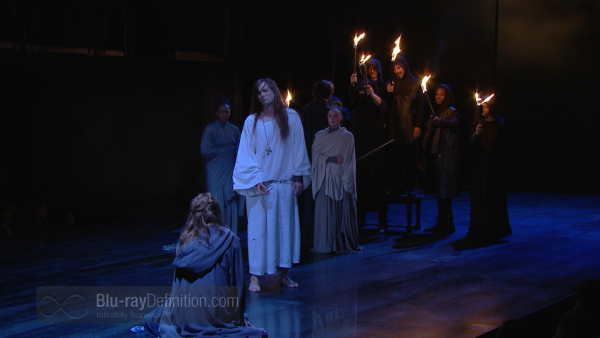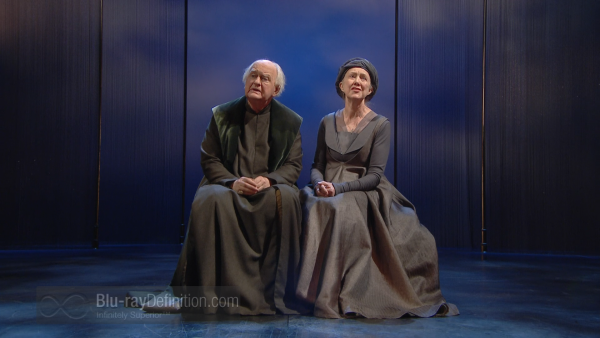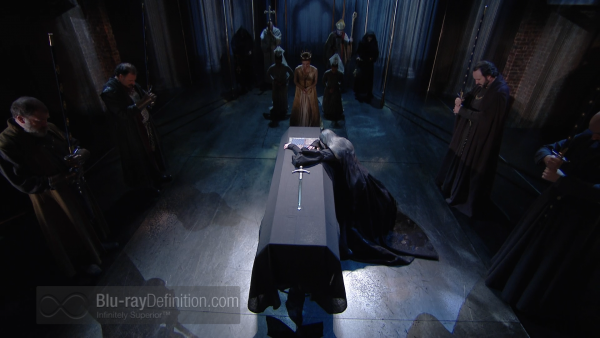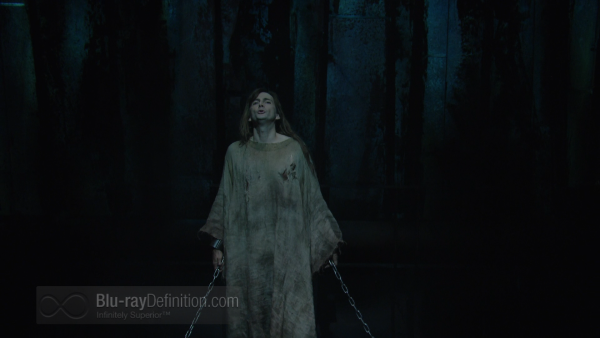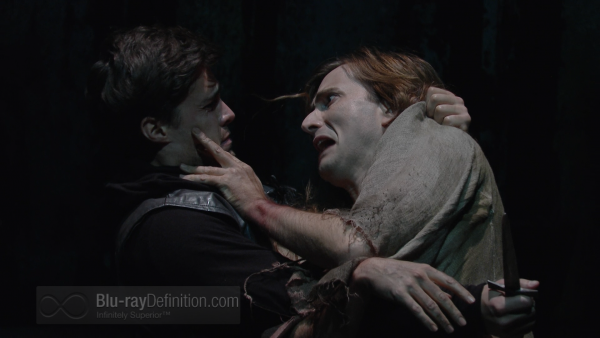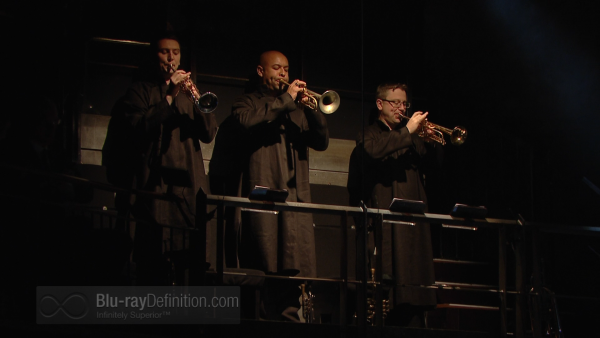 [amazon-product region="uk" tracking_id="bluraydefinit-21″]B00J379KHA[/amazon-product]
[amazon-product region="ca" tracking_id="bluraydefinit-20″]B00J379KHA[/amazon-product]
[amazon-product]B00J379KHA[/amazon-product]