– –

The Film
[Rating:5/5]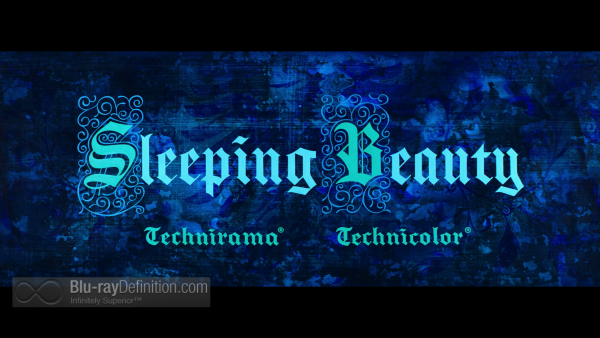 Walt Disney's 1959 musical fantasy Sleeping Beauty was an astonishing and groundbreaking animated feature in every sense. Based on The Brothers Grimm folk tale Little Briar Rose as well as the 18th century fairy tale by French author Charles Perrault, Disney's widescreen extravaganza, shot in the Technirama 2.55:1 aspect ratio (35mm running horizontally and using 8 perforations, resulting in a less grainy image, more detailed image) and utilizing true stereophonic sound, was an event for moviegoers.
Produced amidst delays and potential financial ruin for the studio, Walt Disney wanted something special for this film, and special it is. The music is based on Tchaikovsky's ballet of the same name with additional adaptation and connecting musical pieces by composer George Bruns. Additionally, and in perhaps the greatest stroke of genius, Eyvind Earle, an artist who had been working at Disney for some time, was assigned to design the backgrounds. The film had to stand out from their previous productions given its similar themes to other films like Cinderella and Snow White. Stand out it does. Earle's designs bring Sleeping Beauty into a whole new realm. Combining a renaissance aesthetic with a fantastic color palette and geometric lines that have their basis in stained glass artwork, Sleeping Beauty was a leap forward in animation design and one that impressed today. It would be the last film from the studio of the era to have that classic animation style before the studio moved to the xerography process with 1961's One Hundred and One Dalmatians, transferring animators' drawings directly, giving a much more stylized, less clean appearance to the character designs.
The story is about as dark as any in the Disney canon, involving a princess, Aurora (voiced sweetly by Mary Costa), cursed at birth with death by the age of 16 by a malevolent sorceress, Maleficent (voiced with great character by Eleanor Audley). In order to save her life, Aurora is whisked away by three sweet faeries, Flora (Verna Felton), Fauna (Barbara Jo Allen), and Merryweather (Barbara Luddy) who raise her as their own without magic in an inconspicuous cabin on the woods until she is 16, but Maleficent's spies eventual find her and the curse is fulfilled. It is up to the charming Prince Stefan (Taylor Holmes), who previously encountered Aurora in the forest as Briar Rose, to save her from deathly deep sleep with true love's kiss.
Brimming with charm,  memorable songs such as the swooning "Once Upon a Dream" and classic moments like Aurora serenading a forest full of furry friends — a scene that has been parodied more times to count — Sleeping Beauty just might be the signature, standout film from the Disney animated classic features. Sleeping Beauty also contains one of Disney's most iconic villains in Maleficent. From her first entry onscreen to issue her curse against the infant Aurora, she looms darkly, perhaps the most bone chilling since 1937's Evil Queen from Snow White.
Video Quality
[Rating:5/5]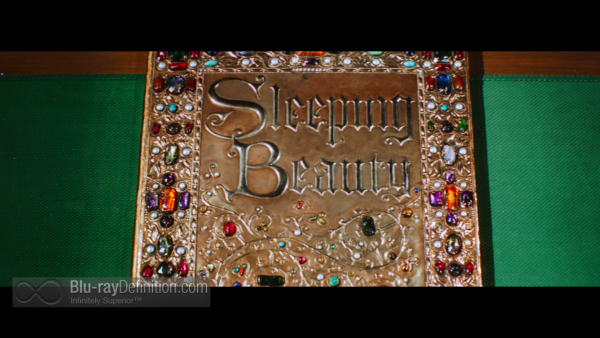 An extensive restoration was undertaken several years ago to bring Sleeping Beauty to Blu-ray, going back to the original cells. That same restoration, originally released in the 2008 Platinum Edition is what we have been given here again in this Diamond Edition. It is very clean, looking almost like it was filmed yesterday. Some might find fault in this smooth, pristine look, but its difficult to argue with how dazzling it continues to look (and sound) on Blu-ray.
Audio Quality
[Rating:5/5]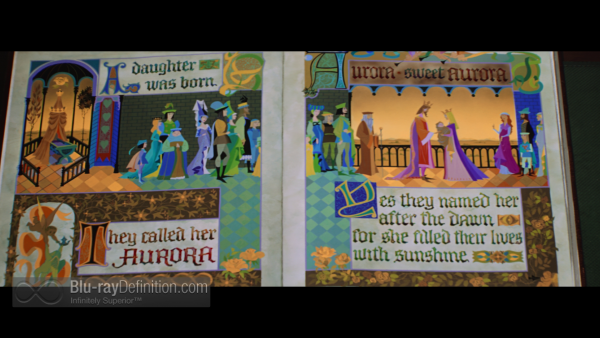 Sleeping Beauty still sounds great in this fantastic lossless DTS-HD Master Audio 7.1 (48kHz/24-bit) soundtrack. It's the same audio restoration from 2008, remixed from the original 35mm magnetic masters, including the original three-track stereo masters, in Berlin, Germany. Nevertheless, it's a good one. I've always likened this to some of the Living Stereo remasters on SACD, the orchestra sounds that good, vital, and dynamic. Meanwhile there are great atmospherics and directional panning, such as when Aurora is singing in the woods and her voice veers off to the far right and then off to the right back channel. For those looking for something more authentic, the original stereo theatrical mix is provided in a Dolby Digital 4.0 configuration. It also sounds quite good with wide panning and clear dialogue and vocals.
Supplemental Materials
[Rating:3/5]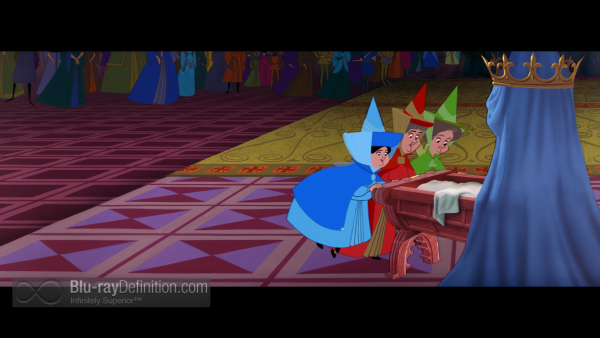 Perhaps I'm missing something here, but Disney seems to have actually pulled extras that were on the 2008 Platinum Edition for this Diamond Edition release. Granted, this does come with a Digital Copy, but that's no substitute for the games and classic DVD bonus features that have been left off. Am I missing a hidden menu or something? While there are new HD featurettes here, marks off for subtraction of of the classic features.
DVD
Digital HD Digital Copy
Deleted Scene: The Curse is Fulfilled (1.78:1; 1080p/24; 00:02:58)
Alternate Scene: The Arrival of Maleficent (1.78:1; 1080p/24; 00:01:58)
Deleted Scene: The Fair (1.78:1; 1080p/24; 00:07:48)
Once Upon a Parade (1.78:1; 1080p/24; 00:08:49)
The Art of Evil: Generations of Disney Villains (1.78:1; 1080p/24; 00:09:49)
@Disneyanimation: Artists in Motion (1.78:1; 1080p/24; 00:04:27)
Beauty-Oke: "Once Upon a Dream"
Classic Bonus Features:

The Sound of Beauty: Restoring a Classic (1.78:1; 1080p/24; 00:10:50)
Picture Perfect: The Making of Sleeping Beauty (1.78:1; 1080i/60; 00:43:32)
Eyvind Earle: A Man and His Art (1.78:1; 1080i/60; 00:07:33)
Audio commentary by John Lasseter, Andreas Deja, and Leonard Maltin
The Definitive Word
Overall:
[Rating:4.5/5]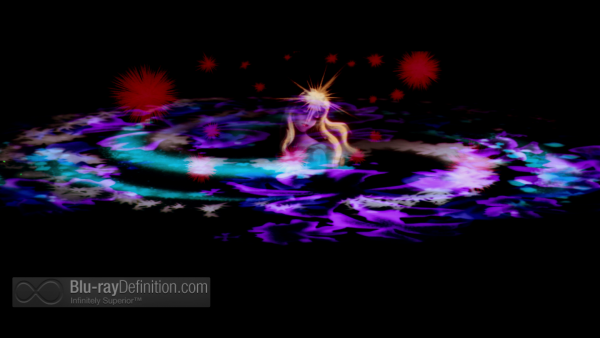 This Diamond Edition of Sleeping Beauty is pleasing, even if it is no different audio or picture-wise than the previous Platinum Edition release and actually loses some bonus features. However, nothing can take away from the joy of watching this timeless classic.
 Additional Screen Captures
[amazon-product]B00KB3PZ60[/amazon-product]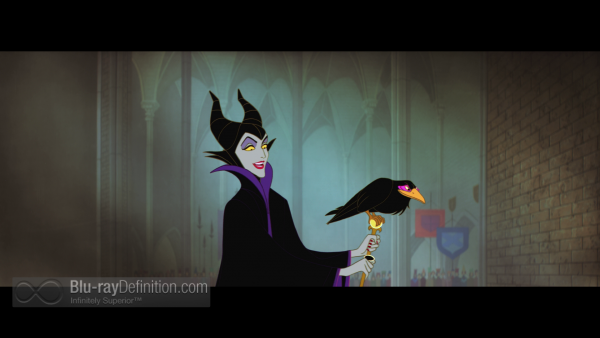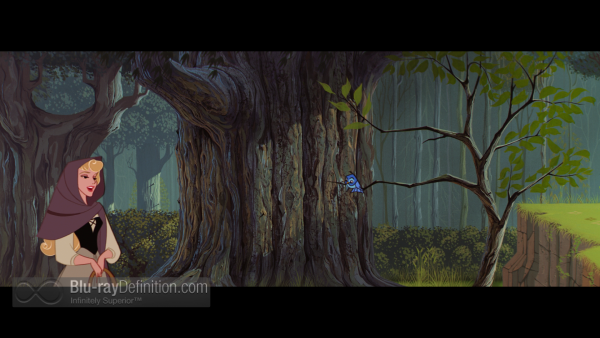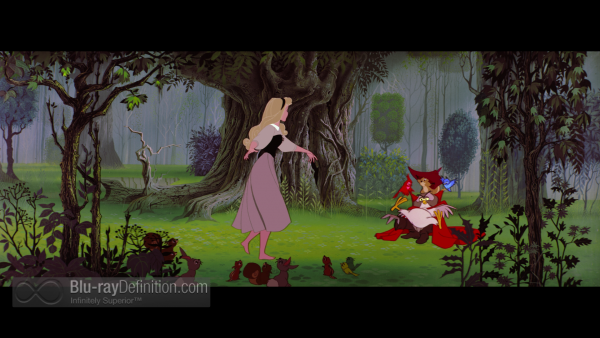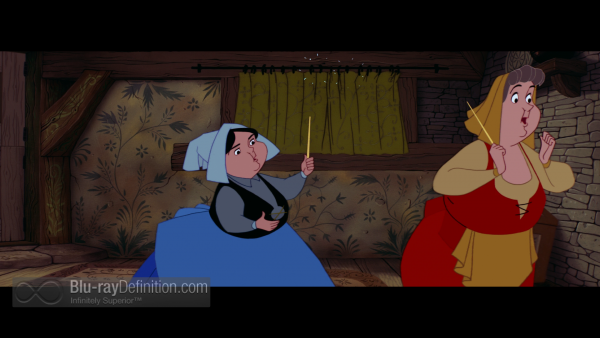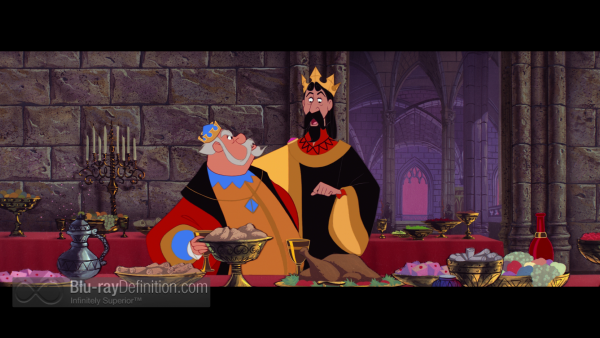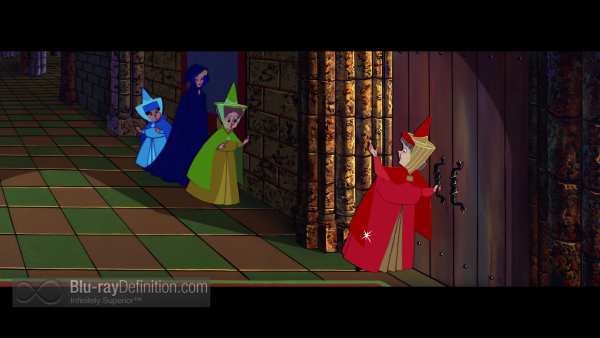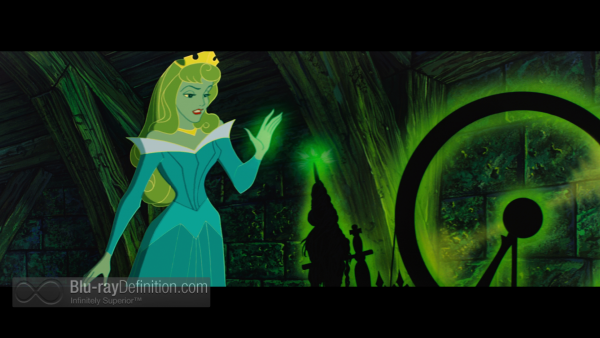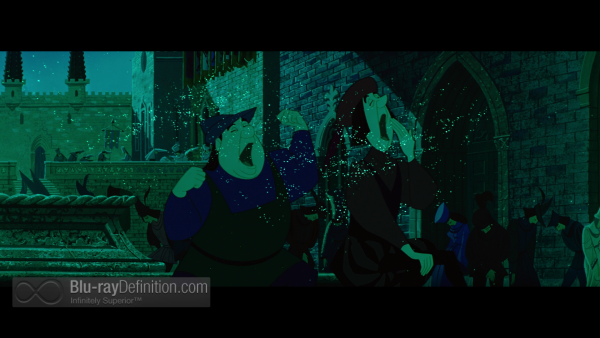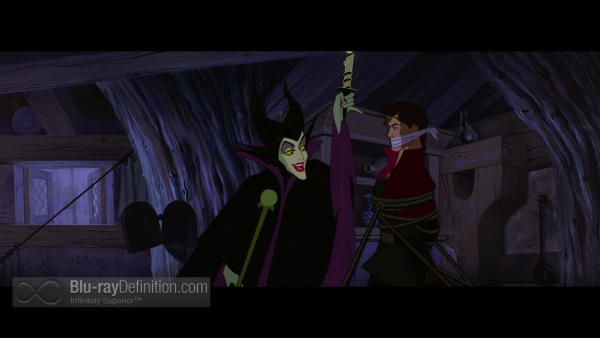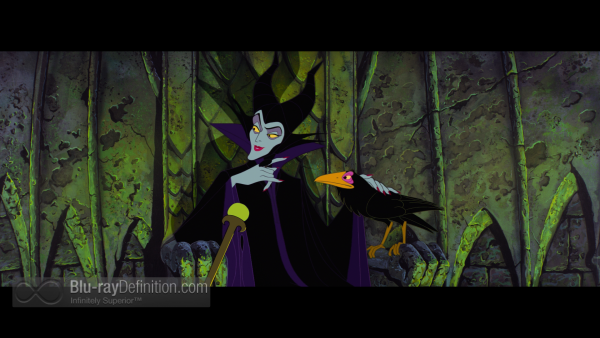 [amazon-product]B00KB3PZ60[/amazon-product]