Aspect Ratio: 1.78:1

Video Codec: AVC/MPEG-4

Resolution: 1080p/24

Audio Codec: English DTS-HD Master Audio 5.1; Spanish Dolby Digital

Subtitles: English SDH, French, Spanish

Region: A

Discs: 3

Studio: Twentieth Century Fox Home Entertainment

Release Date: August 18, 2009

List Price: $59.99
 

[amazon-product align="right"]B0024FAR5W[/amazon-product]


Purchase Sons of Anarchy: Season One
on Blu-ray from CD Universe

Download:


Shop with us for more Blu-ray 
titles at Amazon.com


Overall

The Series

Video Quality

Audio Quality

Supplemental Materials


Click thumbnails for high-resolution 1920X1080p screen captures

 More Screen Captures (16 Total)

(Screen captures are lightly compressed with lossy JPEG and thus are meant as a general representation of the content and do not fully reveal the capabilities of the Blu-ray format)

The Series





The lure of the West and the cry of the open road are ingrained in our culture. Outlaws, bandits, rebels without causes; leather-clad demons on their growling steeds — we've had them driven into our subconscious through books, magazines and films. Television, especially cable, is now rife with dramas examining the criminal edges of our society, the dangerous subcultures that were once hidden away and only spoken of when the hordes were beating the drums of justice to clean up their towns or protect their innocent children.

Now, the cable network FX gives us creator Kurt Sutter's Sons of Anarchy, a drama in the vein of The Sopranos that borrows much from Shakespeare's Hamlet and Macbeth about an outlaw biker gang, or motorcycle club (MC), as they refer to themselves. Set in the town of Charming, California, the Sons of Anarchy, led by Clarence "Clay" Morrow run guns and fight off rival clubs with ruthless violence. They drink hard and play hard, keeping the law in their pockets and most of the truly bad stuff out of their own town.

The moral center of the Sons is Jackson "Jax" Teller, the son of the Sons' late co-founder and second in command to Clay. Jax discovers an old manuscript written by his father revealing to him that his father did not want the Sons of Anarchy to move into such a violent, criminally minded direction. But Jax is stuck vacillating between his loyalty to Clay, pushed by his mother Gemma (Katey Sagal), now married to the leader of the Sons, and his desire to pull away, to become something better. These feelings are made all the more powerful by the return of the woman who has Jax' true love, ER doctor Tara Knowles (Maggie Siff), and the birth of Jax' son by his ex-wife, Wendy (Drea de Matteo).

Meanwhile, his scheming mother who wants nothing more than for him to fall into line with Clay's philosophy and to take over as Sons of Anarchy President once Clay steps down is secretly manipulating Jax. She is using the two women in his life, Wendy and Tara, as pawns in her own game of chess.

Sons of Anarchy does not shy away from controversy, as one might expect from a basic cable drama on FX. It's full of relatively strong language, racial epithets, and lots of sex. What is evident after several episodes, however, is that the series struggles to attain a level where viewers can become truly invested in each of the characters and also stop comparing it to The Sopranos. It lacks the delicacy, depth, and intricacy of detail in its stories that the former had. Perhaps it is that over the course of a decade these sorts of shows have become all too common. It will take something far more creative than a Sopranos imitation with allusions to Shakespeare, in this case with Jax as Hamlet, Clay as the King and Gemma as Lady Macbeth, scheming behind the scenes, to keep people coming back for more every week. There's definitely potential here, especially in the Jax vs. Clay and Jax and Tara story lines, but whether or not it can deliver on that promise will be the key to this series' future success.

Video Quality

 

 Rather surprisingly for a series based on the rough and tumble world of biker gangs, Sons of Anarchy's producers have opted for a quite clean and detailed presentation, rather than going for that gritty, atmospheric look that so many television dramas succumb to these days. Fox's AVC/MPEG-4 encoding of the original 1.78:1 framing at 1080p/24 is well up to the task of capturing the dark black leather jackets and sunny landscapes of the West Coast that the series portrays with great clarity. Flesh tones are impeccable, shadow detail is superbly extended, and contrast is perfect. Perhaps much of the clarity in Sons of Anarchy's picture quality comes from its position of being one of the rare television dramas to actually be shot originally in high definition, rather than on 35mm. Still, using the excellent Panavasion Genesis HD cameras, Sons of Anarchy retains a film-like smoothness, being shot at 24fps. This Blu-ray release from Fox retains that look with no compression artifacts or processing issues of note to get in the way.

Audio Quality

 

 With its English DTS-HD Master Audio soundtrack, Sons of Anarchy sounds sufficiently clean and dynamic, but the mix is far from aggressive. The sound is mostly dialogue-driven and rather front-heavy. The surround channels are used mainly for low level atmospheric sound effects, but they are given ample occasion to open up with the loud rumble of hogs when those Harleys start tearing up the asphalt and guns start blazing. Crackling is not an issue as clarity is maintained throughout, but don't expect the subwoofer to start rattling the walls, this is a tame mix through and through.

Supplemental Materials

 

 Sons of Anarchy comes with a decent amount of bonus features giving the title some added value for fans of the series. Fox has thankfully provided much of the video supplements in full 1080p high definition as well.

The supplements available on this release are:

Disc 1:
Commentary for "Pilot" by Kurt Sutter, Charlie Hunnam, Ron Perlman, and Katy Sagal
Disc 2:
Commentary for "The Pull" by Kurt Sutter, Maggie Siff, and Charlie Hunnam
Disc 3:
Commentary for "The Revelator" by Kurt Sutter, Charlie Hunnam, Ron Perlman, Kim Coates, Mark Boone Junior, Theo Rossi, Ryan Hurst, William Lucking, Johnny Lewis, and Tommy Flanigan
The Making of Sons of Anarchy, Season 1 (1.78:1; 1080p/24; 0:08.59)
The Ink (1.78:1; 1080p/24; 0:04.50) — A discussion of the design of the Sons of Anarchy patch and tattoos specific to each character.
The Bikes (1.78:1; 1080p/24; 0:07.08) — All about the rides.
Casting Sons of Anarchy (1.78:1; 1080p/24; 0:14.47)
Deleted Scenes — 30 deleted and extended scenes
Anarchy on the Set (Gag Reel) (1.78:1; 480i/60; 0:06.55)
The Definitive Word
Overall: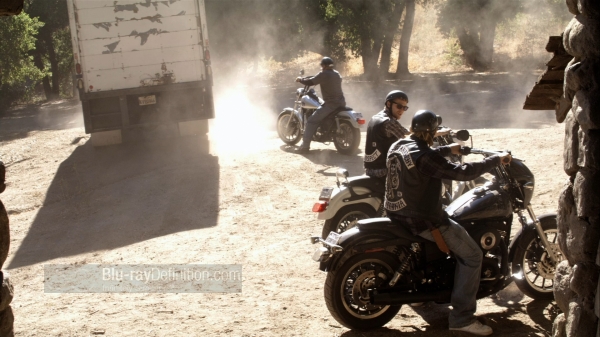 Sons of Anarchy arrived on the scene with a roar, proudly announcing itself as The Sopranos with motorcycles. If it can crawl out from that shadow and find a unique identity has yet to be seen. The series certainly shows some potential in its motley crew of leather-clad characters and Fox has treated it well with this fine presentation on Blu-ray Disc. It may well be worth the price to dive in at the beginning of the series to see how it started, assuming it eventually pays off down the road.

Shop with us for more Blu-ray 
titles at Amazon.com