–
The Series
[Rating:4/5]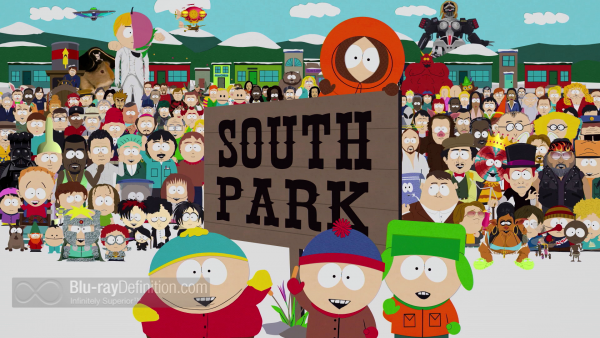 It's incredible to think that South Park has been around for sixteen seasons and will be heading into its seventeenth starting September 25. Of course, long-running animated series are nothing new on television, from The Flintstones all the way through to The Simpsons, animation seems to be able to transcend the limitations of live action genres that allow it to stick around for so long without viewers tiring of them. At this point, what is there really to say about this series other than it continues its rude and crude dressing-down of pop culture through the eyes and wisecracking mouths of the elementary school kids in South Park, Colorado we've become so familiar with over the years. The foul language, as we've come to expect by now, is unedited on Blu-ray unlike on television, so you get the full-on experience.
The sixteenth season starts off immediately, tackling the post-9/11 society of fear and government intrusion into our personal lives with "Reverse Cowgirl" in which the TSA, Toilet Safety Administration, is tasked to make sure all men put the toilet seats down after they urinate, and also to examine everyone's rectums to make sure they're clean after a poop. "Faith Hilling" takes internet memes to the extreme, with cats developing intelligence and declaring war on humans, while "Jewpacabra" is a signature, anti-religious look at the absurdities of celebrating Easter and Passover, with a little bit of monster hunting thrown in for good measure. Season sixteen also garnered an Emmy nomination for the episode "Raising the Bar", which, as one would expect from South Park, spoofed the nation's obesity problem, white trash reality shows, and defrauding the government all at once.
In all, it's just another crazy, loony, and wholly hilarious season of South Park. Though there's really nothing unexpected, there's no place these folks won't go, like having a Jewelry Channel presenter who was defrauding seniors blow his brains out on air. Yep, they went there too.
Video Quality
[Rating:5/5]
The animation looks good enough to lick, almost like candy, in this AVC/MPEG-4 1080p encodement to Blu-ray. It's crisp, clean, and vibrantly saturated with no issues concerning aliasing, macroblocking or banding.
Audio Quality
[Rating:4.5/5]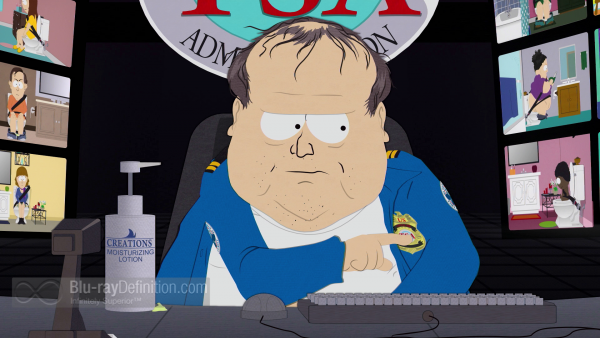 The main audio option is a rather well-done English Dolby TrueHD 5.1 (48kHz/24-bit) mix that has a lot of headroom, clean dialogue, and oodles of atmosphere. It really works well. There's also an English Dolby Digital 2.0 stereo option that is quite claustrophobic in comparison.
Supplemental Materials
[Rating:2/5]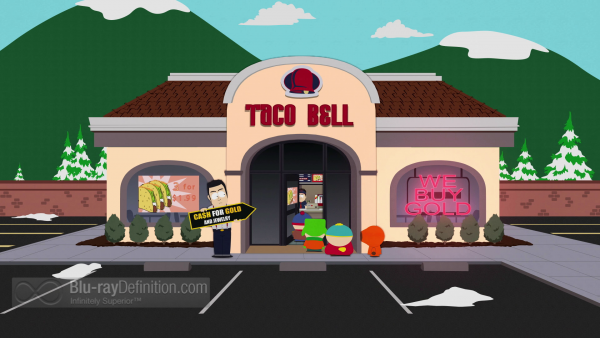 There's not much here, some short deleted scenes on disc 1, but we do get mini-commentaries for the entire set with Trey and Matt. Sadly, Paramount have opted not to include any form of digital copy or UltraViolet, or even a DVD with this set, so no real option for viewing it on the go.
The supplements:
Commentary with Trey and Matt
Deleted Scenes (1.78:1; 1080p/24; 00:04:16)
The Definitive Word
Overall:
[Rating:4/5]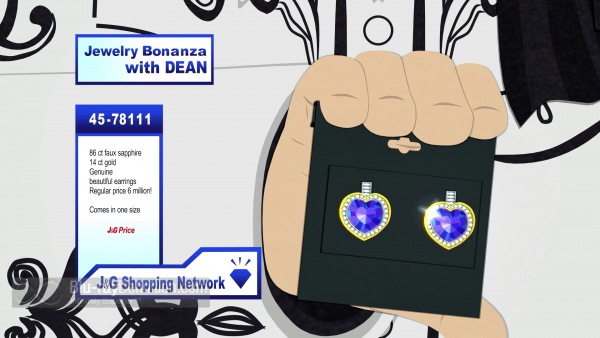 South Park: The Complete Sixteenth Season is another offensively funny season of this long-running animated series from Comedy Central. The Blu-ray release is a high quality, faultless, reference quality way to watch this series through all the way and prepare for the forthcoming seventeenth season.
Additional Screen Captures
[amazon-product]B009SQ9Y7M[/amazon-product]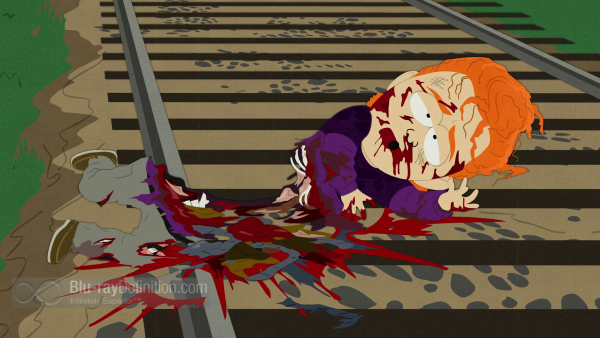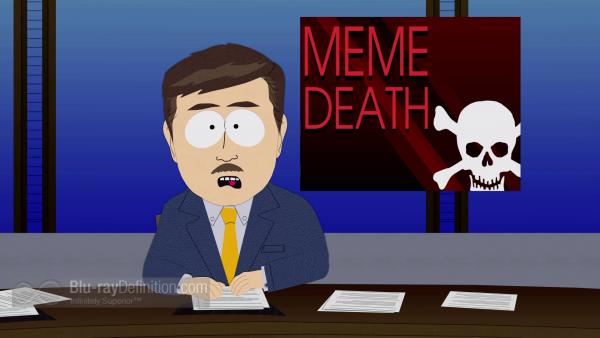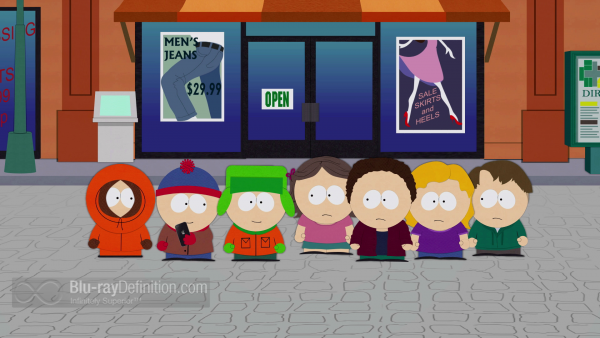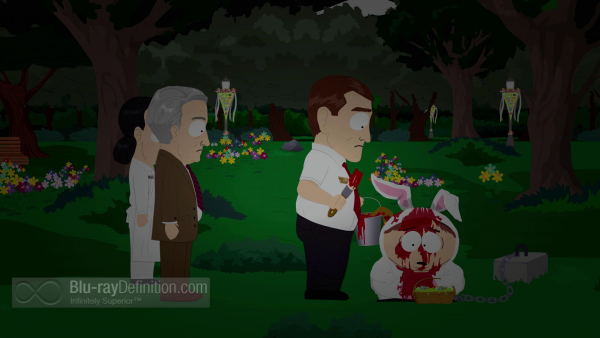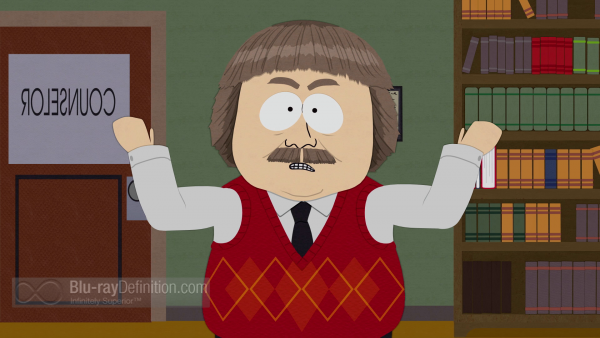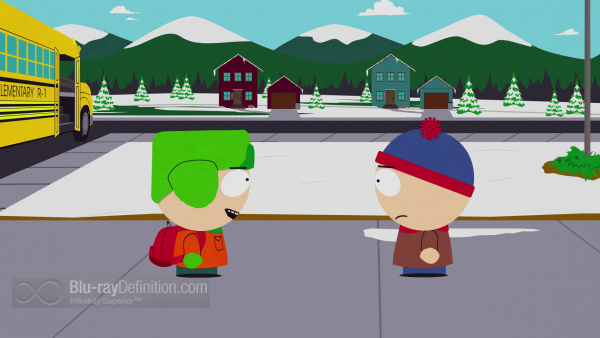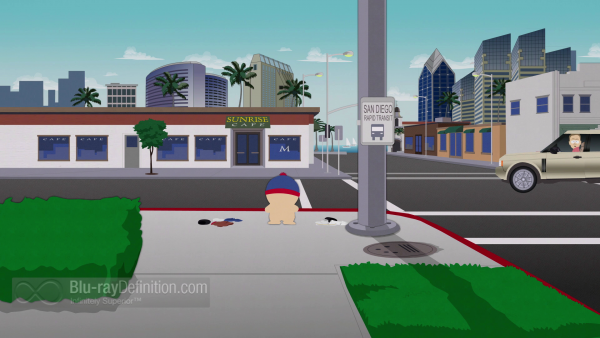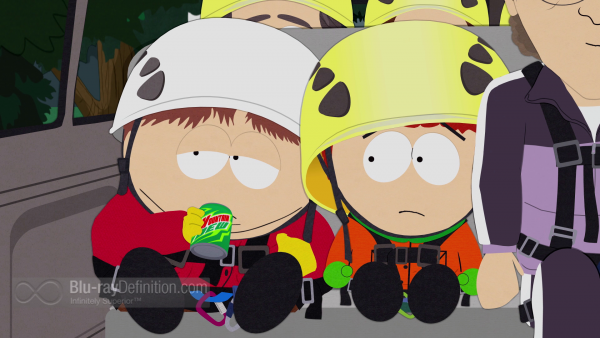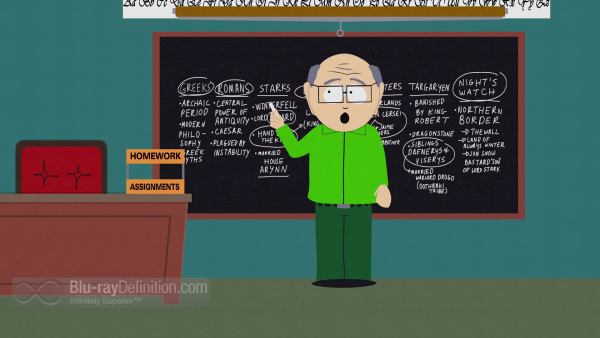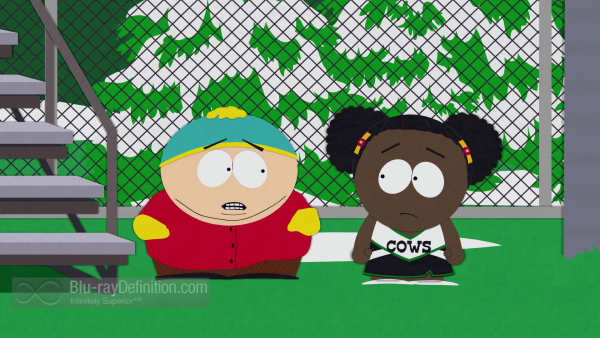 [amazon-product]B009SQ9Y7M[/amazon-product]