– –

The Series
[Rating:4.5/5]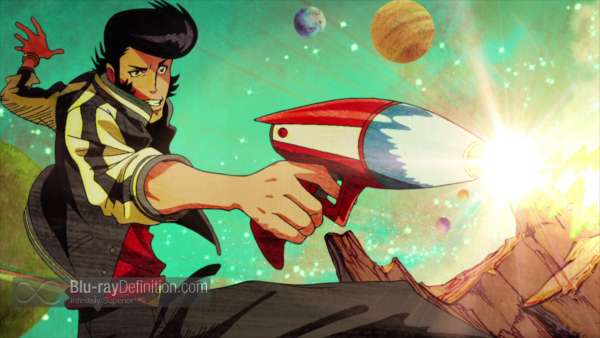 If you're looking for strange, funny, and gorgeous to look at, then you've found it in the anime series Space Dandy (スペース☆ダンディ). Colorful and groundbreaking animation not dissimilar from the Madhouse production Redline from a few years ago (Space Dandy is produced by the production house Bones), the series is an OVA (Original Video Animation) that follows the misadventures of a guy named Dandy, a "dandy guy in space", who, along with his robotic assistant QT and a cat-like companion named Meow attempts to capture rare alien species for a bounty. Unbeknownst to Dandy, he is also being pursued by Dr. Gel of the Gogol Empire, which is at war with the Jaicro Empire for control of the universe.
Space Dandy pretty much follows the escapades of these three hapless characters, often shifting into an alternate version of the Space Dandy universe with references to other sci-fi genres, such as one story arc in which the entire world is overrun by zombies, and Dandy, QT, and Meow all die. Despite this weirdness and tendency to disregard linearity, the series is easy to follow and extremely fun to watch. Dandy is a compelling character. A complete idiot and pervert, his sole desires in life are to make money and to experience Boobies – the restaurant chain with big-breasted waitresses (think an intergalactic version of Hooters). His Elvis Presley hairdo and absolutely clueless mindset make one want to root for him despite is completely self-centered attitude. The supporting crew of Meow and QT, a robot who comes across with really human characteristics, help to liven the place up. The writers also go a long way in helping viewers connect with Dandy on a more emotional level when they write in an episode where he actually, for once, does something altruistic by helping a little orphan girl, a prize alien catch no less, help escape from other alien bounty hunters, and find her grandfather. Wow, the guy actually has feelings, who knew?
The pack of Skittles that bursts open on the screen when you sit down to watch Space Dandy is just one level of what makes this series so enjoyable. The design work is also quite remarkable, from the character designs to the background details. This one, which often drifts from one style to another in one episode, is experimental while remaining consistent across the entire series. This is not just your average, production line anime series, but one to be reckoned with and remembered for a long time.

Video Quality
[Rating:4.5/5]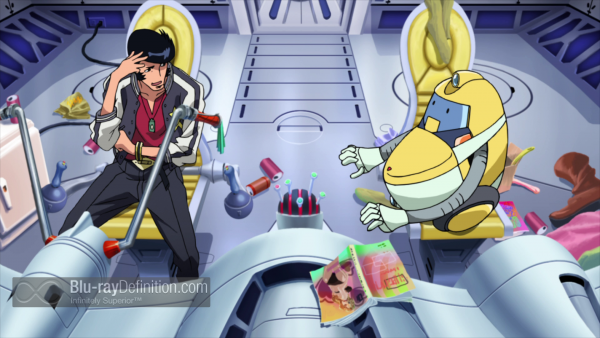 What can one say about Space Dandy's digital animation on Blu-ray? The candy-colored palette lends itself well to high definition, and apart from issues with color banding that pop up mostly in darker areas, this AVC 1080p encodement really pops, looks fairly clean and lively, and will really please most viewers.

Audio Quality
[Rating:3.5/5]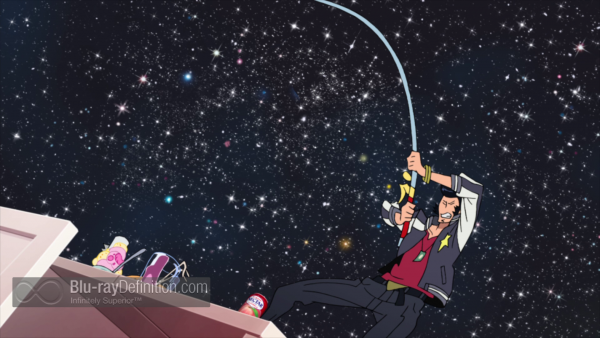 We get the original Japanese-language track in Dolby TrueHD 2.0 stereo and an English dub in Dolby TrueHD 5.1. As seems to be typical for FUNimation, the sound is mastered rather low and has a limited dynamic range, particularly for the English 5.1, but it does have a welcome expansiveness and good balance with some discrete effects in the surrounds and mildly boosted low end not there in the 2.0 mix. The Japanese track is still of a higher caliber even though one is giving up the extra channels. The voice cast is funnier with the characters and the sound has a little more breath as well, even if the stereo imaging still seems a little stifled.

Supplemental Materials
[Rating:3/5]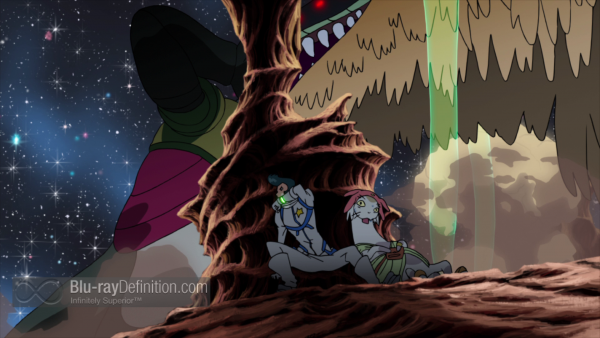 DVDs – 2 DVDs with the series in standard definition
Episode 01 Commentary
Episode 10 Commentary
Dandy Guy in Space: Part 01 (1.78:1; 1080p/24; 00:34:38)
Volume 1 Teaser Trailer (1.78:1; 1080p/24; 00:02:02)
Promotional Video 1 (1.78:1; 1080p/24; 00:01:12)
Promotional Video 2 (1.78:1; 1080p/24; 00:01:30)
Commercials (1.78:1; 1080p/24; 00:00:49)
Blu-ray & DVD Commercials (1.78:1; 1080p/24; 00:00:34)
Textless Opening Song
Textless Closing Song
U.S. Trailer (1.78:1; 1080p/24; 00:01:33)
FUNimation Trailers
Limited Edition comes with a set of 6 character art cards

The Definitive Word
Overall:
[Rating:4/5]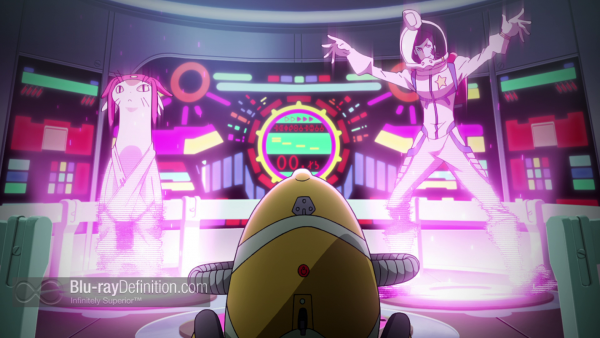 Colorful, action-packed, and hilarious, Space Dandy is a contender for most inventive comedy adventure anime series to come along in a long while. It combines the hipness of Cowboy Bebop with the cutting edge animation of Redline for something wholly new and enjoyable.
Additional Screen Captures
[amazon-product]B00Q582KZY[/amazon-product]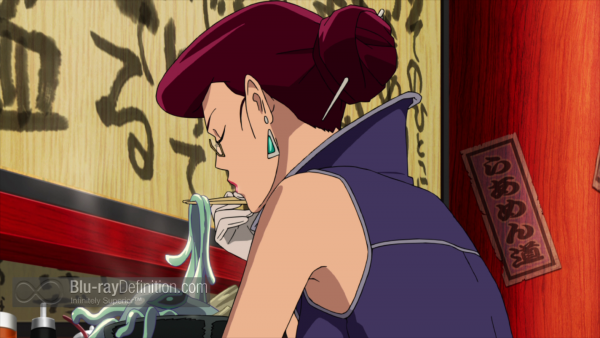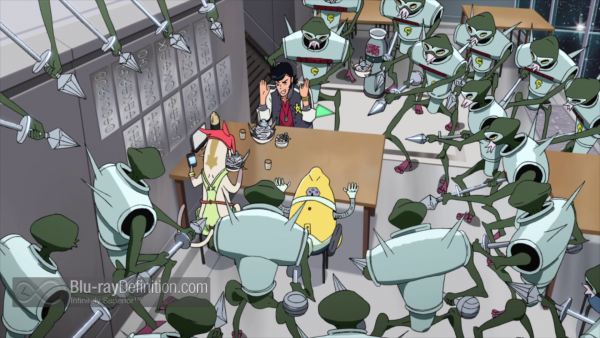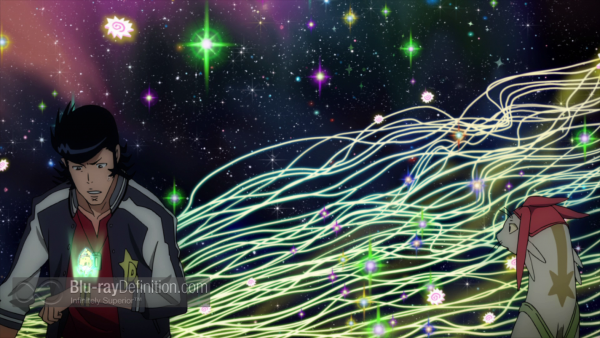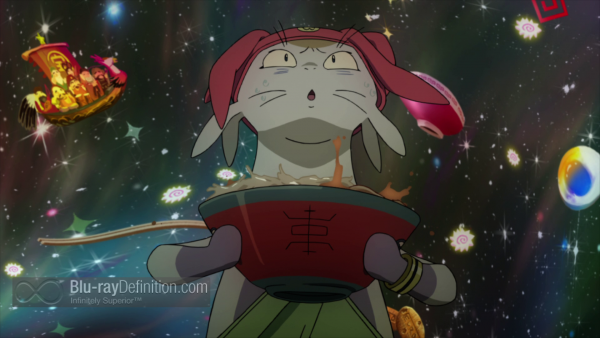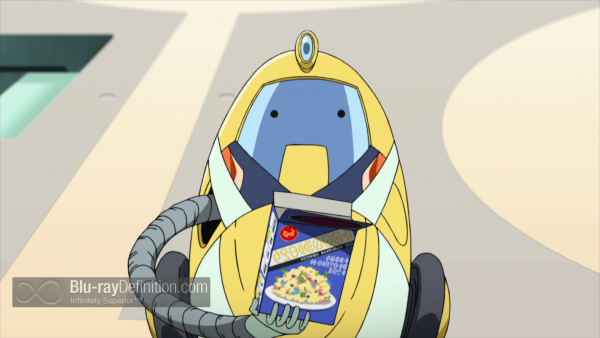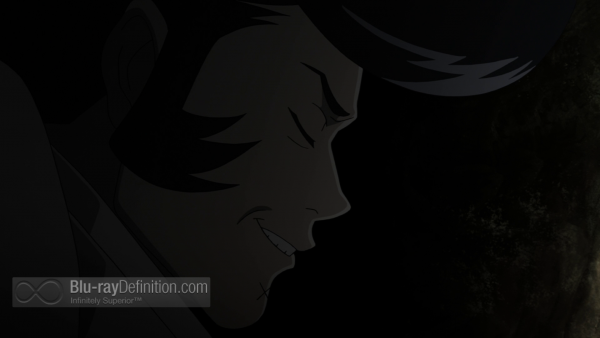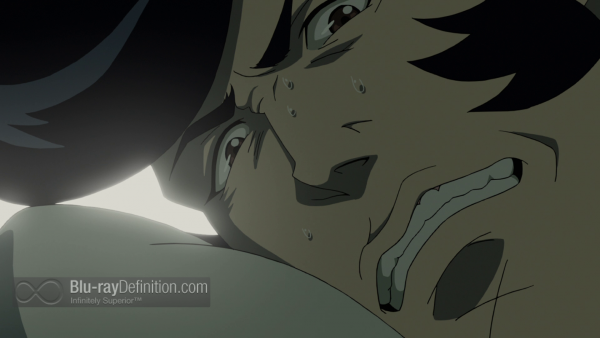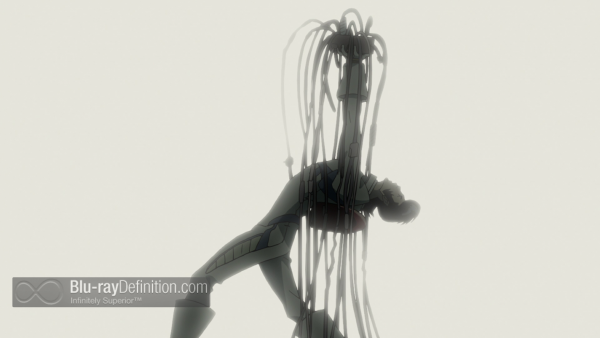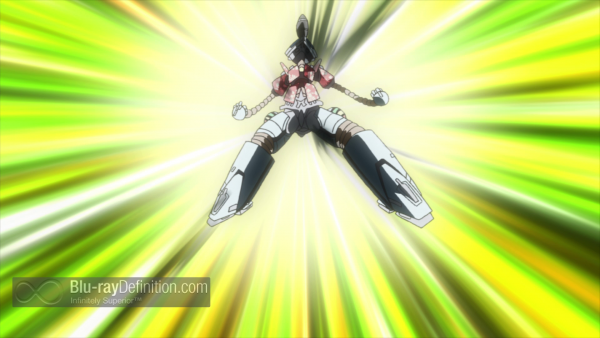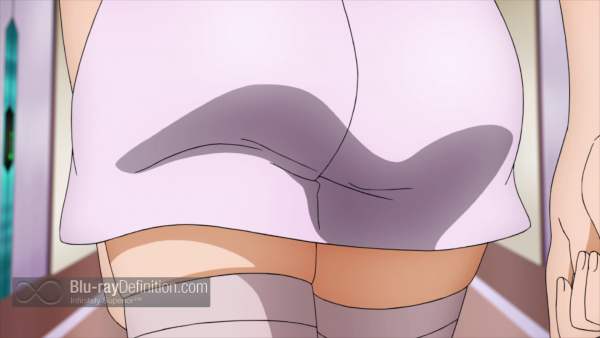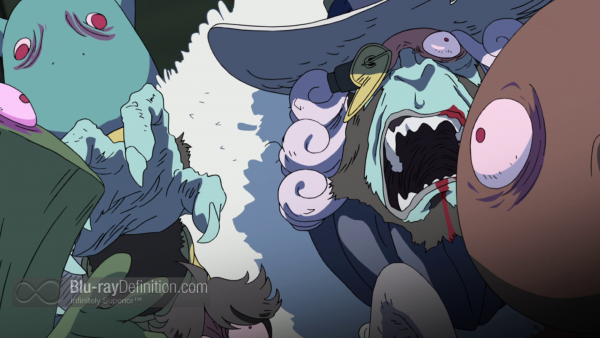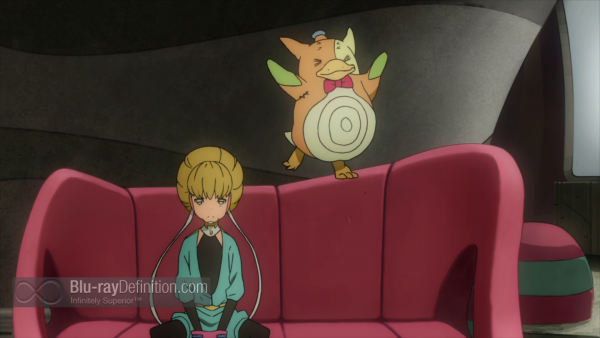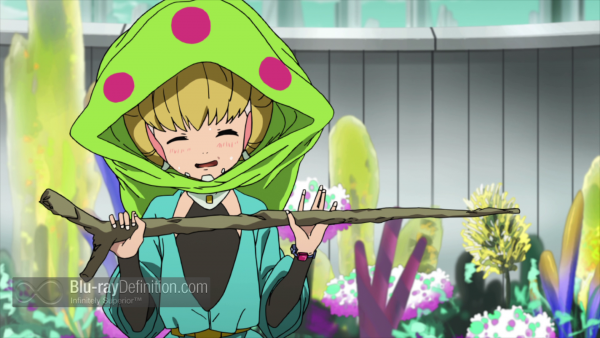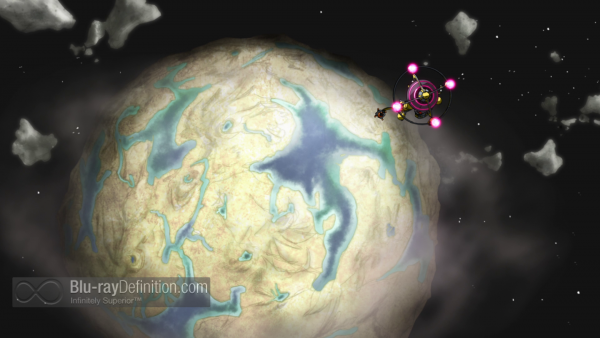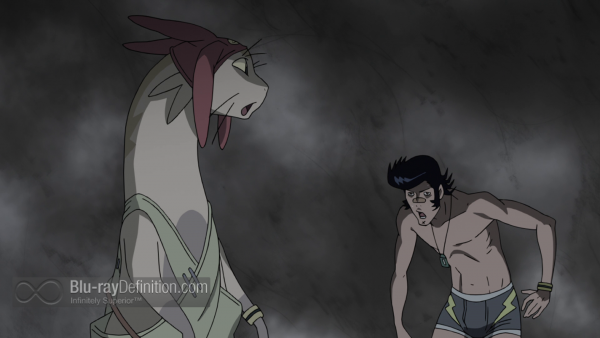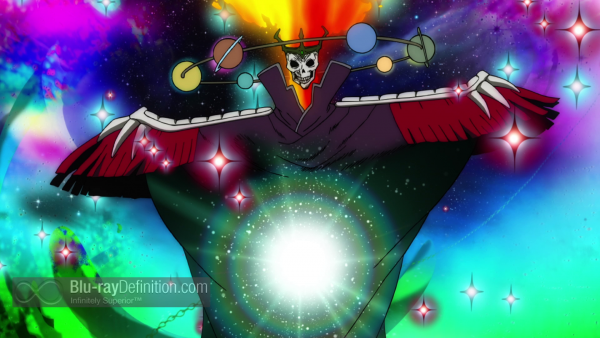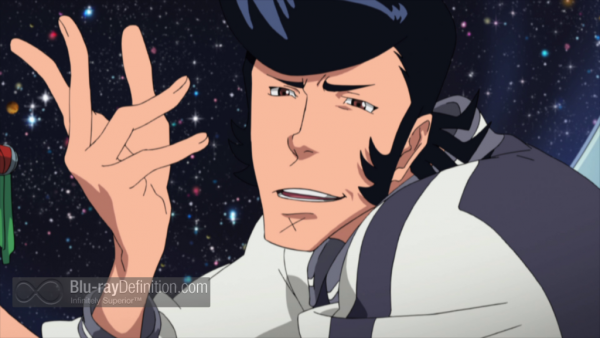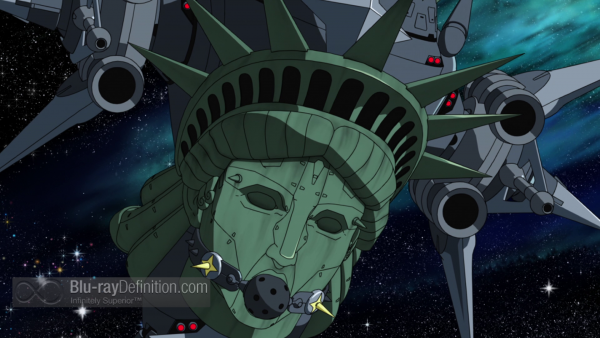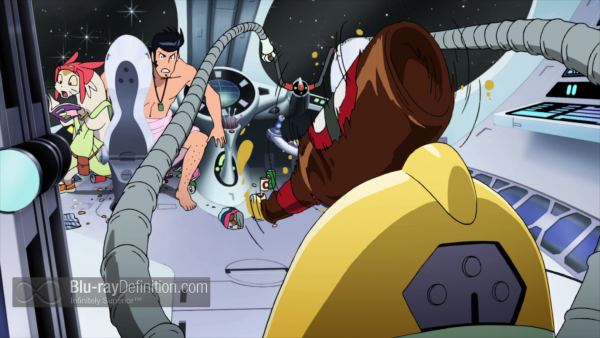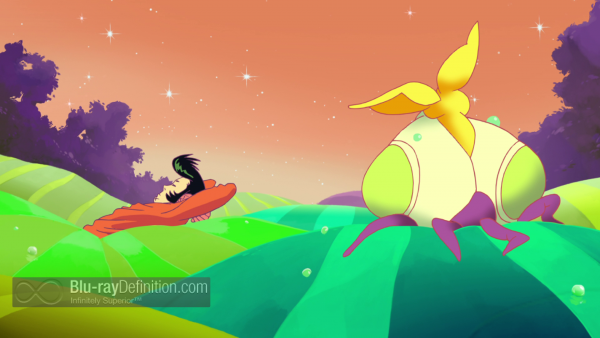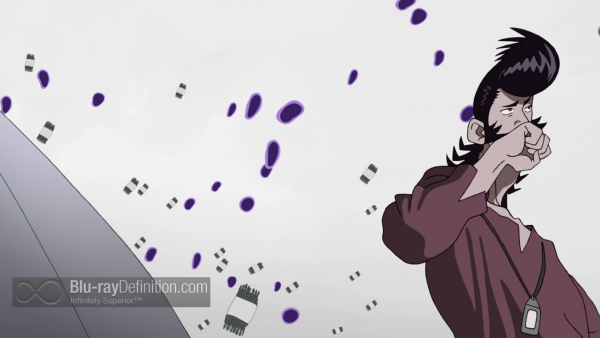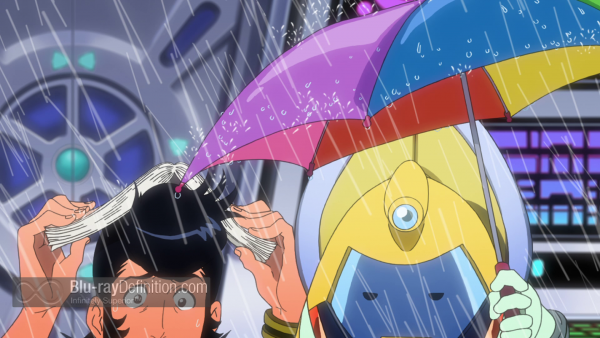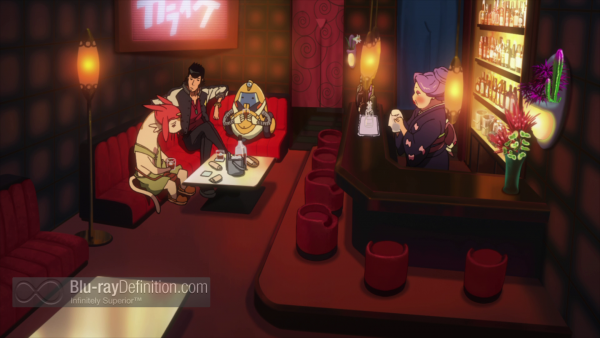 [amazon-product]B00Q582KZY[/amazon-product]