Aspect Ratio: 1.78:1; 1.85:1

Video Codec: AVC/MPEG-4

Resolution: 1080p/24

Audio Codec: English DTS-HD Master Audio 5.1, Spanish Dolby Digital 5.1
Subtitles: English, English SDH, Spanish

Rating: PG

Region: A (Region-Locked)

Discs: 3 (3 x Blu-ray)

Studio: Lionsgate/Miramax

Blu-ray Release Date: November 15, 2011


List Price: $39.99



[amazon-product align="right"]B005J9ZGSI[/amazon-product]
Purchase Spy Kids: Triple Feature on Blu-ray at CD Universe
Shop for more Blu-ray titles at Amazon.com
Overall
[Rating:3.5/5]
The Film(s)
[Rating:3/5]
Video Quality
[Rating:3.5/5]
Audio Quality
[Rating:4/5]
Supplemental Materials
[Rating:3.5/5]
Click thumbnails for high-resolution 1920X1080p screen captures
(Screen captures are lightly compressed with lossy JPEG  thus are meant as a general representation of the content and do not fully reveal the capabilities of the Blu-ray format)
–
The Films
[Rating:3/5]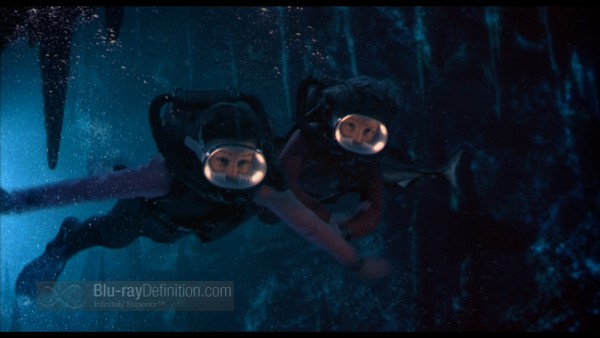 What a surprise box office hit Spy Kids was in 2001 for Robert Rodriguez, the director who would go one to direct such acclaimed films as Once Upon a Time in Mexico, Sin City, and Grindhouse: Planet Terror. Already showing a mastery over the digital visual effects that would come to define his filmmaking style, Spy Kids was somewhat innovative in that department, especially given its relatively low budget of $35 million.
Definitely designed from the outset to appeal to younger audiences, Spy Kids is the story of a family whose parents have been keeping a secret. Gregorio and Ingrid Cortez (Antonio Banderas and Carla Gugino) were the world's greatest spies from two different countries. They had a talent for disguise and invention. Their last assignment was to "take out" the other, but when they finally met faced to face, they were so charmed with each other that they fell in love, got married, settled down together and raised a family. Now, it's 9-years later and they have two children who know nothing of their secret life of spying. But their former colleagues, some of the greatest spies in the world, have been mysteriously disappearing and the two domesticated love birds are once again called into action to investigate. When they also go missing, their two children, Carmen (Alexa Vega) and Juni (Daryl Sabara), are the only ones who can come to their rescue. It's a wild adventure that involves an evil genius named Floop, who also happens to be a children's TV star, weird thumb-shaped creatures, and cybernetic children.
Of course, Spy Kids is full of silliness from start to finish that most adults will tire of rather quickly, but this is certainly good natured, good humored, action for the tweens in your life. It never takes itself too seriously and it makes for a great bit of stay-home weekend entertainment with a big bowl of popcorn or the salty snack of your choice.
With the surprise success of the first Spy Kids, Robert Rodriguez came back with a slightly higher budget (about $4 million more) and a more special effects-driven film as the follow up. But special effects do not make a movie and Spy Kids 2: The Island of Lost Dreams lacks some of the original silly charm and wit of its predecessor.
In Spy Kids 2 the Cortez kids, Carmen (Alexa Vega; From Prada to Nada) and Juni (Daryl Sabara; A Christmas Carol), are back, this time fully-fledged spies and members of the OSS, which has an official Spy Kids division. The division's top agents with Level 2 clearance, it doesn't take long for the action to start, first when Juni must rescue The President's daughter from a precarious situation atop a cutting-edge amusement park ride, then when the two secret agent siblings have to recover a stolen gadget known as the Transmooker. The Transmooker is capable of shutting down all electronic devices and in the wrong hands has the potential for cutting off all the energy in the world. The search leads Carmen and Juni to a secret tropical island where they must battle strange creatures and contend with the mad scientist Romero (Steve Buscemi) all without the aid of their tech gadgets. If that wasn't bad enough, they must contend with Spy Kid agent wannabe-favorites, Matt and Gerti Giggles who will stop at nothing to make the Cortez siblings look bad and steal the spotlight for their own advancement in the OSS.
No doubt tweens will still enjoy this high-tech romp, but adults won't enjoy this as much as the first. Never fear, though, Spy Kids 2 remains just as family friendly as its predecessor and will still supply a relatively entertaining family night with the younger ones.
The third installment in the Spy Kids franchise ratchets up the action and special effects once again plus adds even more big stars to help carry what is its thinnest, most derivative plot. Sylvester Stallone, Salma Hayek, and Ricardo Mantalban join returning Spy Kids Alexa Vega and Daryl Sabara with Antonio Banderas and Carla Gugino who also return as the Cortez parents for this family-friendly action flick.
Spy Kids 3: Game Over, what was in 2003 the first American 3D film released to theatres by a major studio since 1991's Freddy's Dead: The Final Nightmare, arrives on Blu-ray sans the 3D, but with a solid 2D-only high-definition transfer. If only that were enough to forgive what is a plot that is obviously lifted from another, even older film.
The younger Cortez sibling Juni is now out of the spy game and working as a private eye doing odd jobs, but he is called back into action by the President (George Clooney). There's a major new videogame, Game Over, that has all the kids going crazy to play it, but its a threat to worldwide security. The virtual reality game is ensnaring the minds of kids all over the world and keeping them trapped in the game world. Juni's sister Carmen, still an OSS agent, was sent into the game to investigate and became trapped herself. Juni must go into the game, find his sister, and conquer the Toymaker by first beating the game's unbeatable Level 5.
With its neon-colored uniforms, virtual reality battles, cycle races and more, not to mention the very premise of being trapped in a game to start with, the whole film feels like an unapologetic rip-off of Tron (1982).
Video Quality
[Rating:3.5/5]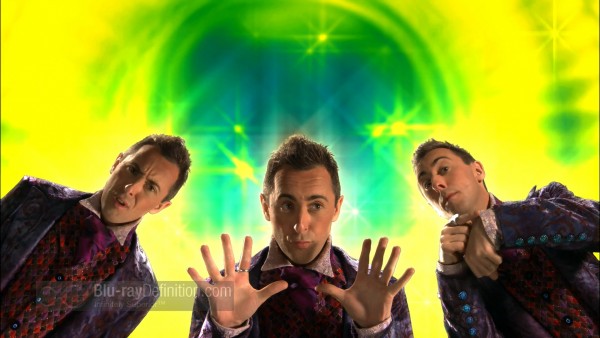 Each disc in the set retains the same transfer their previous individual Blu-ray releases. As before, each comes with an AVC/MPEG-4 1080p/24 transfer of the film and neither looks particularly film-like given that they are all produced at a relatively low budget in high definition. From the first to the third, there are incremental increases in picture quality. Neither film looks incredibly detailed, but each has good color reproduction and relatively solid black levels.
Audio Quality
[Rating:4/5]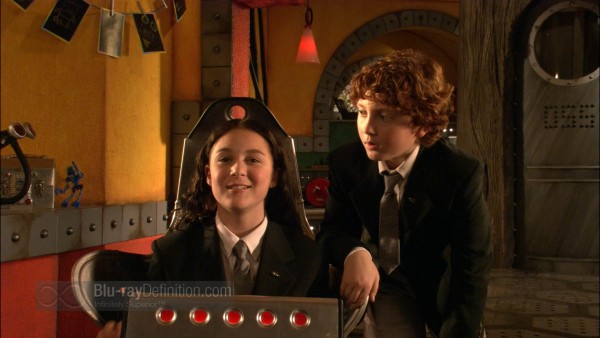 There are lossless DTS-HD Master Audio 5.1 soundtracks for each film with somewhat aggressive mixes provided, although they are not the most reference sounding releases I've heard. Each makes good use of the surround channels with various discrete sound effects and each mix has some nicely extended low frequencies, but none of them is outright audacious and ground shaking in its handling of the low spectrum of sound.
Supplemental Materials
[Rating:3.5/5]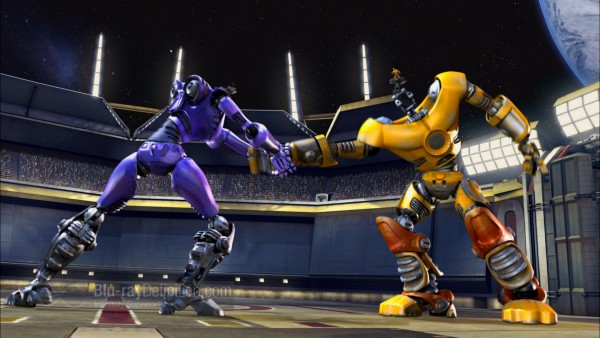 There are no new extras added to this three-pack, this is just a straight repackaging of the discs.
Here is the complete list of supplements:
Spy Kids:
Growing Up Spy Kids (1.78:1; 1080p/24; 00:48:10)
Robert Rodriguez Ten Minute Film School (1.78:1; 00:08:06) – Rodriguez shows how they did the visual effects on Spy Kids.
Cooking School (1.78:1; 1080p/24;00:06:04) – The director shows how to cook his "famous" Texas-style grilled cheese sandwich and "healthy" fruit smoothies.
Stunt Piece (00:06:48) – At look at the stunts done by the young Alexa Vega and Daryl Sabara.
Special Effects Piece (00:07:03) – A look behind-the-scenes at the makeup artists doing their thing.
Teaser Trailer (1.33:1; 480i/60)
Theatrical Trailer (1.33:1; 480i/60)
Spy Kids 2:
Robert Rodriguez Ten Minute Film School (1.33:1; 480i/60; 00:09:55)
A New Kind of Stunt Kid (1.33:1; 480i/60; 00:06:41)
Audio Commentary by Robert Rodriguez
Lost Scenes with Optional Director's Commentary (1.33:1; 480i/60):

Intro to Spy Kids
Donnagon Intro
Dad Frees Juni
All Out of Heroes
Lollipop Synchronization
Gary and Gerti Return
Romero Escape
Grandpa Lays Down the Law

"Isle of Dreams" Music Video (1.33:1; 480i/60)
School at Big Bend National Park (1.33:1; 480i/60; 00:04:57)
Essential Gear: The Gadgets of Spy Kids (1.33:1; 480i/60; 00:03:15)
Behind-the-Scenes Montages (1.33:1; 480i/60):

Costa Rica
Cliff Stunt
Inflate-a-Suit
Spay Gala
Theme Park
Romero's Hideaway

Total Access 24/7: "A Day in the Life of Spy Kids" (1.33:1; 480i/60; 00:21:41)
Teaser Trailer (1.33:1; 480i/60)
Theatrical Trailer (1.33:1; 480i/60)
Spy Kids 3:
Robert Rodriguez Ten Minute Film School (1.33:1; SD; 00:09:51) –The Director shows and discusses the green screen visual effects work for the film.
Alexa Vega in Concert:

Game Over
Heart Drive
Isle of Dreams

Audio Commentary by Robert Rodriguez
The Making of Spy Kids 3-D: Game Over (1.33:1; SD; 00:21:14)
The Effects of the Game (1.33:1; SD; 00:06:40)
Making Tracks with Alexa Vega (1.33:1; SD; 00:00:59) – A Brief look at the actress laying down vocal tracks for her song "Game Over"
Surfing and Stunts (Multi Angle) (1.33:1; SD; 00:01:08) – Storyboards
Big Dink, Little Dink (1.33:1; SD; 00:01:40)
Theatrical Trailer (1.33:1; SD)
The Definitive Word
Overall:
[Rating:3.5/5]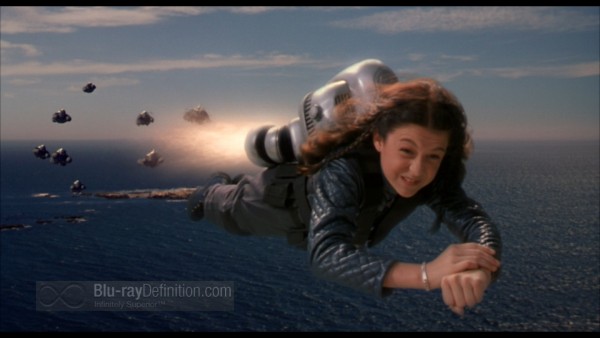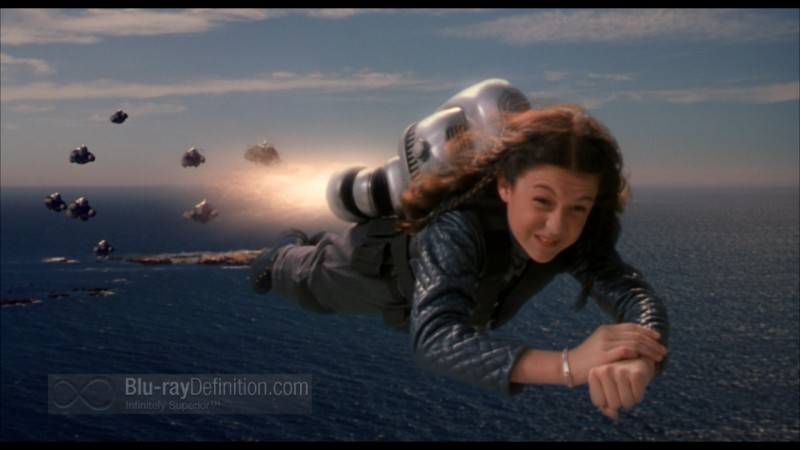 They are not great movies by any means, but the Spy Kids films, at least the first two, make for fun family entertainment. This triple-feature is just a repackaging of all three original Spy Kids movies with all the original special features minus the digital copies, so if you haven't purchased them already, this might make a good stocking stuffer.
–
[amazon-product align="right"]B005J9ZGSI[/amazon-product]
Purchase Spy Kids: Triple Feature on Blu-ray at CD Universe
Shop for more Blu-ray titles at Amazon.com
Overall
[Rating:3.5/5]
The Film(s)
[Rating:3/5]
Video Quality
[Rating:3.5/5]
Audio Quality
[Rating:4/5]
Supplemental Materials
[Rating:3.5/5]
–