– –

The Series
[Rating:4/5]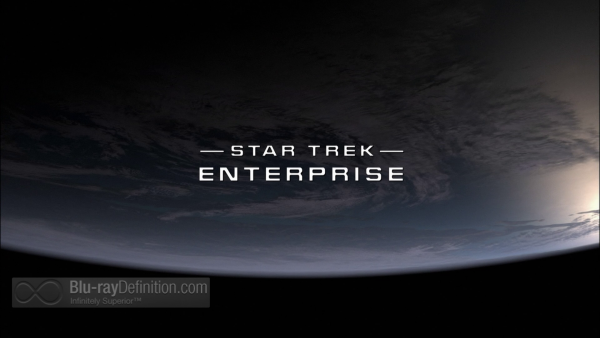 Star Trek: Enterprise, or simply, "Enterprise", as it was initially known, was the fifth and final series in the long and illustrious Star Trek franchise. A prequel to the original 1960s Star Trek, the series charted the journey of the original Enterprise crew in the 22nd century, as captained by one Jonathan Archer (Scott Bakula). The series initially started off with a warm reception from fans, but very quickly dropped in ratings. One can speculate on what the problem might have been, but many might say, this reviewer included, that the stories, especially in this first season, just were not compelling enough. Of course, coming off of four previous series, Enterprise had a lot to live up to. The very first issue with this series was, there was nothing to differentiate it from The Next Generation or Voyager, for that matter, the latter of which had just gone off the air. It was just another series in the ongoing franchise following a crew finding adventures throughout various star systems.
As originally intended, Enterprise was meant to be more down to earth, populated by characters closer to what we, today, could relate to rather than the often aloof, almost sanitized world of Starfleet and the Prime Directive. In fact, in this series, the Prime Directive has not yet been established, Captain Archer and his crew, are still trying to break out of the shadow of their Vulcan partners, even as Enterprise includes its own Vulcan science officer, T'Pol (Jolene Blalock).
The second season of this oft-maligned entry in the Star Trek franchise kicked off with a reasonably strong conclusion to the cliffhanger "Shockwave" from the premiere season and laid the groundwork for Captain Archer's importance in the eventual formation of The Federation and the ongoing Temporal War. It established the series as, if not a great entry in the franchise, but at least one that was not a complete disaster, especially in its continuing character development, though its writing across episodes remained hit and miss. One-offs like an entire episode dedicated to Captain Archer's dog, Porthos, being ill didn't help matters along much.
Enter season three, the series came off the shocking cliffhanger that saw the Earth attacked by an alien probe and 7-million people killed. Archer and crew head out into a vast, uncharted area of space known as "The Expanse" to hunt down the aliens responsible and seek retribution. The aliens, known as The Xindi, are a race of 6 uniquely-evolved species determined to wipeout humans because they believe in the future humans will destroy their home world. It leads to a story arc for the third season that finds Captain Archer and his crew making some questionable moral decisions to fulfill their mission, such as torturing people for information ("The Anomaly") and creating a fully-sentient clone of Commander Tucker ("Similitude") with only a 30-day lifespan in order to use the clone's brain tissue to save "Trip's" life.
The season also makes some other changes, no doubt to gain a wider viewing audience and to try to appeal to its target demographic. T'Pol, for instance, is freed from the Vulcan High Command and becomes a full-fledged part of the Enterprise crew. She also discovers more colorful and sexier bodysuits and lingerie, and an excuse to use some steamy Vulcan body massage techniques on Commander Tucker. Even the lovely Linda Park (Ensign Hoshi Sato) gets to strut her stuff and show off her feminine wiles, particularly in the Beauty and the Beast inspired episode "Exile", where Hoshi is lured to a distant planet and romanced by a strange telepathic alien, all for the promise of information on the Xindi and where they are building their weapon. This, of course, gives her the opportunity to ditch the unflattering jumpsuit and wear some sexy outfits as well.
This new, edgier Enterprise with a stronger sense of purpose is a better overall series with stronger characters to care about, even if the season does still manage to go astray with some ludicrous one-off episodes. Even those episodes still somehow manage to tie back in to the hunt for the Xindi, however, even if some of them smack of rehashing old themes from previous Trek series, such as "Twilight", where Archer loses his long-term memory and lives a lifetime in an alternate reality.
Video Quality
[Rating:3.5/5]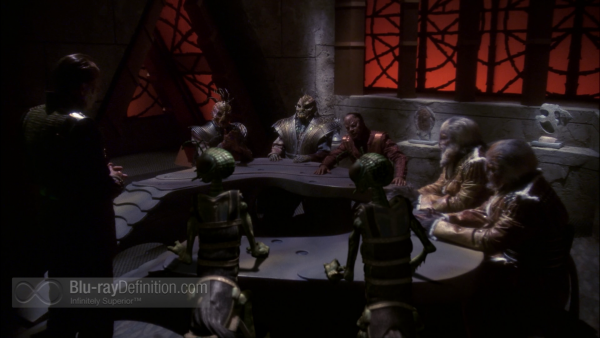 Season Three of Star Trek: Enterprise is the last that was produced with 35mm, Kodak Vision 500T 5279 film stock in the Super 35 format. The transfer to Blu-ray from CBS/Paramount was encoded in AVC/MPEG-4 at 1080p/24 like the previous two seasons, and like the previous two seasons, it looks only average, at best and bad at worst. Perhaps it is the condition of the original source, but there is definite noise in the image, a tendency for the grain structure to waver, and lots of softness. The series was also not a very colorful one, in contrast to other Star Trek series that populated the airwaves, so the cold palette and shadowy cinematography don't help it out much either. Issues with motion resolution and stairstepping are still present in the CGI graphics as well, which probably cannot be fixed unless those effects were completely redone.
Audio Quality
[Rating:4/5]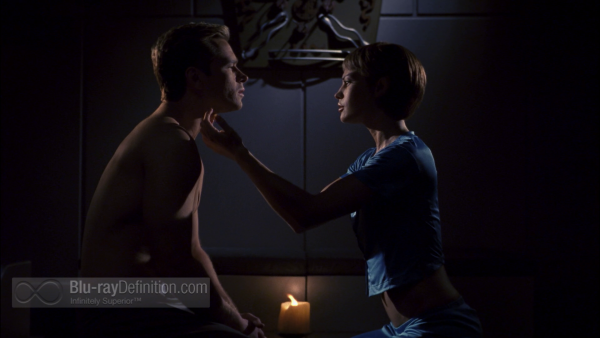 The English DTS-HD Master Audio 5.1 (48kHz/24-bit) soundtrack for season three seems a bit more active than I recall for the previous two seasons, though it is hardly as boisterous as the newly redone Next Generation remixes. It still tends towards being more atmospheric, with slight sound effects in the surrounds, but it livens up a lot during the numerous actions sequences and place louder effects discretely around the room. Lows extend rather far and the high end is very tolerable on the ears.
Supplemental Materials
[Rating:4/5]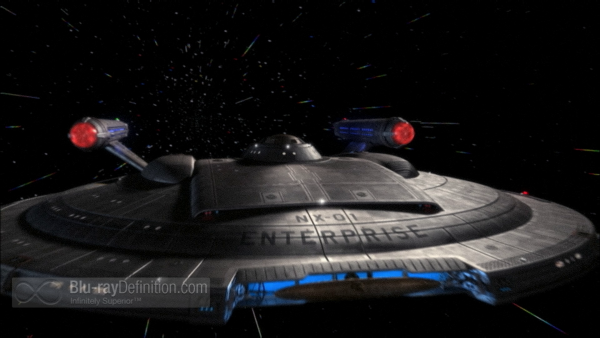 There's a wealth of extras included in this set, but not much of anything that hasn't appeared previously elsewhere. Disc 4 doesn't contain any supplements at all. Disc 6 is where you'll find the new HD documentary material.
The supplements:
Disc 1:
"The Xindi" Text Commentary by Mike & Denise Okuda (2005)
Archival Mission Logs:

The Xindi Saga Begins (1.33:1; SD; 00:13:12)
Enterprise Moments: Season Three (1.33:1; SD; 00:12:58)
Disc 2:
"Impulse" Episode Commentary by David Livingston and David A. Goodman
"Impulse" Text Commentary by Mike & Denise Okuda (205)
"Twilight" Episode Commentary by Mike Sussman and Tim Gaskill (2008)
Disc 3:
"North Star" Episode Commentary by David A. Goodman and Chris Black
"North Star" Episode Commentary by Michael Demeritt (2005)
"Similitude" Episode Commentary by Manny Coto and Connor Trinneer
"Similitude" Episode Commentary by Manny Coto (2005)
"Similitude" Deleted Scenes (1.78:1; SD; 00:02:30)
"Chosen Realm" Deleted Scene (1.78:1; SD; 00:01:08)
Disc 5:
"The Forgotten" Episode Commentary by David A. Goodman, Chris Black and Connor Trinneer
"E2" Deleted Scenes (1.78:1; SD; 00:04:42)
Disc 6:
"Countdown" Episode Commentary by Chris Black and André Bormanis
"Countdown" Text Commentary by Mike & Denise Okuda
In a Time of War:

Part One: Call to Arms (1.78:1; 1080p/24; 00:28:07)
Part Two: Front Lines (1.78:1; 1080p/24; 00:29:51)
Part Three: Final Conflict (1.78:1; 1080p/24; 00:28:36)

Temporal Cold War: Declassified (1.78:1; 1080p/24; 00:20:17)
Archival Mission Logs:

Enterprise Profile: Conner Trinneer (1.33:1; SD; 00:17:15)
A Day in the Life of a Director: Roxann Dawson (1.33:1; SD; 00:17:27)
Behind the Camera: Marvin Rush (1.33:1; SD; 00:15:44)
Enterprise Secrets (1.33:1; SD; 00:04:12)
Outtakes (1.33:1; SD; 00:06:14)
Photo Gallery (1080p/24)
NX-01 File 07 (1.33:1; SD; 00:01:37)
NX-01 File 08 (1.33:1; SD; 00:05:46)
NX-01 File 09 (1.33:1; SD; 00:03:09)
The Definitive Word
Overall:
[Rating:4/5]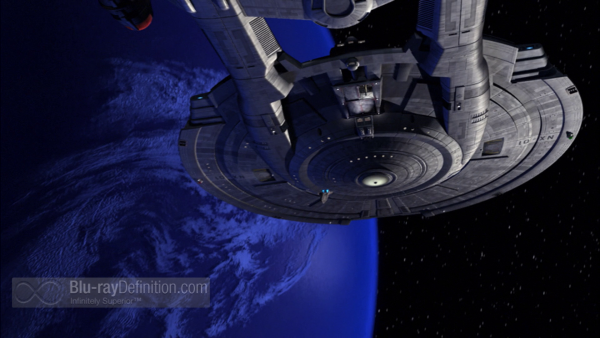 Season three is the best season yet of Enterprise yet to hit Blu-ray, providing a perfect opportunity to reexamine this series' place in the Star Trek franchise. It may not reach the level of the original series or The Next Generation, but it may surprise you yet.
Additional Screen Captures
[amazon-product]B00FFEM0W2[/amazon-product]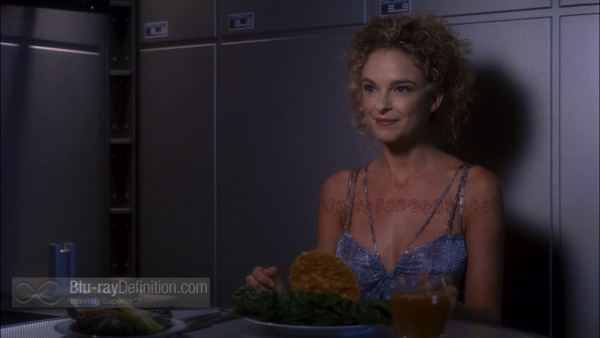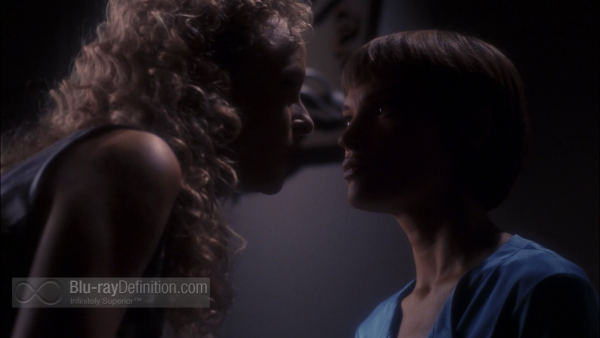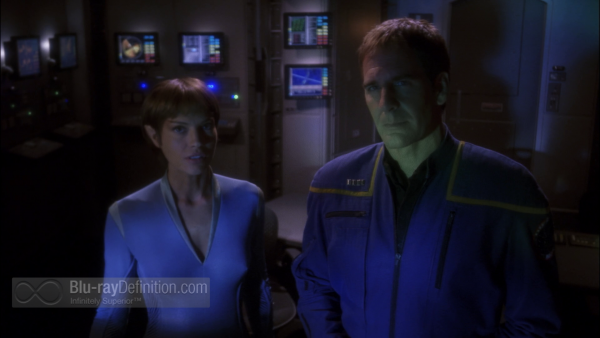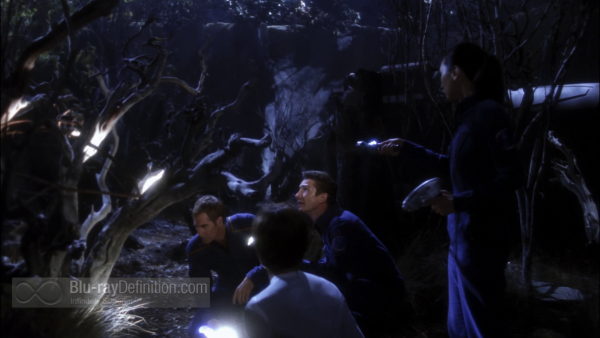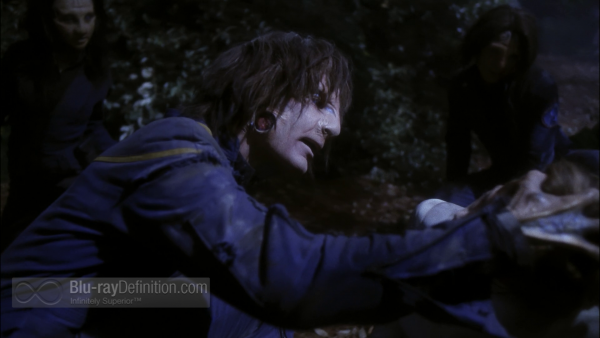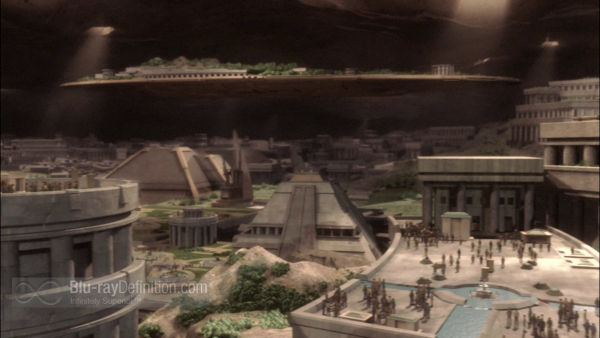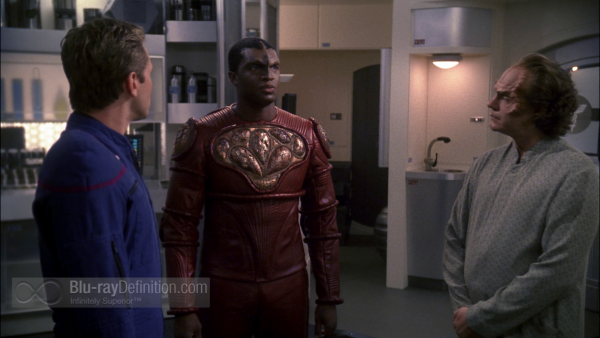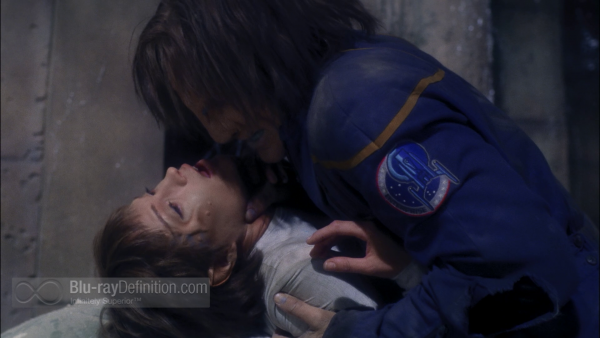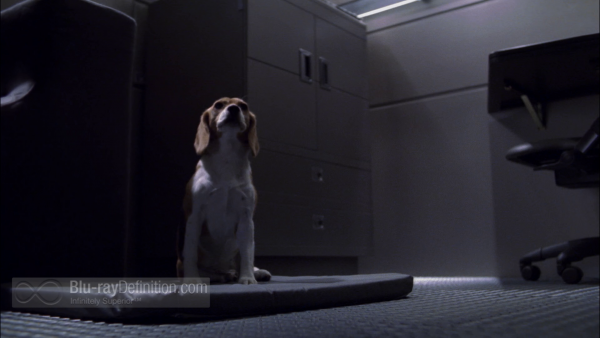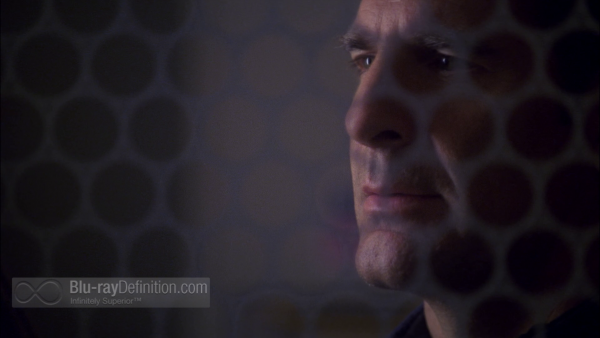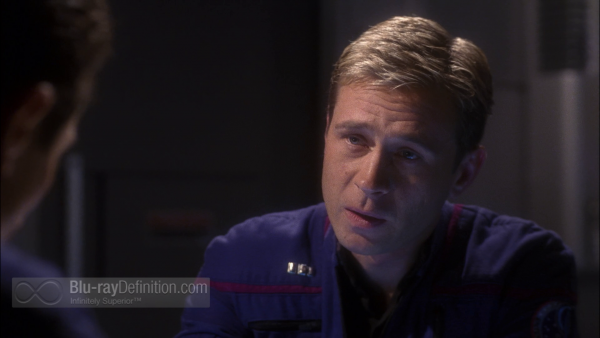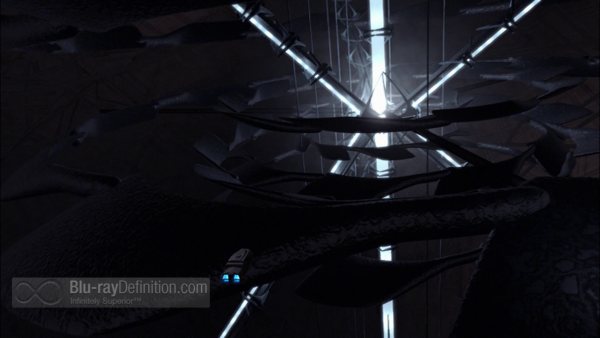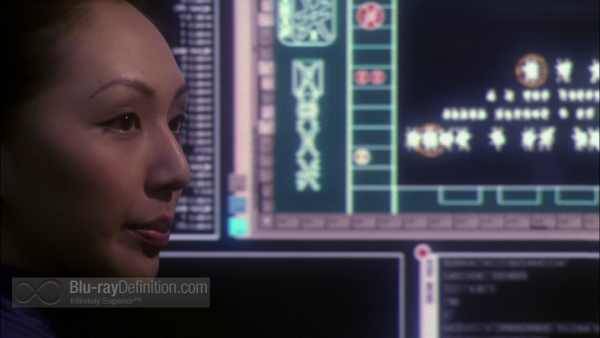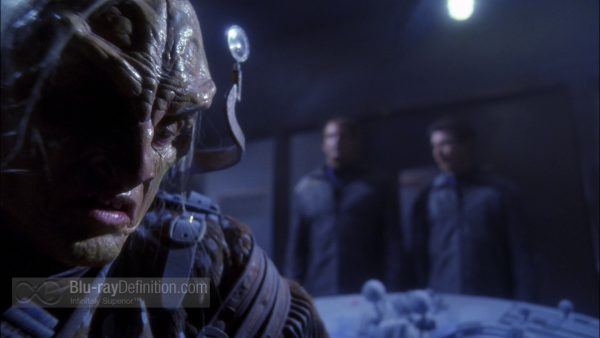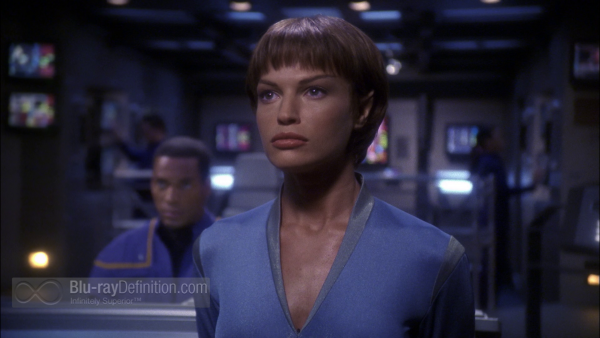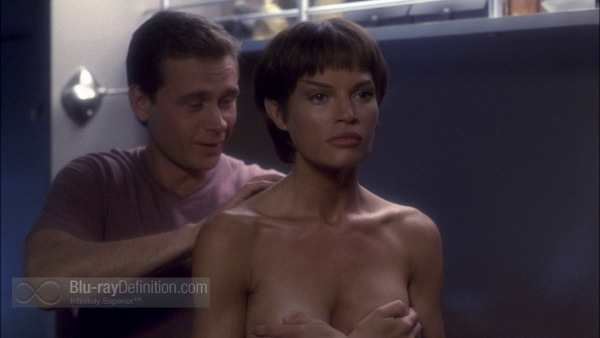 [amazon-product]B00FFEM0W2[/amazon-product]