– –

The Film
[Rating:4/5]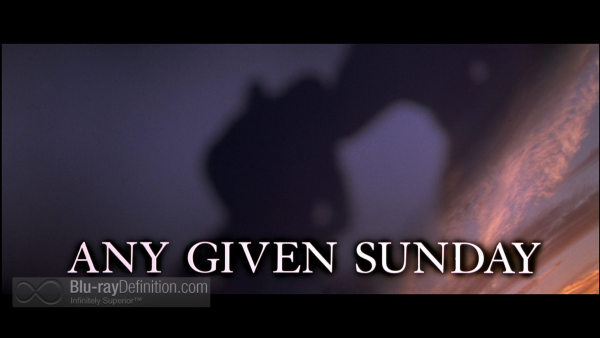 The success of a good sports film usually relies on making the sport it revolves around seem greater than a simple game, moving it into the realm of legendary feats of mythic proportions. We've seen this time and again with films like Field of Dreams or Remember the Titans. Director and co-writer Oliver Stone (Wall Street) stakes his claim in the heavily populated sports legend genre with this 1999 outing, Any Given Sunday.
Stone's way of removing the story from a simplistic look at simple game of football is to look at the inner workings of a professional football team as they struggle to make it into the post season while in the throes of a losing streak near the end of season. He uses the technique of splicing in scenes from Ben-Hur (1959) to equate the sport itself to that of a war, and its players gladiators, not an uncommon analogy. He also uses interspersed footage of some of the legends of the game, like coach Vince Lombardi and others to evoke the game's more storied past.
Meanwhile, his present story, about a team in Miami, the Sharks, whose veteran quarterback Jack 'Cap' Rooney (Dennis Quaid) goes out with what could be a career-ending back injury just as the team hits a three game losing streak, and must turn to the untested but quite cocky third-stringer Willie Beamen (Jamie Foxx) is a gritty one. It exposes a realistic view of both violence in the sport on the field through numerous bloody, brutal, slow-motion in-game shots, and the cut-throat business end of the sport. The Sharks' ownership, controlled by Christina Pagniacci (Cameron Diaz; Shrek 2; Being John Malkovich), the recently deceased team owner's daughter, is determined to exert her will over the team, its grizzled coach (Al Pacino; The Son of No One; Heat; Scarface; Serpico), and even the city's mayor in order to win and get a new stadium, even if that means risking the health of her players.
It's telling and honest, and Stone does manage to make the sport of American football seem bigger than life, despite all of its inherent flaws. This is mostly due to the imposing performance from Al Pacino who does a convincing job as a veteran coach coping with a changing landscape in a sport he has ben involved in for thirty-years, and Jamie Foxx as the talented quarterback eager to prove himself and make as much money as he can after being passed over in high school and college.
Real-life footballers Jim Brown, Lawrence Taylor, and Terrell Owens make appearances as well as actor Charlton Heston and others.
Video Quality
[Rating:3.5/5]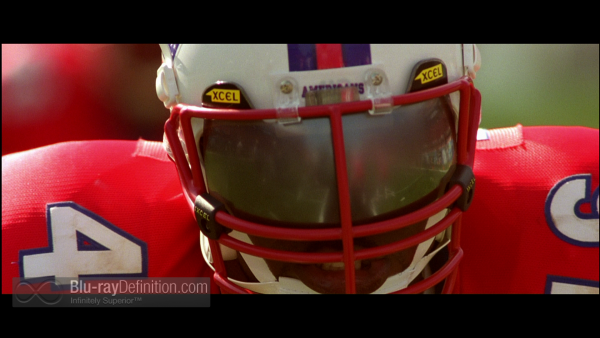 There's nothing new here. Any Given Sunday Director's Cut was previously released by Warner in 2009, an obvious holdover from the format war years given its VC-1 encodement. That same VC-1 encodement is offered up here in 1080p, and the overall image quality is good, but not up to contemporary standards. One can spot some sparkle throughout, and the black levels fluctuate from acceptable to washed out or noisy. Colors are nicely saturated, but at times they tend toward over-saturation, especially in the flesh tones, however they do provide good pop in the greens of the football fields and reds of some of the opposing team uniforms.
Audio Quality
[Rating:4.5/5]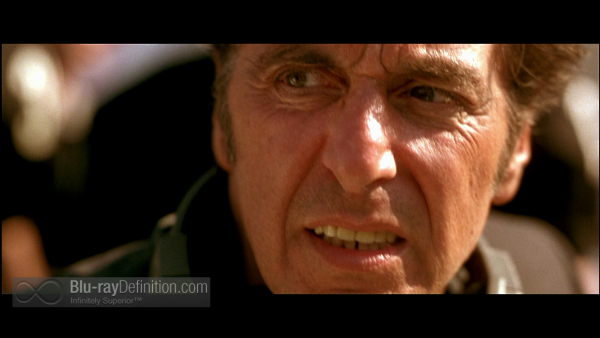 The English DTS-HD Master Audio 5.1 (48kHz/16-bit) provides an immersive experience that places you down on the field, in the midst of the huddles and the smash-mouth football. It also comes alive with a little oomph when the hip-hop musical soundtrack starts ups. Dialogue is full and clear.
Supplemental Materials
[Rating:3.5/5]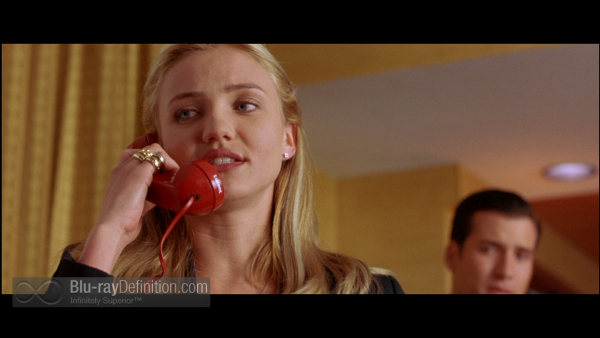 Mostly re-hashed with the bulk of the material in standard definition.
DVD with Theatrical Cut of the film
Commentary by director and co-writer Oliver Stone
Commentary by Jamie Foxx
Any Given Sunday: Anything Can Happen (1.78:1; 1080p/24; 00:30:01)
Full Contact: The Making of Any Given Sunday – HBO's First Look Documentary (1.33:1; SD: 00:27:07)
Jamie Foxx Audition Tape and Screen Tests (1.33:1; 00:06:40):

Football Home Video (Home Audition Tape)
Screen Test #1
Screen Test #2

Deleted/Extended Scenes with optional commentary by director Oliver Stone (1.33:1; SD; 00:32:39):

Madman's pre-game ritual
Game 1 – Sanderson tunnel speech/Madman and angry fan
Game 1 – Sharks tackle/Beastman's broken finger
Game 1 – Press conference
Viscaya party – Dr. Mandrake sets the rules for Dr. Powers
Tony and son breakfast
Game 3 00 Butkus vs. referee
Post Game 3 – Miami win over Crusaders
Sharks locker room – Willie and Christian
Sharks party – Hot rub scene/Willie meets Ray Fields
J-Man at home/Watching Willie
Pre-game 5 – J-Man makes up with Willie/Monte urges on the team
Game 5 – Sanderson and Dr. Powers
Post Game 5 – Victory

Gag Reel (1.33:1; SD; 00:04:11)
Football Outtakes Montage (1.33:1; SD: 00:08:28)
Miscellaneous Landscapes and Outtakes Montage (1.33:1; SD: 00:03:26)
Instant Replay – Revisit the film's hard-hitting football players (2.35:1; 1080p/24; 00:15:42):

Hit on "Cap"
Beamen throws first TD
Beamen runs with the football
Beamen runs for a TD
The Monsoon Bowl
"Cap" runs for a TD
Dallas game scoring drives
4th and 1 – Shark goes down
Comanche
4 seconds left

The Art of Selling (1080p/24) – Theatrical poster campaign and design exploration slide show
Stills Gallery (1080p/24)
Music Videos (1.33:1; 2.35:1; SD; 00:08:50):

"Shut 'Em Down" by LL Cool J
"My Name is Willie" by Jamie Foxx
"Any Given Sunday" by Jamie Foxx

Theatrical Trailer (2.35:1; SD; 00:02:26)
The Definitive Word
Overall:
[Rating:3.5/5]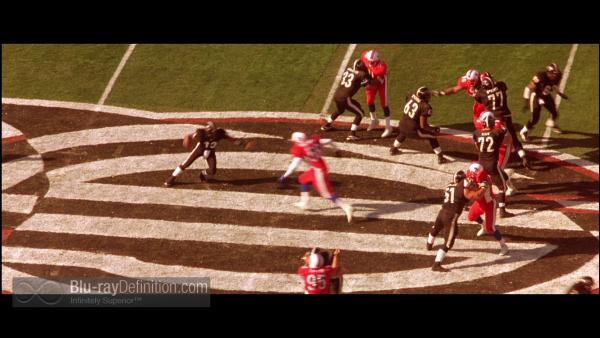 Although it is prone to melodrama, as many sports films are, Any Given Sunday is a brutally honest look at the competitive, fast, and cut-throat world of pro football. Given its wonderful camerawork, courtesy of cinematographer Salvatore Totino and the strong performances from the cast, this one should please sports fans and convert a few non-sports viewers alike.
Additional Screen Captures
[amazon-product]B00KLMNQDU[/amazon-product]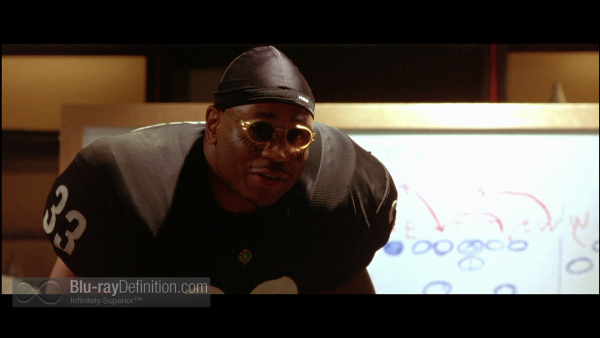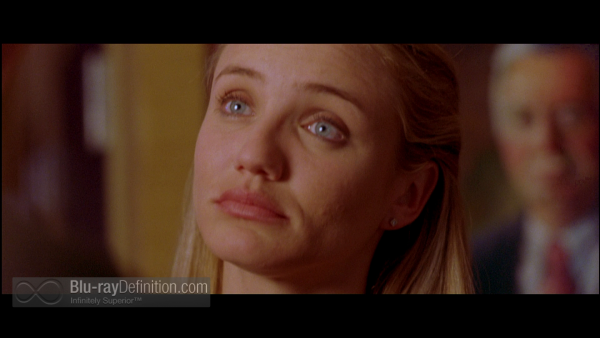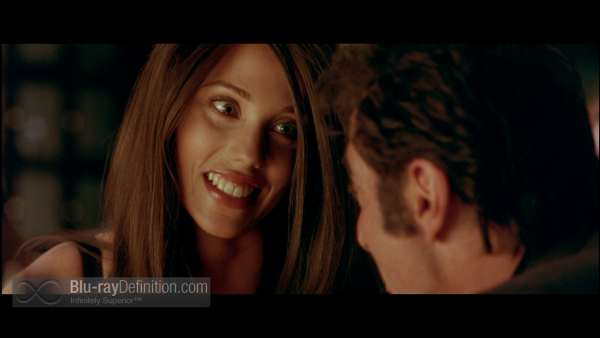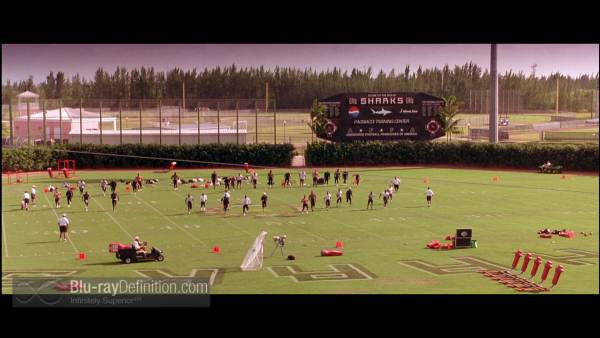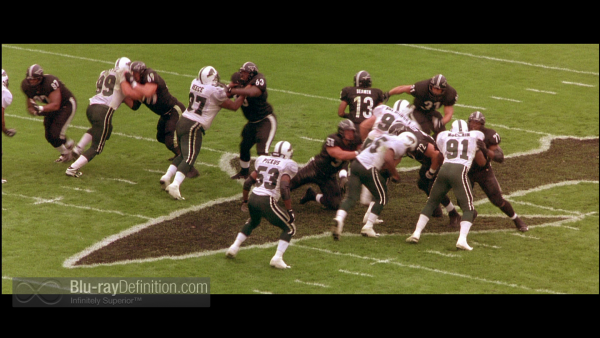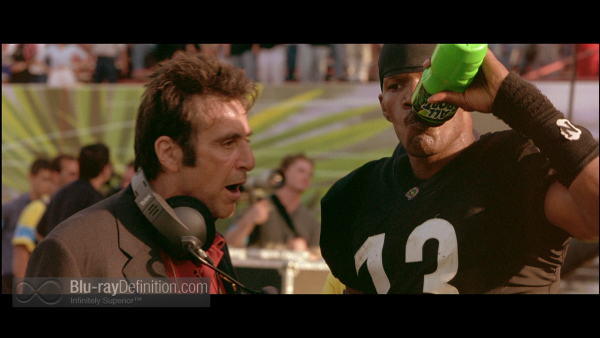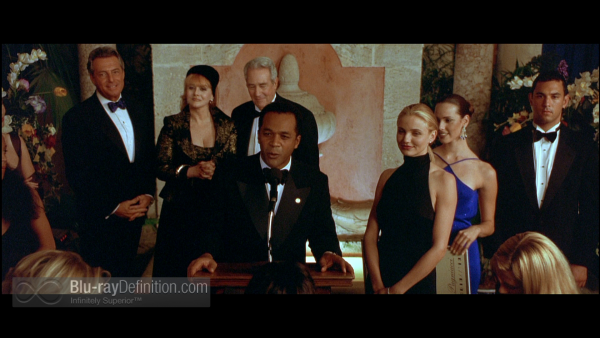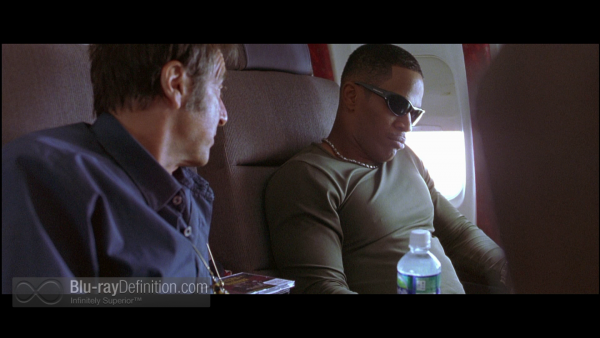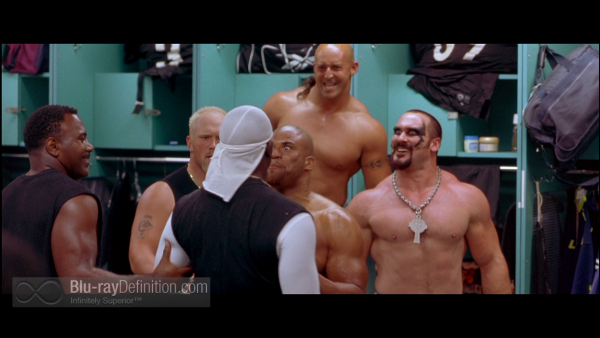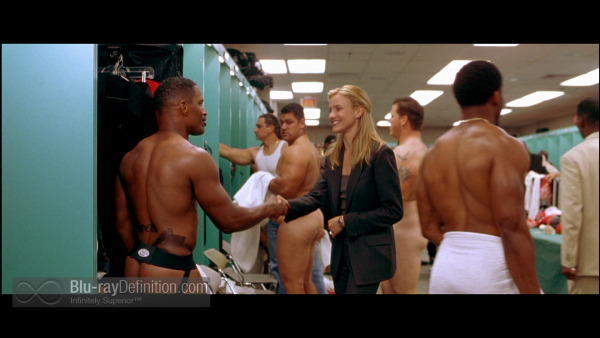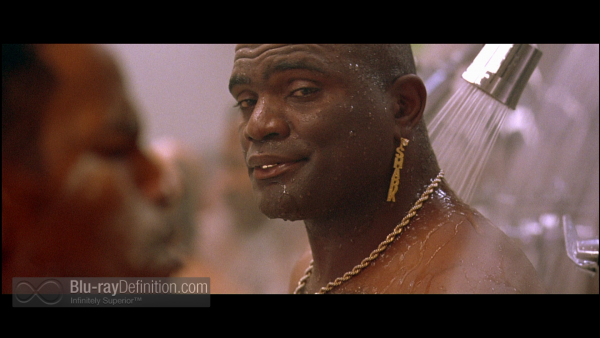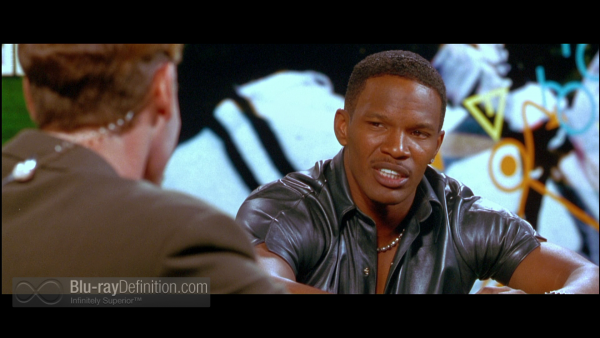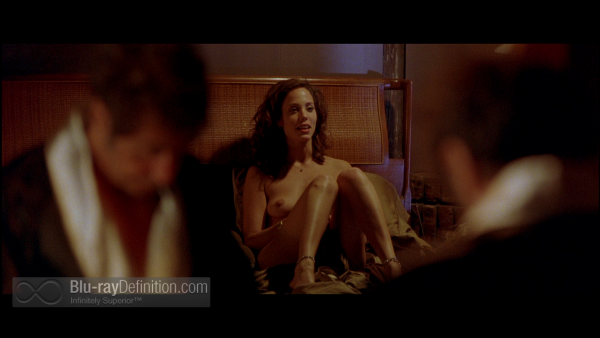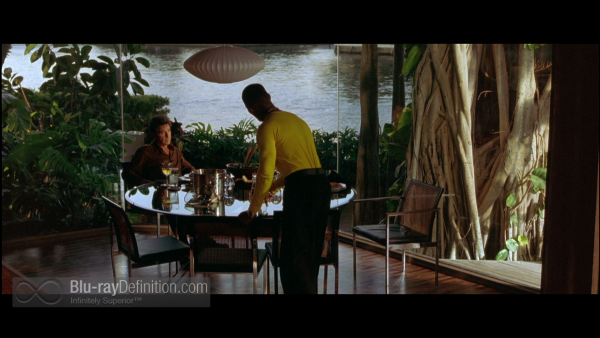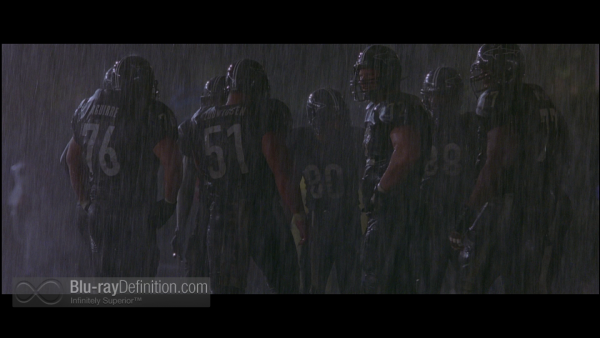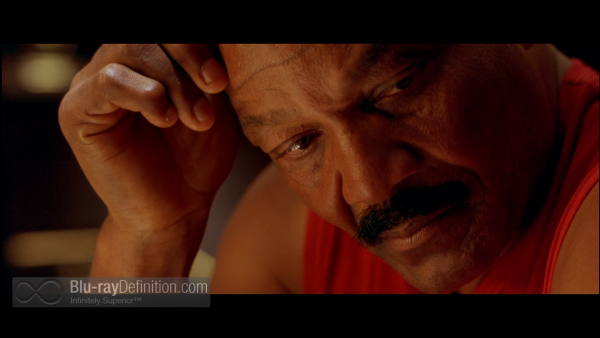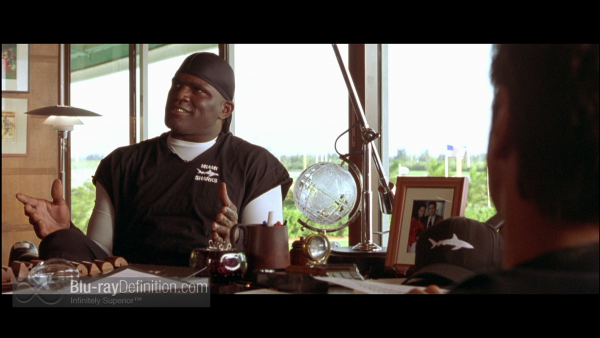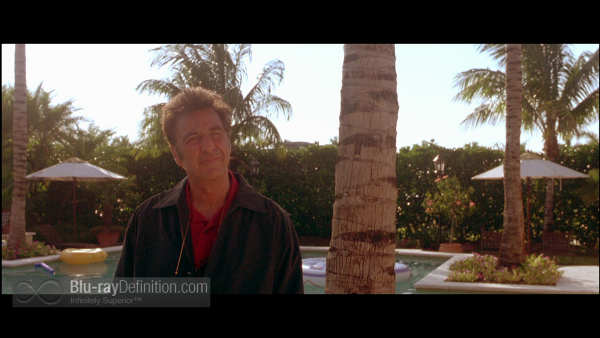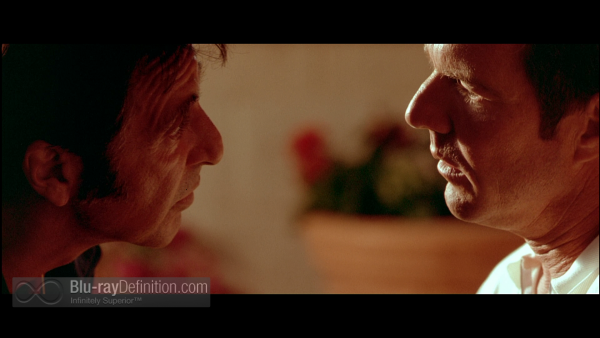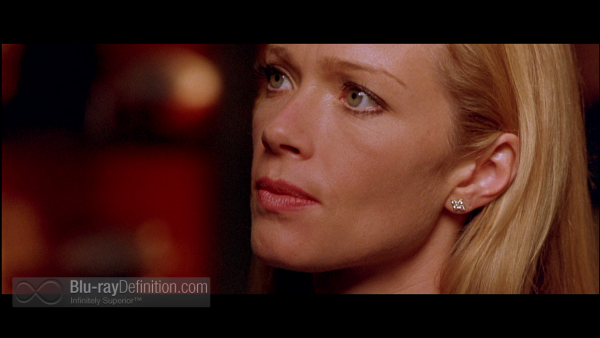 [amazon-product]B00KLMNQDU[/amazon-product]