– –
The Film
[Rating:1.5/5]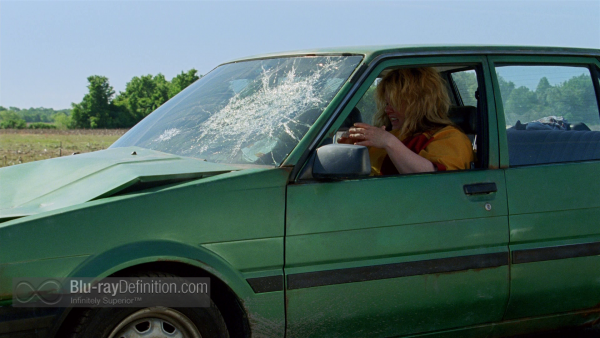 Audiences were initially introduced to Melissa McCarthy through her television role on Mike & Molly, as the sweet and very appealing titular female half of that series. However, McCarthy's film roles have been the polar opposite of her small screen persona. Her rude and crude breakout role in Bridesmaids set up her ballsy, no-holds-barred persona that she returned to in subsequent films like Identity Thief and The Heat, and once again in Tammy.
McCarthy stars in the titular role as a nitwitted fast food worker who, within the first few minutes of the film, totals her car, loses her job, and her husband. Out of work and down a marriage, she takes her eccentric and sickly grandma Pearl (played by Susan Sarandon) up on her offer to take an all expenses paid road trip to Niagara Falls over the objections of her mother (Allison Janey).
Being a road trip comedy, all manner of escapades ensue and the duo encounter a host of colorful characters, including a father and son pair of farmers (The League's Mark Duplass as the son and the always enjoyable Gary Cole) who provide some potential romance, and find themselves celebrating 4th of July at a big lesbian bash with Pearl's cousin Lenore (Kathy Bates) and her wife (Sandra Oh).
Co-written by McCarthy with her husband Ben Falcone, who also directs, Tammy, for all intents and purposes, is a film that is lacking inspiration. It offers up nothing new for McCarthy's fan base at all. She's gone back to the well one time too many with this boorish big screen character she has honed, the problem is, we've seen it all before, and here, in Tammy, it's not even as well done as it was in, say, Bridesmaids, or even Identify Theft.
McCarthy can definitely act and has a much wider range than she likes to let on her films. There are glimpses of her nuance evident in Tammy. Some of the softer, more rom-com-ish scenes with Mark Duplass reveal a sweeter, more tender side to McCarthy and her interactions on screen with Kathy Bates show her promise as a more serious dramatic actor. If only she didn't feel the need to subjugate these talents in favor of what she feels her fans want to see her doing in a movie, and that is acting the obnoxious fool, she might actually put out a film that surpasses her breakthrough in Bridesmaids.
Video Quality
[Rating:4/5]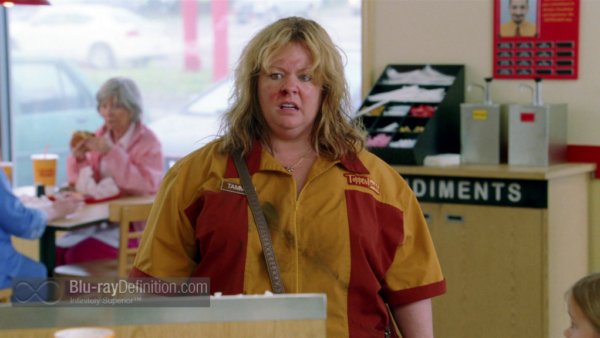 Tammy was shot on 35mm Kodak Vision3 200T 5213 and Vision3 500T 5219 film stock with the Panavision Panaflex Millennium XL2 camera. Warner Bros. Brings it to Blu-ray in an AVC/MPEG-4 1080p encodement that is clean and crisply detailed, full of vivid color reproduction, natural flesh tones, and an organic, film-like appearance to its thinly layered grain structure.
Audio Quality
[Rating:3.5/5]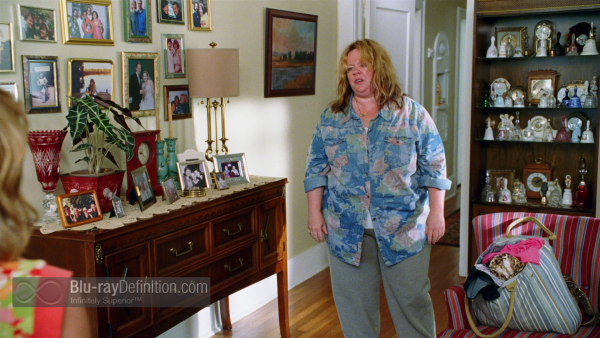 We get just an average English DTS-HD Master Audio 5.1 (48kHz/16-bit) soundtrack typical of the comedic genre. It's a very front-forward mix with subtle atmospherics, but it does have a solid bottom that provides good heft to some more aggressive moments, such as when Pearl's Cadillac is blown up or Tammy crashes her jet ski. The mix also opens up a bit and sounds very spacious and musical when the music is brought to the fore.
Supplemental Materials
[Rating:3/5]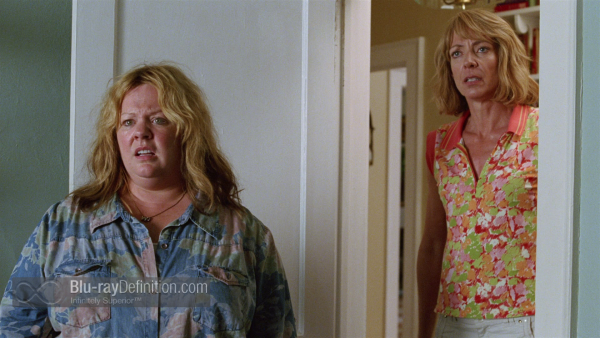 DVD
Digital HD UltraViolet
Theatrical and Extended Cuts
Tammy's Road Trip Checklist (1.78:1; 1080p/24; 00:04:28) – This twisted travelogue follows Melissa McCarthy and director Ben Falcone on their real-life cross-country adventure, with hilarious anecdotes and survival tips for the road.
Gag Reel (1.85:1; 1080p/24; 00:03:22)
Deleted Scenes (1.85:1; 1080p/24; 00:04:49):

Strip Club 1
Strip Club 2
Ski Burger
Hot Tub

Fun Extras:

Poom-O-Rama (1.85:1; 1080p/24; 00:01:44) – Read between the lines and let your finger do the talkin'.
Wave-O-Rama (1.85:1; 1080p/24; 00:02:02) –Tammy cuts loose on the lake, taking hot-dogging to new extremes.
Mindless Chat-O-Rama (1.85:1; 1080p/24; 00:02:07) – Things Tammy talks about when she's got nothing to talk about.
The Definitive Word
Overall:
[Rating:2.5/5]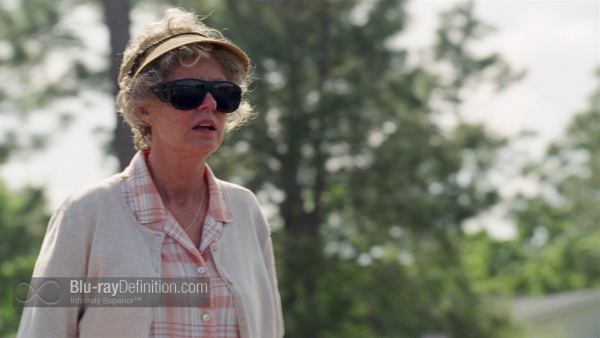 It may be time for Melissa McCarthy to return to the drawing board and come up with something new, because her schtick is wearing thin in Tammy, a film virtually devoid of originality or laughs. While she still shows glimpses of her great talent, it doesn't happen consistently enough.
Additional Screen Captures
[amazon-product]B00K2CHXQA[/amazon-product]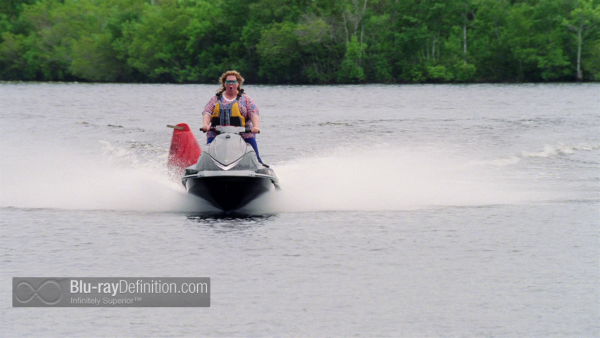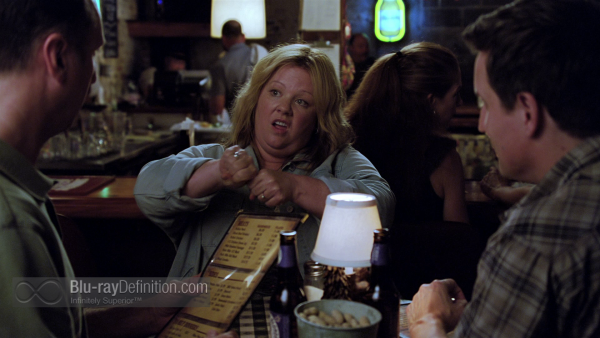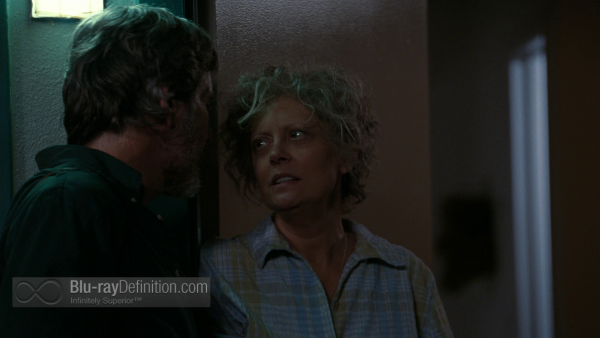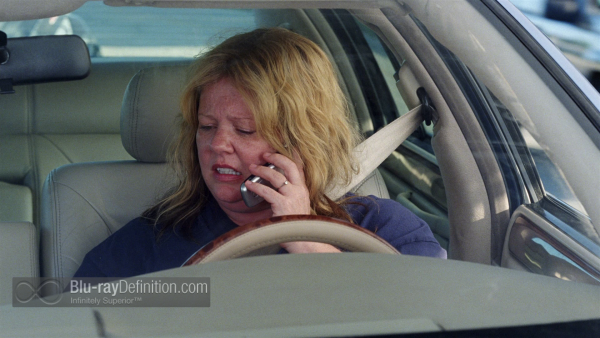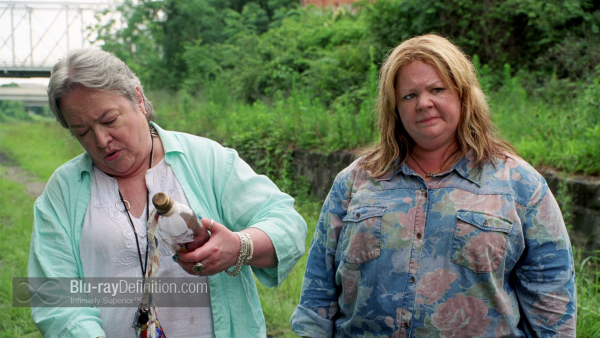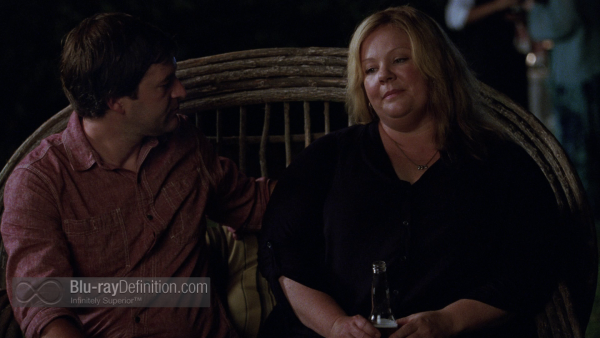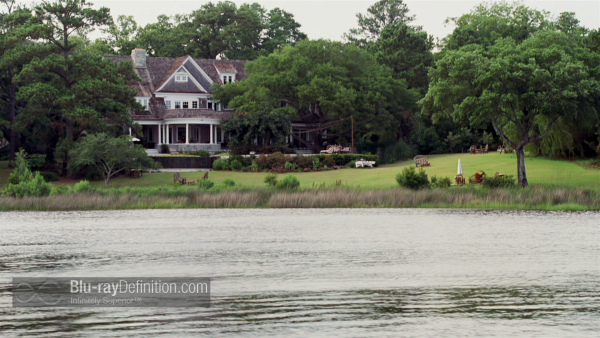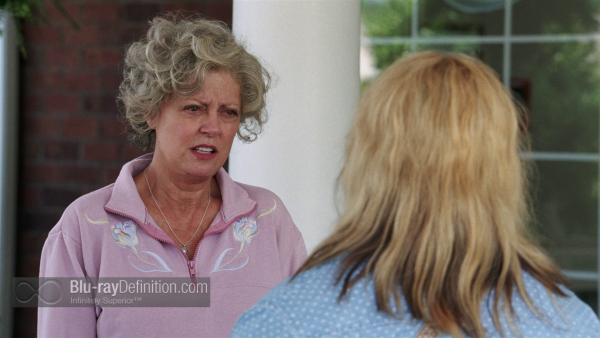 [amazon-product]B00K2CHXQA[/amazon-product]