– –

The Film
[Rating:2/5]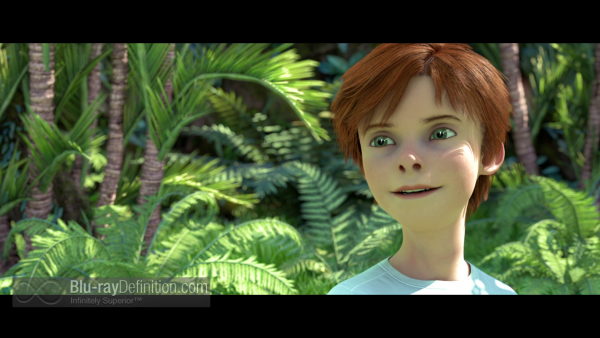 This latest corruption of Edgar Rice Burroughs' novel Tarzan is a German motion-capture CGI animated production from director Reinhard Klooss. Modernized for today's audiences, it brings the legend of Tarzan (voiced by Kellan Lutz) into the modern age with sometimes effective/sometimes not motion capture CGI animation and an updated story about his legend.
The founder and CEO of Greystoke Energies and his wife are killed in a horrific helicopter crash in Africa during an expedition while searching for a new, super-energy source in the form of a legendary meteor hidden in the jungles of Africa. Their four-year-old son, the only survivor, is taken in by a kind, recently widowed and childless female gorilla who raises him as her own and protects him from the clan's aggressive and murderous dominant male. As Tarzan grows older and develops his skills, obviously superior to his gorilla friends, he is able to explore farther and higher into the jungle. That's when he spots a young Jane (voiced by Spencer Locke) visiting her father, a researcher, in the middle of the jungle. The young Tarzan is smitten and can't take his eyes off of her, and it's a good thing, because when Jane is bitten by a venomous snake, it's Tarzan to the rescue. But poor Jane is so knocked out, she hardly knows if what she is experiencing is real or not.
Years go by, Tarzan is now a young man, strong, muscular. Jane is an environmentalist and pestering Greystoke Energies about their environmental record, and the company's evil CEO uses her connection to the region where the late founder died to go back and search for the elusive energy source. That gives Tarzan and Jane a chance to reconnect after all those years, and immediately sparks fly, but now they are being pursued by Greystoke Energies and its mercenaries who want to destroy the jungle and the legitimate heir to the Greystoke fortune.
Some might say that this Tarzan update is good enough for kids, well, that might be the case, but, in fact, even kids these days are smart enough to know a clunker when they see one. Not only is the story here bad – Tarzan has forgotten how to speak after being raised by apes from the age of four, but suddenly starts uttering phrases like "watch over Tarzan when Tarzan sleep" when Jane arrives? It defies logic. What also defies logic is why, exactly, the motion-capture animation is SO poorly done. It's not smooth at all, often looks quite jerky, and, in some of the really quick-paced shots, the rendering breaks down entirely, losing any semblance of realism. Beowulf from 2007 looked better than this.
I don't hesitate to say it, but even Disney's not so great Tarzan (1999), with its Phil Collins soundtrack looks like a masterpiece next to this.
Video Quality
[Rating:4.5/5]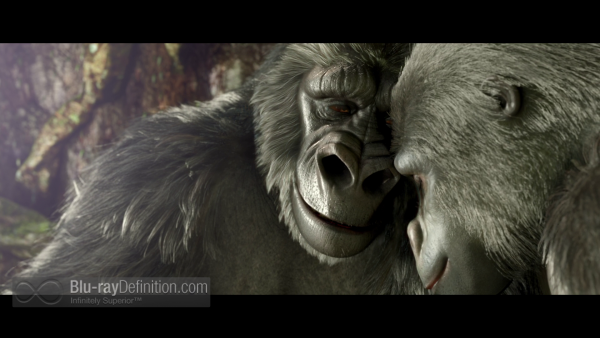 Apart from some occasionally less than smooth and realistic looking motion capture animation, Tarzan's digital source looks very good in this AVC/MPEG-4 1080p encodement onto a BD-25 Blu-ray Disc from Lionsgate. The image is colorful and free from any noise or banding. The animation offers up a lot of detail in the character designs and backgrounds although the limitations of the rendering still abound, such as less than lifelike or realistic imagery. Some aliasing in the CG rendering can also be spotted, but that is inherent to the source and not a product of the encoding or transfer.
Audio Quality
[Rating:4/5]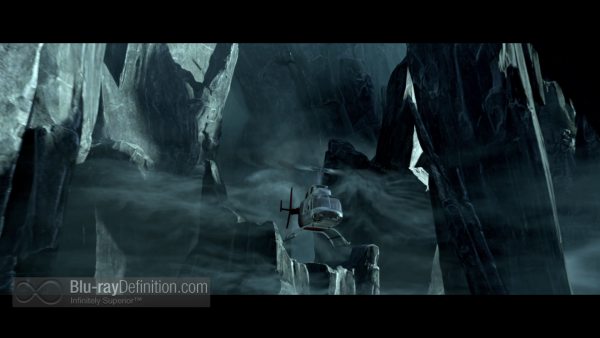 An English DTS-HD Master Audio 5.1 (48kHz/16-bit) soundtrack is the sole audio track included. It's good, but it does tend to stay a bit too loud for long stretches of time, forgoing dynamics in favor of in your face sound. That said, the aggressive mix offers big, thunderous low frequencies and lots of activity in the surround channels. The dialogue is also loud and clear.
Supplemental Materials
[Rating:2/5]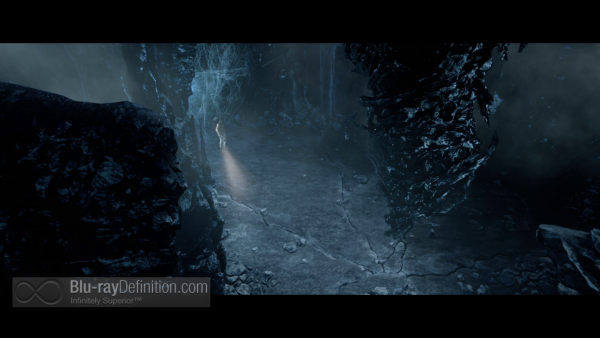 DVD
Digital HD UltraViolet
Becoming Gorillas (1.78:1; 1080p/24; 00:07:19)
The Making of Tarzan (1.78:1; 1080p/24; 00:11:01)
Behind the Scenes with Kellan Lutz and Spencer Locke (1.78:1; 1080p/24; 00:08:00)
The Definitive Word
Overall:
[Rating:3.5/5]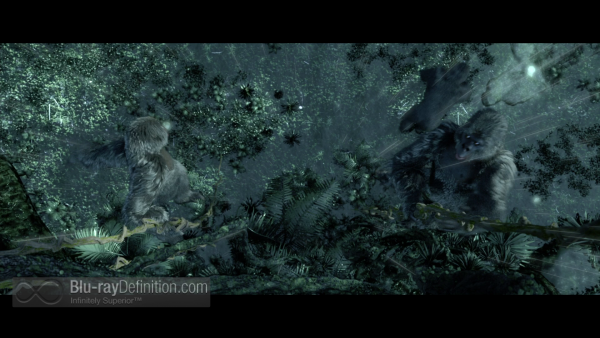 This could have been so much better, but Tarzan, perpetually fated to be brought to screen in horrible renditions, gets another animated clunker in this motion capture production.
Additional Screen Captures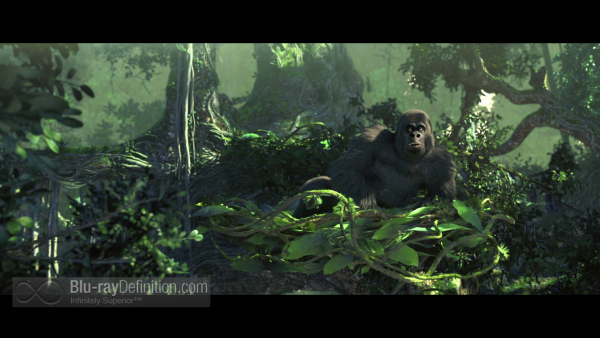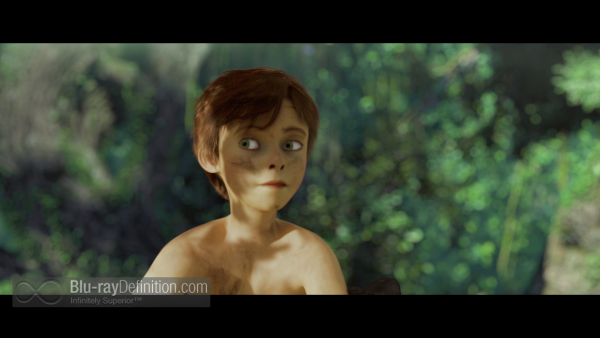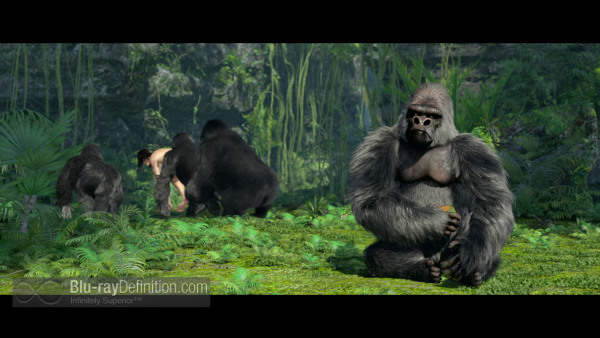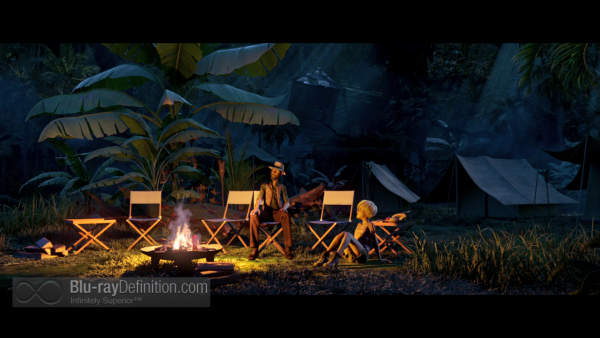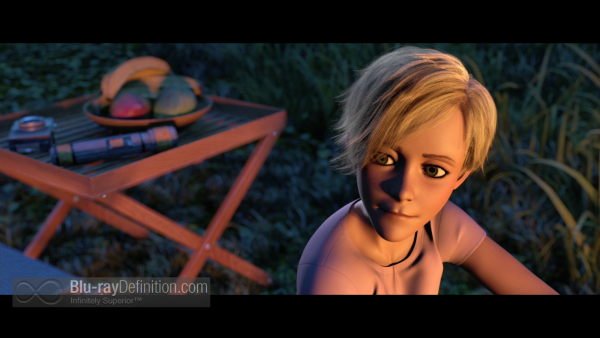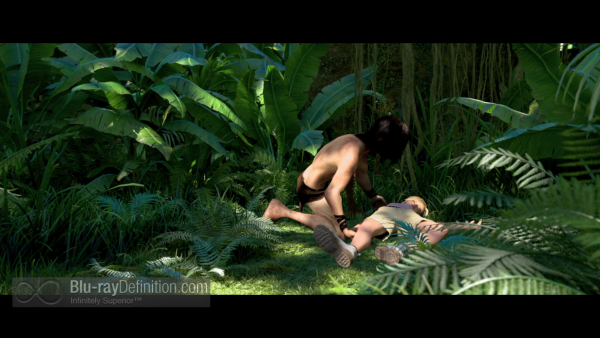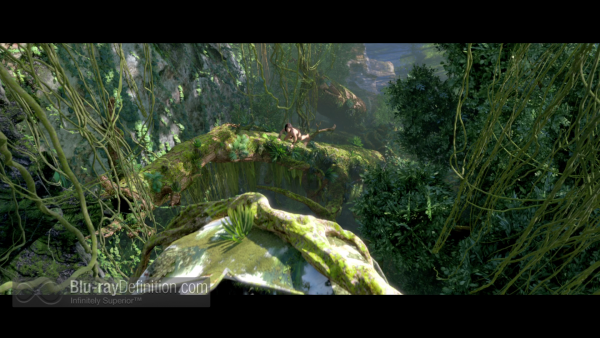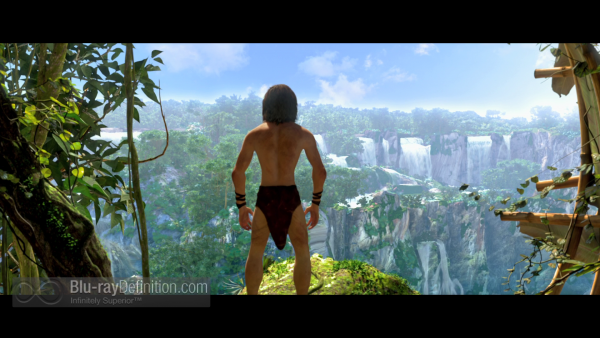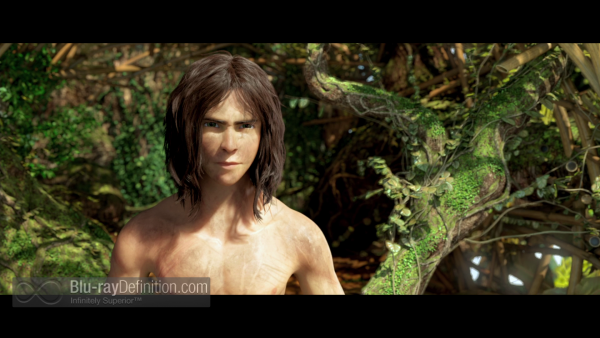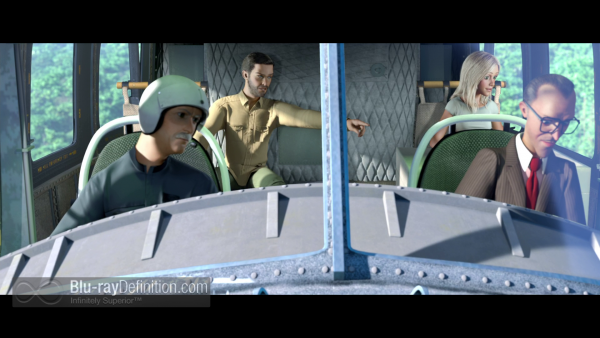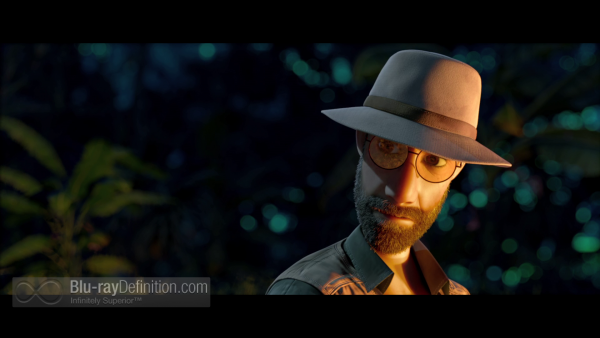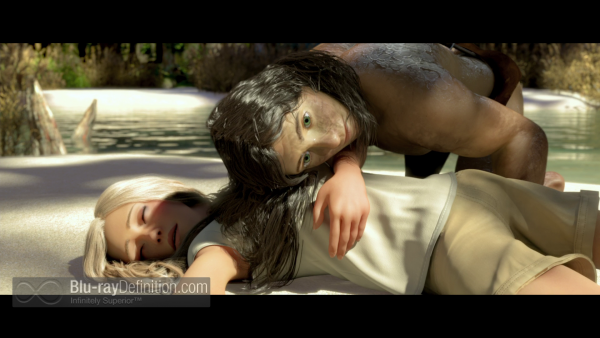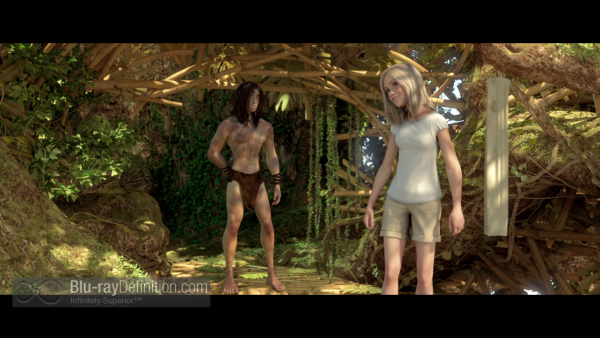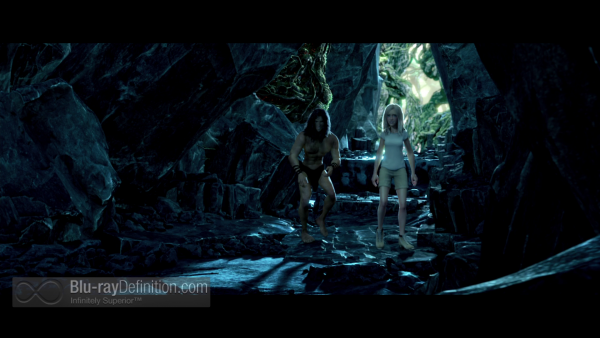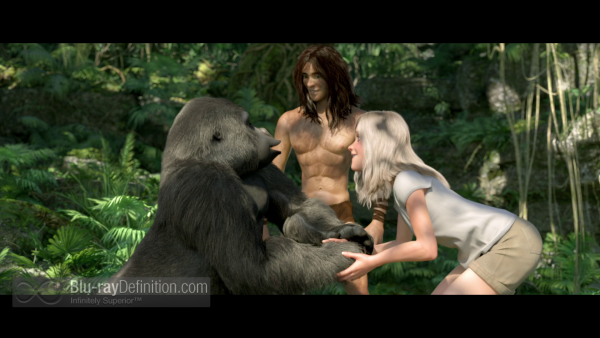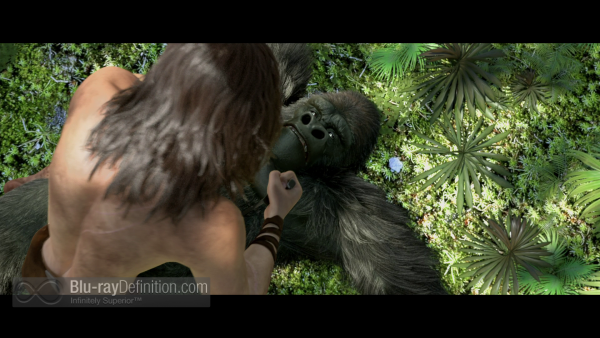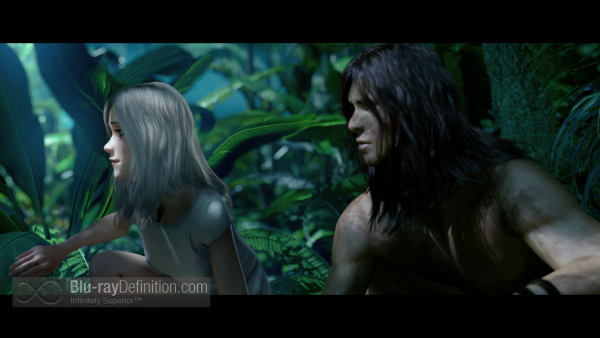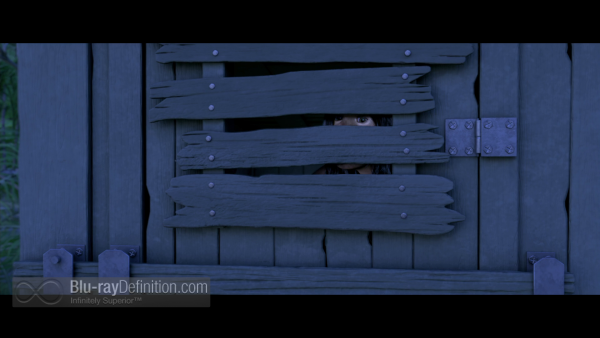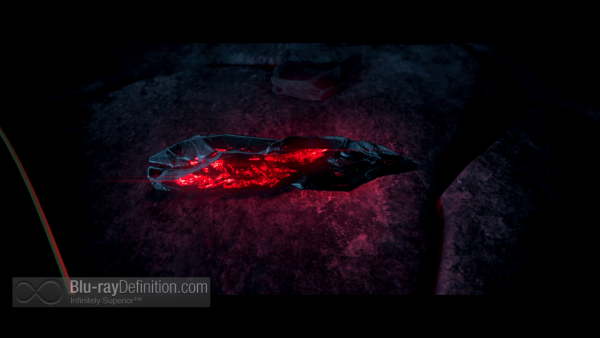 [amazon_enhanced asin="B00LERQAB6″ /]