Aspect Ratio: 1.77:1; 1.78:1; 1.85:1
Video Codec: AVC/MPEG-4
Resolution: 1080p/24 (23.976Hz)

Audio Codec: Japanese & English Dolby True HD 5.1 (48kHz/24-bit)

Subtitles: English

Subtitles Color: White

Region: A (Region-Locked)

Rating: TV-MA

Discs: 4 (2 x Blu-ray + 2 x DVD)
Digital Copies: N/A

Run Time: 250 Mins.

Studio: FUNimation Entertainment

Blu-ray Release Date: December 4, 2012
List Price: $69.98
–
Overall
[Rating:3.5/5]
The Films
[Rating:4/5]
Video Quality
[Rating:4/5]
Audio Quality
[Rating:4/5]
Supplemental Materials
[Rating:0/5]
Click thumbnails for high-resolution 1920X1080p screen captures
(All TheaterByte screen captures are lightly compressed with lossy JPEG at 100% quality setting and are meant as a general representation of the content. They do not fully reveal the capabilities of the Blu-ray format)
Editor's Note: Portions of this review not relevant to this release were previously published as our Tenchi Muyo! Movie Edition Trilogy [JP Import] Blu-ray Box Review. All screen captures are taken from their respective releases.
–
The Films
[Rating:4/5]
The Tenchi Muyo! Movie Collection brings together three movies based on the Tenchi Muyo! OVA (Original Video Animation) created by Masaki Kajishima and Hiroki Hayashi about a seventeen-year-old boy named Masaki Tenchi and the group of alien girls who all surround him, vying for his affections. The world of Tenchi Muyo! has apparently gone through various mutations between its original series released in Japan from 1992–93 and several manga (comic books) additional series and, of course, the movies.
When I originally reviewed this movie collection in its Japanese release some years ago, I was a complete newcomer to the Tenchi Muyo! Universe and hadn't even seen the OVAs at the time. Being more familiar with the characters now I more readily pick up on some of the small differences in the Tenchi Muyo! Mythology present in these films over the OVAs. There there were character changes and additions, changes in character origins, and manga that added story lines and subplots to the entire world of Tenchi Muyo! In the intervening years, one such change is addition of the character Kiyone, partner to Mihoshi in the Galaxy Police, over the original 20-episode OVA story arc.
For those uninitiated, here's a brief introduction: Masaki Tenchi is a seventeen-year-old from a royal bloodline known as the Jurai whose history is revealed to him by five alien girls who show up at his home and begin lodging with him. All of these women have a romantic interest in Tenchi, particularly Ryoko, a space pirate with special powers whom Tenchi accidentally released from a cave she had been imprisoned in for 700-years, and Ayeka, a Jurain princess. The movies, particularly the first two, tone down the sexual aspects of the original series and play up the comedic and action elements of Tenchi Muyo! giving them a different feel from the television OVA.
Tenchi Muyo! in Love (1996)
[Rating:3.5/5]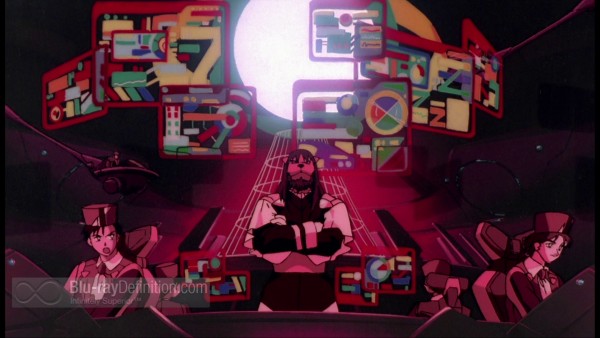 The first movie, Tenchi Muyo! in Love introduces a completely different character as Tenchi's mother. This is also central to the plot of Tenchi Muyo! in Love, which involves a theme not unfamiliar to anyone who has ever seen Back to the Future. Tenchi and his group of female alien romantic love interests must go back in time 26-years to 1970 in order to save Tenchi's mother, Achika, from a powerful Super A-1 class criminal, Kain, bent on destroying the power of the Jurai royal line. Tenchi begins to dissolve from existence and must ensure that his mother is not killed and that his parents meet in order to ensure his existence.
Tenchi Muyo! in Love is at first a bit bewildering for those who have never seen a single episode of Tenchi Muyo! Viewers are dropped right into the middle of the ongoing story of Tenchi without any explanation of the interrelationships between the characters. Once getting beyond this initial disorienting phase however, Tenchi Muyo! in Love is an exciting and humorous anime adventure that should appeal to fans of the genre.
Tenchi Muyo! Daughter of Darkness (1997)
[Rating:3.5/5]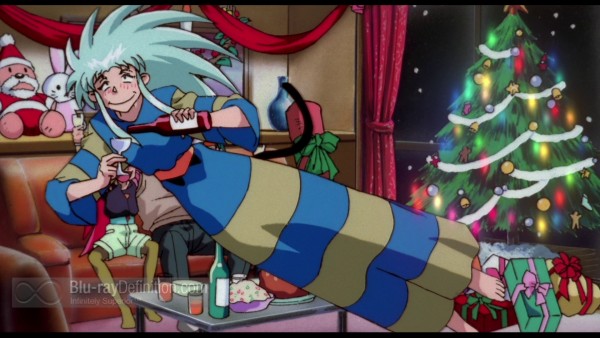 Daughter of Darkness reintroduced some of sexuality that Tenchi Muyo! was famous for, but only mildly, depending on your perspective. In Daughter of Darkness, another teenaged girl, Mayuka, arrives at Tenchi's home and claims to be his daughter. When it is discovered that Mayuka is in fact Tenchi's daughter because she shares half her DNA with him and another half with someone else, Tenchi and the girls set out to figure out who Mayuka is exactly. Of course, things take an odd turn, one that only the Japanese can conjure up, when Mayuka begins trying to seduce Tenchi and steal him away to some mysterious alternate plain.
Of course, Tenchi's attention to Mayuka causes a stir among the ladies, particularly Ryoko and Ayeka. Soon it is found that Mayuka is being used as a vessel by a demon trying to use Tenchi to avenge the day she was driven away from Jurai during Startica celebrations.
Daughter of Darkness is an interesting central film in the Tenchi Muyo! movie trilogy, even if it feels a bit disconnected and stylistically caught between each of the others, as you will read below. The biggest weaknesses with Daughter of Darkness, unfortunately, are the rushed feel of its story and the incredibly short running time, clocking in at just under an hour. By the time one is invested in the story, it's all over.
Tenchi Muyo! in Love 2 (Tenchi Forever! — U.S. title) (1999)
[Rating:4/5]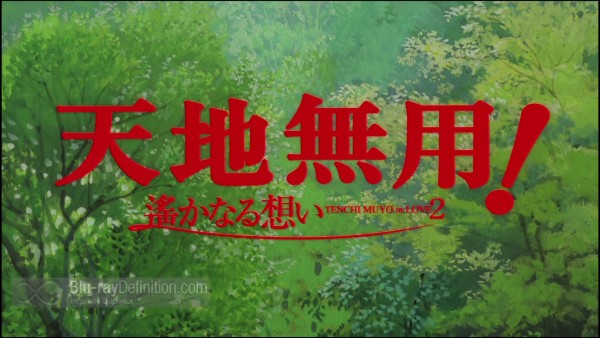 For the third and final movie in the Tenchi Muyo! trilogy, the creators shake off the comedic elements and most of the action of the previous two films and dive into the sexual tension and character development that is a staple of the Tenchi OVAs and lightly hinted at in Daughter of Darkness.
The movie starts out with an argument between Ryoko and Ayeka that ends with the two girls demanding that Tenchi finally decide which one of them he likes the best. Frustrated, Tenchi storms off into the woods where he is taken by a strange entity. The movie then flashes forward six months and Tenchi is still missing. Ryoko and Ayeka, now depressed shells of their former selves, have moved to the city together to search for Tenchi and the rest of the girls have moved on as well.
Eventually, Tenchi is found to have been living in an alternate universe under the spell of the spirit of a woman named Haruna who died on her way to Earth. She is now using Tenchi to live the life she thought she should have had, and Tenchi has forgotten all about his previous life. Ryoko and Ayeka, whose deep feelings for Tenchi are finally brought to the fore in this movie, must break into Haruna's alternate reality and attempt to rescue Tenchi by getting him to remember his past life.
In the absence of the humour and action of the previous two movies, Tenchi Muyo! in Love 2 feels weighty and contemplative with more reserved color palettes and audio mixes to compliment it as well. Out of the three films, it is the one that can most stand on its own without much explanation or understanding of the Tenchi Muyo! back story.
Video Quality
[Rating:4/5]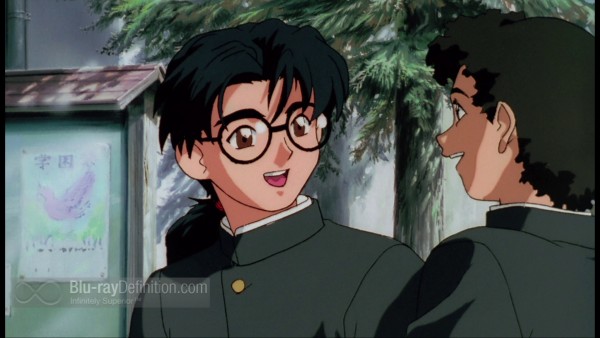 These were all done on film and they look like it. I don't mean that in a bad way, just that they will not have the clean, pristine look of the many anime series and feature-length productions we see today which are all animated in the digital realm. The transfer from Funimation looks film-like and source damage is minimal, especially in the brighter scenes. In comparison to the Japanese release, it is basically the same, except it seems a little darker, the overall gamma set a bit lower, and the colors a bit more saturated. This results in a stronger sense of contrast and colors that "pop" a bit more. The three films are given AVC/MPEG-4 1080p encodements from FUNimation that do not show any compression errors or video noise and look quite natural.
Audio Quality
[Rating:4/5]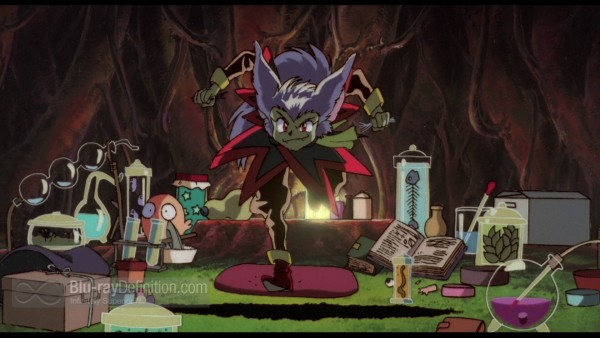 All three films have Japanese and English Dolby TrueHD 5.1 (48kHz/24-bit) soundtracks. They aren't as aggressive and active by today's standards as we might expect, but they are clean, have an abundance of atmospherics, the occasional, well-placed discrete sound in the surrounds (the spinning around the room sound effect of Washu's time machine in Tenchi Muyo! In Love is one particularly good use) and extended low frequencies.
Supplemental Materials
[Rating:0/5]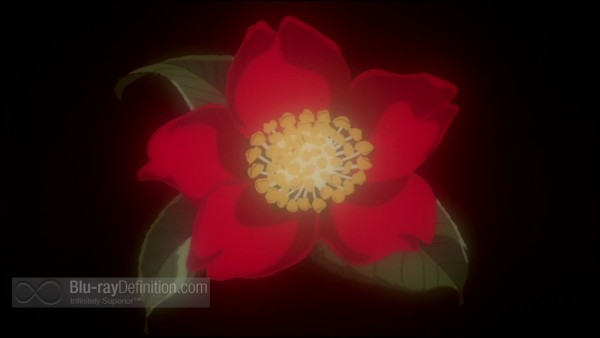 Just like the Japanese set, there's nothing much here at all. Some Funimation trailers and the Tenchi Movie 3 trailer is all we get.
Original Movie 3 Trailer (1.85:1; 1080p/24)
Funimation Trailers
The Definitive Word
Overall:
[Rating:3.5/5]
Tenchi Muyo! is an odd OVA, to say the least. Some critics malign it for being too confusing to follow and its "multi-verse" is certainly a complex one, with the histories of certain characters changing from series to series or some characters, such as Tenchi's mother, being replaced completely from the OVA series to the movies. The films themselves don't necessarily work together as a complete stand-alone trilogy, so it is like being thrown into a pool without knowing how to swim at first. By the end of it all, you'll be well initiated and thoroughly entertained.
This collection is not exactly a great value with its lack of value-added material and only average video transfers, but it will still offer much better picture and sound quality than DVD and is marginally better than the Japanese counterpart on color reproduction and contrast.
Additional Screen Captures
[amazon-product]B009B82F6Y[/amazon-product]
Shop for more Blu-ray titles at Amazon.com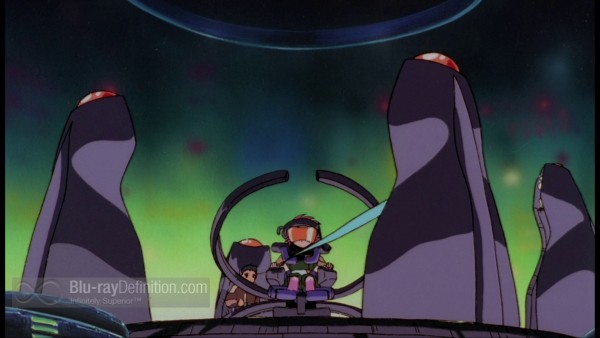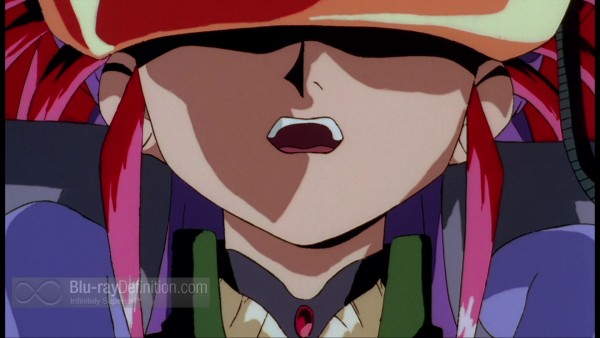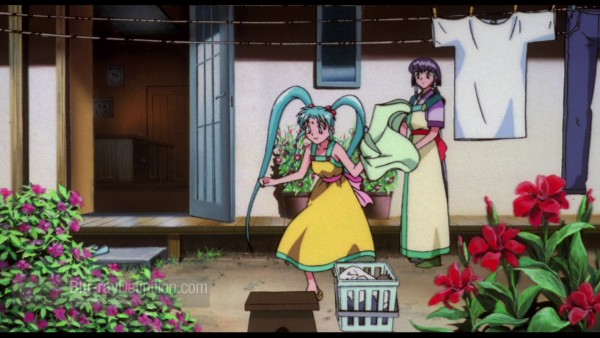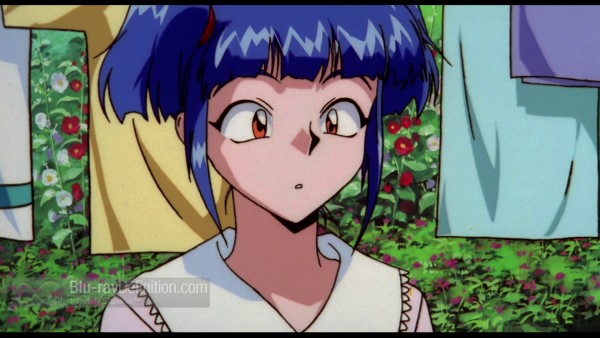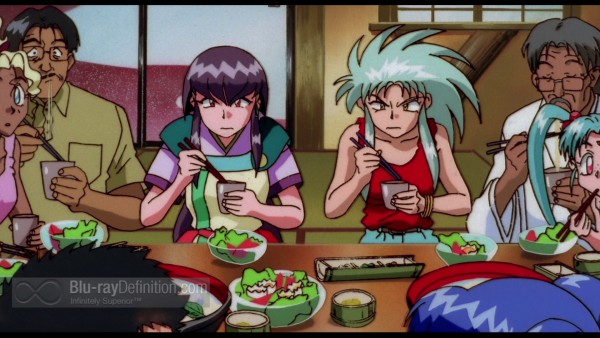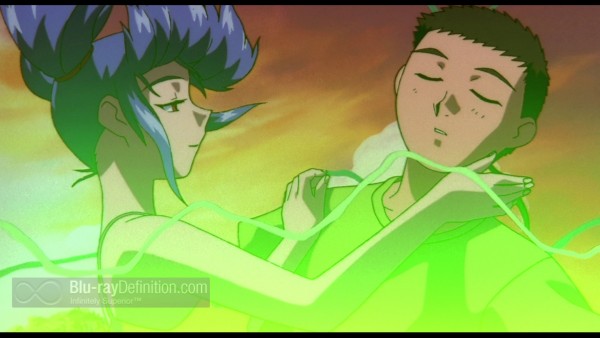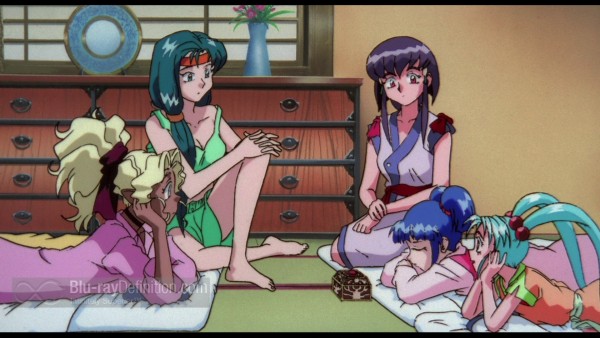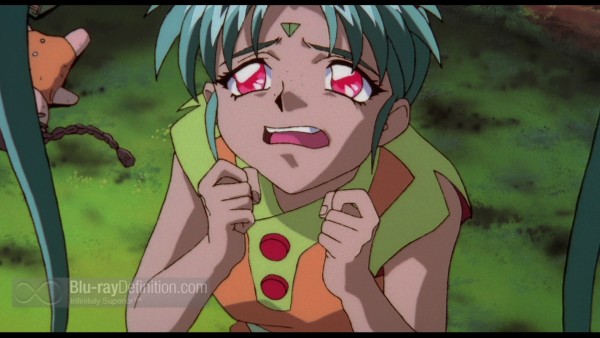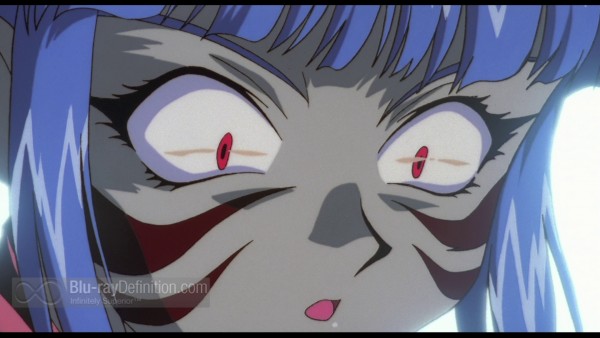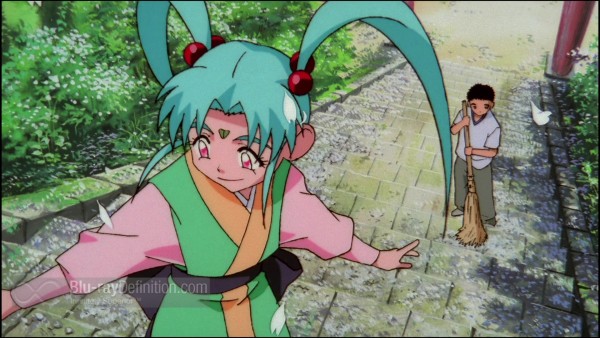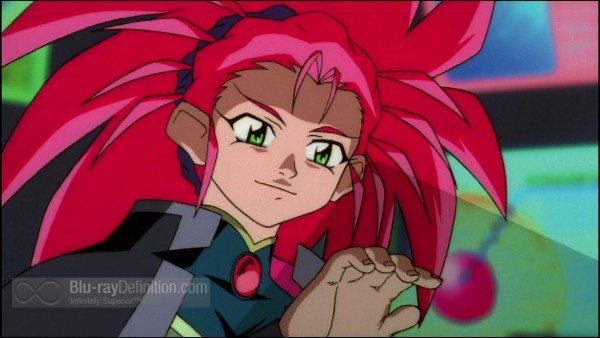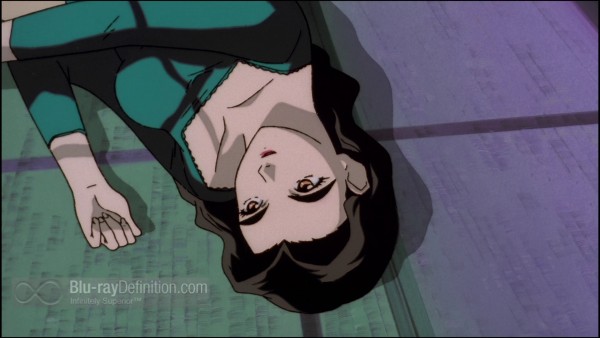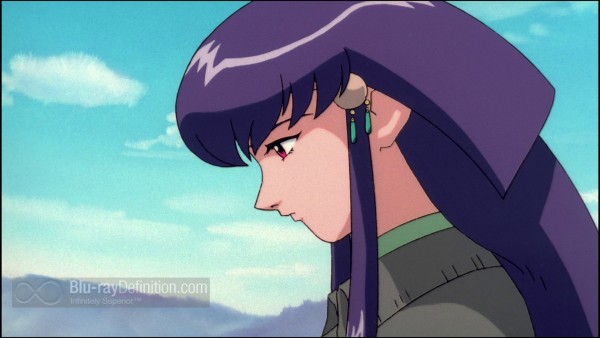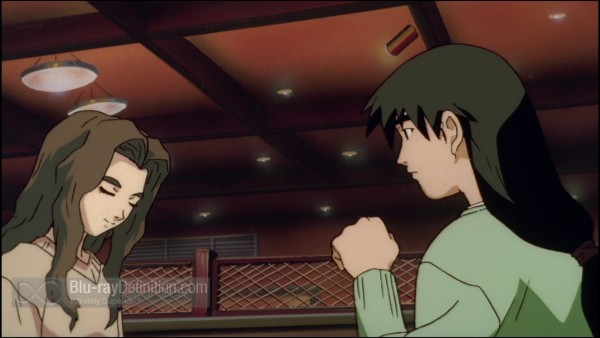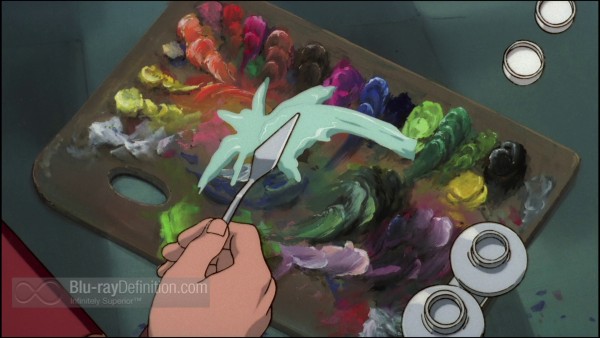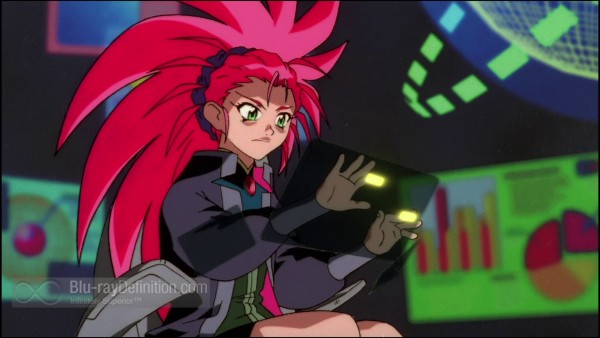 –
[amazon-product]B009B82F6Y[/amazon-product]
Shop for more Blu-ray titles at Amazon.com
Overall
[Rating:3.5/5]
The Films
[Rating:4/5]
Video Quality
[Rating:4/5]
Audio Quality
[Rating:4/5]
Supplemental Materials
[Rating:0/5]
–