Aspect Ratio: 1.78:1
Video Codec: AVC/MPEG-4
Resolution: 1080p/24 (23.976Hz)
Audio Codec: Japanese & English Dolby TrueHD 5.1 (48kHz/24-bit)

Subtitles: English

Subtitles Color: White
Region: AB (No Region C)
Rating: TV-MA

Discs: 5 (2 x Blu-ray + 3 x DVD)
Digital Copies: N/A

Run Time: 322 Mins.
Studio: FUNimation Entertainment

Blu-ray Release Date: May 21, 2013
List Price: $69.98 (LE); $59.99

–
Overall
[Rating:3.5/5]
The Series
[Rating:3.5/5]
Video Quality
[Rating:2.5/5]
Audio Quality
[Rating:4.5/5]
Supplemental Materials
[Rating:2.5/5]
Click thumbnails for high-resolution 1920X1080p screen captures
(The below TheaterByte screen captures are taken directly from the Blu-ray Discs and losslessly compressed in the PNG format. There should be no loss of picture quality with this format. All screen captures should be regarded only as an approximation of the full capabilities of the Blu-ray format.

–
The Series
[Rating:3.5/5]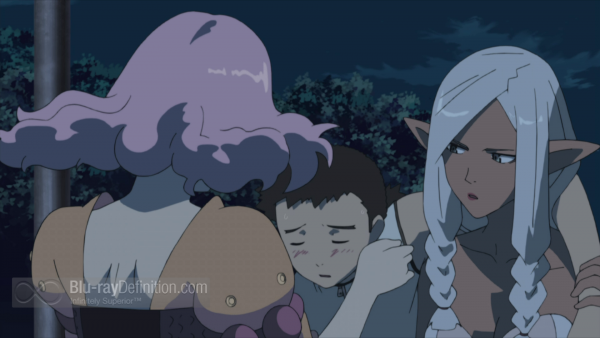 Personally, I believe that Tenchi Muyo! lost its way after the original round of episodes and began veering off into various non-related story arcs, different universes, and the like. Tenchi Muyo! GXP was particularly disappointing. With that being said, Tenchi Muyo! War on Geminar, a continuation of sorts of the Tenchi Muyo! Ryo-Ohki arc, taking place some 15-years after the events of GXP, is a more than tolerable return to the Tenchi franchise that in some ways gets back to the essence of Tenchi Muyo! It's a bit naughty, risqué, and puts Tenchi's half-brother, Masaki Kenshi, at the center of a group of pretty girls who, for one reason or the other, all find him irresistible.
Kenshi is summoned to the foreign land Geminar –a land where the people are at war and use giant humanoid machines called Sacred Mechanoids to fight against each other – where he is meant to aid in the assassination of the young Princess-King Lashara,12 year-old ruler of the Shtrayu Empire. After choosing not to kill her, Kenshi is captured and Lashara learns his story. Lashara decides to keep Kenshi on as her attendant and takes him with her to the Holy Land. It is a holy place isolated from the dangers of the outside world where Mechamasters go to train. Kenshi instantly becomes a hit with the girls and the staff through his charm and his hard work. He shows an inhuman ability and stamina to to do everything from cooking, cleaning, and construction work, to martial arts. However, danger lurks within the hallowed halls of the institution as the very same organization that tried to use Kenshi to kill Lashara is at work with the Holy Land, and a war is brewing.
War on Geminar is a weird mixture of sci-fi/mecha and fan service in the traditional Tenchi Muyo! sense. It seems strange to have a series called "Tenchi Muyo!" and then have a character named "Kenshi" who is sort of like Tenchi, but not really. One tends to ask, "what's the point?" It feels like a cash-in at times. That said, when they stick to the comedy and naughty bits, embarrassing moments like when Kenshi is hypnotized into "massaging" the girls of the Holy Land, it becomes a raucous and more than welcome reminder of all the best parts of the good old days of the Tenchi franchise.
Video Quality
[Rating:2.5/5]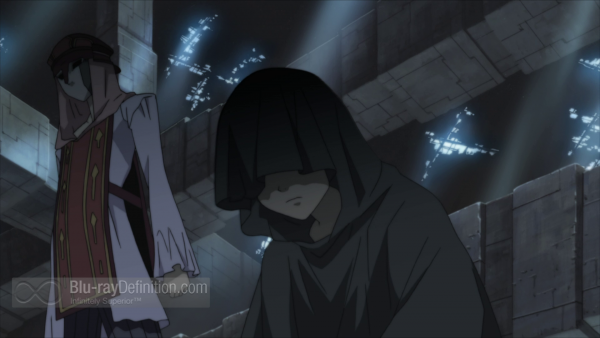 I just can't rate this transfer of War in Geminar very highly given all the issues with the image. Some of them don't even present themselves in the screen captures shown here. The AVC/MPEG-4 1080p encodement is extremely low bitrate, often lingering under 3Mbps, pans usually show lots of motion artifacts, and there is a lot of jagged, stairstepping in the line art, banding, and noise.
Audio Quality
[Rating:4.5/5]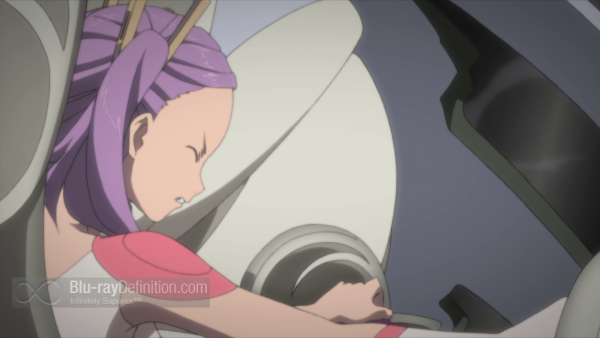 The audio tracks are almost the exact opposite of the video. Though they seem to be mastered at a rather low level and a bit narrow in dynamic range, the original Japanese-language Dolby TrueHD 5.1 (48kHz/24-bit) and English dub Dolby TrueHD 5.1 (48kHz/24-bit) mixes are well balanced with various atmospheric effects and ambience placed around the room, clear dialogue, and just enough punch from the low end. My preference is for the Japanese voice cast, which really seems to gel a lot better than the English cast, but either one provides good quality sound.
Supplemental Materials
[Rating:2.5/5]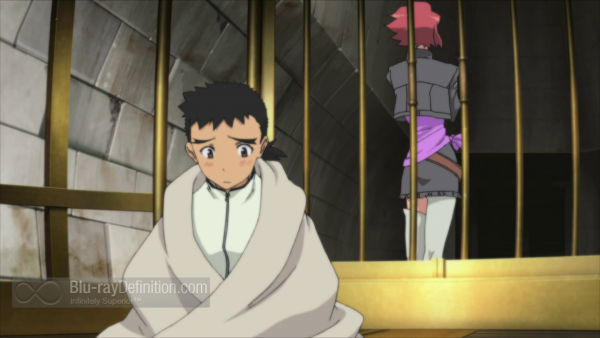 There's a good bit of extras included here, and for those who put out the extra dough for the Limited Edition, you get an artwork booklet as well.
The supplements:
About Making the Closing Theme "Destino" by Alchemy+ (1.33:1; SD; 00:03:51)
Digest in Commemoration of Sales Release (Second Half of Episode 1 ~ Episode 2) (1.78:1; SD; 00:08:30)
Stills of Recording the Music for Tenchi Muyo! War on Geminar (1.78:1; SD; 00:01:10)
Information and Sneak Peek of the Pay-Per-View Program 1-6 (1.78:1; SD; 00:03:02)
Teaser Trailers 1-2 (1.78:1; SD; 00:02:43)
Textless Opening Song "Follow Me"
Textless Closing Song "Destino"
FUNimation Trailers
Artwork booklet (Limited Edition Only)
The Definitive Word
Overall:
[Rating:3.5/5]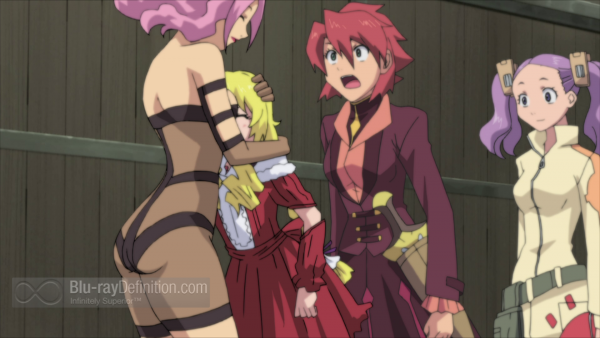 War on Geminar, Part 1 is a decent if somewhat uneven start to this addition to the Tenchi Muyo! universe. The mild fan service and comedic elements remind us of the beginnings of the Tenchi Muyo! franchise while the mecha elements seem just a little out of place. What ultimately harms this collection the most, however, is the poor image quality on Blu-ray.
Additional Screen Captures
[amazon-product]B00BCPOFQ2[/amazon-product]
[amazon-product]B00BCPOFRQ[/amazon-product]
Purchase Tenchi Muyo! War on Geminar, Pt. 1 (LE) on Blu-ray Combo Pack at CD Universe
Purchase Tenchi Muyo! War on Geminar, Pt. 1 on Blu-ray Combo Pack at CD Universe
Shop for more Blu-ray titles at Amazon.com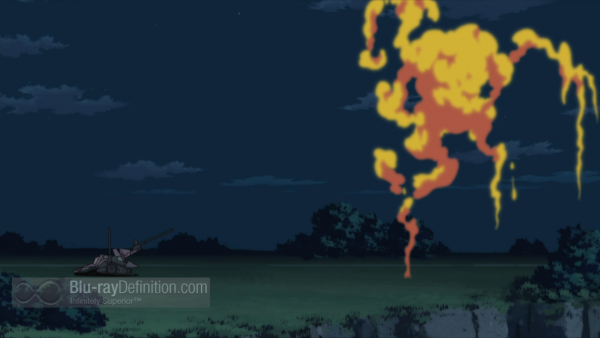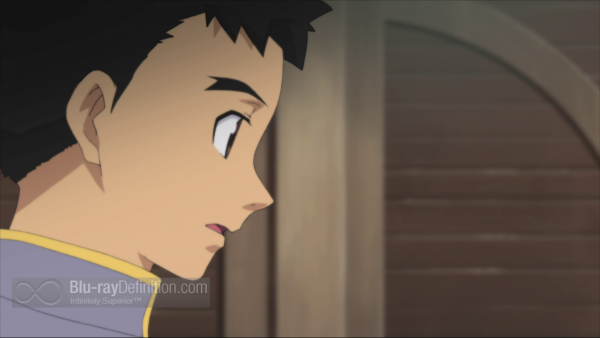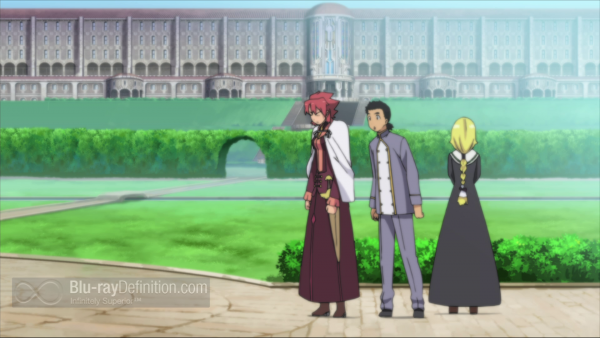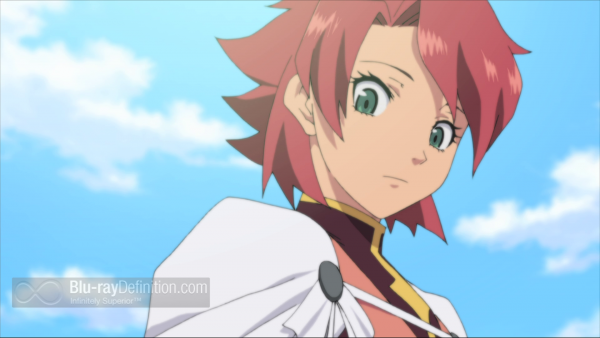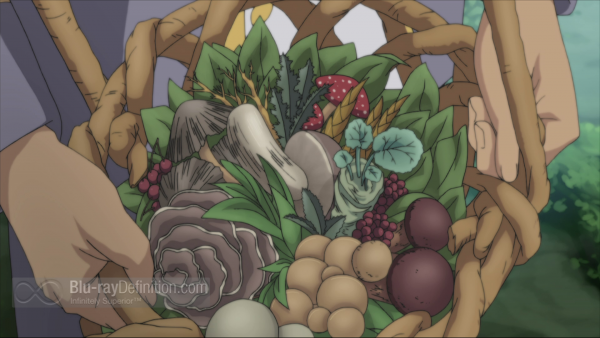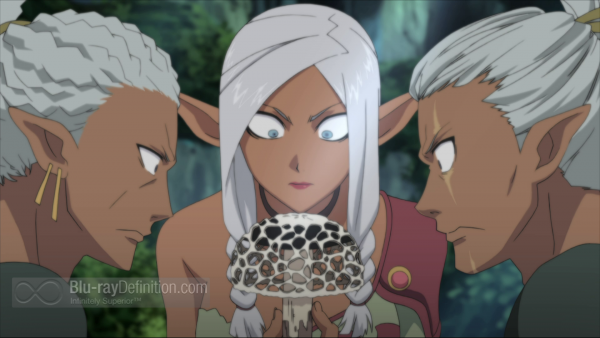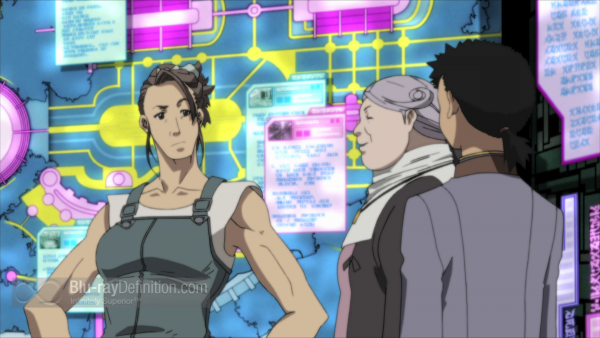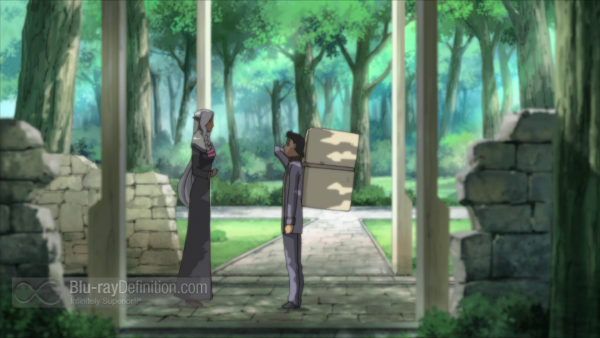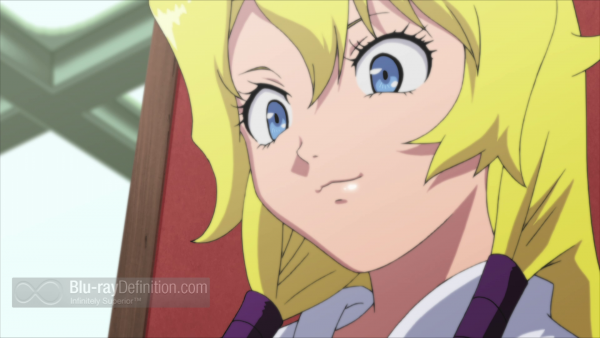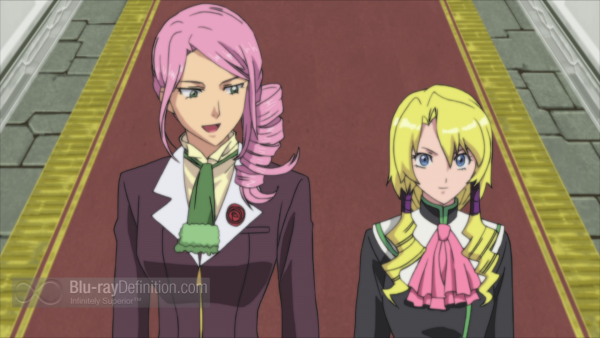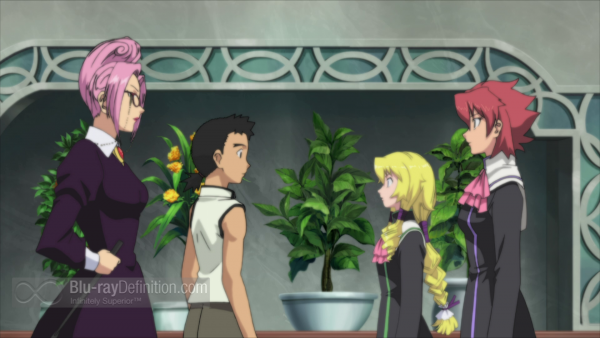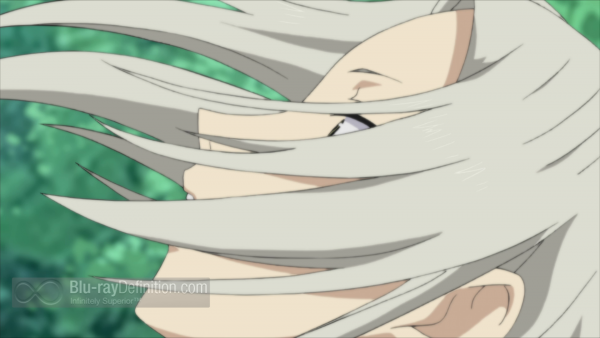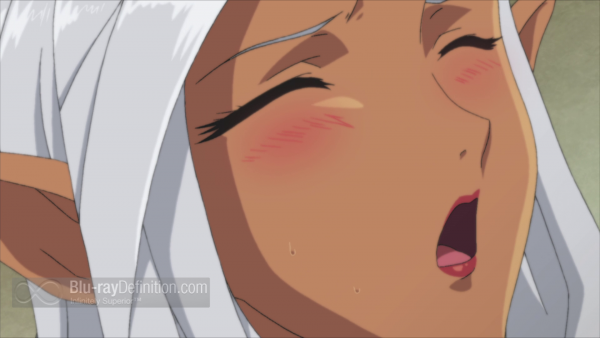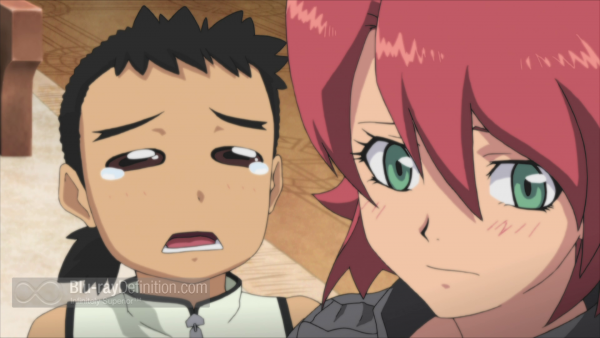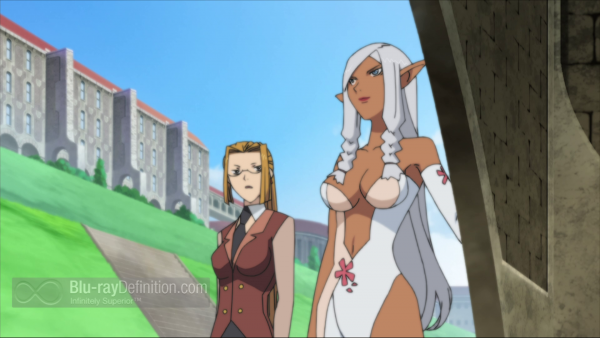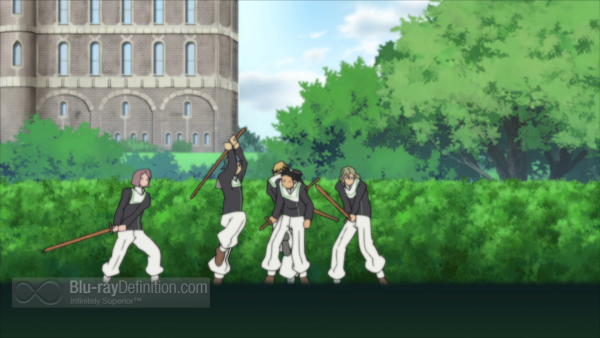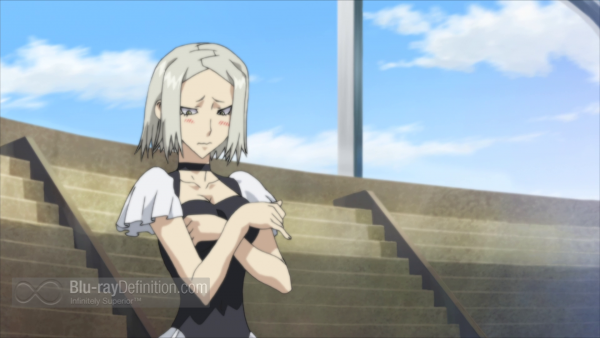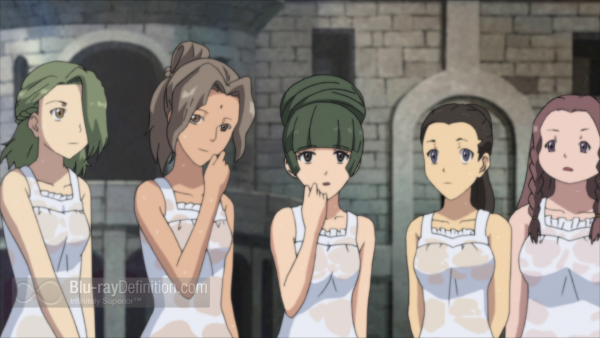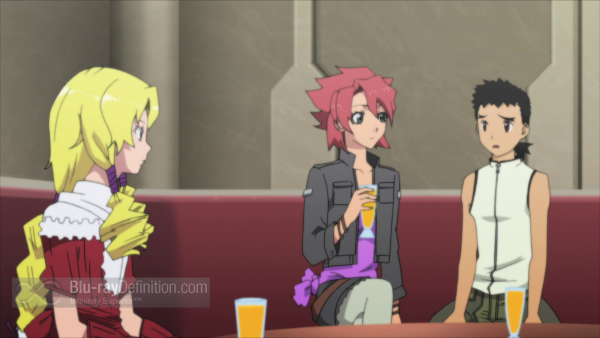 –
[amazon-product]B00BCPOFQ2[/amazon-product]
[amazon-product]B00BCPOFRQ[/amazon-product]
Purchase Tenchi Muyo! War on Geminar, Pt. 1 (LE) on Blu-ray Combo Pack at CD Universe
Purchase Tenchi Muyo! War on Geminar, Pt. 1 on Blu-ray Combo Pack at CD Universe
Shop for more Blu-ray titles at Amazon.com
Overall
[Rating:3.5/5]
The Series
[Rating:3.5/5]
Video Quality
[Rating:2.5/5]
Audio Quality
[Rating:4.5/5]
Supplemental Materials
[Rating:2.5/5]
–