– –

The Film
[Rating:3.5/5]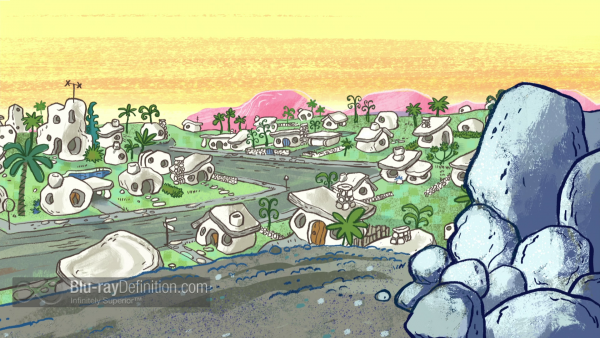 Warner and WWE collaborate for this 52 minute original Flintstones direct-to-video movie Stone Age Smackdown!. The film treads familiar ground for anyone who grew up watching the classic series. Fred Flintstone (Jeff Bergman) has blown the saved up "clams" for his trip to Rockapulco with his wife Wilma (Tress MacNeille) and after seeing his best bud Barney Rubble (Kevin Michael Richardson) tangle with a tough guy who bullies his pet at a boxing ring, gets a harebrained scheme. Fred will set up a superstar pro wrestling company, the FFE, with Barney as the main attraction, and a motley collection of wrestling pros he gathers together from around town.
Stone Age Smackdown! includes characters based on and voiced by WWE stars, including The Undertaker, John Cena as John Cenastone, Brie and Nikki Bella as The Boulder Twins, and Vince McMahon as Vince McMagma.
Those old enough to have cut their teeth on the original series will immediately realize that the voices of the main characters do not sound the same, particularly Kevin Michael Richardson as Barney, who seems to have taken on a very whiny tone. That being said, youngsters won't notice the difference, and they will be hooked by the colorful animation and the anachronistic updates to these stone age characters, like the Flintstone's desktop computer, for instance.
As for the collection of WWE celebrities, they do a reasonable job voicing the characters, after all, they are basically playing themselves, or at least the wrestling alter egos they have developed. The story resolves the way anyone familiar with the Flintstones would, and, in the end, they "have a gay old time."

Video Quality
[Rating:4.5/5]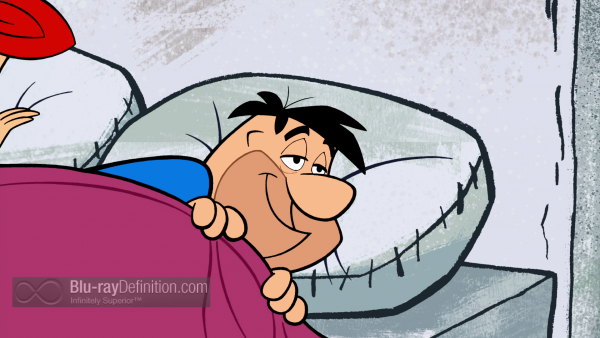 Stone Age Smackdown! is only 52 minutes long, and even though two approximately 26-minute-long episodes of the classic series are included as well plus a couple of featurettes on all on a single-layer BD-25, this AVC 1080p encodement looks about as good as an animated production can get, with crisp, bright, and clean imagery and no issues with color banding.

Audio Quality
[Rating:4.5/5]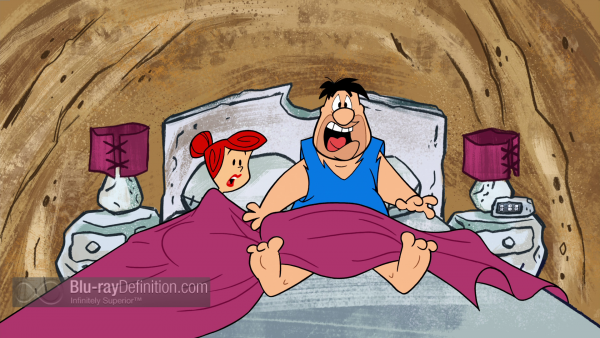 The English DTS-HD Master Audio 5.1 (48kHz/24-bit) for The Flintstones is surprisingly engaging. There is a fair amount of reverberation and atmospheric sound effects, movement of discrete sounds, and big, full dialogue. Low end is punchy, especially during the wrestling matches, and the jazzy soundtrack has good musicality.

Supplemental Materials
[Rating:3/5]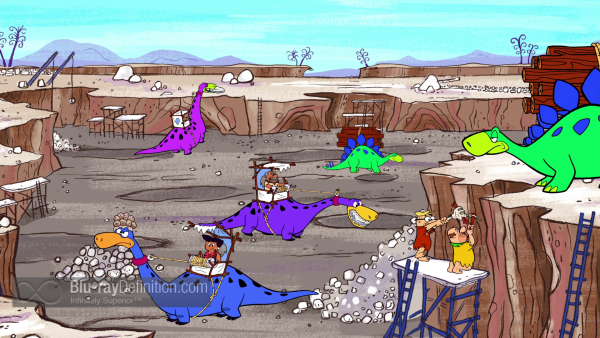 There are a couple of brief featurettes on the production included, but the real treat here are the two classic episodes of The Flintstones, nicely remastered in 1080p.
Digital HD UltraViolet
DVD
The Superstars of Fred Flintstone Entertainment (FFE) (1.78:1; 1080p/24; 00:09:46)
How to Be a Stone Age Superstar (1.78:1; 1080p/24; 00:04:45)
"The Engagement Ring" (1.33:1; 1080p/24; 00:26:22) – Classic episode of The Flintstones
"Take Me Out to the Ball Game" (1.33:1; 1080p/24; 00:26:05) – Classic episode of The Flintstones
Trailers

The Definitive Word
Overall:
[Rating:3.5/5]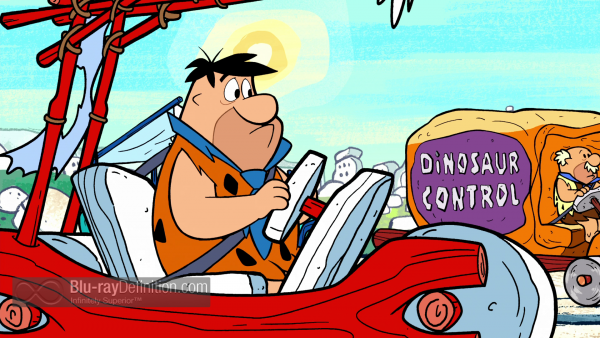 A simple Flintstones diversion that sticks to the basics of this familiar franchise that can and will appeal to kids and those older folks who remember growing up with these stone age hijinks.
Additional Screen Captures
[amazon-product]B00QKOKS8O[/amazon-product]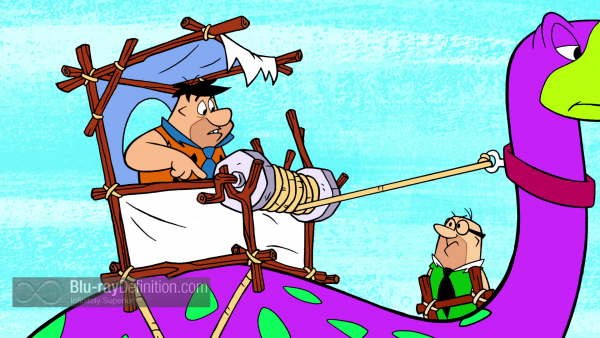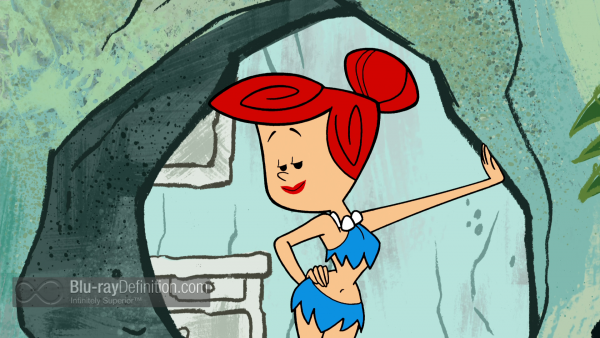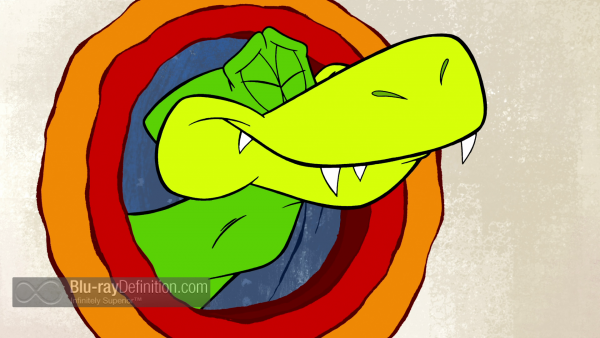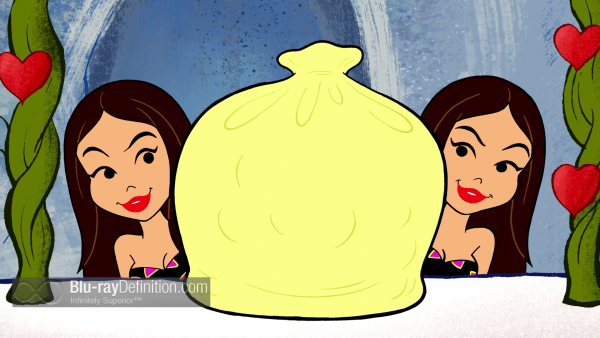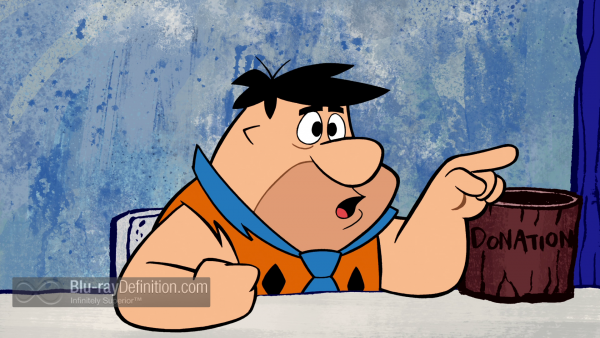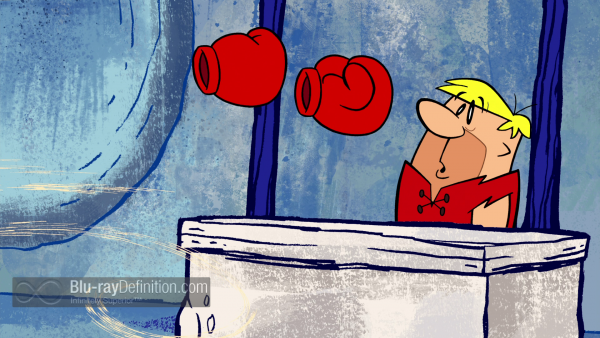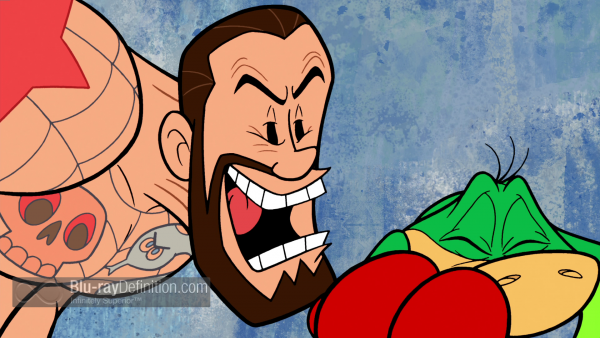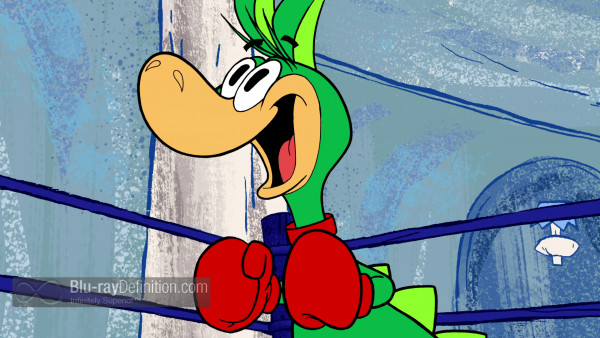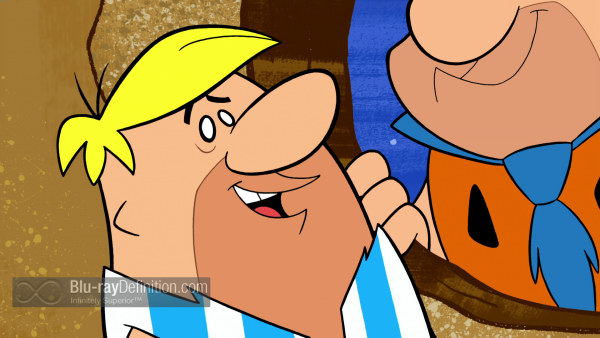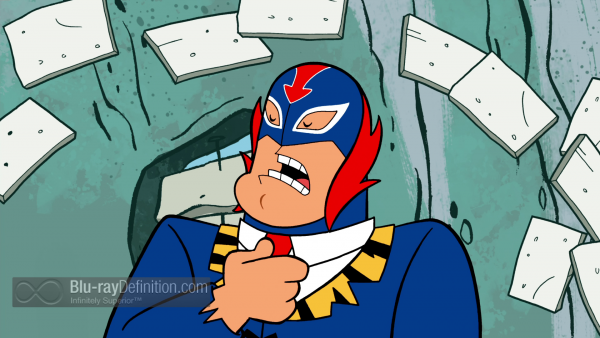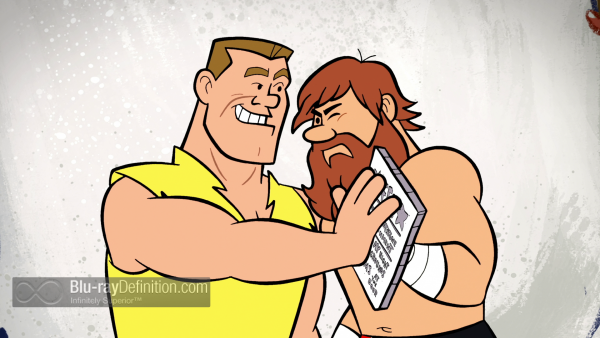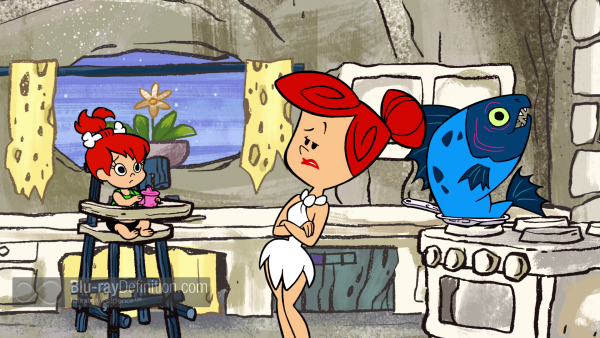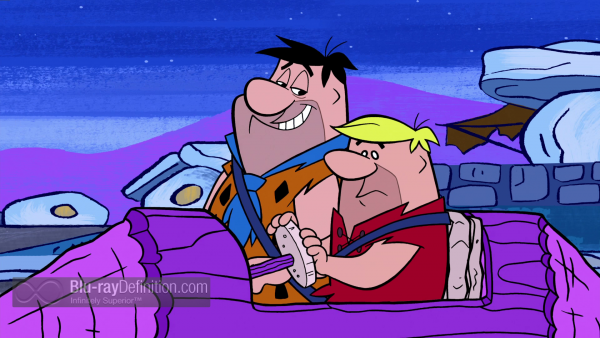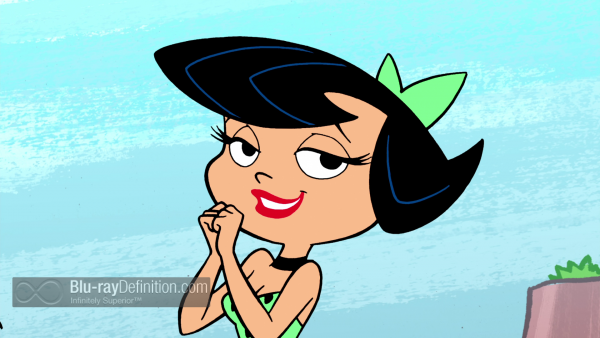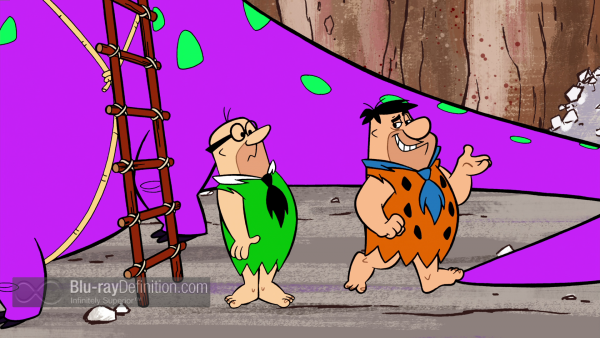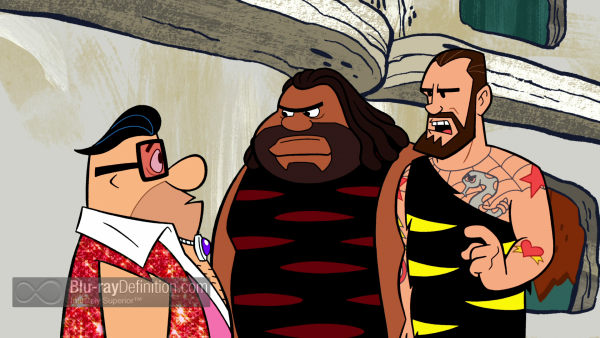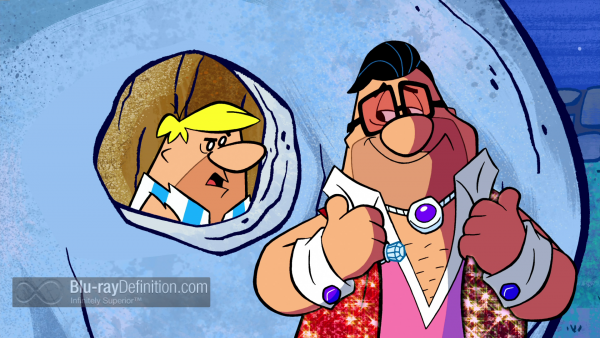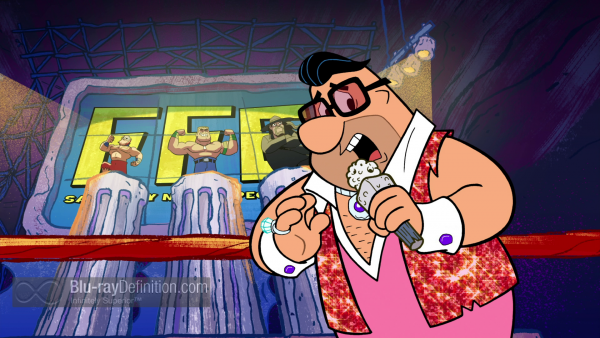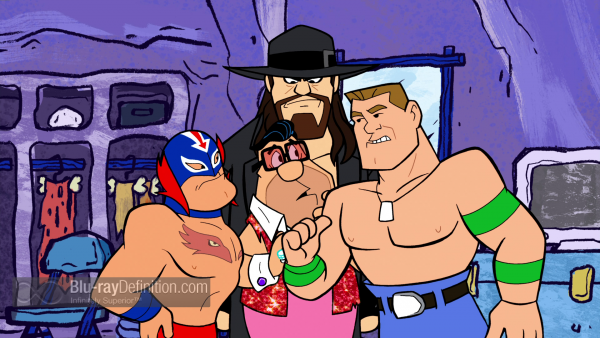 [amazon-product]B00QKOKS8O[/amazon-product]