Mouse-over Cover Art for Details
Click thumbnails for high-resolution 1920X1080p screen captures
(Screen captures are lightly compressed with lossy JPEG  thus are meant as a general representation of the content and do not fully reveal the capabilities of the Blu-ray format)
The Film
[Rating:3.5/5]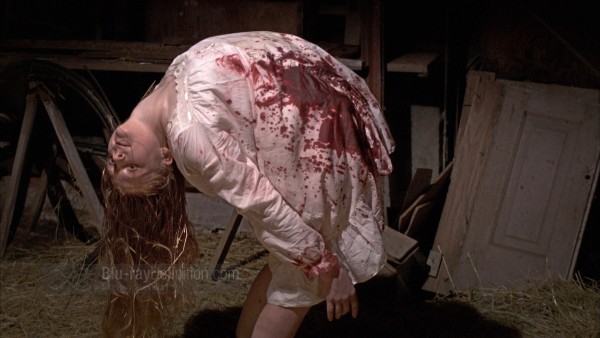 Perhaps the time was right for a new horror film to come around on the theme of exorcism. There hasn't been a really good one since The Exorcist and the subgenre was definitely ready for a modern update. Queue the filmmakers responsible for Hostel, Dawn of the Dead and the forthcoming Reincarnate who delve into the horrific and the spiritual with a film that has a style owed heavily to The Blair Witch Project and Paranormal Activities.
Reverend Cotton Marcus (Patrick Fabian) is a charlatan. Since he was a kid he's been raised by his reverend father to be a preacher, but he's no more than a cynic. He doesn't really believe in his work — in good and evil, in demons, and certainly not in the exorcisms that he gets paid to perform.
He has a documentary film crew in profiling his life and career when he decides he is getting out of the game and to prove just what a hoax exorcisms are, he agrees to take on one last case so the documentary can expose just how silly the whole procedure is. So, from his pile of requests, he pulls the case of Nell Sweetzer (Ashley Bell), a supposedly possessed farm girl in rural Louisiana.
Upon arriving there, however, Rev. Cotton and the film crew are confronted with an unexpected evil they never thought imaginable — have they stumbled upon a simple case of mental illness and child abuse, or is there truly demonic evil going on?
Captured in a faux-documentary style, The Last Exorcism starts out in an almost comedic, farcical tone, with a biting commentary against evangelical Christianity and exorcisms as the undercurrent, but soon turns its focus, becoming one of the most genuinely bone-chilling horror films to come around in ages, overflowing with shadowy corners, unexpected jumps, creepy imagery, and atmospheric sound effects that cause goose bumps.
If only it didn't all fall apart (without giving too much away) with one of the worst "twist" endings in a horror film to come along in decades. The story just collapses, the journey seems moot, and it's all over quite abruptly. Someone should have gone back to the drawing board in order to craft a more satisfying conclusion for an otherwise solid horror entry.
Video Quality
[Rating:4.5/5]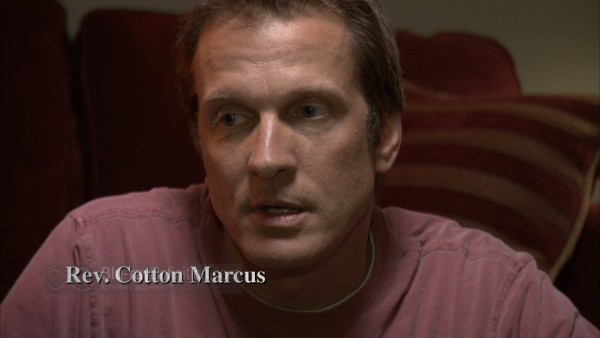 The Last Exorcism looks about how you'd expect a modern horror/thriller to look. It's clean and full of plenty of detail in this AVC/MPEG-4 1080p/24 encoding. The production offers ample opportunity to show off some intricate shadow details and warm mid-tones, but there is some softness throughout, mostly due to artistic choices, that keeps it from looking absolutely reference.
Audio Quality
[Rating:5/5]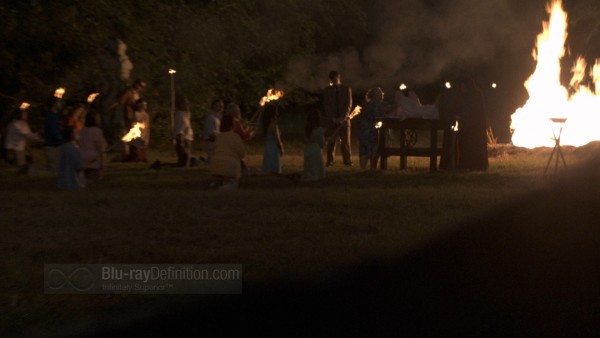 The video transfer may indeed be solid, but the real star here is the superb DTS-HD Master Audio 7.1 lossless audio mix of The Last Exorcism from Lionsgate. I've heard some 7.1 mixes that unnecessarily add in an additional two channels, bringing nothing to the experience, such as the recent Rush Hour release, which sounded good, but certainly could have dropped its two surround back channels and been no worse for the wear.
The Last Exorcism, however, really uses all of those channels, surrounding the listener in an eerie soundscape where atmospherics and discrete sound effects alike whip around in a complete 360º immersive experience.  The dynamics are intact, while not outrageously wide, they show a wide range and high frequencies are smooth and relaxed. Low frequencies are extended rather low, but quick and tight.
Supplemental Materials
[Rating:3.5/5]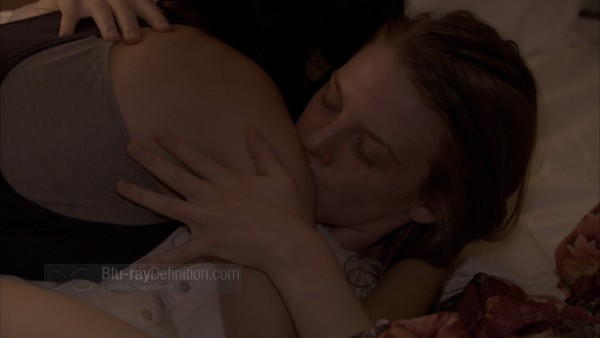 The Last Exorcism is given the deluxe treatment by Lionsgate with all of their bells and whistles stuffed into this package, including the standard definition DVD, Digital Copy, and the Blu-ray is loaded with BD-Live and BD-J interactive features.
The supplements provided with this release are:
Audio commentary with producers Eli Roth, Eric Newman, and Tom Bliss.
Audio commentary with director Daniel Stamm and actors Ashley Bell, Patrick Fabian, and Louis Fabian.
Witness to an Exorcism: Audio commentary with a haunting victim, deliverance minister, and clinical psychologist.
Protection Prayer — The protection prayer to Saint Michael the Archangel evoked during exorcisms.
Real Stories of Exorcism (1.78:1; 1080p/24; 0:14.38)
The Devil You Know: The Making of The Last Exorcism (1.78:1; 1080p/24; 0:20.24)
Ashley Bell Audition Footage (1.33:1; 480i/60; 0:02.32)
Patrick Fabian Audition Footage (1.33:1; 480i/60; 0:09.31)
Caleb Landry Audition Footage (1.33:1; 480i/60; 0:01.40)
Louis Herthum Audition Footage (1.33:1; 480i/60; 0:01.27)
2009 Cannes Film Festival Teaser Trailer (1.78:1; 1080p/24)
Theatrical Trailer (1.78:1; 1080p/24)
iPhone apps — these two iPhone/iPod touch apps both turn your iPhone into a remote, letting you control your Blu-ray player and access bonus content on the Blu-ray Disc via the Wi-Fi network. I did not test the Metamenu app, which costs 99¢, but I did try the free BD Touch app on my iPad and it could not find the disc over the wi-fi:
LG Live — Use "desktop" widgets like weather and news, plus download The Last Exorcism wallpapers.
DVD
Digital Copy
The Definitive Word
Overall:
[Rating:3.5/5]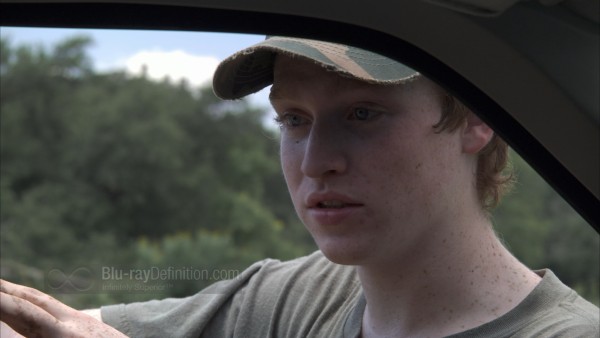 Despite the ending killing the film, The Last Exorcism is a riveting entry into the horror genre that genuinely scares and manages to stir up a bit of laughter in its opening acts as well. It shows up on Blu-ray from Lionsgate in a package that has been given the truly deluxe treatment, looking and sounding great, with a strong dose of bonus features making this a worthwhile purchase.
Additional Screen Captures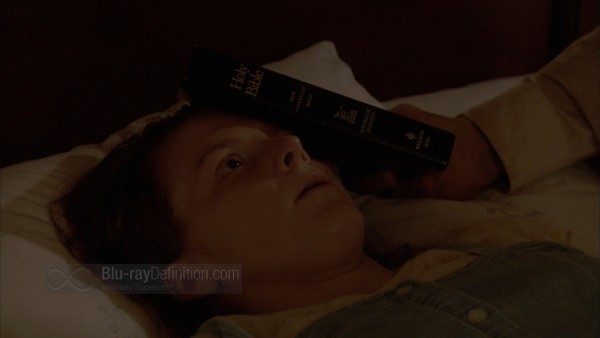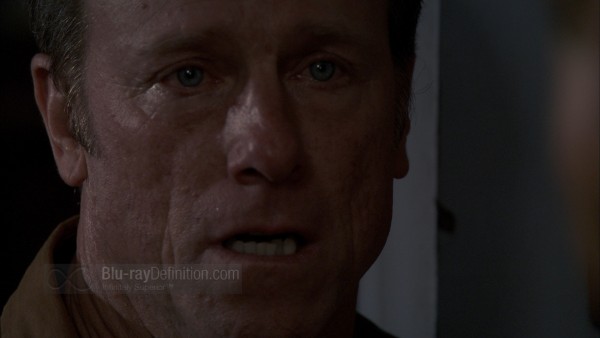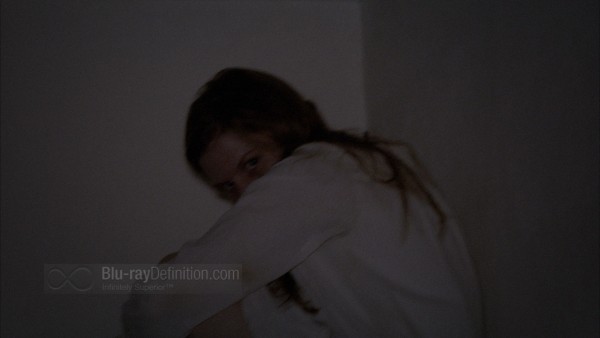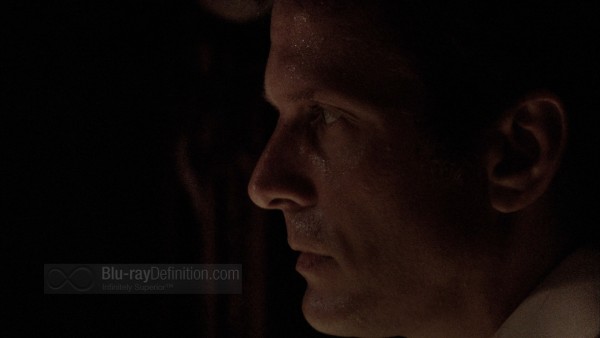 [amazon-product align="right"]B003L20IF6[/amazon-product]
Purchase The Last Exorcism on Blu-ray+DVD+Digital Copy Combo Pack at CD Universe
Shop for more Blu-ray titles at Amazon.com
Overall
[Rating:3.5/5]
The Film
[Rating:3.5/5]
Video Quality
[Rating:4.5/5]
Audio Quality
[Rating:5/5]
Supplemental Materials
[Rating:3.5/5]