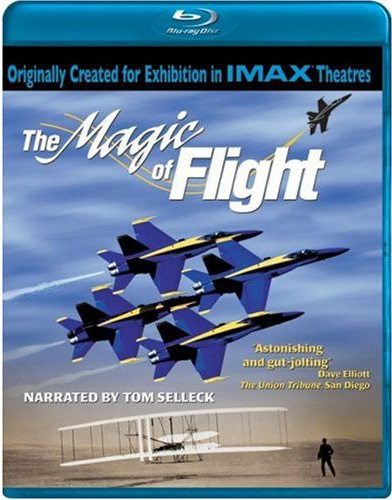 [amazon-product align="right"]B001RTKKQM[/amazon-product]
1.78:1

Video Codec: VC-1
Audio Codec: English DTS-HD Master Audio 5.1;
Region: ABC (All Regions)
Discs: 1
Narrator: Tom Selleck

Studio: Image Entertainment
Release Date:May 5, 2009
List Price: $24.98
Overall

The Film

Video Quality

Audio Quality

Supplemental Materials

Click thumbnails for high-resolution 1920X1080p screen captures
More screen captures (13 total)

(Screen captures are lightly compressed with lossy JPEG and thus are meant as a general representation of the content and do not fully reveal the capabilities of the Blu-ray format)
The Film

What is it about flying that fascinates us so? We hang glide, we parachute out of airplanes, we bungie jump; we do just about everything humanly possible to simulate, even if briefly, the sensation of flying. To follow our winged companions into the clouds and soar high above the planet that grounds us is a dream that has brought us into the Jet Age and taken us into orbit.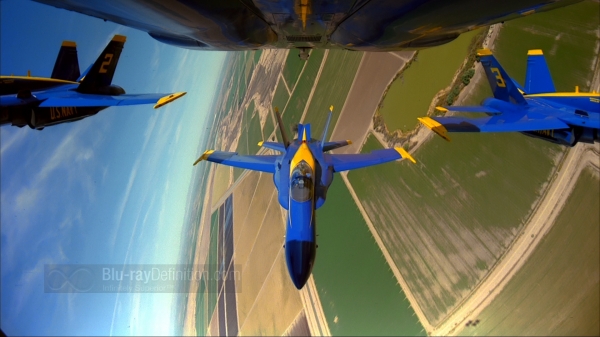 Narrated by famously mustachioed actor Tom Selleck, The Magic of Flight is an IMAX exhibition film that offers an exhilarating look at the world of stunt pilots by following the U.S. Navy's renowned Navy Flight Demonstration Squadron, better known as the Blue Angels. The film offers breathtaking glimpses from inside and outside the cockpits of the pilots' F/A-18 Hornets as they execute amazing aerial acrobatics that seem to defy physics.
But, The Magic of Flight is much more than that. In its brief 40-minute run, the film also delves into the history of humanity's longing to fly, from our observation of birds on the wing, to the Wright Brothers' historic first flight. This documentary from MacGillivray Freeman will be a joyous ride for any and all aeronautics enthusiasts, offering superb glimpses of fighter jets and also some classic propeller planes in stupendous aerobatic maneuvers.
Video Quality

The Magic of Flight glides its way into Blu-ray's high definition skies in a 1080p/24 1.78:1 VC-1 encoding prepared for Image Entertainment by the folks at Big Picture DVD Production. Somehow, these guys really know how to do blue, because when it comes to titles filled with deep indigo spaces, azure skies or cerulean waters, these IMAX titles from Image tend to be their strongest.
The Magic of Flight is no exception. Although it does suffer from some speckles of dust and dirt magnified, no doubt, by the reformatting of its 1.33:1 IMAX aspect ratio into the 1.78:1 framing for this release, the title overall looks relatively sharp. The wide blue yonder is clear and vivid with no signs of color banding. Contrast is less hot than normal for these releases from Image, but colors look little over-saturated. There are no signs of macroblocking, edge enhancement or posterization, but occasionally details soften a tad.

Audio Quality

Like the best IMAX exhibition films, The Magic of Flight is an aggressive showcase for any home theatre sound system. You might need to turn this one down a few notches lower than your normal listening levels, because those Blue Angels' F/A-18 Hornets engines absolutely scream through the soundstage in an engulfing and exhilarating wall of sound.  They are perhaps a little more grating than they could have been — meaning there should have been slightly more use of the sub to round out the sound and the upper-midrange  could have been scaled back. Discrete sounds and ambience fill the room in this mix and Tom Selleck's narration is clear and intelligible.
Supplemental Materials

There's the usual slate of supplements once again provided on this release by Image Entertainment, anchored by a "Making of" documentary and a slew of high definition trailers for more IMAX titles available from Image Entertainment. There is also some BD-Live functionality that doesn't offer much in the way of additional information for this release, but there is a handy HDTV setup guide that offers some test patterns.
The supplements available on this release are:
The Making of The Magic of Flight  (1.33:1; 480i/60)
Film Trivia Quiz
MacGillivray Freeman Films History
About Greg MacGillivray

Trailers (HD):

Journey into Amazing Caves
The Magic of Flight
The Living Sea
Mystery of the Nile
Greece: Secrets of the Past
Hurricane on The Bayou
Grand Canyon Adventure: River at Risk
The Alps
Dolphins
Amazon
Super Speedway
Fighter Pilot: Operation Red Flag
Volcanoes of the Deep Sea

Live Connection — BD-Live
The Definitive Word
Overall:

The Magic of Flight is a definite showcase piece for home theatre systems, and as such, one should adjust one's expectations for the depth of in formation contained within. Still, for those interested flight and beautiful imagery, it is difficult to argue against this IMAX feature's appeal.